Current Department of Theatre Arts Season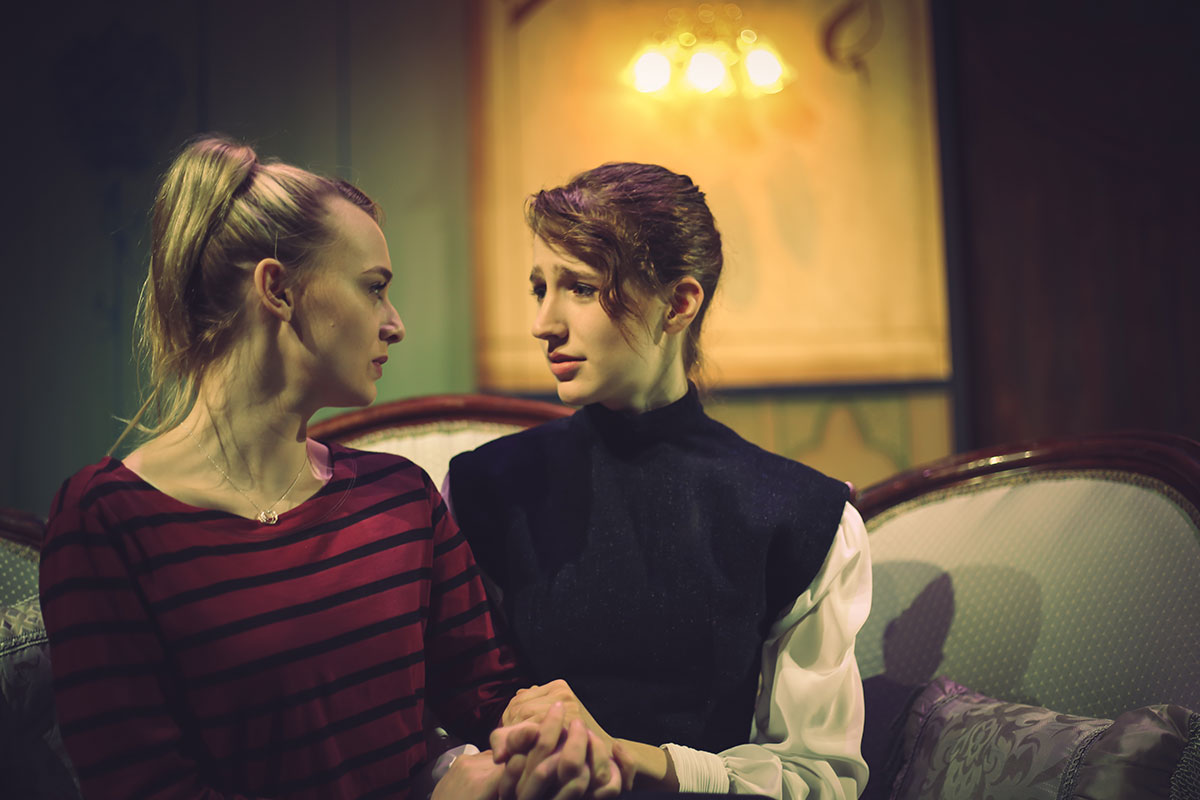 2021-2022 Theatre Season
"Stretched on Your Grave" by Carolyn Murray, MFA Candidate
Director: Toni Henderson-Mayers | Dramaturg: Elliott Folds
First Bite New Play Series | Zoom Reading
After burying her husband and seeing her grown daughter, Kate, off to a job overseas, Clare finds that the secret of her youth begins to haunt her with new intensity. She tries to escape by visiting her famous friend, Persephone, in New York. When a video of her singing goes viral, she retreats back home to drown in a bottle of vodka. Kate and Persephone arrive to intervene, and the three women together find a way to face a past that will no longer be ignored.
"Castlewood" by Bethany Paulsen, MFA Candidate
Director: Anna Marie-Brendel | Dramaturg: Robert Caisley
First Bite New Play Series | Zoom Reading
During the London Blitz of 1940, young Winifred is sent to join her sister in the English countryside to escape the horrors of the war. When she arrives, she encounters Edwin, a young eccentric boy, whose imagination and friendship provides her solace and companionship. They escape their reality by creating a world together in woods. Castlewood is a coming-of-age exploration of escapism, grief, and what it means to be happy.
"Mr. Burns - A Post Electric Play" by Anne Washburn
Directed by Carly McMinn, MFA Candidate
7:30 p.m., March 4, 5, 10, 11, 12
2 p.m. March 6
Hartung Theatre, 625 Stadium Drive, Moscow
Tickets: $6 - $17 for public. Free for U of I students.
Purchase general public tickets here.
This imaginative dark comedy propels us forward nearly a century, following a new civilization stumbling into its future. After the collapse of civilization, a group of survivors share a campfire and begin to piece together the plot of "The Simpsons" episode "Cape Feare" entirely from memory. Seven years later, this and other snippets of pop culture (sitcom plots, commercials, jingles, and pop songs) have become the live entertainment of a post-apocalyptic society, sincerely trying to hold onto its past. 75 years later, these are the myths and legends from which new forms of performance are created. A paean to live theater, and the resilience of Bart Simpson through the ages, Mr. Burns is an animated exploration of how the pop culture of one era might evolve into the mythology of another.
"Into the Woods" music & lyrics by Stephen Sondheim | book by James Lapine
Directed by Jeremiah Downes, MFA Candidate | Kelly Quinnett, Acting Coach
7:30 p.m., April 29, 30, May 7
2 p.m. April 30, May 1, 8
Hartung Theatre, 625 Stadium Drive, Moscow
Tickets: $6 - $22 for public. Free for U of I students.
A cast of classic fairytale character's worlds entwine in this modern musical masterpiece by Stephen Sondheim and James Lapine. Tony Award winner for best Book and Score of a Musical, Into the Woods finds a Baker and his wife, Jack, Cinderella, Little Red Riding Hood, a Giant, and a Witch on a quest to find their "happily ever after." With a stirring score, this musical parable adventure is a powerful reflection on life's many twists and turns along the way that has never been more timely. Wishes will be granted, but at what cost?
Greenroom Chats
These virtual meetings bring experienced theatre professionals from around the world to our students via Zoom for revealing conversations about creativity and success in the real world. Previous presenters have included award-winning playwrights, performers, casting directors, puppet masters, company executives and others sharing their stories and wisdom. All Greenroom Chats begin at 1 p.m., Pacific Standard Time unless otherwise noted. If you would like to join us for a particular presentation, please request the Zoom link from the Department of Theatre Arts at theatre@uidaho.edu.
Previous guest artists:
Dominic Antonio D'Andrea
Ashley Lauren Rogers
Martine Kei Green-Rogers
Davinia Shorter
Jennifer Goodlander, Ph.D.
Andres X. Lopez, Ph.D.
Lyndsay Burch, Kisha Jarrett, Nicole Watson and Emilia Sargent
Idris Goodwin, playwright
Lavina Jadhwani, director
Amy Rose Marsh, Concord Theatricals (formerly Samuel French)
Juan Cabello and Geralldy Najera, directors, performers
AnaSofia Villanueva, producer, director, writer, activist
Aurin Squire, playwright
Native Playwriting Panel: Carolyn Dunn, Ty Defoe, Randy Reinholz, DeLanna Studi.
Prison Performing Arts: Dario Pena, Robbie Pollock, Kathleen Powers-Kusio
Chelsea Hackett, executive director of SPEAK
LatinX Playwriting Panel: Virginia Grise, Guillermo Reyes, Damaso Rodriguez, Elaine Romero, Caridad Svich.