Current Department of Theatre Arts Season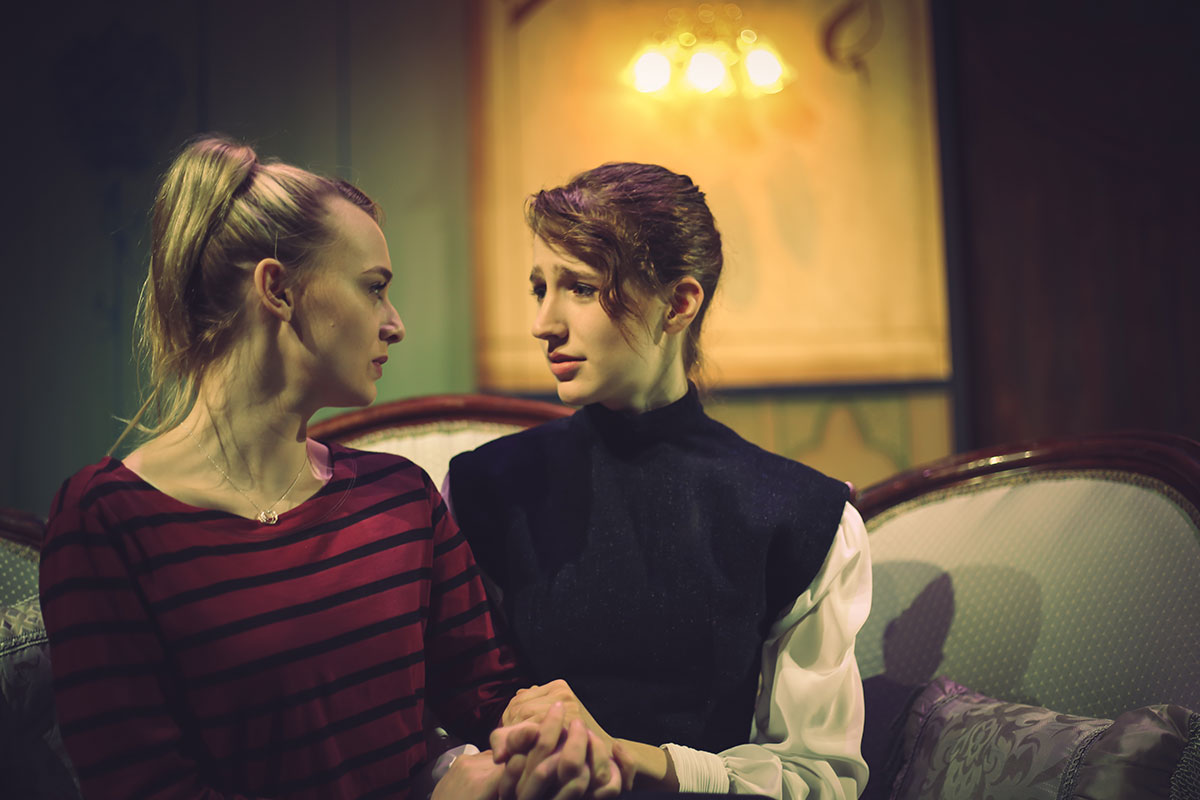 Spring Season 2021
"Her Sister" by Kendra Phillips | (Reading) directed by Jennifer Hughes
"Her Sister" leads us into the mind and memory of Margot Frank, the older sister of perhaps the most famous Holocaust victim, Anne Frank. In a non-linear journey through the last few years of her life, "Her Sister" explores identity in the face of loss, meaning in suffering, and what happens to those whose stories are not told.
Performance dates and times and registration:
"The Haven" by Ian Paul Messersmith | directed by Sarah Alice Campbell
Follow a quirky and unlikely family as they struggle to hold onto the homeless shelter they call home. In the face of budget cuts and the looming threat of being shut down they find strength, understanding and solidarity in one another. Against all odds they have created a special space worth fighting for and they call it, The Haven.
Performance dates and times and registration:
"Everybody" by Branden Jacobs-Jenkins | directed by KT Turner
A 2018 Pulitzer Prize finalist, "Everybody" asks the question, "Who or what goes with us when we die? Based on the 15th Century morality titled "Everyman," the contemporary play "Everybody" takes the audience through a side-splitting comedy seeking to answer that very question. "Everybody" is a play about diversity and chance and no two performances are ever alike. For every performance, the character of Everybody is selected from a group of Somebodies by lottery at the beginning of the play. The other Somebodies are also selected by chance to take up other roles in the play. Meeting everyone from Death to Understanding along the way. Everybody journeys through life's choices and to the grave while bringing the audience along for the ride.
Performance dates: March 5, 6, 7, 12, 13, 14
"Gross Indecency - The Three Trials of Oscar Wilde" by Moises Kaufman | directed by Ricky Kimball
In three short months, Oscar Wilde, the most celebrated playwright and wit of Victorian England, was toppled from the apex of British society into humiliation and ruin. Drawing from real life trial documents, newspaper accounts and writings of the key players, Moises Kaufman ignites an incendiary mix of sex and censorship with a cast of characters ranging from George Bernard Shaw to Queen Victoria, herself. The three trials center around the eventual accusations of "gross indecency" given to anyone exhibiting homosexual activity, which was illegal in the United Kingdom in the 19th Century. This groundbreaking production introduces over 40 characters with a cast of 11 players. The themes in this play ring as true today as they did back then.
Performance dates: April 23, 24, 25, 30, May 1, 2
Greenroom Chats
These virtual meetings bring experienced theatre professionals from around the world to our students via Zoom for revealing conversations about creativity and success in the real world. Previous presenters have included award-winning playwrights, performers, casting directors, puppet masters, company executives and others sharing their stories and wisdom. All Greenroom Chats begin at 1 p.m., Pacific Standard Time unless otherwise noted. If you would like to join us for a particular presentation, please request the Zoom link from the Department of Theatre Arts at theatre@uidaho.edu.
Previous guest artists: