A Community of Techies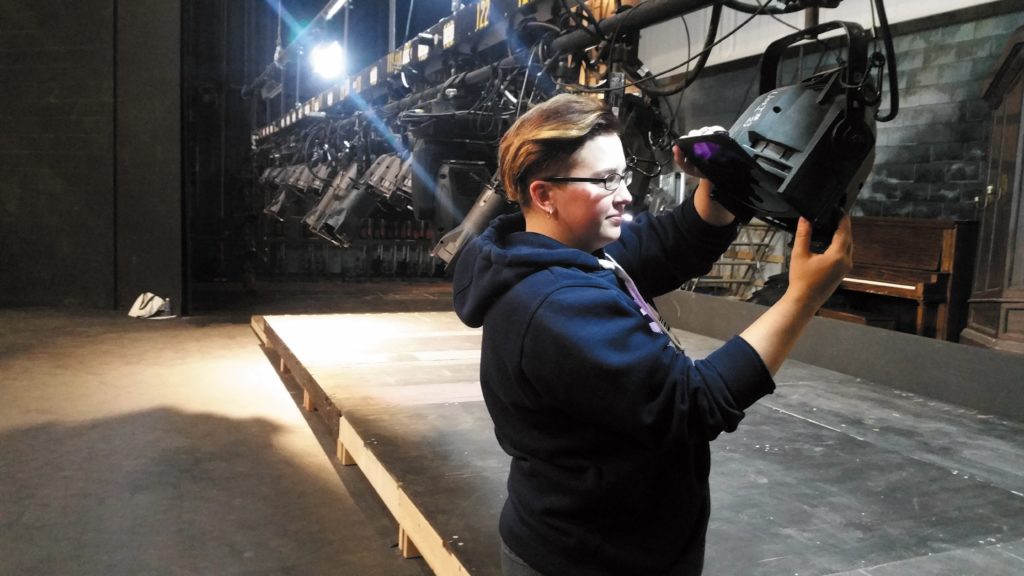 New club gives those in technology and design opportunities for networking, learning and travel
By Nina Rydalch
Many colleges advertise themselves as places to expand the minds and opportunities of their students. The University of Idaho Theatre Department has done this by affiliating the university with the United States Institute for Theatre Technology (USITT).
The student chapter was originally designed to benefit theater students with technology emphases.
Michael Brandt, the president of the organization, said anyone interested in entertainment technology and design should consider joining.
Anita Packwood, a costume technician and UI grad who went to the USITT conference last year, said this includes engineers, architects, fashion designers and many more.
"The more people that come to the meetings at UI, the better," Packwood said.
Ginger Sorensen, sponsor of the UI chapter, said she was a member of USITT when she taught at the University of Wyoming, and had students approach her about starting a chapter at UI. She said they had their first unofficial meetings in the spring of 2014 and became an official chapter last fall.
"It's a really worthwhile organization and it's very helpful," Sorensen said.
Sorensen said the main goal of the organization is to support students who attend conferences.
Brandt, a graduate student studying theater technology and design, said he received a regional award in 2014 for the puppets he designed for the production "A Christmas Carol" at UI, which sponsored him to travel to the USITT Conference in Cincinnati, where he again won.
However, he said USITT was more than about showcasing his work.
"There's a lot of people out there and there's so much to see and do," he said.
Brandt said USITT will expose Idahoans to new ideas and allow them to travel out of state. He said USITT offers informative workshops with speakers who talk about rock shows, cruises and other facets of entertainment technology.
"Getting to go to USITT, you get to see all sorts of the latest technology," said Keely Wright, an M.F.A. in theater design and technology and the vice president of the UI chapter.
Wright said the conference includes college and high school students as well as professionals. She said USITT is more beneficial for designers and technicians than the Kennedy Center American College Theatre Festival, which the theater department is actively involved in.
At the USITT conference in Salt Lake City last year, some students handed out their resumes and in return received job offers. Among these were Dace Ahlstrom, a junior in stage management and Packwood.
Ahlstrom said he was not planning on having a resume at the conference, but was pushed by Sorensen to get one together. He said he applied for a couple of jobs, and was ultimately accepted by the Santa Fe Opera.
"With that on my resume, I feel way more confident going in and applying for any other position," Ahlstrom said.
Packwood, who graduated last year, said she was hired by the Illinois Shakespeare Company near Chicago, where she currently lives. She said she ultimately wants to go to graduate school and become a costume shop manager.
Wright said the conference will be in St. Louis this spring and USITT membership for those interested in attending will be $67, although there is no expense for participating in the club. Sorensen said they will have fundraisers throughout the year to help with travel expenses.
"We're probably going to have a costume sale this Halloween," she said.
Sorensen said they also received permission to sell University of Idaho Theatre Department shirts, which can be bought in Shoup Hall and will likely be sold in the Hartung lobby eventually.
For those who are unable to attend the conference, there are still monthly meetings, which Brandt said will include speakers, workshops and demonstrations.
"If they can't come to the conference with us, then at least they can have a bit of it come to them," Brandt said.
Used with permission of The Argonaut.