For the Love of Knowledge
Introductory Class Sparked Interest in a New Career Path
As a kid growing up in Montana, Trevor Woodward had not considered the nature of truth and knowledge, the existence of free will, beauty or happiness.
Metaphysics was not something he could define.
A superior science student in high school, Woodward enrolled at the University of Idaho with plans to pursue a law degree, but an introductory philosophy course threw up a detour sign that changed his career path.
"I didn't know what philosophy was," Woodward said. "I really had no expectations."
He entered Casey Johnson's basic philosophy class with a benign curiosity. By the end of the first hour, Woodward was questioning the nature of the universe and our place in it.
"Philosophy asks the most general questions such as, 'What is the good life?'" he said. "I found those types of questions to suddenly be very important and challenging, and very exciting to think about."
It's popular to believe that philosophy is useless or a waste of time, but that's not what data shows. Bert Baumgaertner, Philosophy Professor
Three years later, Woodward is the editor of The Hemlock, the university's undergraduate journal of philosophy and, last summer, was one of 20 students worldwide invited to attend the distinguished Colorado Summer Seminar in Philosophy, a three-week immersion for outstanding undergraduates who are considering philosophy graduate school. It is modeled after graduate-level seminars requiring extensive readings, participation and analysis.
"The seminar is as prestigious as it gets," said Bert Baumgaertner, associate professor of philosophy at U of I's Department of Politics and Philosophy, for whom Woodward works as a research assistant.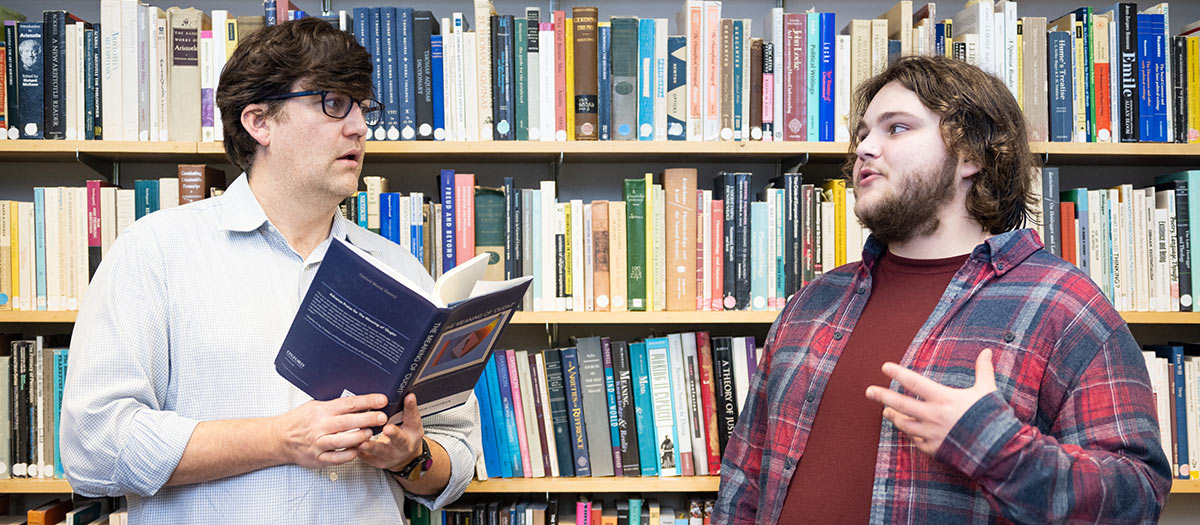 The seminar tackles, dissects and illuminates philosophical issues and introduces students to well-known, contemporary philosophers. This year's topics included the ethics of automated warfare and the possibility of moral knowledge.
"You read the works of some of the biggest names in philosophy and then, the next day, they are in class explaining their theories and you can ask them questions," Woodward said.
For Woodward, who graduates Spring 2022 with a bachelor's in philosophy, the seminar was a chance to experience what it would be like to study philosophy in graduate school.
Earning a philosophy degree shows one's prowess in critical thinking, close reading, clear writing and logical analysis, said Baumgaertner.
"A philosophy degree is really a gateway degree because it teaches you to think through problems and find solutions," he said. "It's popular to believe that philosophy is useless or a waste of time, but that's not what data shows."
Philosophy majors compete with STEM majors for the highest scores on GMAT, the test used to assess applicants to management and business graduate schools. Philosophy majors rack up the highest LSAT scores, rank in the top percentile of GRE scores and see the highest mid-career salaries outside of STEM majors, Baumgaertner said.
Woodward's bachelor's in philosophy reflects his love of knowledge. Metaphysics, he has learned, is the study of "being." Aristotle considered it to be the foundation of philosophy.
"There's always so much complexity hidden beneath seemingly obvious things."
Article by Ralph Bartholdt, University Communications and Marketing.
Photography by Joe Pallen, University of Idaho Creative Services.
Published January 2021.