MFA Candidate Max Eberts Wins Academy of American Poets Prize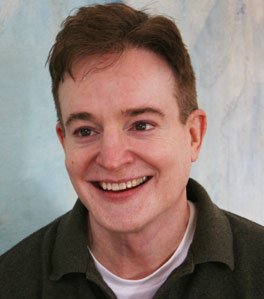 A poem by University of Idaho third-year MFA student Max Eberts was selected as the winning entry in UI's Creative Writing Program's annual Academy of American Poets contest.
UI's competition was judged by Allison Joseph, who said Eberts' winning poem, "Blue Jay and Sparrow," left her "enchanted." Joseph will be the visiting poet through UI's Distinguished Visiting Writer series next year. Eberts is currently UI's Creative Writing Program's Hemingway Fellow in fiction, though he also writes poetry.
"I was quite startled as I am keenly aware of the many talented poets in the program who submitted their work for the competition," Eberts said. "Yes, I was thrilled but completely surprised."
Eberts was born in Washington, D.C., but grew up living overseas, primarily Europe, as a result of his father's career as a military and foreign service officer. He received his bachelor's from Rice University in art history and classics.
Joseph said the competition for this year's prize was remarkable for its high quality. Eberts will receive a year's membership in the academy, $100 and a winner's certificate.
The Academy of American Poets college prize program was established in 1955 with 10 schools predominantly in the northeast United States. Today, more than 200 colleges across the nation offer prizes through the academy. Renowned poets including Sylvia Plath, Mark Strand, Robert Pinsky and Louise Gluck received their first poetry prizes from the Academy of American Poets.
UI's academy prize is made possible by a generous gift from alumnae Karen Trujillo Burnett, who received her MFA in poetry from UI in 2009, and her husband, former dean of UI's College of Law and former interim President Don Burnett. Their gift endowed the Academy of American Poets Prize at the University of Idaho in perpetuity.