Faculty Bring Strengths in Literature and Environment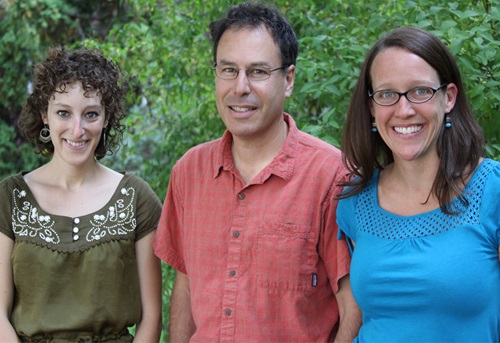 Things just got a bit greener at the University of Idaho's English Department.
With the arrival of Scott Slovic and Erin James in July of 2012, the department now boasts a group of scholars who study and write on the relationship between literature and the environment.
Scott, one of the founders of the discipline of ecocriticism, taught ecocritical theory and American and international environmental literature for seventeen years at Nevada before joining the University of Idaho department. Erin, a specialist in postcolonial ecocriticism and Caribbean and African literature, taught at Nevada for four years before joining the Idaho team. Scott and Erin are eager to work with Jennifer Ladino, who studies representations of nature in American literature and cinema, and Jan Johnson, who has expertise in environmental justice and American Indian studies. The new faculty join a department already full of prominent poets, essayists, fiction writers, and rhetoricians who express an interest in the environment in their work.
"The English department's new strengths in literature and the environment and green cultural studies complement environmental initiatives already underway on campus," says Gary Williams, chair of the English Dept. "These include the Waters of the West program, the Semester in the Wild, degrees in bioregional planning and community design, and the university's Sustainability Center and Sustainable Idaho Initiative, to name but a few."
"I've taught at or visited many universities around the world, and seldom have I encountered so much activity in environmental fields, including literature and writing. I am eager to support the momentum in environmental studies that already exists at the University of Idaho," says Scott.
Erin shares Scott's enthusiasm. "As soon as I stepped onto the Idaho campus for the first time," she says, "I knew this was the place for me. There is a powerful and contagious energy for green work amongst English faculty and students as well as across campus."
Scott, Erin, and Jennifer have collaborated to start a monthly ecocriticism reading group for the department's faculty and students. They also look forward to involving students in the production of upcoming issues of ISLE: Interdisciplinary Studies of Literature and the Environment. The journal, the central periodical in the field, has been edited by Scott since 1995 and is now housed at the University of Idaho.
The English Department believes this growing concentration of environmental scholars will lead to exciting new course offerings for undergraduate and graduate students, expert mentoring for students doing specialized work in environmental humanities, an influx of visiting international scholars, and perhaps eventually a formal degree program in literature and environment at undergraduate and/or graduate levels. Building on the strength of its place-based creative writing program and studies in rhetoric and science, the English Department now stands to become one of the central homes of studies of literature and the environment.