UI MFA poetry candidate Alex Baldwin featured on BBC documentary during Alps teaching experience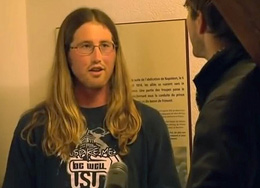 Alex Baldwin (MFA-poetry '15) helped lead forty Utah State University students on a Switzerland Study Abroad Program last summer. This was Baldwin's second summer teaching the USU program. One of the highlights – and challenges – from the 2013 adventure involved the group's involvement in the BBC documentary "Pilgrimage with Simon Reeve."
The Switzerland Study Abroad Program, lead by Robert Winward, professor of graphic design in the Caine College of the Arts, is a four-week immersive program. While in Switzerland, students use "place" as a metaphor for the creative process while learning to capitalize on design processes as a tool to promote innovation.
"The program is first and foremost about transformation," says Baldwin. "It promotes transformational experiences by combining the creative process with simple practices in awareness. We encourage curiosity by tapping into every experience in a very active way."
One of the more demanding portions of the trip is a three-day pilgrimage through the Alps along the Swiss-Italian border on the Via Francigena Pilgrimage route. The students stay at the Great St. Bernard Hospice located at the top of the pass, elevation 8,100 feet. The Hospice was founded in 1049 by Saint Bernard of Menthon, and is the birthplace of the famous St. Bernard dog breed.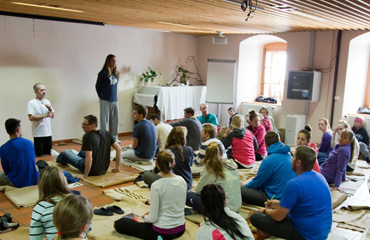 As Baldwin and Windward led the students up the high alpine route, a BBC film team gathering coverage for the pilgrimage documentary joined the group to film the arduous climb. Baldwin initially had mixed feelings about the opportunity. "We were very honored to have a chance to work with the BBC; but on the other hand, we were worried about cameras adding a level of artifice to the students' experience."