Landscape Architecture
The University of Idaho Landscape Architecture program draws students from around the world to study in one of the most diverse bioregions in the nation. Design studios present real-world projects where students and faculty work with community members to develop integrated design solutions that preserve and enhance rural and urban landscapes throughout Idaho and beyond.
The University of Idaho offers a "seamless" professional landscape architecture program, making it possible to earn an undergraduate (B.S. Environmental Design) and master's degree (M. Landscape Architecture) in as few as five and a half years while preparing graduates with the skills, experience and credentials needed to practice as a licensed landscape architect in less time than many traditional programs.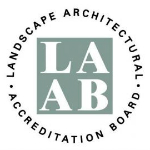 Accreditation: Professional registration boards in the United States require a degree from an accredited landscape architecture program as a prerequisite for licensure. University of Idaho's Master of Landscape Architecture degree has been accredited by the Landscape Architectural Accreditation Board (LAAB). Our environmental design bachelor's degree is not accredited, but provides advanced standing in the MLA, enabling graduates to complete the MLA in an additional 2 years. BSED graduates can further accelerate their path through the MLA by participating in the summer Study Abroad program in Italy, which provides a full semester of graduate study. More information on accreditation can be found on the LAAB website.
Mission: The University of Idaho Landscape Architecture program prepares students for dynamic futures as practitioners and scholars in Landscape Architecture, with a commitment to engaging critical contemporary social and ecological issues of our region as a means to advance disciplinary knowledge. Through exploration, critical inquiry, community engagement, evaluation and reflection, we disseminate the products of design discovery and innovation to our community partners, research collaborators and peers.
Stem Discipline
Landscape Architecture had been formally recognized by the National Science Foundation and the American Society of Landscape Architects as a STEM profession (Science, Technology, Engineering and Mathematics) at NSF.
Public Information Policy
Programs accredited by the LAAB are required to provide reliable information to the public. Programs must report on accreditation status and its performance. This information is intended to help potential students make informed application decisions.
Center for Resilient Communities
The CRC addresses the social, economic and environmental issues effecting community resilience in Idaho and the Western United States.

Urban Design Center
The UDC offers interdisciplinary graduate programs in architecture, planning and landscape architecture. Students work collaboratively in studios designed to reflect the professional experience.

Italy Landscape Architecture Program
Students from a variety of disciplines and backgrounds study cultural landscapes and urban design in classic settings across Italy. The six week summer program can be taken for graduate or undergraduate credit.
---
Land Acknowledgement Statement – The College of Art and Architecture operates in university facilities located on the homelands of the Nimiipuu (Nez Perce), Palus (Palouse), Schitsu'umsh (Coeur d'Alene) and Kammedeka (Shoshone-Bannock) tribes. We extend gratitude to the indigenous people that call this place home, since time immemorial. U of I recognizes that it is our academic responsibility to build relationships with the indigenous people to ensure integrity of tribal voices.