Building a Legacy
Mark de Reus '77 didn't really know what he wanted to do after graduating high school in Boise, Idaho. He certainly didn't think he would end up being recognized as one the world's best architects, working around the world designing luxury resorts and high-end homes. But, with plenty of hands-on experience and a well-rounded U of I education, he did that and much more, all the while never forgetting the state he loves.
de Reus' remarkable career began with a three-year construction apprenticeship in McCall, Idaho. That experience sparked his interest in design and drive to learn more, which led him to enroll in the University of Idaho's College of Art and Architecture (CAA).
de Reus credits his experience in CAA for giving him the underpinnings to thrive in the demanding world of architecture and construction. His education included more hands-on experience by working for then-Professor Kip Eder, drafting, fabricating solar collectors and installing solar systems in numerous homes in Moscow, Idaho.
With his practical construction experience and newly minted architecture degree, de Reus took a bold step by starting his own design/build firm, whose first commission was to design two homes on Payette Lake back in McCall.
"I give a lot of credit to my professors and the strong curriculum (of CAA) for giving me the confidence to start my own firm," de Reus said. In particular, he recalls the mentorship of William Sloan, his first design studio professor, and then-Dean Paul Blanton for instilling in him the importance of continuous learning, communication and collaboration.
Over the course of his career, de Reus has stayed connected with the college. He served on the Dean's Advisory Council for CAA, guest-lectured students and attended a studio critique. He has sponsored interns and his firm currently employs several U of I graduates. When he was working in Indonesia, he recruited a U of I graduate from Boise to join the firm in Jakarta. Even today, representatives from de Reus Architects attend U of I career fairs and actively recruit CAA students.
"I trust in the Idaho work ethic and the durable academic background of U of I," he said.
And he knows from experience. Over the course of his 45-year career, de Reus has received numerous design awards, been featured in dozens of publications, authored two books featuring the firm's work and served as board chair of a drug prevention program. The firm he started on the Big Island of Hawaii in 2005 is still going strong. So strong, in fact, that de Reus Architects opened offices in Sun Valley, Idaho in 2012 and in Maui in 2020.
After 19 years living in Hawaii – and with their daughter off to college – de Reus and his wife Lizzie returned to the Gem State, moving, of course, into a stunning home in the Wood River Valley he designed.
"Moving back to Idaho has been a dream fulfilled, and now that I'm closer, I look forward to more involvement with CAA."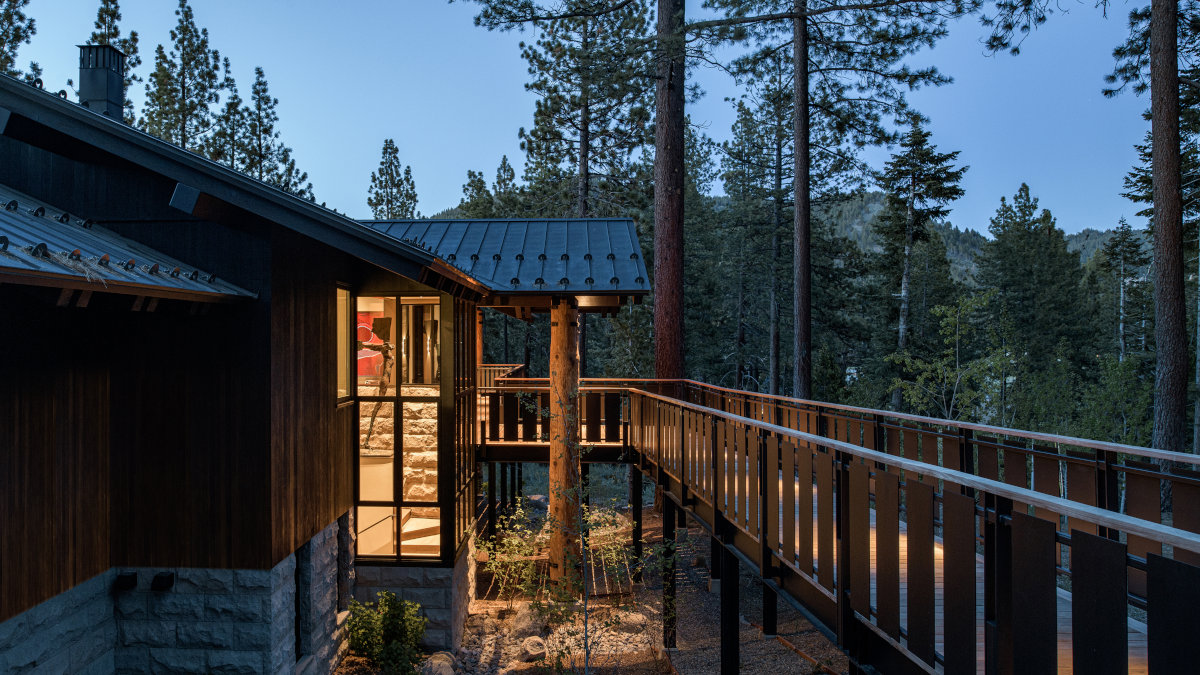 ---
Story by Jamie Wagner, University of Idaho Advancement
Photo of Mark by Kirsten Shultz
Photo of Yellow Jacket Building by Gabe Border