Each year, University of Idaho Alumni Association (UIAA) and Office of Alumni Relations (OAR) recognizes outstanding alumni, friends and students through a number of awards that celebrate achievements in volunteerism, success and commitment to the university.
2023 Alumni Award Recipients
Previous
Next
Leah Frye '79
2023 Hall of Fame Recipient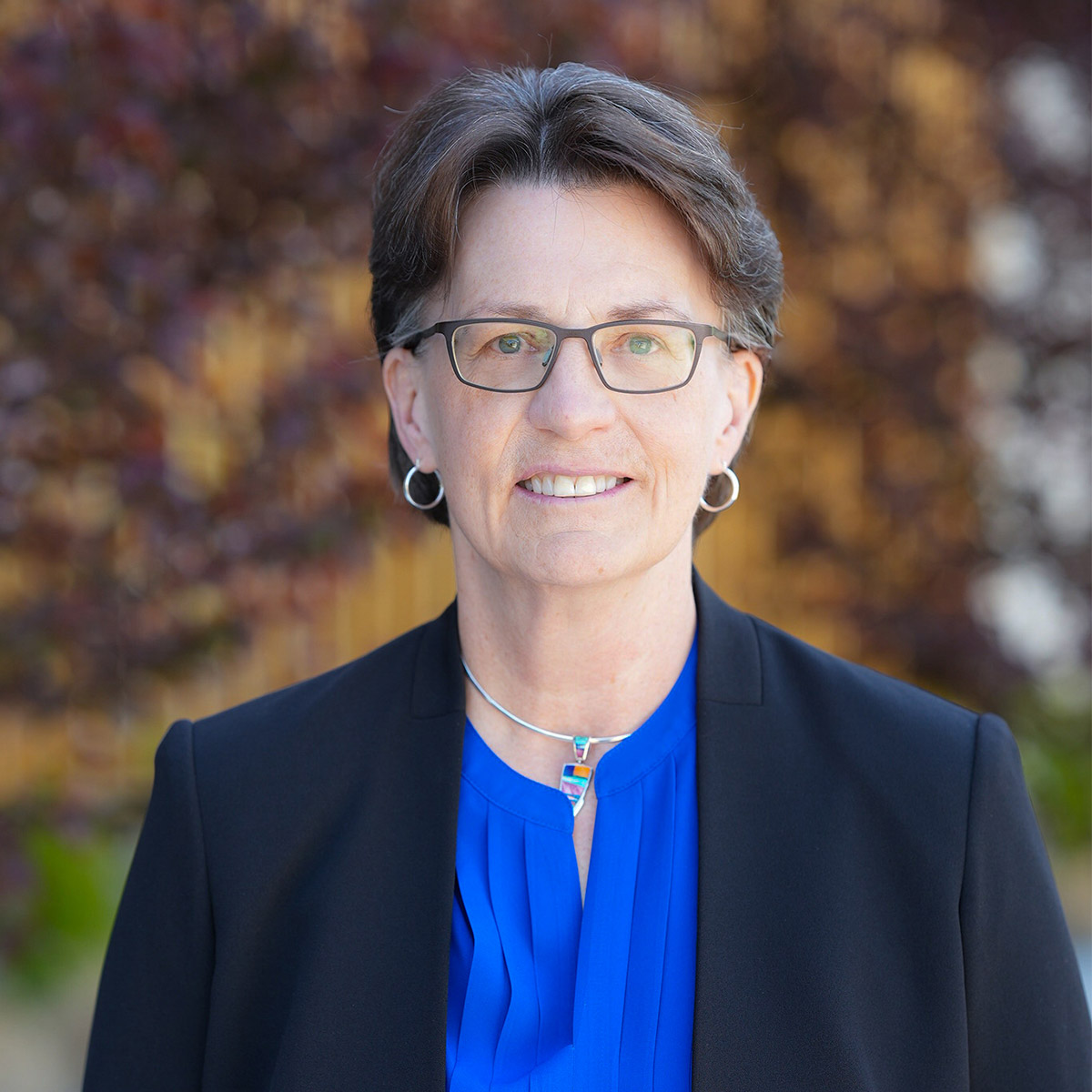 Leah Frye earned her B.S. in chemistry at the University of Idaho in 1979, followed by her Ph.D. in organic chemistry at Johns Hopkins University in 1984. Aa a student at U of I, Frye received the Ernest Hiram Lindley and Elizabeth Kidder Award (Outstanding Senior, College of Letters and Sciences) and William H. Cone Award (Outstanding Senior, Department of Chemistry). She was also awarded a graduate teaching assistantship for her junior and senior years. She was also recognized nationally by being elected to the Phi Beta Kappa and Phi Kappa Phi honorary societies.
She completed a post-doctoral fellowship in the Department of Pharmacology and Experimental Therapeutics at the Johns Hopkins School of Medicine, supported by a prestigious NIH National Research Service Award. After a year at the University of Virginia, Frye joined the faculty of the Rensselaer Polytechnic University as an assistant professor of chemistry in 1987. She was promoted to associate professor with tenure in 1993.
In 1995, Frye left Rensselaer and joined Boehringer Ingelheim Pharmaceuticals as principal scientist, a position she held until 2001. In 2002, she began her distinguished career with Schrödinger, a company that develops chemical simulation software for use in pharmaceutical, biotechnology and materials research. She co-founded Schrödinger's Drug Discovery Applications Group and served as project leader (2002-2007), director (2007-2010) and senior director (2010-2012). Frye served as vice president of the Drug Discovery Applications Group from 2012 to 2019, with more than 80 people on her team.
Frye has an extensive record of research and publications. She is an inventor on 20 U.S. patents. She is active in professional organizations, including the American Chemical Society and has served on committees for the National Institutes of Health and the US National Academies of Sciences, Engineering and Medicine. Frye has also been active in promoting the field of chemistry and supporting opportunities for women in the field.
Frye currently lives in Portland, Oregon, and has been married for more than 40 years to Daniel Frye '79, a 2010 Alumni Hall of Fame inductee. Although she no longer lives in Idaho, she continues to contribute to the university. Since 2019, Frye has served as a member of the U of I College of Science Advisory Board. In addition, she and her husband established the "Daniel and Leah Frye Chemistry and Physics Scholarship," which supports students who are Idaho residents and members of underrepresented groups in science and technology. She is also a member of U of I's Heritage Society for including the university in her estate plans.
In 2018, Frye was recognized with an Alumni Silver and Gold Award for her extraordinary career in science and technology, and in the interdisciplinary areas of chemistry, biology and medicine. In recognition of her distinguished career accomplishments and leadership in improving the well-being of society through drug discovery research, Leah Frye is very worthy of induction into the University of Idaho Alumni Hall of Fame.
Charlotte Hill '76 '77
2023 Hall of Fame Recipient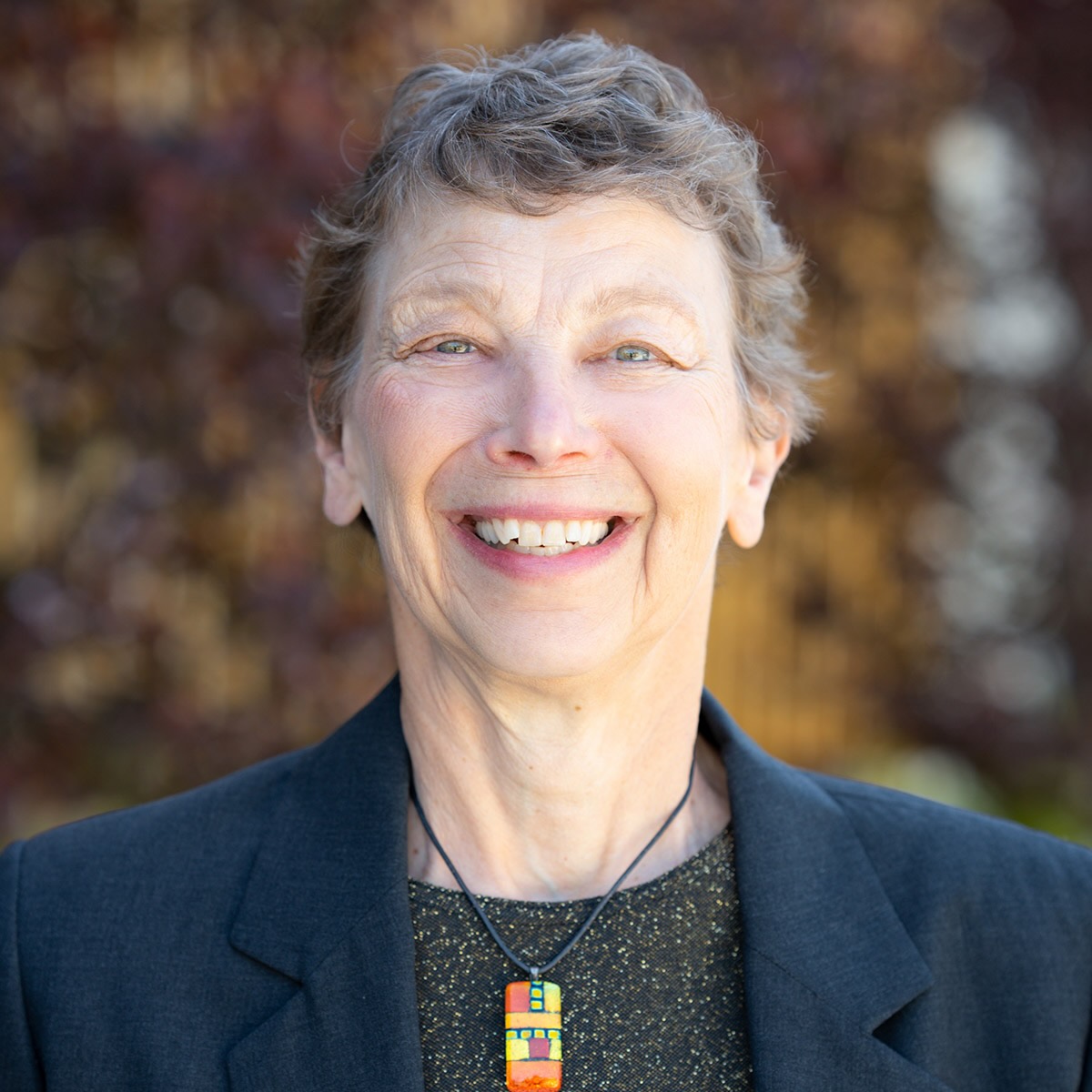 Charlotte Hill was born in Jerome, Idaho, and after living in other states, her family returned to their "roots" in Hailey, Idaho. She graduated from what is now Hailey High School, but at that time was known as Wood River High School. Hill earned her bachelor's degrees at the University of Idaho in bacteriology and chemistry in 1976 and 1977. She earned an M.B.A. at Washington University in St. Louis, Missouri, in 1994.
Hill began her career as an analytical chemist at the Idaho National Engineering Laboratory (INEL, now INL) from 1977 to 1979. Her research at INEL resulted in the development of new methods to identify, isolate, and quantify specific ions relating to use or production of nuclear or geothermal energy. Recycling nuclear waste is critical to the cost-effectiveness and waste reduction in the nuclear industry. The ion chromatographic techniques she developed were important in identifying and quantifying critical ions to reduce waste and enhance pollution reduction.
Hill worked for IBM from 1980 to 1989, rising to the position of manufacturing engineering manager, with responsibility for the development, building and maintenance of high-volume processing equipment for hard disk drive magnetic media. For her contributions to improve the yield of disk assemblies and their components, and validating methods of cleanliness pertaining to clean rooms, equipment and personnel, Hill was awarded the Excellence Award at IBM.
She served as senior manufacturing engineering/production manager for Electronics & Space Corp. from 1989 until 1995 and as vice president of operations/quality assurance for Rantec Microwave and Electronics from 1995 to 1996.
In 1996, Hill began her distinguished association with Georg Fischer Signet, a company in El Monte, California, which is a subsidiary of Switzerland-based Georg Fischer Corporation. She served as vice president of operations from 1996 to 1999 and as vice president of marketing from 1999 to 2001. She served as president and CEO from 2001 to her retirement in 2016.
During her time as president, the company grew from $11 million to $35 million in revenues. Hill also led work to develop products to reduce water usage and avoid contamination.
Hill has been active in professional organizations and served on the Measurement, Control and Automation Association board of directors from 2005 to 2011, including service as vice chair and chair. She has also been active in the Los Angeles Section of the Instrumentation, Systems, and Automation Society, having served in the past as secretary and treasurer.
Hill also contributes to her local community through volunteer efforts. Notably, she has supported meaningful job creation efforts for persons with disabilities in the manufacturing facilities of Georg Fisher. She also generously supports the American Red Cross and University of Idaho.
Hill has contributed to U of I for many years. Hill is a member of U of I's Heritage Society for including the university in her estate plans. In 2020, she co-sponsored the Charlotte Hill and Carol Lisek Science Excellence Endowment. The endowment provides scholarships for undergraduates in a broad range of disciplines including chemistry, biological sciences, and animal, veterinary and food sciences. She is an active and valued member of the College of Science Advisory Board.
University of Idaho has recognized her distinguished career and contributions to society with the Silver and Gold Award in 2013 and with induction into the College of Science Academy of Distinguished Alumni in 2019.
For her career accomplishments and leadership in career organizations, Charlotte Hill is very deserving of induction into the University of Idaho Alumni Hall of Fame.
Randy Luten '83
2023 Hall of Fame Recipient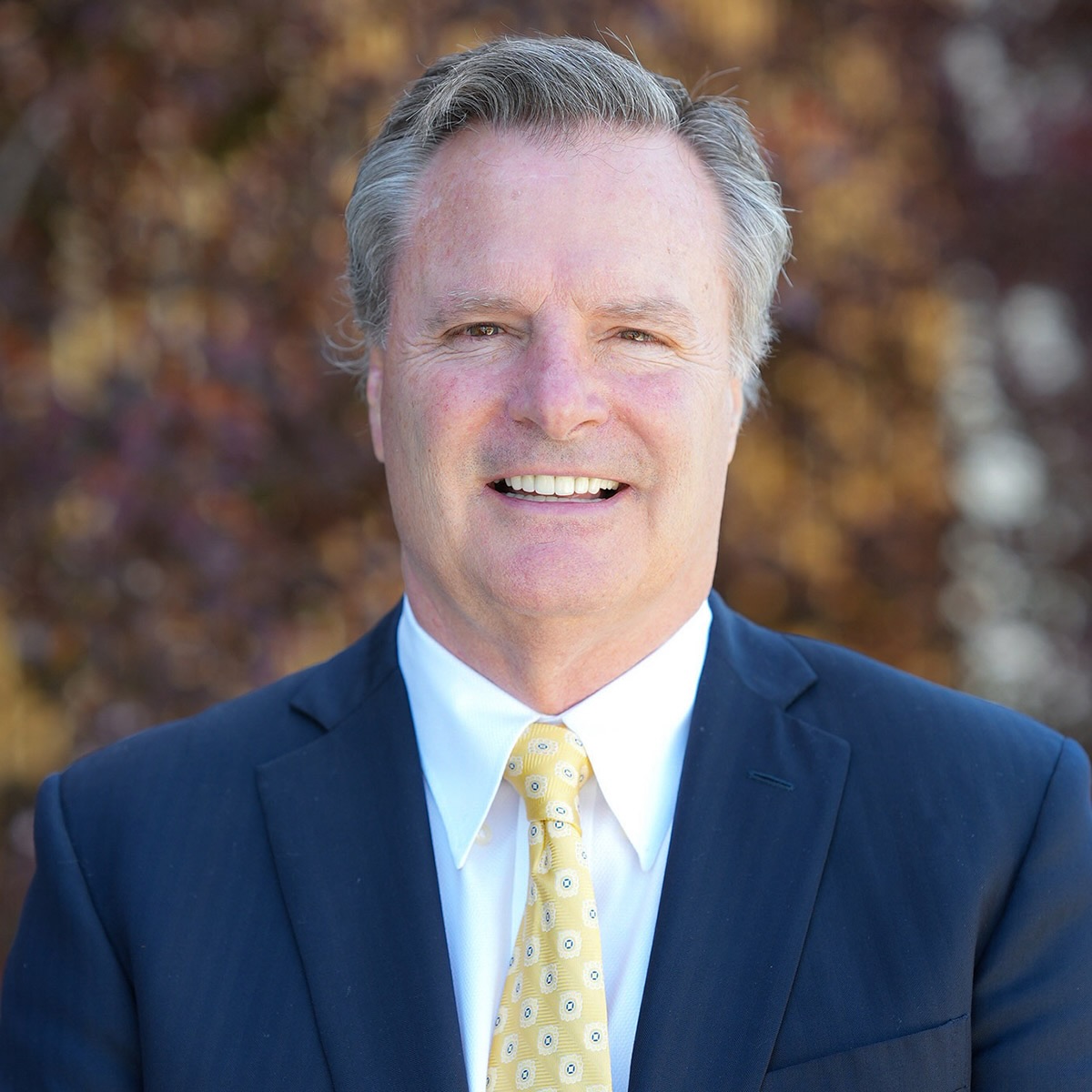 Randy Luten is a stellar Vandal who has served his community, country, profession, and alma mater with distinction. During his illustrious 35-year military and professional career, he achieved the rank of Major in the U.S. Army before transitioning his career to the civilian world.
A son of the South, Luten came to the University of Idaho to play football in the late 1970s. He joined the Lambda Chi Alpha fraternity, served on the student recreation board, and worked as a graduate assistant football coach. He also worked several jobs to help pay for his schooling. Those included writing parking tickets on campus, making sandwiches for a local eatery and buying and selling used cars.
During a very busy weekend, he married his college sweetheart, Margaret "Peggy" Matukonis '82, '83 on a Friday, commissioned in the Army the next morning and graduated later that Saturday afternoon with a bachelor's degree in general studies.
At that point, Luten immediately went to Fort Benning, Georgia, where he completed officer basic training, and Airborne, Ranger, Demolition and Air Assault schools. He was awarded the Merrill's Marauders Award for Best Ranger.
After serving as a platoon leader and executive officer in the infantry, he was transferred to Intelligence in Europe. His specialty was Human Intelligence, and with his interest in technology, he developed the first database for all source intelligence collection and was selected to run a new intelligence field called Measurement and Signature Intelligence, or MASINT.
Although Luten left the military in 1994, he was called back into service two years later during the Bosnian conflict to serve as head of US NATO Human Intelligence Operations in Sarajevo and Chief of Special Operations Intelligence in Bosnia and surrounding countries. After Bosnia, he worked for Electronic Warfare Associates designing robots and spectral analysis systems and was called back into service again for Y2K and following the Sept. 11 attack on the U.S. He has received multiple military awards and decorations during his career.
Luten was then recruited by the Drug Enforcement Agency (DEA) Special Operations Section to develop leading-edge intelligence collection systems for its programs. While serving as an intelligence analyst/technical advisor in the Special Operations Division of the DEA, Luten designed and developed a database to monitor international drug activities and track the top-10 drug lords and all their known associates throughout the world. This database was key to capturing some of the most powerful cartel leaders in Mexico and Central and South America, and in providing supporting evidence in subsequent trials.
After working for several IT companies in the Washington D.C. area, he started Logicteer in 2006 and bought another IT company, ASD Corp, combining the two to provide a full-service IT company specializing in large-scale datacenter deployments, national networks, and big data. Logictier was the first cloud company in the world with customers including the Salt Lake 2002 Olympics and Sony Pictures streaming media.
Luten's interest in international service has never waned. In April 2022, he returned from a humanitarian mission in Ukraine started Humanitarian Express, a non-profit organization focused on solving some of the problems in Ukraine, especially European customs delays and supply delivery. The organization also supports the overall humanitarian coordination effort in Ukraine. He knew with a little cooperation from the United Nations and the State Department, and the use of new technologies, Humanitarian Express could turn resupply from a 30- to 60-day venture into a 3- to 4-day operation.
Luten's wife Peggy passed away in 2012. Together, they had two children, Megan, and Christine. Christine Luten is currently attending the University of Idaho as a proud Legacy Vandal. In 2019, Luten married Kathleen Duncan, who has three children from her first marriage: Kara, Alex, and Patrick Duncan.
Throughout all facets of his career, Luten remained a steadfast and loyal Vandal. He was a member of the advisory council for the university's Operation Education for Veteran Students and is a current member of the Vandal National Scholarship Foundation board and given generously to support these and other programs.
Starting in 2011, Luton joined the U of I Alumni Association (UIAA) board of directors where he served his fellow alumni for 10 years, eventually becoming president of the board. At the UIAA board meeting in spring 2017, Luten presented a big, bold idea to benefit Vandals for decades to come. After talking with then-Athletics Director Rob Spear, Luten asked his fellow board members to consider making a major donation to the new arena. The donation would give UIAA naming rights to a space in the arena for all members of the Vandal Family to gather and connect. It was his initiative and imagination that persuaded the UIAA board to approve a six-figure investment in the new arena.
In addition to the inspiration to invest in the arena, Luten applied his business acumen to ensure the UIAA board had the resources to make it happen. He took a hands-on role in helping to manage the board's funds through some of the stock market's most volatile times. As a result, the board was able to secure the funds for a $500,000 investment in the arena without touching the corpus of its endowment.
The UIAA gift became a catalyst for other organizations and individuals to make major gifts to the arena project. It was a turning point in the overall fundraising campaign for the facility that created the space known as the Alumni Club Room.
Randy Luten epitomizes the intelligence, initiative, grit and spirit of a true Vandal, and he is a perfect candidate for the Hall of Fame.
Ruth Ann Knapp '66
2023 Silver & Gold Award Recipient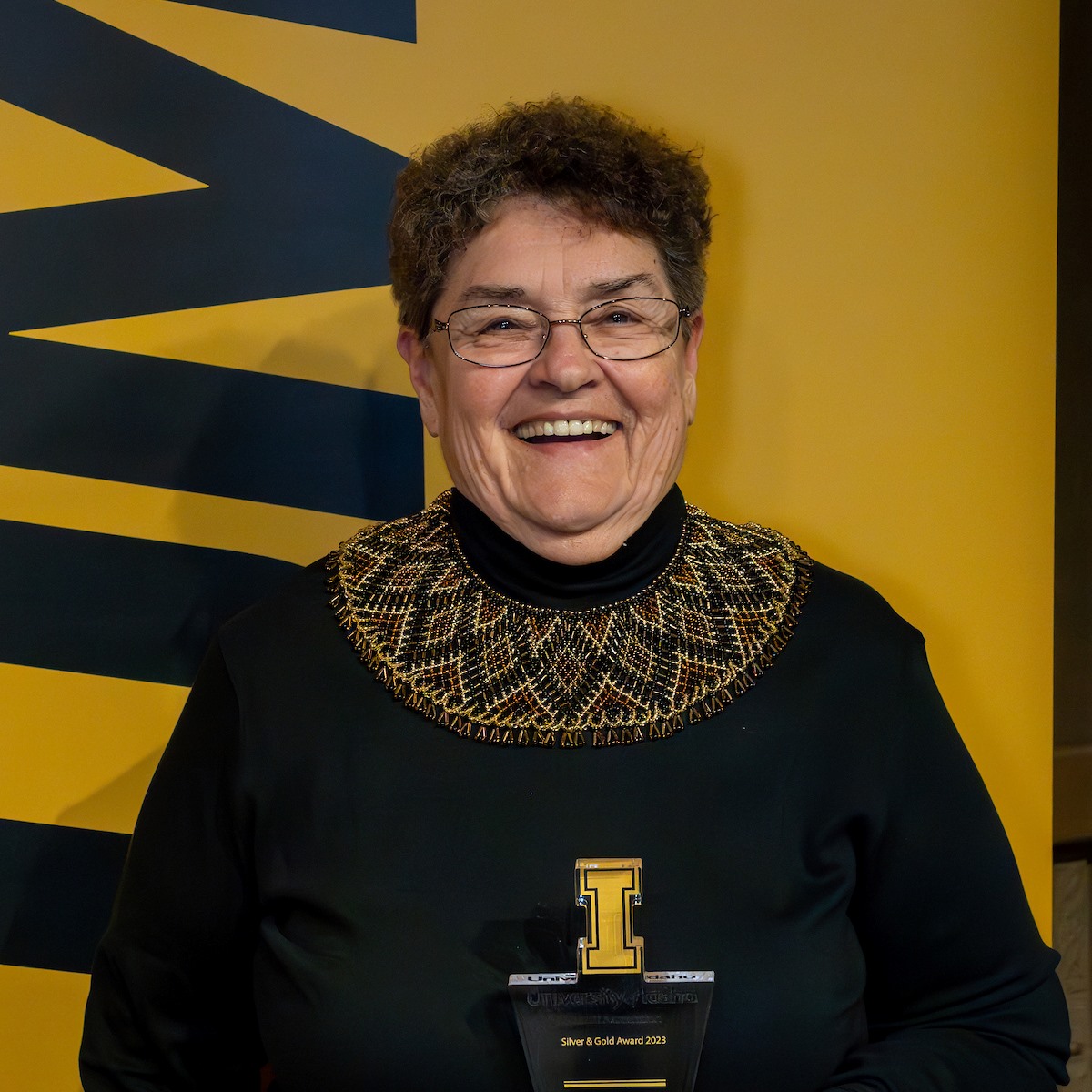 Ruth Ann Knapp was born in Michigan. When she was very young, her family moved to a farm close to Melba, Idaho, where she grew up. She earned degrees in Music Education and Education from the University of Idaho in 1966.
After graduation Ruth Ann moved to Beaverton, Oregon to teach. After spending a summer at the National Music Camp in Interlochen, Michigan, she made the permanent move to Michigan. That move triggered a career in Saginaw Public Schools that lasted over 40 years and continues to this day as a volunteer school board member and leader.
Ruth Ann, like many educators, wore many hats throughout her career. She served as K-12 Music Coordinator, Fine Arts Coordinator and was involved in the Saginaw Education Association. She has twice served the Michigan Music Education Association as President and founded its Archives and Government Relations Program and worked with the Afro Academic Cultural, Technological and Scientific Olympics, all while continuing classroom education!
Some of her former pupils include Draymond Green of the Golden State Warriors and professional football players — Lamarr Woodley, Ron Stanley and Tory Humphreys. A truly dedicated educator, Ruth Ann still stays in touch today with many of her former students — not just the household names!
Since her retirement from teaching in 2010, Ruth Ann has not slowed down — she continues to volunteer with the NAACP and served as 2nd Vice President and Education Chair. She is active with Michigan Scouting. She has served on her local school board, being elected as Treasurer and President, and is active as a board member of the Saginaw economic development organization. In 2022, Ruth Ann joined the Saginaw Intermediate School District Board (county-wide) that runs the Saginaw Career Complex, and Millet Learning Center for special education students. And she was appointed by the governor to the State Fire Safety Board, representing the Michigan Association of School Boards.
She's been named the Administrator of the Year to the Michigan Youth Arts Festival, the Music Teacher of the Year and Award of Merit, Most Valued Member and Saginaw Hero award of the NAACP of Saginaw and was named the Michigan State Music Teacher of the Year—to name only a few.
Ruth Ann flies the Vandal flag out in Michigan, where she planted the Vandal Spirit black and gold irises that she received from a fundraiser for the U of I Arboretum some years ago. She also sews and uses Vandal fabric to make gifts for friends and family in Idaho and is a member of U of I's Heritage Society for including the university in her estate plans. Her car in Saginaw is adorned with a U of I decal. She attended her Golden I reunion in 2016 and participates as often as she can in U of I remote events.
Most recently, Ruth Ann donated a Besson euphonium to the U of I Lionel Hampton School of Music.
Thank you, Ruth Ann, for demonstrating what being a Vandal means day in and day out in and out of a classroom: sharing your passion, sharing your understanding and gift of music and for being generous with your time to countless students. The University of Idaho is very lucky to have you representing the Vandal Family in Michigan!
Danielle Christine '16
2023 Brave and Bold Award Recipient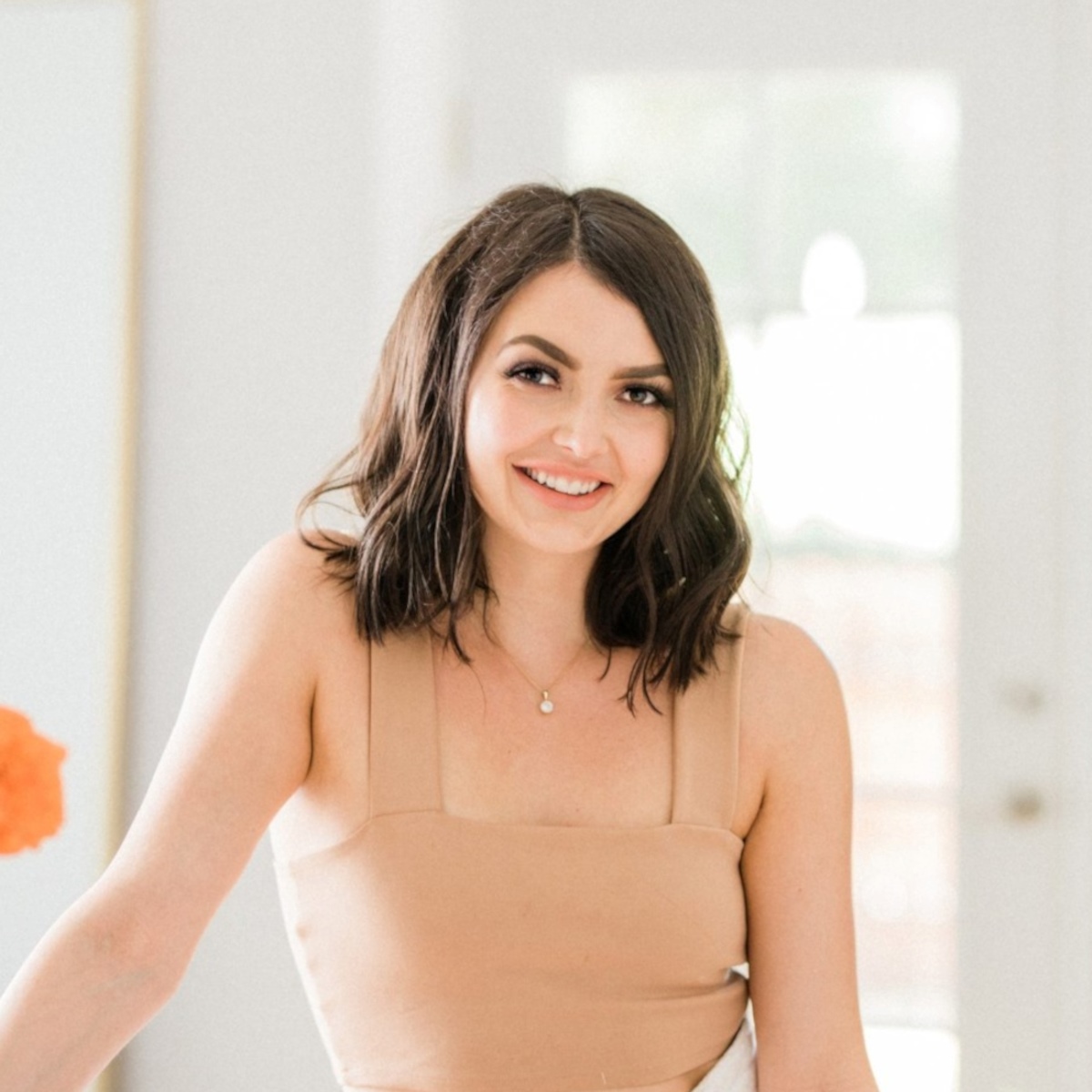 Danielle has worked incredibly hard to bring her dream of owning a restaurant to reality. Her ability, grit, tenacity and sense of service to others exemplify what we value in Vandals. She is indeed a Brave and Bold Vandal — one that is making a difference in Boise and as a leader in the restaurant industry.
Danielle was an Interior Design major before she came to University of Idaho to study Exercise, Sport and Health Science. While at U of I, she had a service trip to Nicaragua where she was transformed witnessing the meaningful connection between community and health, and the relation of food with both. After graduating in 2016, she moved to Boise to begin her working life, but quickly realized she needed to unleash her entrepreneurial spirit and match it with her dream of building community through food.
Danielle was able to first start Haute Foods, a take-out restaurant, in 2020. This was not an easy time for any business during the pandemic. Danielle is not one to back down from a challenge and started work on her concept for a brick-and-mortar restaurant. She turned that dream into reality through old-fashioned hard work and smarts. Her second restaurant, Apericena, opened in July 2022. Opening and managing two small businesses in only two years is a testament to both her competence and her tenacity.
More important than her business and professional accomplishments is her "service to others" spirit that imbues all she does. Her experience at U of I, especially in her community health and health promotion classes, was transformational in how she decided to lead a life of creating value for others. Her restaurants center around building a community of staff, which fuels her desire to transform the restaurant industry as a profession, beyond just "jobs" for her employees. She believes a happy and healthy community, coupled with healthy and tasty ingredients, is a recipe for success not just at mealtime but beyond.
One of the most impressive things about Danielle is her character, her courage and how she approaches challenges. Only three years ago, Danielle was very ill and bedridden for a significant amount of time. With little outside support, she fought her way back to health with the courage to chase her dream. Her dream blended three passions — food, health and community. In true entrepreneurial spirit, with the strength of character to follow her passion, she has navigated all the business pitfalls that often ruin most small business owners. The word "quit" is not in her vocabulary. She proves how a good idea, coupled with strong character and courage, with a load of hard work, gets you closer to realizing one's dreams.
Danielle Christine exemplifies both the Vandal ethic and the quality graduates we produce at University of Idaho. Danielle's leadership builds community with the people she works with and serves and is a model of success within the service industry. Danielle Christine is Brave and Bold in her ideas and actions. She epitomizes the potential of young Vandal graduates.
Jan Jones
2023 Honorary Alumni Award Recipient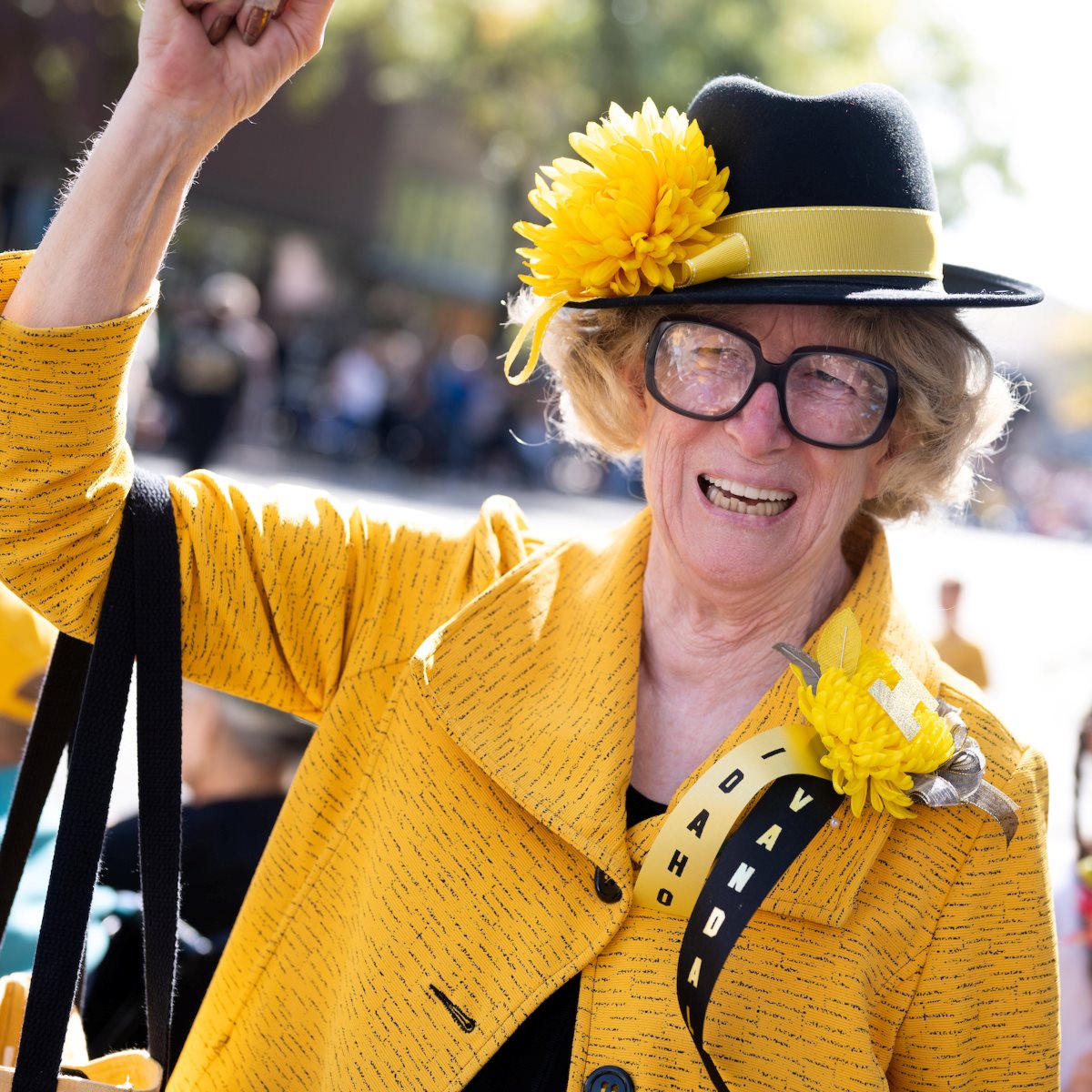 Jan Jones did not attend University of Idaho, but she is truly a Vandal through and through. She embodies the affinity we look for from our alumni, and their dedication of time, talents and treasures. Jan has directly or indirectly been involved in raising funds to support Vandal student-athletes for a minimum of 40 years. The very first development officer in Southern Idaho was an employee of the Vandal Boosters, Inc. Jan provided an office to that individual in her work building.
Throughout the years, Jan has devoted her energy to aiding with the Vandal Scholarship Fund Governor's Gala, now renamed the Vandal Scholarship Fund Gala. She has been a constant in its 32-year history. Often you will find Jan in the thick of things helping secure donations of items for the silent auction or collaborating with other volunteers at the conclusion of the Gala with post-event cleanup
One of the joys of the Gala is when Jan and her husband Ken bid each other up on live and silent auction items. They are a rare couple who request separate bid numbers. The two have fun with the exercise. However, for those in attendance, it highlights a commitment and a love for the university and its student-athletes. It is an inspirational gesture on their part. One of great distinction and generosity.
Throughout the years, Jan has cheered on our beloved Vandals at home and away athletic competitions. She has been the guest of earlier Vandal coaches during practices and gameday warmups. Jan treats student-athletes of all 16 varsity sports like her own children and wishes for them to succeed academically, athletically and socially while in Moscow.
We are honored to officially welcome Jan into the Vandal Family.
E. Whit Johnson '80
2022 Jim Lyle Award Recipient
Ethan Whitney Johnson — Whit to his friends, started volunteering and serving during his time living in the Fiji fraternity. It was these acts of volunteering that laid the groundwork for what would become a tradition of donating his time to others.
Whit started by attending alumni events, whenever and wherever he could. He traveled to support the Vandals and see the Vandal family across the pacific northwest and beyond. Eventually, he planned and hosted a golf tournament in Arizona for snowbird Vandals. It was the start of a tradition that stands today.
It wasn't long after that initial golf tournament that he was approached by the Alumni Association to apply to join the board. During Whit's time on the board, he was a leader and voice of collaboration with groups and student-supported projects. Whit was a leader in helping the Alumni Association support university projects, such as fundraising for Homecoming fireworks, and larger projects, such as the ICCU Arena and the creation of the Alumni Club Room.
Whit Johnson is certainly deserving of the Jim Lyle Award and is a valued member of the Vandal Family.
Gaylen Wood
2023 Honorary Alumni Award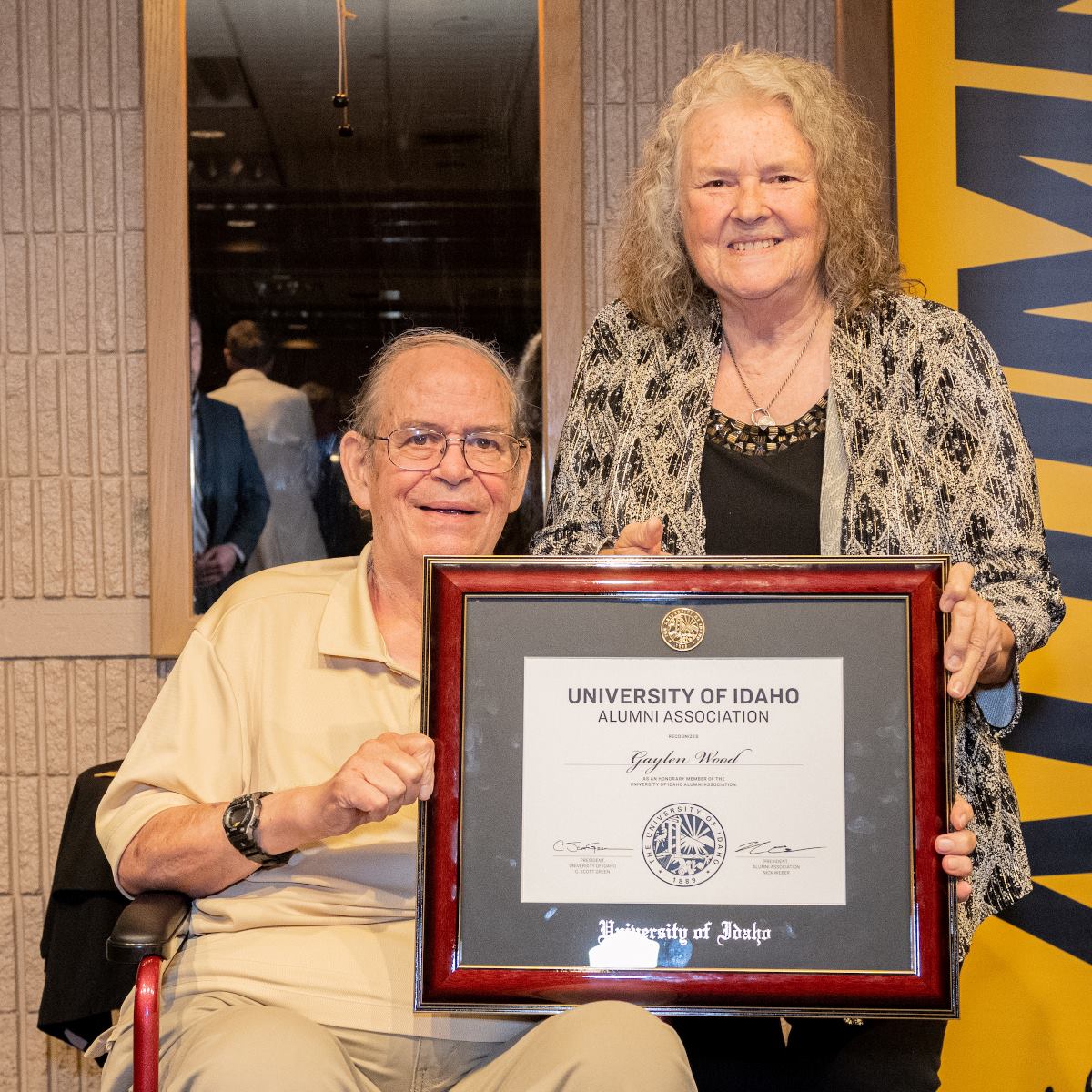 Mitchell J. Sonnen '86
2023 Jim Lyle Award Recipient
Travis Thompson '00
2023 Jim Lyle Award Recipient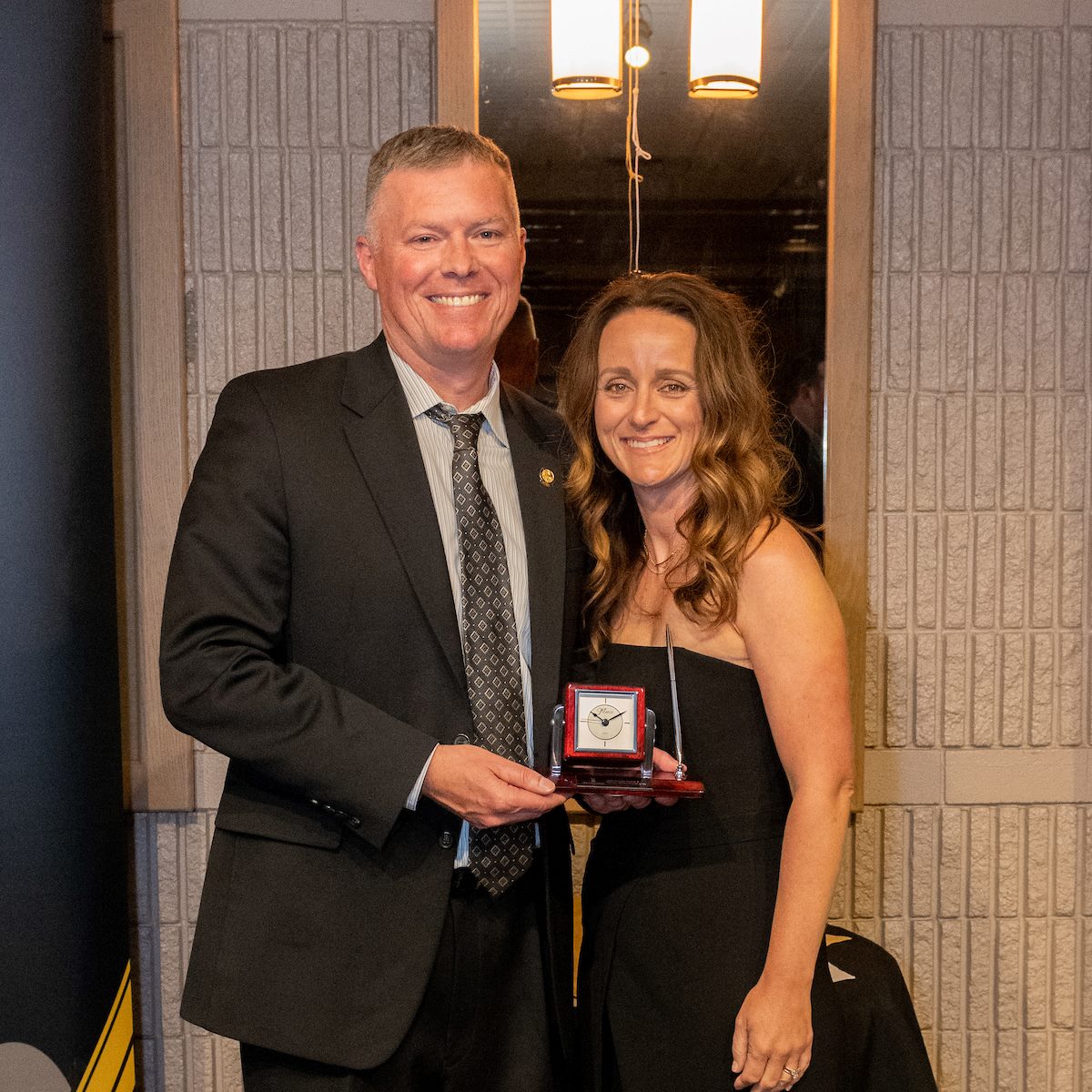 Greg Crocket '71, '74
2023 Silver and Gold Award Recipient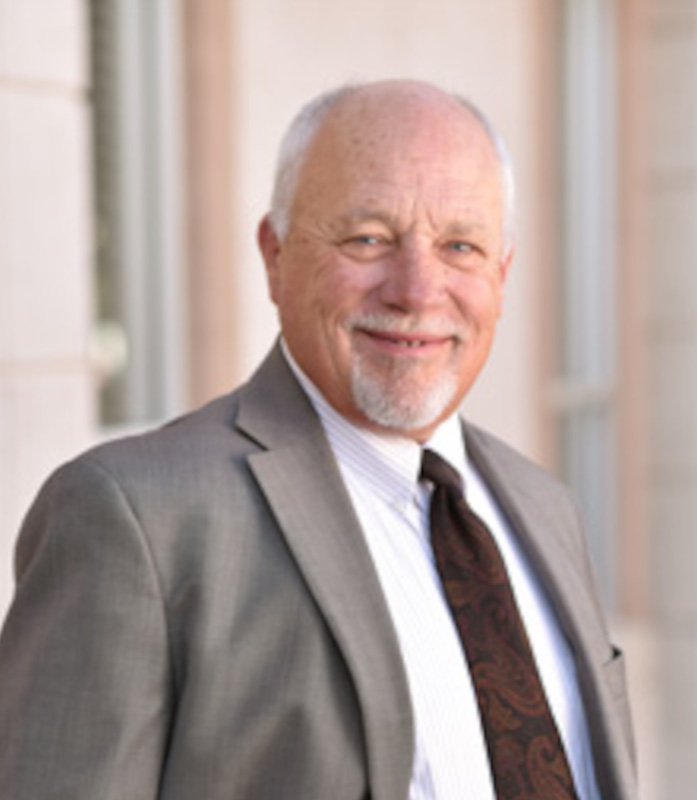 Rebecca Bishop '96
2023 Silver and Gold Winner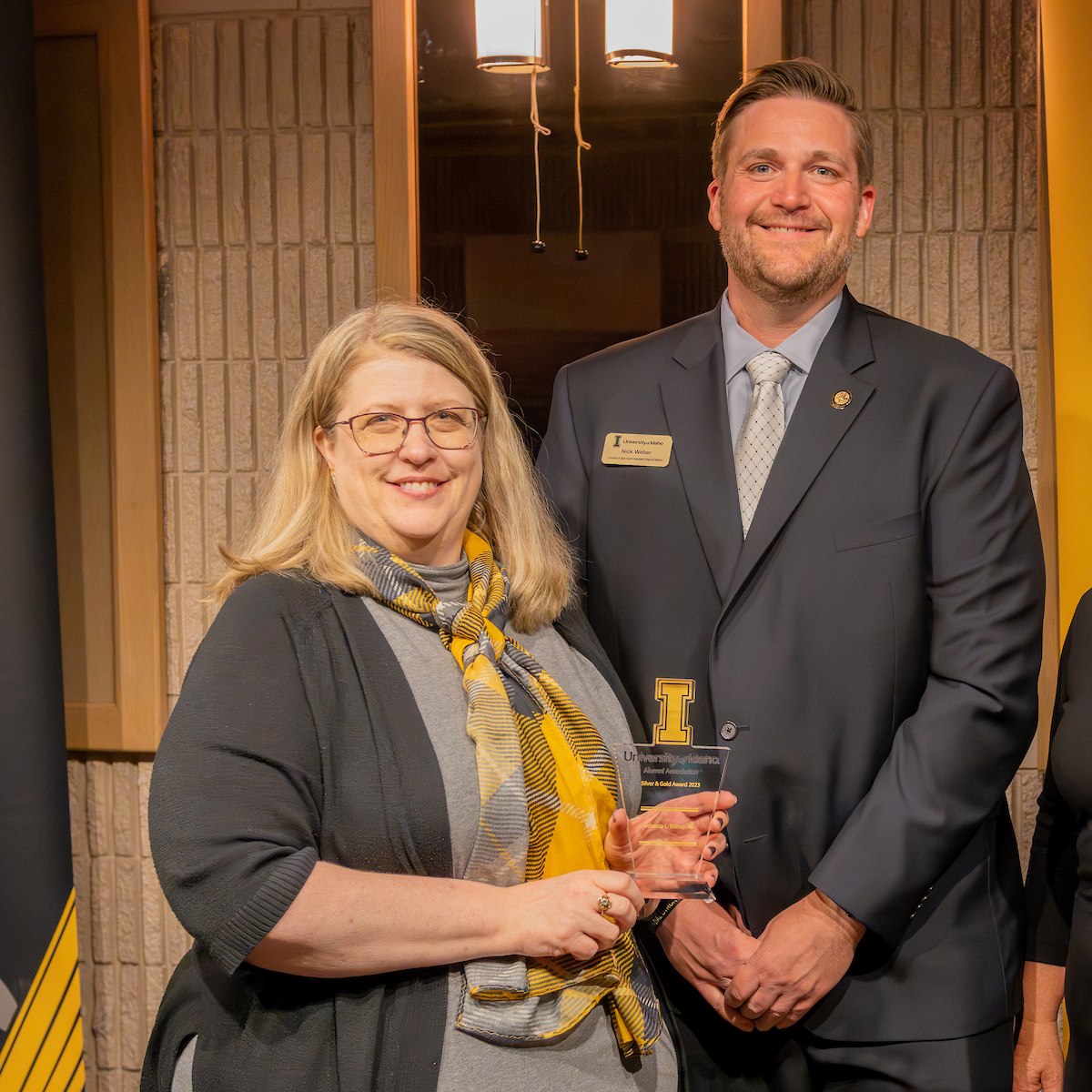 College of Letters, Arts and Social Sciences
Tom Stevenson '75
2023 Silver & Gold Award Recipient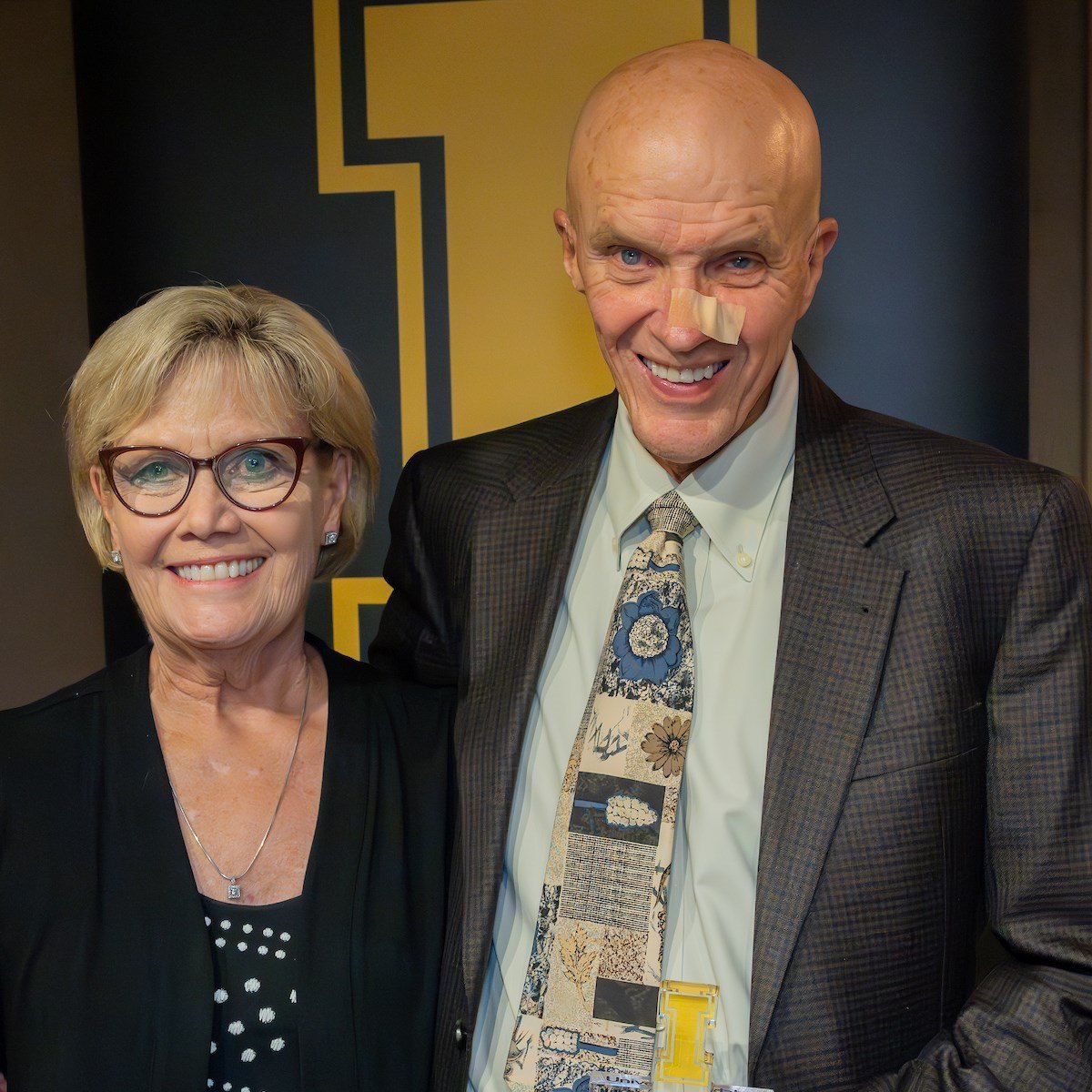 College of Business and Economics
Award Categories
Alumni who have achieved national or international distinction by their accomplishments and leadership.
An Alumnus/alumna or friend that has a national or international reputation and has brought distinction to the State of Idaho and University of Idaho.
Persons that have served University of Idaho, and the university's alumni with "great distinction while providing faithful and distinguished service to University of Idaho."
Alumni who have a distinguished record of achievement and service.
Recognizes outstanding contributions to the university and/or alumni association through volunteerism.
In honor of young alumni with outstanding career achievements or record of volunteerism.
Senior level, graduate and law students who have achieved academic success, demonstrated career/professional preparation and campus/community leadership.
Nomination Process
Nominations are to remain confidential.
Applications for all awards must be completed and submitted by September 1. Submission instructions are available on each award page.
Nominee history should include significant achievements and distinction of service, and regional, national and international recognition. Media or press summaries are helpful.
Applications require 2-5 letters of reference.
Applications are reviewed by the Alumni Association Awards Committee. Recommendations are submitted to the Alumni Association Board of Directors, who approve selections.