Protein Research Prepares Student for Future as Oncologist
By Tara Roberts
University of Idaho junior Daniel LaPorte has watched family members struggle with cancer, which inspired his plan to become an oncologist.
"The more I thought about it, the more I realized I wanted to be alongside the people who have cancer," says the Boise native.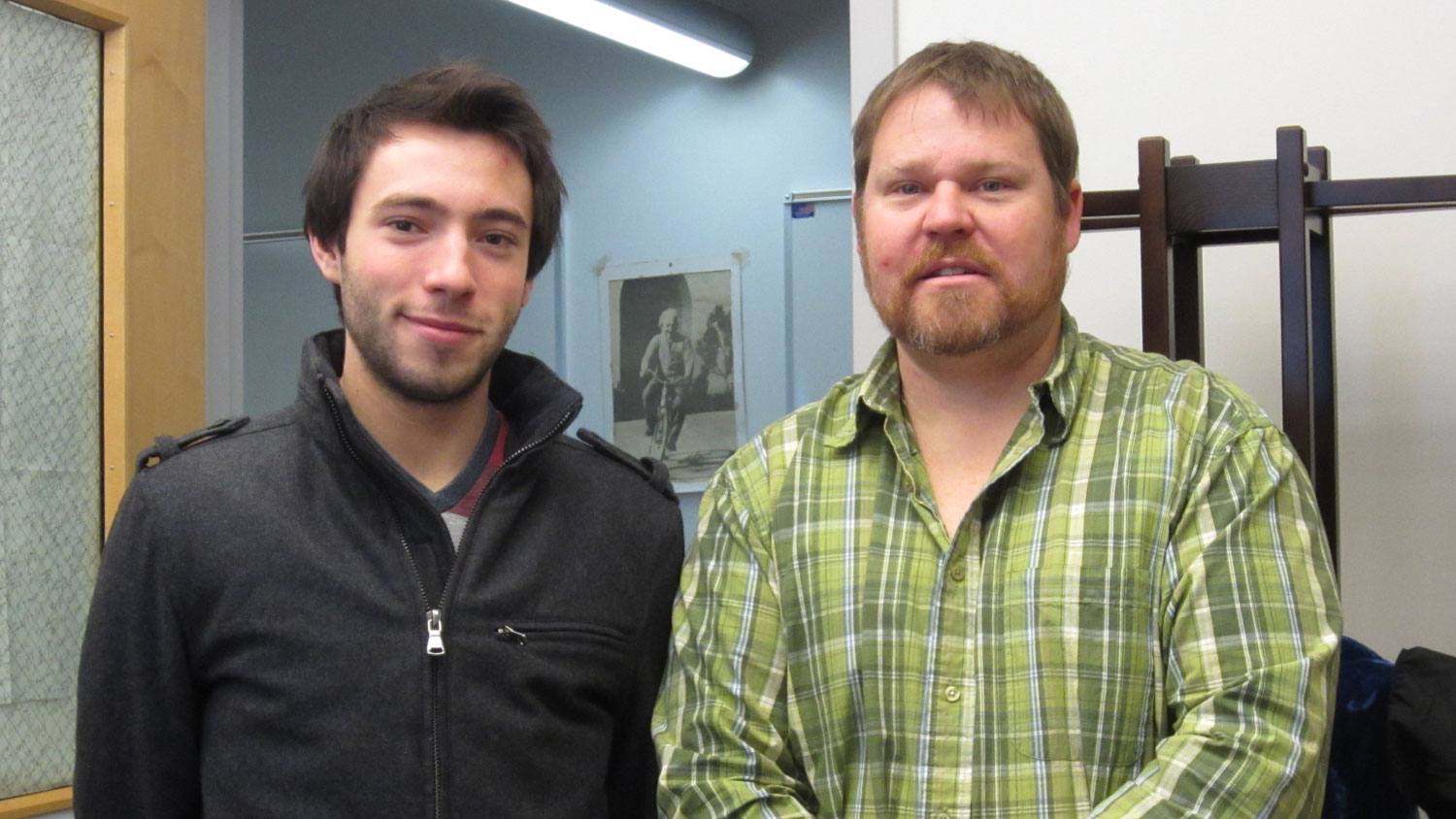 LaPorte, who's studying for a double major in physics and chemistry, is building his knowledge of the complexities of the human body as a researcher in the lab of Marty Ytreberg, an associate professor of physics. LaPorte and his lab mates study human p53, a protein vital to cellular health.
LaPorte has been awarded a Hill Undergraduate Research Fellowship, which will allow him to present his work on p53 at the American Biophysical Society's 2014 conference.
Unlike many proteins, p53 does not have a stable structure. It is constantly fluctuating – which researchers believe is a positive thing for the human body. The protein's ever-changing structure is generally thought to be what allows it to perform diverse and vital functions such as monitoring DNA damage, deploying other proteins to repair damage and programming cell death if a cell is beyond repair.
Ytreberg has developed a method for finding which structures of p53 are most statistically prevalent in the human body. LaPorte uses this data to examine the structures of both mutant and typical forms of the protein. Together, their goal is to develop foundational knowledge of p53.
"Even just a better understanding of how this protein fluctuates in our body can give us a basis for more research," LaPorte says.
LaPorte is happy he was chosen for Ytreberg's lab, where doing research at the confluence of physics and biology has confirmed his desire to become an oncologist. While his work on p53 isn't directly related to cancer, it has a connection to it.
"You will find in over 50 percent of cancerous tumors that the human p53 protein has been compromised," he says.
LaPorte says he's especially thankful for the chance to work in a lab as an undergraduate. When he was a sophomore, he realized he couldn't pass up the opportunities offered by a research university like U-Idaho. He got in touch with Ytreberg, who offered him a place in his lab.
"He was more than willing to take me in and teach me," LaPorte says. "It's a very personalized experience that I'm getting."