Fluorescent Microscope Brings Students Together
Physicists Shine Light on Cell Work
Cole Thompson grew up in Spokane attending college basketball games with his grandfather who had season tickets.
The clean arc of a ball on its way to the net and the spin of the orb angling into the hoop sparked Thompson's interest in physics, leading him to the University of Idaho where he redirected his love for the game into research.
In physicist Andreas Vasdekis' lab, Thompson and his colleagues helped develop a fluorescent microscope that uses extreme low light to illuminate cell samples.
After transferring to U of I because of its physics program and undergraduate research opportunities, Thompson sought work in a lab. Two years later, the senior physics major is a published scientist who graduates in Fall 2021.
"I didn't really consider having my name on a peer-reviewed journal article," Thompson said. "I'm just super grateful and amazed."
Thompson is an author on the recently published article, "Photon-Sparse, Poisson Light-Sheet Microscopy," in the journal of The American Chemical Society Photonics where Thompson, Vasdekis and other lab members introduce Vasdekis' microscope. Compared to its counterparts, the new microscope shines a fraction of the light, or energy, on a cell specimen.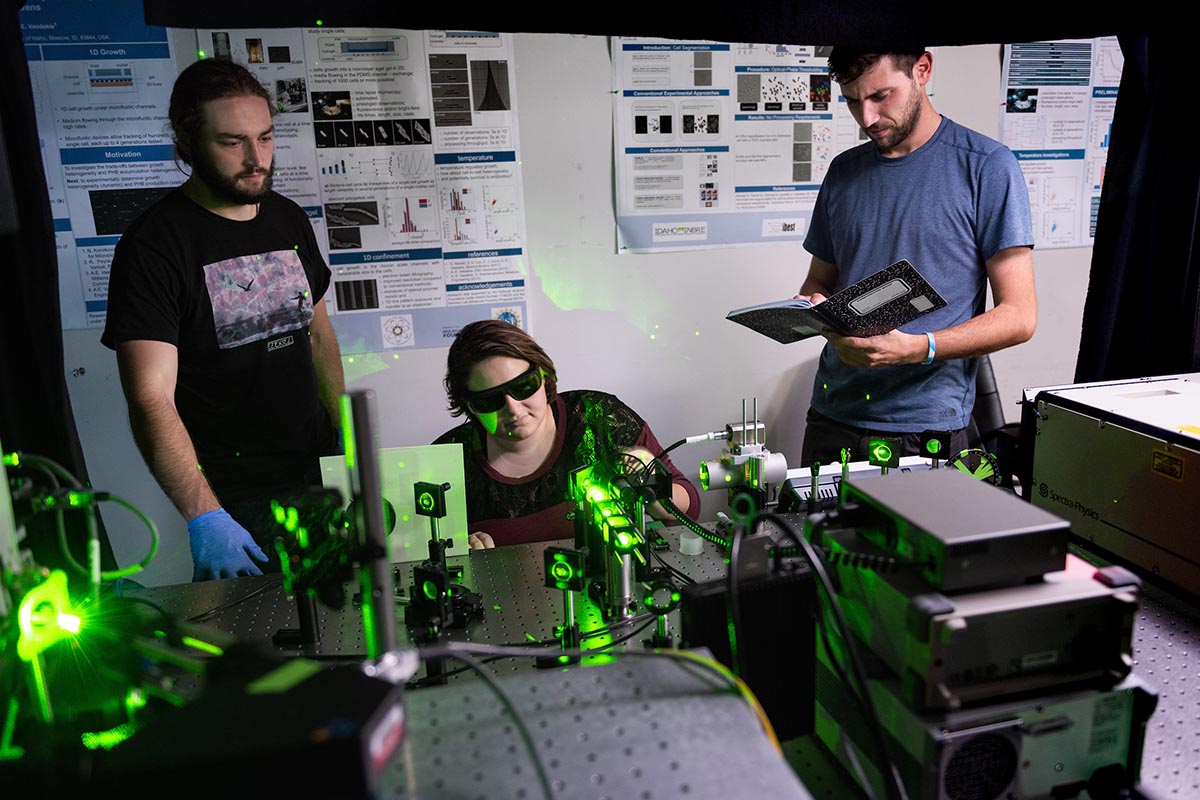 Because it uses so little light, the microscope, which is the size of a coffee table, prevents the destruction of specimens, allowing researchers to conduct experiments longer.
In addition, lower light prevents photo bleaching, a common problem in bright-light microscopy that prevents scientists from observing cells over a long period of time.
Using a conventional system under bright light, a cell sample can be viewed from 20 seconds to a couple of minutes before it fades, Vasdekis said.
"With our system, the sample can be viewed for as long as you want," he said. "The other advantage, it allows you to see very dim objects."
The opportunity to conduct research as an undergraduate led Lochlann Dunn to U of I from Boise, where, as a high schooler, he was attracted to the study of light.
"I wasn't very good at physics in high school, but I liked light. I thought it was magical," Dunn said.
"I love the idea that physics is a secret code that eventually can explain the whole universe," Cole Thompson, U of I Physics Major
Dunn graduated in Spring 2020 with a bachelor's in physics after spending several years in Vasdekis' lab, and he stayed on to work as a research assistant.
Joining Vasdekis' lab opened the door to another horizon, Dunn said.
"I started to see the beauty in physics and was introduced to, and got to do, a lot of good and interesting research, in addition to working on a cutting-edge microscope," he said.
Participating in the research project affirmed Thompson's love of physics.
"I love the idea that physics is a secret code that eventually can explain the whole universe," Thompson said. "Seeing our work benefit the study of biology goes to show the interconnectedness of different disciplines, and the holistic approach required for scientific progress."
This project was funded to Regents of the University of Idaho by U.S. Department of Energy under award DE-SC0019249. The total project funding is $1,125,000.00 of which 100.00% is the federal share.
Article by Ralph Bartholdt, University Communications and Marketing.
Photography by Joe Pallen, University of Idaho Creative Services
Published in December 2021