Thriving in Wildfire Country
UI begins project to examine wildfire risks and results, work with communities
Fire in Idaho is complicated. It's devastating, inevitable and necessary.
"Fire is tied to everything," says Crystal Kolden, an assistant professor of geography in the UI College of Science.
Idaho's ecosystems have adapted for millennia to life with natural fire, and Idaho's people rely on those ecosystems. Fires create the conditions that allow ponderosa pines to flourish and nutrients to cycle back into the soil. They influence the mix of trees and plants that hold together snowpack, allowing it to melt gradually and feed hydropower and irrigation systems. They shape healthy landscapes where people fish, hunt and hike.
But Idaho also has a long history of large fires that destroy homes, debilitate towns and take lives. And, Kolden says, the threat of wildfire is never going to go away.
"The vast majority of the time with large fires, the kind that burn down houses and that make the news, we can't stop those fires until the weather changes," she says. "For me, the reality of not being able to stop the fires is juxtaposed with the need for fire to maintain our ecosystems."
To help Idaho and other Western states maintain a careful balance of healthy landscapes and safe communities, Kolden and an interdisciplinary team of researchers from UI and Washington State University have launched a project that will identify where wildfires are most likely to strike and help communities better prepare for and recover from fire.
Framing the Problem
The $2.8 million National Science Foundation-funded project began in October 2015. The team's first task is developing FireEarth, a modeling system that builds off Washington State University's BioEarth, which allows researchers to explore interactions and connections among natural and human systems.
"It's a lot easier to talk about and engage in interdisciplinary research if you have this kind of formal structure to do it," says Jennifer Adam, a WSU associate professor of hydrology and water resources and lead of the BioEarth project.
FireEarth will focus on specific high-risk areas in Idaho, Washington and Oregon, but can be scaled up to broader areas. Kolden says the model will allow the team to analyze how fires in the Northwest act and whether they're in the normal range of severity or potentially detrimental to ecosystems.
The team also will use the model to spot the human communities that are most vulnerable to fire for physical, economic and social reasons.
"We're trying to identify among these rural communities which ones have the most to lose and the least ability to adapt," Kolden says.
For example, a town may run the risk of losing homes and structures because of limited fire-wise preparation. A fire that blocks recreation access could devastate a town that relies on tourism. A wealthier community may have the resources to rebuild after a fire, while a lower-income town may struggle to bounce back.
Listening to Communities
This thorough consideration of human factors adds a new element to build on past studies of Northwest fires.
Travis Paveglio, an assistant professor in the UI College of Natural Resources' Department of Natural Resources and Society, leads the social science portion of the project. He will build on his decade of research into how different communities experience, prepare for and respond to fire.
Paveglio and a graduate student will create case studies of Northwest communities where fire is or may be a threat. They will examine how communities and land managers address fire-related problems, whether the solutions work and whether people support them.
"To me, a lot of the work that we do is working with those communities," Paveglio says. "It's our job to help carry the messages about what's important to them."
Existing research show that even towns that are close together geographically can have dramatically different social needs, skills, interactions with the landscape and resources.
Once the team's new investigations are done, they'll work with communities, along with land managers and policymakers, to help them use their distinct circumstances and strengths to their best advantage in the face of fire.
"We've come to understand that a lot of the policies are one-size-fits-all, but they should be uniquely tailored to people's relationships to the landscape," Paveglio says.
Changing the Landscape
As the UI researchers and their partners draw conclusions and potential solutions from their data, they will work closely with a group of government, industry and organizational stakeholders who will help bring the science to the people on the ground.
This research has the ability to help protect people's homes and livelihoods, Kolden says, but above all it can protect their lives and the lives of firefighters.
"As a former firefighter, I still have a lot of friends that are on the lines. Every time I hear a news report of firefighter fatalities, I ask myself 'Did those people really need to die?'" she says. "The vast majority occur when someone's trying to save a house – not a human life."
Ultimately, Paveglio says, the team's goal is to help people in the Northwest live with fire. The researchers at the University of Idaho, along with their partners, bring the array of perspectives, methods and expertise needed to reach this goal.
"We're trying to deal with it not by breaking it down, but by embracing the complexity of it," he says. "I think we're one of the few places that can do that."
This project is funded under NSF grant No. 1520873. Co-principal investigators include Kolden, Lilian Alessa of the UI College of Art and Architecture, and John Abatzoglou and Jeff Hicke of the UI College of Science. Other UI team members are Paveglio, John Anderson in the College of Art and Architecture, Erin Brooks in the College of Engineering, and Andrew Kliskey and Alistair Smith in the College of Natural Resources. Other WSU team members are co-principal investigator Adam, Mingliang Liu in the Voiland College of Engineering and Architecture, Jon Yoder in the School of Economic Sciences and Chad Kruger, director of the Center for Sustaining Agriculture and Natural Resources.
Article by Tara Roberts, UI Office of Research and Economic Development and University Communications and Marketing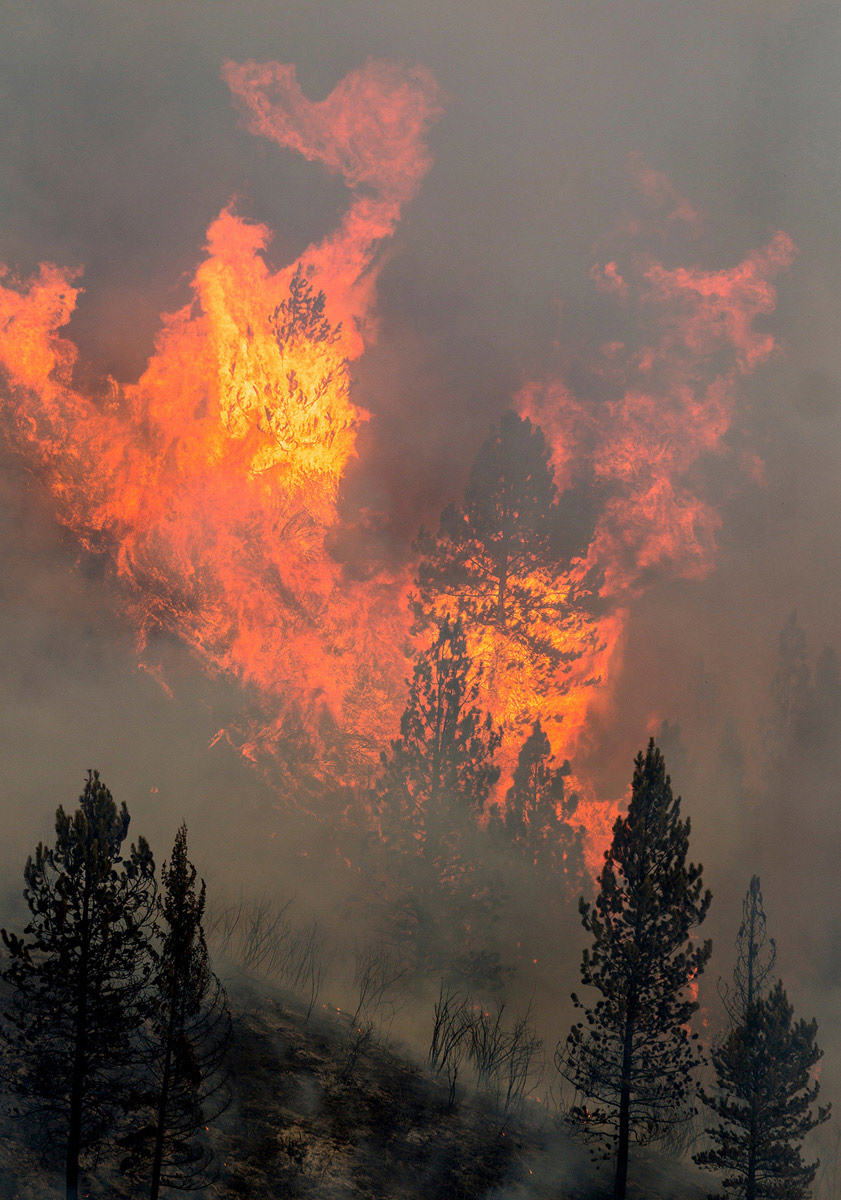 Download the full 2016 Research Report in PDF format.
Download the full 2015 Research Report in PDF format.