Exploring the Algorithms of Life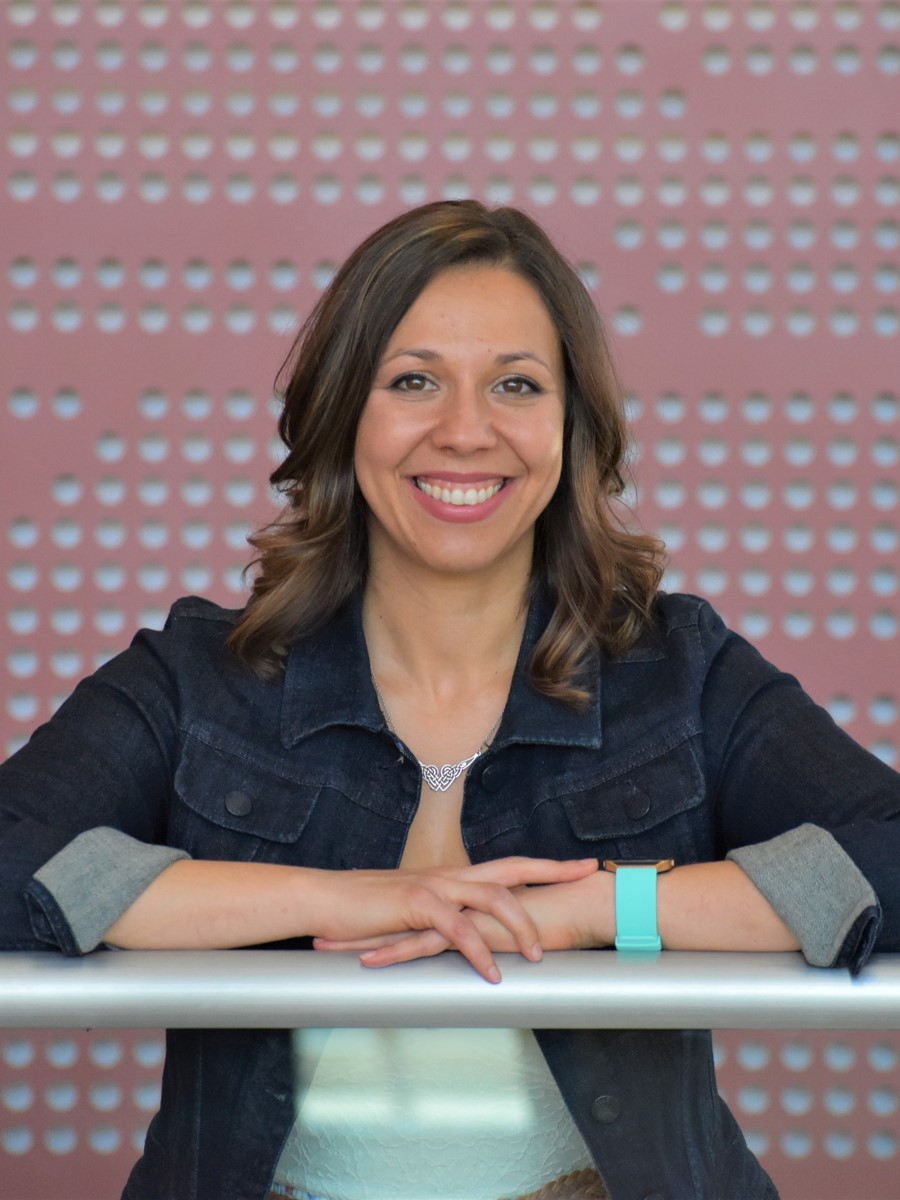 Proteins coded by DNA are called 'building blocks of life.' For Tawny Gonzalez, these proteins were building blocks for her education.
Gonzalez, an alumna of the College of Science and first-year WWAMI medical student, played a key role in a molecular modeling study using complex math to plot out the genetic changes affecting the health and structure of living things.
Gonzalez indirectly found her interest in molecular modeling while shadowing an infectious disease physician at Kootenai Health in Coeur d'Alene.
"That was the coolest shadow job, true Sherlock Holmes stuff," Gonzalez said. "To diagnose culprits for infection, you have to follow clues in the patient's body and history to figure out when and where they were exposed," Gonzalez said.
Gonzalez began exploring ways to research viruses and infectious diseases at U of I. While looking into projects in the physics department, she learned about Marty Ytreberg, professor of physics and an associate director of U of I's Institute for Modeling Collaboration and Innovation (IMCI), a highly collaborative center that teams up with researchers to integrate more modeling into their projects.
Ytreberg, a biophysicist by training, recently published a paper with colleagues about using computational methods to help predict whether mutations in the Ebola virus could weaken treatment efforts.
"I was fascinated by the idea that physics could be so deeply involved in biology," Gonzalez said. "I had no idea what molecular modeling was, how computational methods worked, or how I would fit into his research group; but I thought it would be interesting. I decided to see if Marty would let me join the group despite my lack of knowledge."
Even with the steep learning curve, Gonzalez joined Ytreberg's IMCI working group, using molecular modeling to benefit human health. She quickly picked up the basics and found herself exploring the complex math and algorithms that can make research more efficient and less costly.
"It was cool to see how physics could be used to predict biological interactions that could then assist people on the experimental side," Gonzalez said.
As Gonzalez's interest and knowledge in molecular modeling grew, Ytreberg brought her in to a project to understand how amino acid mutations in proteins change the way proteins fold and bind and in turn how this changes plant and animal characteristics. The project, led by Ytreberg, involved researchers from Idaho, Rhode Island and Vermont.
"Using computational methods to narrow down the number of mutations a research group should study can be very beneficial, but it's difficult; there are a bunch of models out there using different algorithms, and it's not always clear which one would best suit a researcher's needs," Gonzalez said.
Gonzalez used special databases to thoroughly document the structure and binding strengths of various proteins, including those that result in notorious ailments like HIV, cancers and plagues. She used this database to test the speed and accuracy of eight computational methods that predict protein binding strength after mutations. In all, she tested 16 protein complexes involving two or more proteins interacting with each other.
Gonzalez originally believed that the more advanced calculations would be better at predicting final outcomes, but that wasn't always the case.
"Many models did well at predicting how simpler proteins would bind and fold with other proteins," Gonzalez said. "But some didn't do as well, particularly in more complicated scenarios, like when viruses interact with antibodies.
Gonzalez and Ytreberg expanded their study to look at these more complex cases.
"We wanted to be able to suggest, 'If you need a basic method for predicting a simple mutation, use this one. If you want to make predictions for a more complex scenario involving certain viral proteins and antibodies, this other method can work well.'"
Gonzalez is reporting her findings in a research paper, which she and Ytreberg will soon submit for publication in a scientific journal.
"Tawny will be the first author on this paper, which is very unusual for an undergraduate student," said Ytreberg. "She's driven, motivated, self-sufficient, and capable of tackling tough projects alone. She's really done the brunt of the work, and that's very impressive for an undergrad working a handful of hours a week."
Gonzalez graduated in May 2019 with a B.S. in chemistry and biochemistry, as well as a minor in physics. She plans to continue pursuing her interest in infectious disease through U of I's WWAMI Medical Education Program. She also plans to earn a Master of Public Health degree before practicing medicine in Moscow.
"I want to be a real driver of public health in Idaho," Gonzalez said. "Having an M.D. and a Master of Public Health degree can really help me do that!"
Article by Phillip Bogdan, Office of Research and Economic Development
Published in November 2019