Virginia Wolf Distinguished Service Awards
2019 Virginia Wolf Distinguished Service Awards
Each year, members of the campus and local community are recognized with the Virginia Wolf Award for their continuous dedication to activism for gender justice. Nominations are currently open to the public and must be submitted by Friday, March 1 to be considered for this year's awards. To nominate someone, please fill out the Nomination Form.
Virginia (Ginny) Wolf was a professor of physical education at U of I from 1964-1982. Ginny took an active role in addressing issues affecting women on campus, including chairing the U of I Women's Caucus and helping to launch the campaign that brought about the establishment of a permanent Women's Center.
The award was created in 2002 to recognize individuals who reflect a similar level of commitment and demonstrate a level activism reverent of what Ginny gave more than 30 years ago.
Selection of awardees is by review from a panel composed of past honorees. Women's Center staff members serve as advisers to the nominations review committee, but do not participate in the review process.
Thursday, March 28, 2019
12-2 p.m. Clearwater/Whitewater Room
Idaho Commons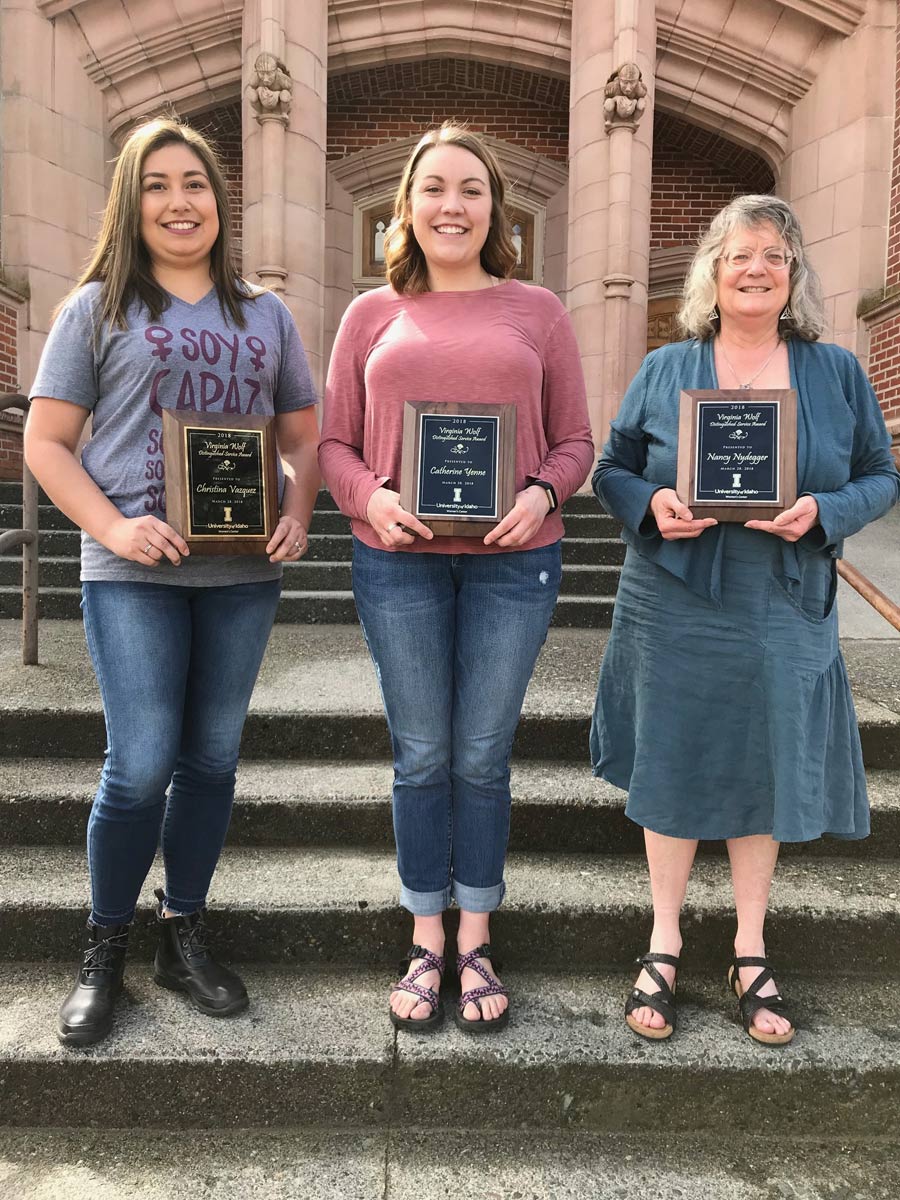 2018 Recipients
Catherine Yenne - French, International Studies and Political Science
A lifelong feminist and campus advocate for gender equity, since she stepped foot on the U of I campus four years ago, Catherine spends every day working for gender equity. Her biggest accomplishment thus far was planning the successful "She Should Run" event. She spearheaded this effort to bring the Community Manager of She Should Run, Sofia Pereira, as well as four other panelists, to speak at the University of Idaho about the importance of supporting women to run for public office. Catherine herself is an example of living her values, as a member of only the second all-female ASUI presidential and vice-presidential ticket. Though she has enjoyed her time in ASUI, it's been a challenge as well. In representing student interests to the U of I administration, Catherine has pushed through, calling attention to inequities while providing solutions to resolve them. For example, she is currently in the process of working with the VandalStore to provide more options for women's professional business wear and to make them more affordable. Catherine has thrived in her role as ASUI Vice President, but her leadership expands beyond the U of I student government. Catherine took the initiative to write a bill, adding psychological trauma to Idaho's definition of domestic violence. She met with other feminists in the Moscow community, to figure out the best way to bring this to the state legislature. Though the bill was not printed for this legislative session, Catherine contributed to a larger conversation in the state government about one of the most common precursors to domestic violence. These two projects are not the only contributions that Catherine has made to gender justice activism. She is a peer mentor for the popular U of I Women Lead series, she actively participates in and spoke at last year's Take Back the Night, but most importantly, she speaks up in situations of injustice. Catherine is a gender justice activist on a variety of platforms, from initiating statewide change, to planning events for the community, to having the difficult, but necessary, conversations to create space for women at the table.
Nancy Nydegger
Nancy Nydegger has consistently and continuously demonstrated dedication to activism for gender justice. Her active and dedicated efforts as a member of the 2012 UI Women's Center 40th Anniversary Committee, and subsequently, the next two years on the UI Women's Center Advocacy Council, are particularly noteworthy. Nancy had wonderful, practical, and effective input all the time. She stepped up to volunteer whenever there was a need. She stepped up to contribute financially in the same manner, including many occasions when there was a struggling student or someone in crisis who came to the Women's Center. I recently was told of how she helped a student who had constant struggles and was a regular visitor to the Women's Center over the ten years it took her to graduate. When she finally graduated, she was greatly discouraged because she couldn't find a job. Once Nancy heard of this situation, she helped place her in a job at WSU, and the student is exceling in her position and is working her way up the career ladder. This was all due to Nancy caring and getting directly involved to give this student an opportunity.
Nancy has also served in many, many other ways to assist others who were in need, experienced social justice crises, or were not adequately represented. Much of what she did and continues to do so beautifully is to make a significant difference by assisting in many quiet, "under the radar" ways that most people don't know about. In the spring of 2016, Nancy was the force and mover/shaker in the successful nomination of Sue Durrant for a Women's Lifetime Achievement award from WSU. Once again, Nancy "rallied the troops" to ensure a deserving woman some long-due recognition. Sue Durrant was the WSU women's basketball coach who challenged WSU in the landmark 1972 Title IX case regarding gender equity in athletics. Nancy has been a dedicated advocate and resource wealth regarding information on Title IX and equity issues in athletics. Nancy has an amazing grasp of such issues and is very proactive in sharing information she thinks will be of particular interest.
Nancy regularly attends local community events and causes that promote social and gender justice. She was on stage as a singing leader at the Women's March on the Palouse in January 2017. She was front and center at the February 2017 March on Immigration. She is a shining (and singing) example of someone who truly "walks the walk." Nancy has had a passion for social and gender justice her entire adult life. In 1984, she and her husband were part of a group that started a soup kitchen in a Catholic church in Colorado. This evolved into the Mission, a multi-million dollar facility run by Catholic Charities. When they moved to Oregon, they coordinated another soup kitchen at St. Mary's. Her passion for fair trade blossomed when they moved to Quebec in 1989. She was working on her MSc in Library Science and met a group of women who started the first fair trade craft sales called Dix Mille Villages. They established a network of church sales and eventually a store at which Nancy volunteered until they moved back to the U.S. in 2000. Once in Pullman, Nancy persevered with fair trade projects and she has run her fair trade business, Just Trade, out of the Brused Books store for over 16 years. Her other passion is singing—she is a member of Congregational United Church of Christ choir, and is part of a Hospice choir that sings to dying patients in Pullman. And, of course, she sings at social justice rallies. Nancy is involved with a social justice group at her church and organized a transgender education event there. She was involved in opposing anti-transgender bathroom legislation and referenda in Washington. Nancy is on the Common Ministry board at WSU, a center for ministry and social justice. She is an advocate for LGBTQA rights and "worked the phones" for Referendum 74 in 2012 which became the country's first marriage equality law. She also continues to support and regularly attends local PFLAG meetings.
Christina Vazquez – CAMP Advising Specialist
Christina has been a staff member at the University of Idaho since December 2014, when she began working as the Women's Center's Office Manager. In this role, Christina shared her rich brand of feminism with staff, students, and visitors. She connected many students of color with the Women's Center who otherwise may not have thought of our office as a place to call home on campus. In addition to welcoming new students to the Center, she enriched our programs, services, and our staff helping us become more inclusive.
.
Christina now serves as the Academic Advising Specialist for the College Assistance Migrant Program (CAMP), where she continues to mentor students from farmworking backgrounds who are the first in their families to attend college. Many students Christina advises may not be familiar with feminism or gender justice. In fact, Christina is often the person to introduce the topic to CAMPers. There can be no better ambassador for feminism. As a first-generation student and very proud daughter of farmworkers, Christina has a deep understanding of the needs, obstacles, and concerns that many Latina students face when attending UI. Many of our Latina students may not feel feminism is relevant to their experiences, even when they directly experience sexism and gender bias. Christina supports, guides, and inspires students to see their families and cultural backgrounds as sources of strength that will contribute to their academic success. Christina expresses her feminism, and lives it every day, in a way that acknowledges the intersections of gender, race, and culture. By sharing her feminist philosophy, she not only empowers our Latina students, but all of us. Christina embodies the philosophy of feminism being for everybody by meeting students where they are, conversing with them about their experiences, and taking the pretense out of feminism. Case in point, Christina advises both the Women of Kappa Delta Chi and the student group Women of Color Empowerment (otherwise known as WOCE). As an advisor, Christina gives her time, energy, and empowers students to find their own activist voices.
Past Recipients
2017 - Madeline Scyphers (student), Rula Awwad-Rafferty (faculty), Erin Tomlin (community member)
2016 - Courtney Kersten (student), Ryanne Pilgerem (faculty), Sally Fredericks (community member)
2015 - Sara Spritzer (student), Maribel Franco (student), Laura Putsche (faculty), Kathy Sprague (community member)
2014 - Kaitlin Moroney (student), Yolanda Bisbee (staff), Deb Payne (community member)
2013 - Whitney Chapman (student), Colleen Kulesza (student), Virginia Solan (staff), Heather Shea Gasser (staff), Lela Ames (community member)
2012 - Micah Kehrein (student), Jane Lear (staff), Jama Sebald (community member)
2011 - Lynn McAlister (student), Chelsia Rice (student), Christine Moffitt (faculty), Christopher Bidiman (community member)
2010 - Rachel Todd (student), Francesca Sammarruca (faculty), Liz Sullivan (community member)
2009 - Anne-Marije Rook (student), Rebecca Rod (staff), Joann Muneta (community member), Jeannie Harvey (lifetime activist)
2008 - Tara Malmquist (student), Liz Brandt (faculty), Amy Stone Ford (community member)
2007 - James French (student), Traci Craig (faculty), Mary Jo Hamilton (community member)
2006 - Cassie Searle (student), Kathy Aiken (faculty), Ginny Foote (community member)
2005 - Selena Lloyd (student), Betsy Thomas and Valerie Russo (staff)
2004 - No awards given
2003 - Lori van Buggenum (student), Debbie Storrs (faculty)
2002 - Emily Sly (student), Kay Keskinen (staff)
Upcoming Events
The Women's Center offers a wide variety of events to help inform, educate, inspire and empower around women's and gender-related issues.