Dirk Kempthorne: 'Make a Difference'
Career in Service
The beginning of Kempthorne's self-proclaimed "unorthodox" career as an elected public servant began at UI, when he was elected president of the Associated Students of the University of Idaho (ASUI). While a student, Kempthorne championed the effort to construct the roof of the ASUI-Kibbie Activity Center.
The effort gave Kempthorne the opportunity to practice what would become a signature of his political style: Diplomacy and a willingness to work with everyone.
"I went to every living group, I met with all of them," Kempthorne said. "I discussed what the facts and figures were, what the pluses and minuses were. We got the support of the student body to proceed."
In the 1980s at age 33, Kempthorne made his first run at public office: for the Boise mayor's seat. At the time, Kempthorne and Patricia had two young children, and Kempthorne said he felt he could make a difference in Boise, a city he said was struggling to reach its full potential.
"The political wisdom was, 'Do not do this.'" Kempthorne said. He was told, "It's a job that you will not be successful in," and it would hurt his ability to run for statewide office. "And with all of that good advice, I made the decision to run for mayor."
As mayor, Kempthorne championed the redevelopment of downtown Boise, including the construction of a long-contested events center. That effort involved bringing together multiple governing bodies to reach an agreement.
"When I was mayor of Boise, I remember saying at the outset, one of the most important things that we must build is cooperation, because when you build cooperation, then — and only then — can you can build with brick and mortar. And that's what we demonstrated in Boise and that's what we demonstrated throughout the state," he said.
In 1992, Kempthorne, a Republican, was elected to the U.S. Senate, where he earned a reputation for his bipartisanship, particularly in efforts with Democratic Sen. John Glenn to curb unfunded government mandates. In the late '90s, Kempthorne decided to leave Washington, D.C., and run for governor of Idaho. He was elected in 1998.
Rebuilding Idaho
Kempthorne has never been afraid to tackle big projects.
"When you see situations where perhaps results have eluded people, I find those the most intriguing and the most challenging," Kempthorne said. "I approach them with a great deal of enthusiasm, to see if we can't find the solution."
As governor of Idaho, Kempthorne inherited a few big problems: A backlog of unsafe public schools throughout the state and hazardous roads statewide. He tackled the school safety issue by creating a statewide government and community partnership that led to the construction of such new schools as Troy High School, among other building improvements.
His passion to fix Idaho's highway system stemmed from personal experience: While serving as ASUI president, Kempthorne and two other ASUI members were returning to Moscow from a winter legislative trip to Boise when their car went off the road.
"We hit a bad part of the road right there by Banks on Highway 55. The car flipped. It rolled a number of times — and I can remember still the shock of that," Kempthorne said. "Had it not been for the snowbanks, we'd have gone right in to the river and that would have been it.
"I knew we needed to tackle the roads, and so we did."
Kempthorne's leadership resulted in 57 different projects around the state — improvements that, according to the Idaho Transportation Department and Idaho State Police, save at least 88 lives per year. Many of those lives are Idaho students traveling the highways to go home for holidays and breaks. But the work didn't come without compromise, and politicians agreeing to work together.
At first, the Idaho House of Representatives killed Kempthorne's road legislation. When reporters asked Kempthorne how it felt to see his work dismissed, he said "Well, my mother and father taught me to believe in and practice the Golden Rule. But I've now learned, through this process, sometimes you must simply rule."
Kempthorne selected eight pieces of legislation that simply awaited his signature, and vetoed them, announcing, "I will continue this until we finally get some cooperation and communication around here."
The road legislation was revived the next day.
Planning for the Future
Kempthorne was nominated to be the 49th Secretary of the Interior in 2006 by President George W. Bush and confirmed by the U.S. Senate. He continued his passionate service of people, being a champion of the national park system and successfully getting the polar bear listed as a threatened species.
In 2009, he stepped down from the Department of Interior and began a new phase of his career as president and CEO of the American Council of Life Insurers (ACLI) — but the passion of his life remains unchanged.
"My motivation for 23 years of public service was to help people, and with the life insurance industry — its mission is to help people," Kempthorne said. "And one of the things that probably I took away from working at Gritman hospital was the experience of working with human beings. They were in the hospital and did not feel well. They need others to help them. I saw what it was for the elderly that were frail and sometimes you saw concern in their eyes, and one of the things that motivates me at ACLI is I think people should have dignity their entire life. It shouldn't be something where you achieved the American dream, you outlived your retirement savings and now your dignity is in question."
ACLI represents nearly 300 member companies, about 94 percent of the life insurance industry assets in the United States. Kempthorne is still focused on helping people, tackling big problems and working across political labels to achieve his organization's goals.
For UI students, Kempthorne has a few pieces of advice: Find your passion, be a good listener and work with people who think differently than you do.
"Go in first with the attitude that you will respect other views, that you will be an active listener," Kempthorne said. "Realize that if you will also set aside rhetoric and help diffuse rhetoric in others, you will then achieve results. And isn't that why you went into service in the first place?
"It all boils down to people. Find the best in all of us. Sometimes it takes a little more effort in some — but if you can find that, you can all celebrate the victory."
Article by Savannah Tranchell, University Communications & Marketing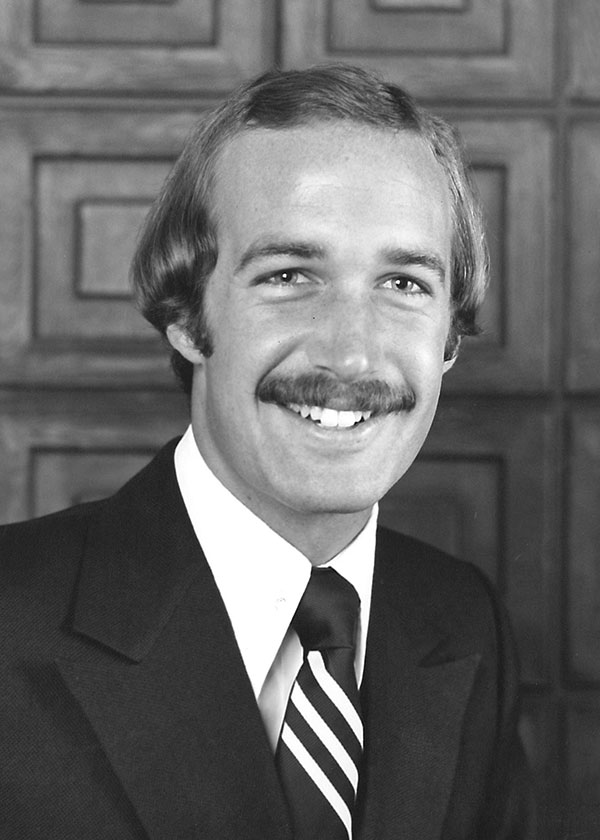 Former governor awarded honorary doctorate for his service to state, nation
Dirk Kempthorne has always wanted to help people.
"It probably comes from how my mom and dad raised me. I've always had a deep respect for other people," said Kempthorne, who served as governor of Idaho from 1999-2006. "I've always believed that you should make a difference, wherever you are."
That belief led Kempthorne to enroll as a pre-med major at the University of Idaho in the 1970s, as well as an orderly at Gritman Medical Center in Moscow. But as he pursued the medical field, he found his interests shifting.
"I started out as a pre-med student, and I didn't do really well in physics or in chemistry," he said. "And then I kept finding that rather than go to the fourth floor of the library — where the medical books were — I kept ending up on the third floor, in the political science books."
Kempthorne switched his major to political science, and earned his bachelor's degree from what is now the College of Letters, Arts and Social Sciences in 1975.
Two years later, on Sept. 18, he married another UI graduate, Patricia Merrill, at sunrise on top of nearby Moscow Mountain.
This May, Kempthorne will return to UI and finally receive the title "doctor," although still not in medicine: The university has awarded Kempthorne an Honorary Doctor of Administrative Science. He will receive the honor during the commencement ceremony May 13 in Moscow.
"It's come full circle: I go to UI to become a doctor, I switch from pre-med to political science, but I'm now being invited back to become a doctor," he said.