A Passion for Policymaking
Student Madeleine Curtright prepares for career in national security through unique opportunities at U of I
Complex computer coding is not usually something that political studies majors study. For Madeleine Curtright, a senior from Eagle majoring in political science, adding this technical skill helps prepare her for her dream career in national security.
Initially a computer science major, Curtright developed an interest in politics during her sophomore year.
"I started watching the 'West Wing' - a show about politicians, and I was amazed at how the characters found a way to make a career out of politics," she said. "They were doing really cool stuff that I didn't even know that was possible."
The show inspired her to change her degree. While still passionate about national security, she decided instead of sitting behind a computer, she wanted to work with others to shape policy.
"I initially chose computer science because I didn't really think that I could have a good steady job in other things that I liked," Curtright said. "But I learned if you explore your options, there are so many ways to make a career doing what you love."
2020 Lindley Award Recipient
Madeleine Curtright, a senior majoring in political science and minoring in computer science and international studies, is the 2020 Lindley Award recipient.
The
Lindley Award
is presented each year to the top graduating senior in the College of Letters, Arts and Social Sciences who is deemed the most outstanding in scholarship and character. This is the highest award a student in CLASS can receive. Established in 1962 by distinguished alumnus Ernest K. Lindley, the award was created as a memorial to his parents Ernest Hiram and Elizabeth Kidder Lindley.
See the
full list of Lindley Award recipients
.
Opportunities in Research and Policy
Since shifting her focus, Curtright's passion and ambition soon drove her to get involved with on-campus and community organizations, including the Latah County Democrats and Model European Union, as well as a research project about democratic attitudes in the United States.
"I get to have so many opportunities that might be significantly more competitive at a bigger school.Madeleine Curtright
"U of I is unique in terms of mentorship and the relationships that I have with my professors," she said. "The size of the program allows them to know who I am, and because of that, I get to have so many opportunities that might be significantly more competitive at a bigger school."
She spent her senior year a McClure Research Scholar, an intensive internship offered through the Department of Politics and Philosophy and the McClure Center for Public Policy Research in Boise. The McClure Scholars Program allows participating students to conduct research on issues affecting Idaho legislature, draft reports, and submit them to state legislators.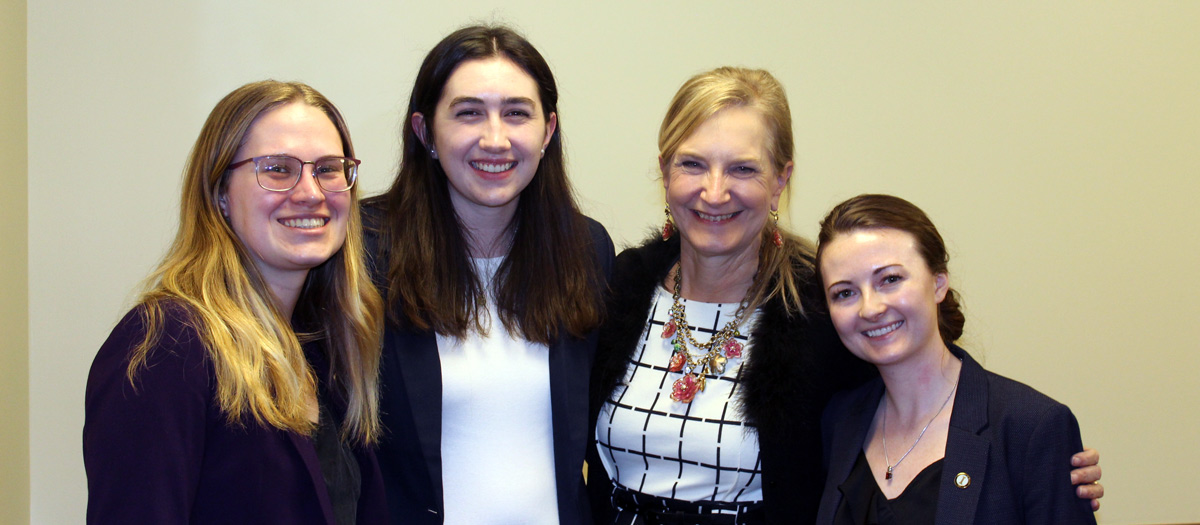 "Madeleine crafted an incredibly well-researched report on liquor licensing in Idaho, specifically S1040," said Markie McBrayer, assistant professor of political science.
As a McClure Scholar, Curtright interviewed a variety of stakeholders, including the bureaucrats responsible for administration of this policy in order to ascertain how S1040 would change the management and implementation of liquor licensing in Idaho.
Curtright traveled to Boise in February 2020 to present her report to state legislators.
"The legislators we talked to were incredibly interested in my topic and had lots of questions," Curtright said. "One even asked for extra copies of the report to distribute to relevant committee chairs. It's really amazing that my work as an undergrad might be used to inform decisions that will impact the whole state.'
Running and Winning Local Campaigns
Curtright's ambition and drive to influence public policy seeped into the Moscow community.
As a sophomore, Curtright earned internship credits through the political science department to manage the political campaigns for Senator David Nelson and County Commissioner Kathie LaFortune, in Moscow. She said having the flexibility to gain real-world experience while still being a full-time student was helpful so she could become involved in politics.
LaFortune said Curtright was an integral part of the success of her campaign, jumping in at full speed, keeping her campaign on track.
"Maddie was the calm and steady influence that I counted on when my own energy was failing," LaFortune said. "It was difficult to bail on yet one more night of hot summer door-knocking when I knew she would be there. She was there when the final results came in at 2 a.m., and I'm not sure whose joy was bigger."
Curtright attributes these experiences to U of I and the Moscow community.
"I ended up with this amazing job, that I definitely would not have gotten outside of Idaho or in any other area," she said.
Curtright will continue her campaign experience after earning her degree in May 2020. She will serve as campaign manager for a joint campaign representing three Democratic legislative candidates in Idaho's District 5 – Senator Nelson, Dulce Kersting-Lark and Renee Love.
Curtright plans to attend graduate school in fall 2021 to further study national security and foreign policy, but has yet to decide on the school she will attend.
Having support from faculty, and all the experiences that U of I offered her, was integral to finding the right path after college, she said.
"I have been able to get all the skills I need for my newly discovered dream job and learn about all the things that interested me," Curtright said. "The chance to make my country, and perhaps the entire world a better place is all the reward I need."
Article by Cody Allred '20, College of Letters, Arts and Social Sciences
Published in April 2020