Her Educational Mission
Wright Fellow passes down her love of learning to her students with degrees from U of I.
When Mari Harris and her father visited the University of Idaho for Vandal Friday, he had a lot of questions. Does U of I have her major? How much does it cost? What is she going to do for fun?
"His role was always the realistic one," she said. "But at the same time, he always talked about me being happy in wherever I chose to go and how proud he was of me in making this decision to go on the college."
Harris' parents took every opportunity to emphasize learning.
"When we took family vacations, it was always something that had a learning aspect," she said. "History was a big influence from my dad. My dad was a history major."
While he didn't finish his degree, he impressed on Harris the importance of a higher education.
"My mission was to do what my dad was never able to do which was graduate from college with a history degree," she said. "I knew I was going to college. It was what my parents ingrained in me. That's the most worthwhile thing in life is to have that college degree."
On move-in day, Harris' parents helped her move into the eighth floor of Theophilus Tower.
Harris started at U of I as an education major with a history emphasis.
The high school honors student said she struggled her first semester.
"It was the challenge of thinking high school was easy," she said. "Then I got to college and college was not easy. You're in a different ballpark."
She learned to work hard, a trait that she now applies that in her classroom.
"That lesson has really shaped how I teach my classes," she said. "I tell my students I was the best high school student, but the absolute worst college student my first semester. Those hardships have taught me how to teach my own students now."
William Ramsey, former professor of history in U of I's College of Letters, Arts and Social Sciences, told her she needed a history degree to teach the subject. The history department secretary helped too, pointing out that Harris could be a historian and be a teacher at the same time.
"She pulled up the list of requirements and she showed me, and that was a game-changer," Harris said. "Right then and there I added history as a major."
Graduation was an emotional day for Harris' whole family, but especially for her and her dad. Harris was the first in her family to graduate from college, and she did it with two degrees — history and secondary education.
"To be able to walk across that stage and (with) two degrees, really came full circle for him," she said. "It definitely changed our relationship from being just a father-daughter relationship to being colleagues and sharing in history."
Harris turned to U of I again for her master's degree.
"I decided to pursue my master's degree when I felt that my teaching needed to step up," she said. "I have always believed that the best teachers were constantly learning too. The problem I was facing was what program would fit with what I was doing."
Harris returned to U of I when she found the Wright Fellowship in the College of Education best fit with her professional goals. The program allowed Harris to pursue an individualized course of study and a chance to complete action-based research – all while she continued to teach.
"I wanted a program that honored what I did in the classroom, pushed me to be a better teacher and gave me a vision to pursue in the future."
Harris said the program was the re-energizing she needed.
"(The instructors) pushed me to change my entire mindset and vision for the classroom. The master's work I did truly changed how I teach today."
She learned to use authentic tasks, a student-led, student generated task that results in a product that demonstrates their learning. For example, students learning about the colonial era of the United States could create their own colony.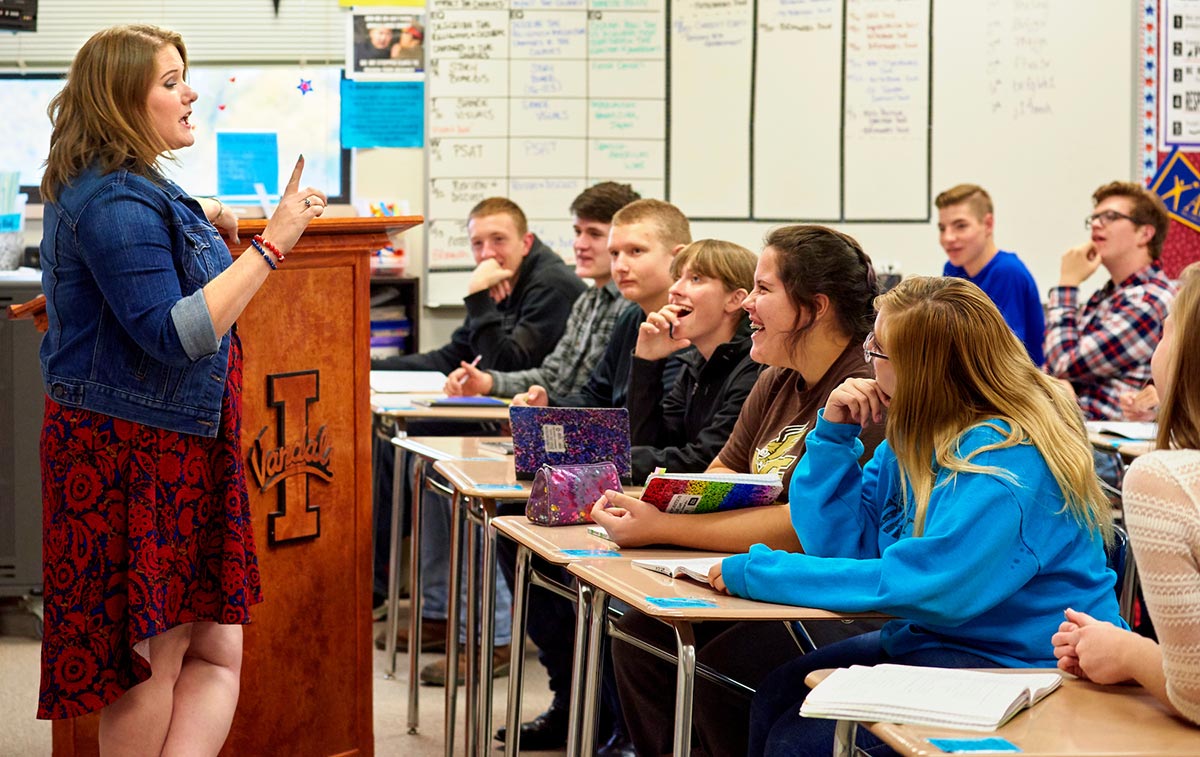 After many years in the Vandal family, Harris said U of I gave her the tools for success and showed her how to use those tools. Her connections with her graduating class, members of Phi Alpha Theta historical honor society and with her professors have helped her in her career.
"(I gained) the ability to network and talk to people," she said. "Even though Dr. Ramsey is in North Carolina now, I talk to him on a regular basis. I shoot ideas to him, just learning how to navigate history."
Harris' education at U of I set her up for a career full of success.
"I truly love the University of Idaho. I love it not just because of the degrees I got, but what the University of Idaho is," she said. "It is not just a university, it is a family. No matter where I go and I'm wearing a Vandals shirt someone stops and says, 'Go Idaho.'"
Harris was recently selected as Idaho History Teacher of the Year, an award given by Gilder Lehrman Institute of American History.
"It's a humbling honor to be recognized by my peers for the work I do in the classroom," she said. "It means I'm just going to keep doing what I'm doing."
That means Harris, who is in her 12th year teaching at Vallivue High School in Caldwell, Idaho, will continue to be the self-described "crazy teacher."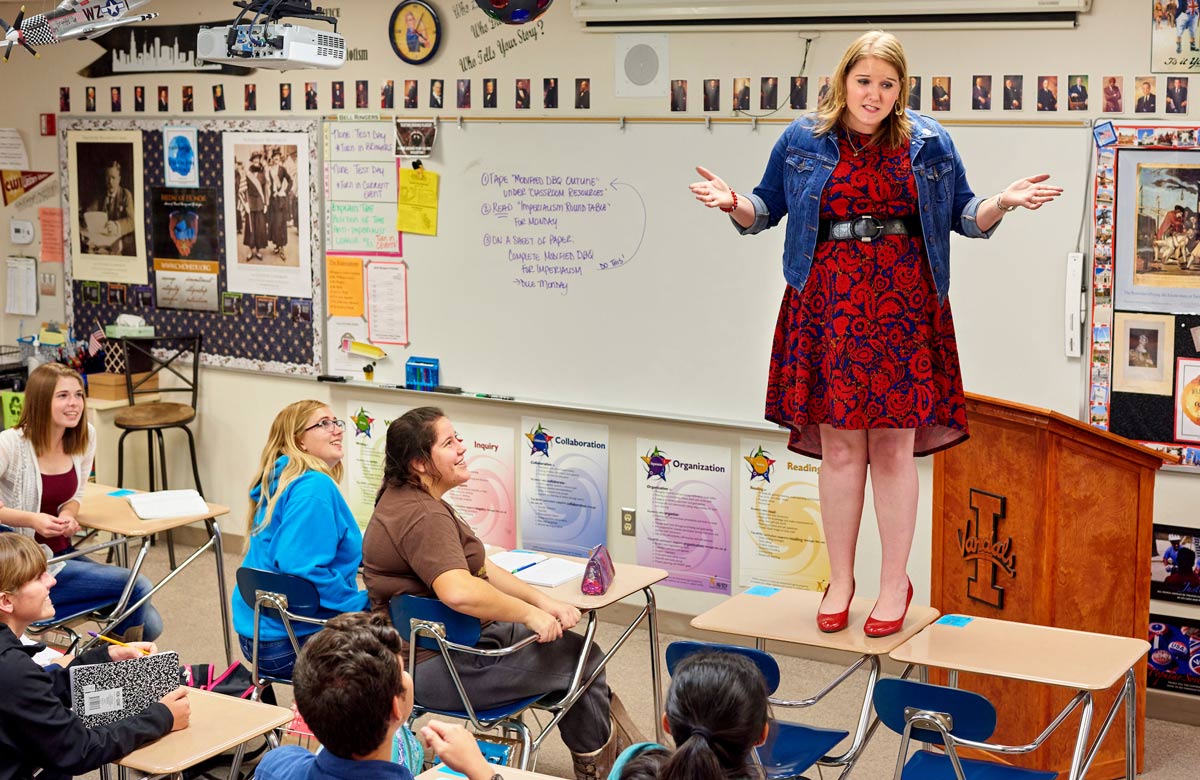 "I stand on top of desks. But if I'm having fun, then they are too," she said. "It's pretty obvious I love what I do. And, if you tell me my class is boring I'm deeply offended, because here I am jumping on top of desks."
In addition to making class fun, Harris aims to apply history to the present day.
"History is a story. It's an exciting story to tell, and I get to be part of a journey for my students in discovering that."
Harris said she's keeping a doctoral pursuit in the back of her mind.
"U of I will be the program I turn to again," she said. "Getting my master's was a huge family accomplishment that I got to share with my parents, but also my husband and son. I was given the opportunity to show my son and daughter how important higher education is, and that it doesn't matter how old you are — you can always keep learning."
Article by Tess Fox, University Communications and Marketing