Catching Up with CALS — March 8, 2023
Dean's Message — Maximizing Idaho's Water
Water is often described as the lifeblood of western agriculture, and the College of Agricultural and Life Sciences has a proven track record of identifying solutions to help food producers maximize this precious resource. The central tenet of Idaho water law is, "First in time, first in right." Hundreds of irrigators with junior priority dates may be curtailed if flows to a single senior water right downstream are diminished. In 2015, amid a prolonged drought, Idaho Lt. Gov. Scott Bedke, a fourth-generation cattle rancher in the Oakley Basin, spearheaded the passage of a historic water call settlement between senior surface water irrigators and junior groundwater users that prevented the drying of more than 400,000 acres of groundwater-irrigated land, avoiding a devastating blow to the state's economy. CALS researchers played a role in marrying science with politics to make the settlement viable for participants and to help the Idaho Department of Water Resources (IDWR) better understand how management decisions affect the water supply.
Terms of the 2015 settlement required Eastern Snake Plain groundwater users to curb well pumping by a combined 240,000 acre-feet per year on average — a reduction of 12% from their historic use. Facing the daunting task of raising profitable crops with less water, many irrigators with junior water rights converted their pivot packages to Low-energy Sprinkler Application (LESA). LESA is a water-conserving irrigation option that Howard Neibling, an associate professor emeritus who served as UI Extension water management engineer, helped develop. LESA pivots have hoses that dangle below the crop canopy, where spray nozzles evenly distribute water, reducing evaporation and drift. Trials show LESA can save 15-20% in water and 30% in energy. Another significant contribution came from Rick Allen, now a professor emeritus of water resources engineering with CALS, who used satellite imagery to develop world-renowned models estimating evapotranspiration rates and water consumption by crops. IDWR incorporated Allen's modeling as a key component of its own groundwater flow model, used regularly to evaluate the effects of various water-management scenarios.
Absent the 2015 settlement, the region's aquifer would undoubtedly be in far worse shape today. Nonetheless, water users have fallen short of meeting specified goals following a couple of dry years, and the parties are now back at the table renegotiating terms. Having independent science to back settlements, legal rulings and the state's evolving water policies will only become more crucial as competing demands stress Idaho's limited supply. Looking ahead, CALS is seeking top applicants to fill the important water-related positions vacated when Neibling and Allen retired. Furthermore, CALS and the College of Law are planning a joint position to engage and educate stakeholders and Cooperative Extension about water policy and water law. Terrell Sorensen, who retired Feb. 28 as Extension educator in Power County, also made significant contributions toward water management and will leave big shoes for us to fill. He worked for a local irrigation district for 28 years before joining U of I and has been active for the past 35 years with the Idaho Water Users Association — which is devoted to water lobbying and education and carries clout with the legislature. Sorensen authored the college's annual winter water outlook.
U of I and CALS continue to serve the state's water users in a variety of other ways. The state's climatologist, Russell Qualls, works within the College of Engineering and focuses on research into areas such as snowmelt runoff modeling, irrigation supply modeling, remote sensing of snowpack and impacts of climate change on water supply. A mobile "clean water machine" developed within our Department of Soil and Water Systems removes phosphorus and other contaminants from wastewater to produce clean water, energy and fertilizer, and it's been used at wastewater treatment plants in Idaho and elsewhere. Housed in the Idaho Water Center in Boise, U of I's Aquatic Imaging Flume, under the direction of civil engineering Professor Daniele Tonina, helps researchers study water flows, river health and chemical and biologic processes that occur within the stream bed. Jake Bledsoe, a new UI Extension specialist in aquaculture, is researching water quality on commercial fish farms, and he is also representing the university in its commercial aquaculture ventures in Magic Valley. Idaho must maintain an adequate water supply while meeting quality standards if it hopes to sustain its successes in the long term. U of I, CALS and other colleges will play increasingly important roles toward meeting those challenges.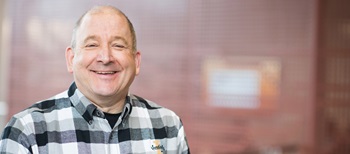 Michael P. Parrella
Dean
College of Agricultural and Life Sciences
---
By the Numbers
For the first time, CALS students led the development of agricultural enterprise budgets for 2022, which will help guide industry decisions. Their report "Idaho Crop Input Price Summary for 2022 (pdf)" showed several farming inputs made significant jumps in 2022. Effective hourly wages of general seasonal farm labor rose from $16.43 in 2021 to $18.12 in 2022. Effective hourly wages of harvest truck drivers rose from $21.78 in 2021 to $24.02 in 2022. Irrigation power costs for southern Idaho rose 9.24% in 2022 from the prior year. Fertilizer prices made an especially large jump in 2022, with the price of anhydrous ammonia increasing by 76%, liquid nitrogen increasing by 67% and potassium increasing by 52%. General costs to produce grain nationwide increased by 34% on average in 2022 from the prior year.
---
Our Stories
Potato Chip Trials
In a basement kitchen at University of Idaho's Aberdeen Research and Extension Center, scientific aid Chelsey Lowder sliced a white-fleshed, tennis ball-sized tuber into translucent circles, allowing them to dry before dropping them into a fryer.
Once the hot oil stopped bubbling, Lowder removed the basket and placed the finished chips in a row adjacent to a color chart. Her colleague, UI Extension potato variety development specialist Rhett Spear, explained the chips were a tad dark but still within industry's acceptable color range.
Frying snack foods for careful evaluation is a recurring chore among scientists with the U of I and USDA-Agricultural Research Service collaborative potato breeding program based in Aberdeen. The team devotes the bulk of its time toward developing russet potatoes for making French fries, but the pipeline also includes a steady stream of spuds for chipping. March 14 is National Potato Chip Day, and U of I makes a significant contribution toward filling bags with America's No. 1 snack food.
Aberdeen is one of a dozen public potato breeding programs throughout the U.S. that participates in a nationwide program to identify the next great varieties for making chips, known as the National Chip Processing Trials. The University of Florida will soon be added as the 13th program in the trials. Rich Novy, a USDA-ARS potato breeder, estimates chippers comprise 10-15% of his breeding crosses. Spear oversees the exhaustive process of evaluating spuds in the breeding program.
"Chips in general are made from potatoes with a high specific gravity which gives a better chip texture. They want a round potato, and usually it's a white-fleshed potato," Spear said. "We're looking for high tuber set and tuber size somewhere between a racquetball and a baseball."
The variety development process starts with Novy making a cross in a greenhouse setting. Though potatoes are clonally propagated by industry, breeders harvest true potato seeds from berries, which they plant and germinate in a greenhouse to yield seedling tubers. Those seedling tubers are planted in the field during the next growing season, and chipping clones are selected in the field for better agronomics, which start the process in the development of a new chipping potato variety.
Researchers and representatives from the industry, such as American Falls-based R & G Potato Co. and Michigan-based Walther Farms, assist in selecting the best specimens for retaining in the program from the plots of chippers raised in Aberdeen. In the Pacific Northwest, U of I, USDA Agricultural Research Service, Washington State University and Oregon State University potato breeding programs collaborate in the Tri-State Potato Breeding Program. A nonprofit corporation called the Potato Variety Management Institute handles licensing and royalties of Tri-State varieties.
After several field generations in Aberdeen, the best crosses move on to the Tri-State Trials and are grown in all three states. The best of those varieties graduate to the Western Regional Trials, which also include Colorado, California and Texas. Potatoes USA spearheads the National Chip Processing Trials, which include hundreds of entries, evaluated by each participating program on about 20 variables, such as yield, quality, storage attributes and fry color.
"Those candidates are in the system for five or six years, and after about year four a handful that look really good go into our SNAC (Snacking, Nutrition and Convenience) Trials," said John Lundeen, research director with Potatoes USA. "The first year in the National Chip program, you're looking at 17 hills. That's like one row of potatoes. By the time you get to the SNAC Trials we are committing a third of an acre — that's what they need to run through a chip plant to see how they process."
The trials wrap up before an annual meeting hosted in early December in Chicago, where researchers and industry meet to discuss the results.
"You go from tens of thousands down to just a handful in final testing, and not even all in that handful get commercially released," Lundeen said.
The Tri-State program has released three chipping varieties in its history — Gem Chip in 1989, Ivory Crisp in 2002 and Willamette in 2003. The most popular of the varieties, Ivory Crisp, was initially selected and developed out of the Aberdeen program, with its release as a Tri-State potato variety. Novy made the initial cross of another Aberdeen breeding line that's showing great promise, A13125-3C. A facility based at Michigan State University is in the process of developing pathogen-free tissue culture plantlets for the production of certified seed for more intensive evaluations of that line by the National Chip Program.
"Potato chips are the greatest snack," Lundeen said. "Just think of how many sandwich restaurants you go into where there's a whole display of chips, and think how many kids' lunch bags have a small bag of chips in them. They're a very important product that the American people love."
---
International Immersion
Studying abroad has been a goal for Tiana Clevenger since she was in high school. The opportunity finally presented itself in 2022 when the University of Idaho senior spent the fall semester studying at Universidad ORT in Motevideo, Uruguay.
Originally from Park City, Utah, Clevenger chose to study in Uruguay for the opportunity to immerse herself in a Spanish speaking culture and complete her language minor, while also taking credits towards her degree in horticulture and urban agriculture.
"The more I learned about it, the more I realized what an incredible hidden gem it is," she said.
Clevenger took a global food challenge course and a viticulture field study in Uruguay to meet her degree requirements, along with courses in entrepreneurship and Spanish. The hands-on learning opportunities were a highlight of the experience.
"I liked how the program was focused on getting out of the classroom and experiencing the culture firsthand," she said.
The James K. Rathmell, Jr. Memorial Scholarship from the American Floral Endowment helped relieve some of the financial burden for Clevenger to study abroad. College of Agricultural and Life Sciences emeritus professor Bob Tripepi alerted Clevenger to the scholarship opportunity.
"I was determined to make study abroad happen any way I could," she said. "Without scholarships I would've had to take out loans, which no one wants to do. I'm happy that the applications worked out, it took a lot of stress off the whole experience for sure."
Clevenger opted for a homestay experience rather than a dorm or apartment while studying in Uruguay. This gave her the opportunity to experience the Uruguayan culture on a deeper level.
"I stayed with an amazing host mother that didn't speak much English, which was helpful for me when it came to speaking Spanish on a daily basis," she said.
Once she was immersed in the culture, Clevenger noticed that her host mother and other locals seemed to have a more direct relationship with farmers and where their food comes from — something she is interested in emulating in her future career.
---
Economics Students Helping Industry
Faculty members in the University of Idaho's Department of Agricultural Economics and Rural Sociology (AERS) and UI Extension educators have historically led development of agricultural enterprise budgets used to guide industry decisions.
This year, however, the department is piloting a new approach — including College of Agricultural and Life Sciences (CALS) undergraduate students in much larger enterprise budget-development teams. The approach enhances sustainability of enterprise budget development while also providing students with real-world experiences. By all accounts, the first student-led input cost report, detailing the cost of raising sugar beets in 2022, was carefully crafted and meets industry standards.
AERS also released a broader report on input costs, Idaho Crop Input Price Summary for 2022. CALS students Tyler Hand, a graduate student from Lake Isabella, California, studying applied economics, and Sarah Reisenauer, a senior in agricultural education from Jerome, led work on both reports under the direction of Patrick Hatzenbuehler, an assistant professor, and Norm Ruhoff, clinical assistant professor, both in the AERS department.
The sugar beet budgets were last updated in 2019, and the crop price summary was last updated in 2014.
"I'm viewing it as a pilot effort to try to get students involved, and we as faculty play more of the role of advisors, identifying what kind of information would be needed, what sources there are and how to go about identifying stakeholders," Hatzenbuehler said. "It will still be a team approach as it has in the past, but encompassing students helps divide the labor even more while providing them with opportunities to learn and gain experience in UI Extension activities."
The 2022 Sugar Beet Enterprise Budget, posted on the U of I's Idaho AgBiz website, estimates beet farmers' production costs and earnings by region. On a hypothetical 550-acre farm in southwestern Idaho, for example, beet earnings were estimated to average $2,206.08 per acre, compared with total production costs of $2,042.73 per acre.
Statewide, gross revenue per acre is estimated as up by 14%. Rising input costs, however, offset the revenue gain. Fuel, for example, increased by 54%, and labor rose by 15%.
The cost of surface water varied dramatically by region, ranging from $65 per acre to water crops in southwest Idaho to $12.50 per acre to irrigate in northeast Idaho.
Hand, a U of I master's student in applied economics, was still finishing his bachelor's degree in agricultural economics when he started work on the projects last spring. He did the bulk of the economic analysis and number crunching, in addition to data gathering, for the sugar beet budgets.
Hand hopes AERS will involve a larger group of undergraduates in preparing future reports to share the experience more broadly.
"There's always a difference between just going to your classes and actually getting experience," Hand said. "Getting some type of internship experience is necessary and it's great that we're providing that opportunity."
Reisenauer is a senior majoring in agricultural education whose primary role in the budget projects was contacting sources and gathering data. Throughout several months, Reisenauer was in regular contact with officials from more than 30 canal and irrigation companies about surface water costs. She had several Zoom meetings with representatives from Idaho Power Co. to develop a table detailing irrigation power costs. She reached out to dealers of farm inputs to track the volatile markets for fertilizer, farm chemicals and other products necessary to raise a crop, and she worked closely with the Idaho Department of Labor Wages to understand the labor market.
"Every input you can think of as a general basis of all crops grown in Idaho, we did our best to find prices and comparisons," Reisenauer said. "It was a wonderful experience to be in contact with all of the multiple corporations and the different people."
Amalgamated Sugar's experts reviewed their budgets and offered feedback, including edits on certain cost estimates. Hatzenbuehler and Ruhoff corroborated their methodology, sources and data.
---
The Mint Industry Research Council presented Saad Hafez, a UI Extension specialist and professor in the Department of Entomology, Plant Pathology and Nematology, its Service to the Industry Award on Jan. 26 in appreciation of his outstanding service to the North American mint industry. Hafez also received an honorary membership award on March 2 from the American Society of Sugar Beet Technologists during the organization's meeting in Savannah, Georgia.
Regional 4-H Extension Educator Jim Wilson retired on Feb. 28 after 38 years of service to the University of Idaho. He joined UI Extension in 1984 as an Extension educator in Kootenai County. In 2015 he was promoted to regional 4-H youth development educator, providing leadership for program development and volunteer management in the northern district and statewide leadership for 4-H horse and shooting sports programs.
UI Extension Educator Terrell Sorensen retired on Feb. 28 after seven years of service to the University of Idaho. He served as the educator in Power County, focused on crops, water issues, farm and ranch management, and 4-H youth development. He joined UI Extension in 2015 following a 26 career with the Falls Irrigation District in American Falls.
Nine CALS animal and veterinary science students participated in the 2023 Western Regional Dairy Challenge held in Madera, California. A total of 64 students from nine universities and technical schools competed, working in 12 mixed teams to identify areas for further exploration and opportunity on a host farm and presenting their findings to a panel of judges. The judges awarded teams with first and second place rankings in three judging groups. Skyleur Neal, Kristie McGourin and Jaylee Allen were on first place teams and Kaitlin Mirkin, Daniel Salas and Emily Peterson were on second place teams. Also competing at the event were Sarah Skinner, Avelardo Vargas and Syrinda St. Onge. The students are advised by Professor Amin Ahmadzadeh. Mirkin, Peterson, Salas and Vargas will represent U of I at the North American Intercollegiate Dairy Challenge in Saratoga Springs, New York March 30-April 1.
The Purple Potatoes, a team of five teens from Minidoka County, will represent UI Extension 4-H Youth Development at the National LifeSmarts competition after winning the Idaho LifeSmarts competition. The national event will be held April 27-30 in Cincinnati, Ohio.
Off-Farm Income featured University of Idaho's College of Agricultural and Life Sciences in a recent podcast, "The University of Idaho, Agricultural College Episode." The episode is an effort to replicate the conversation that prospective students, parents and ag teachers might have with agricultural schools. Guests included Kacie Hoffman, CALS director of recruitment and student engagement, and Matt Doumit, associate dean of academic programs/agriculture.
---
Events
March 10, 16-18 — Using Point of Sale Systems for Farm and Small Business Success workshops, 9:30 a.m. to noon (local time): March 10 - Driggs; March 16 - Craigmont; March 17 - Moscow; March 18 - Sandpoint
March 12 at midnight — Deadline for CALS Awards Nominations, nomination form is open
March 14 — Cover Crops for the Home Gardener
March 15-April 19 — Heritage Orchard Conference, online monthly
March 16 — Quickbooks for Farming and Ranching, four-week course, online, contact Ron Patterson at 208-529-1390
March 13-16 or April 3-6 — UI Extension Pesticide Safety Education Program 2023 Pre-License Training, four-day training, online
March 28 — 17th Annual Three Rivers Grazing Conference, Lewis-Clark State College Activity Center, 602 Ninth Ave., Lewiston
April 14 — Deadline for CALS Alumni Award Nominations
May 3 — CALS Awards Banquet