David Little Livestock Range Management Endowment
The David Little Livestock Range Management Endowment was established in 1981 to organize research, extension and educational programs dedicated to the study of more efficient uses of Idaho's rangelands for livestock forage production.
The intent of the endowment is to support high quality outputs relevant to scientists and practitioners. Emphasis is on developing interdisciplinary studies focused on profitable and sustainable range livestock production, including but not limited to:
Fuels management
Endangered species conflicts
Range rehabilitation following fire
Undesirable plant control
Improved water quality
Wildlife habitat enhancement/wildlife-livestock conflict
Supplementation strategies to improve rangeland utilization
Systems for timely database acquisition of published literature pertaining to grazing impacts on rangelands.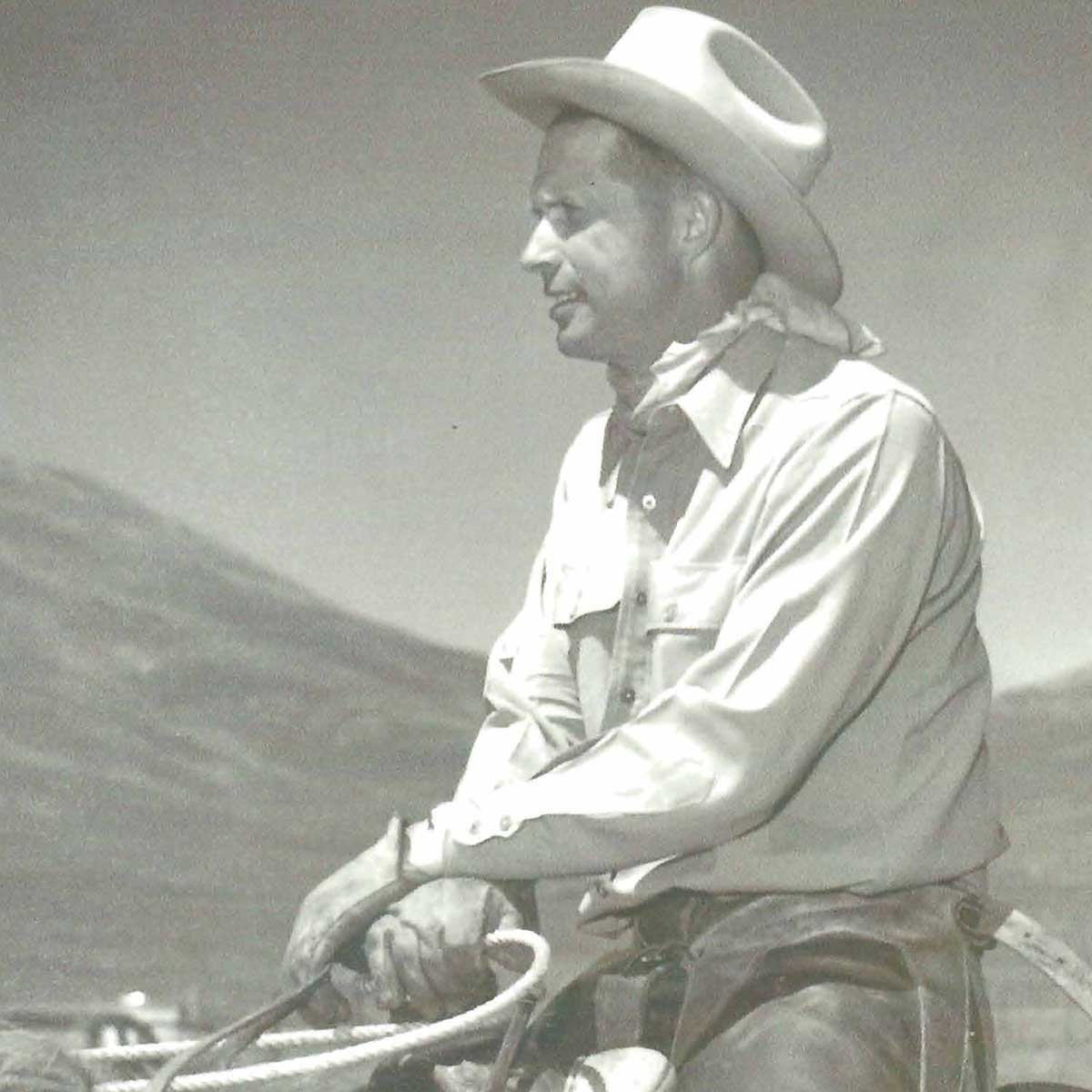 David Little was an innovative and influential Idaho cattleman and sheep operator with ranch headquarters near Emmett, Idaho. Mr. Little started his career in the sheep business and transitioned into commercial cattle and farming enterprises. He was the only rancher to be president of both the Idaho Woolgrowers Association and the Idaho Cattle Association. He also served as a vice president of the National Cattleman's Association and the National Woolgrowers Association.
Little was one of the first ranchers to adopt and promote the principles of managed grazing on Idaho's rangelands. He worked closely with renowned August Hormay and implemented his rest-rotation grazing system to advance rangeland health. Little was a graduate of the University of Idaho and in 1981 he established the David Little Livestock Range Management Endowment to advance educational programs for sustainable management of Idaho's rangelands.
Project Proposals and Funding Requests
The Rangeland Center at the University of Idaho oversees endowment activities and requests proposals from U of I faculty and extension educators each year the first Monday of December. Proposals will be reviewed by the David Little Livestock Range Management Endowment committee and funds are distributed to awarded projects early in January.
2021
Does Protein Supplementation in Fall Increase Digestibility and, Consequently, the Amount of Invasive Grass Species that are Grazed by Cattle on Idaho Rangeland? — Gwinyai E. Chibisa (PI), Scott Jensen
Grouse and Grazing: How Does Spring Livestock Grazing Influence Sage-Grouse Populations? — Courtney Conway (PI), Cody Tisdale, Nolan Helmsetter, Jason Karl, Taylor Fletcher, Karen Launchbaugh, Ty Styhl
The Influence of Livestock Grazing on Greater Sage-Grouse Nest Predators — Courtney Conway (PI), Nolan Helmsetter, Lisette Waits, Cody Tisdale, Ty Styhl
Mesic Meadow Habitat Responses to Variation in Grazing Management Practices: Balancing the Habitat Requirements of Greater Sage-Grouse with Livestock Production — Melinda Ellison (PI), Tracey Johnson
Maternal Influences Upon Calf Adaptability to Rangeland — Jim Sprinkle (PI), John Hall, Landon Sullivan, Scott Jensen
Fact Sheets for the Promotion of Early Seral Species in Rangeland Seedings and Selection of Fire-Wise Plants for Greenstrips in Idaho Rangelands — April Hulet (PI), Derek Tilley
Plants in Pastures: Relationship between Cattle Grazing and Diet of Greater Sage-Grouse — Dave Tank (PI), Tyrell Styhl, Lisette Waits, Courtney Conway, Cody Tisdale
2020
Mesic Meadow Habitat Responses to Variation in Grazing Management Practices: Balancing the Habitat Requirements of Greater Sage-Grouse with Livestock Production — Tracey Johnson, Melinda Ellison, Kenneth Randall
Grouse and Grazing: How Does Spring Livestock Grazing Influence Sage-Grouse Populations? — Courtney Conway, Andrew Meyers, Nolan Helmsetter, Jason Karl, Taylor Fletcher, Karen Launchbaugh, Ty Styhl
Increasing Rangeland Awareness Among Idaho High School Students — Kasee Smith, Karen Launchbaugh
Plants in Pastures: Relationship between Cattle Grazing and Diet of Greater Sage-grouse — Dave Tank, Lisette Waits, Courtney Conway, Andrew Meyers, Tyrell Styhl
2019
Investigating Seasonal Changes in the Nutritive Value of Invasive Grass Species to aid in their Control using Targeted Grazing on Idaho Rangelands — Gwinyai Chibisa, Scott Jensen
Sage-grouse Habitat use on Rinker Rock Creek Ranch: Preliminary Data for Understanding Compatibility with Livestock Grazing and Development of an "Adopt-a-Grouse" Outreach Program — Tracey Johnson, April Hulet
Plants in Pastures: Relationship between Cattle Grazing and Diet of Greater Sage-grouse — Dave Tank, Lisette Waits, Courtney Conway, Andrew Meyers, Tyrell Styhl,
2018
Livestock Management to Facilitate Sage-grouse Habitat in Wet Meadows: Effects of Grazing Intensity on Preferred Forbs. — Melinda Ellison and Tracey Johnson
Development and Testing of a New Low-cost GPS Collar System for Livestock using Commercial Off-the-shelf Parts. — Jason Karl and Courtney Conway
Seed Bank Response to Wildfire Frequency in Sagebrush Steppe Plant Communities. — Brad Stokes and April Hulet
Ranchers Monitoring on their Public Land Grazing Allotments. — Shannon Williams
Idaho 4-H Rangeland Skill-a-thon and Curriculum. — Tyanne Roland
2017
Controlling invasive grass species ventenata (Ventenata dubia) invasion in Pacific Northwest rangelands through early-season grazing by goats. — Anne Laarman, Gwinyai Chibisa, Timothy Prather and Beverly Shirts
Bacteria vs Cheatgrass: Use of Plateau and Pseudomonas fluorescens for control of cheatgrass and reestablishment of native rangeland species. — Carmen Willmore, Patti Hurley and Terry Gregory
Livestock Management to Facilitate Sage-grouse Habitat in Wet Meadows: Effects of Grazing Intensity on Preferred Forbs. — Melinda Ellison and Tracey Johnson
2016
Investigating Palatability of Invasive Grass Species Ventenata (Ventenata dubia) in Idaho Range Livestock. — Anne Laarman, Gwinyai Chibisa, Timothy Prather and Beverly Shirts
Grouse and Grazing: How Does Spring Livestock Grazing Influence Sage-Grouse Populations? — Courtney Conway
Range Outreach Activities Manual for 4-H and Classroom Curriculum and 2016 Idaho Rangeland Skillathon Competition. — Tyanne Roland
2015
2014
Distribution of Fuel Components in Sagebrush Steppe — Targeted Grazing Applied to Reduce Wildfire Spread. — Eva Strand and Scott Jensen
2013
Evaluating the Impacts of Mechanical and Chemical Treatments to Reduce Dense Sagebrush Cover and Enhance Sage Grouse Habitat. — Jonathon Hogge and Amanda Gearhart
Distribution of Fuel Components in Sagebrush Steppe — Implications for the Impact of Livestock Grazing on Wildfire Spread. — Eva Strand and Amanda Gearhart
2012
Study of Plant Composition Inside Established Riparian Exclosures. — Shannon Williams, Alex Fremier and Allen Bradbury
Effects of long-term exclosures on riparian vegetation composition (2014). University of Idaho Extension Impact Statement
2011
Dynamics of Grazed and Ungrazed Slickspot Peppergrass Populations on the Snake River Plain. — Stephen Bunting
Impact of Livestock Grazing on the Primary Insect Food Items of the Greater Sage Grouse. — Stephen Cook and Kelly Crane
2009
Landscape Scale Assessment of the Effect of Livestock Grazing on Fire Behavior under Wildfire Conditions. — Eva Strand
An Integrated Approach to Extension Education: The Intermountain Rangeland Beef Cow Symposium. — Kelly K. Crane, Benton Glaze, Jason Ahola, Scott Jensen, John Hall, Bill Likely and Ted Hoffman
2008
Rangeland Curriculum Modules for Secondary Schools in Idaho. — Lori L. Moore, Karen Launchbaugh and Jodie Mink
2006
2003
2002