Summer 2021 Alumni and Friends Newsletter
Dear Friends,
We made it!
It's the end of another inspiring semester, and now it's time to celebrate our resilient and talented students and graduates from the College of Art and Architecture!
I speak for everyone in the college when I say we are incredibly proud of all our students' achievements this year, and we are impressed by their desire to succeed and make a lasting impact on our world.
At the University of Idaho, students take their education into their own hands. Guided by our faculty, our students learn how to ask and answer questions about practical problems and mysteries that impact real people and industries. As a result, our students contribute to evolving fields of knowledge.
During their research, they sharpen essential skills and gain confidence, practice collaboration and enjoy mentorship from leaders in their fields. And they can make real, lasting impacts in the community, and quite possibly, the world.
Students in the College of Art + Architecture are no exception. Below, I'd like to highlight the work of some of our students and recent Spring 2021 graduates.
Two CAA students were named among the top 50 interior design and top 50 architecture students graduating this year in North America, and were chosen to be the inaugural Metropolis Future 100.
Congratulations Nguyet Huynh and Ruina Du, both graduates of architecture mentored by Distinguished Professor Bruce Haglund. This is a tremendous honor, and we know we can expect incredible work from you both as you embark on your professional careers as designers.
Layal Alawi Hussain, a graduate in landscape architecture, studied the Urban Heat Island Effect to help the Moscow community address climate change and increase walkability locally.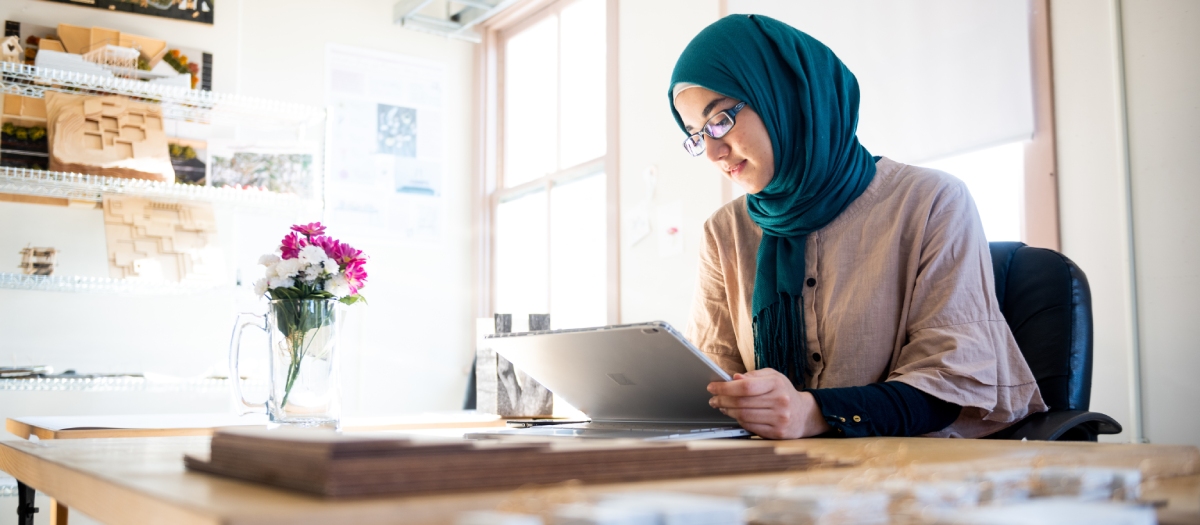 Layal's research was focused on the Palouse Mall parking lot and adjacent Highway 8. Through her design, Layal hoped to lessen the Urban Heat Island Effect and build a safer and more climate-friendly Moscow. She also wanted to instill a sense of community in residents through education and planning while addressing a global climate crisis.
Kiana Aros, a student in interior architecture and design, recently completed an internship with the Idaho Museum of International Diaspora (IMID).
Kiana's work, pictured below, involved creating the concept design of the IMID's Southeast Asian Diaspora Exhibit, one of the grand permanent exhibits of the IMID.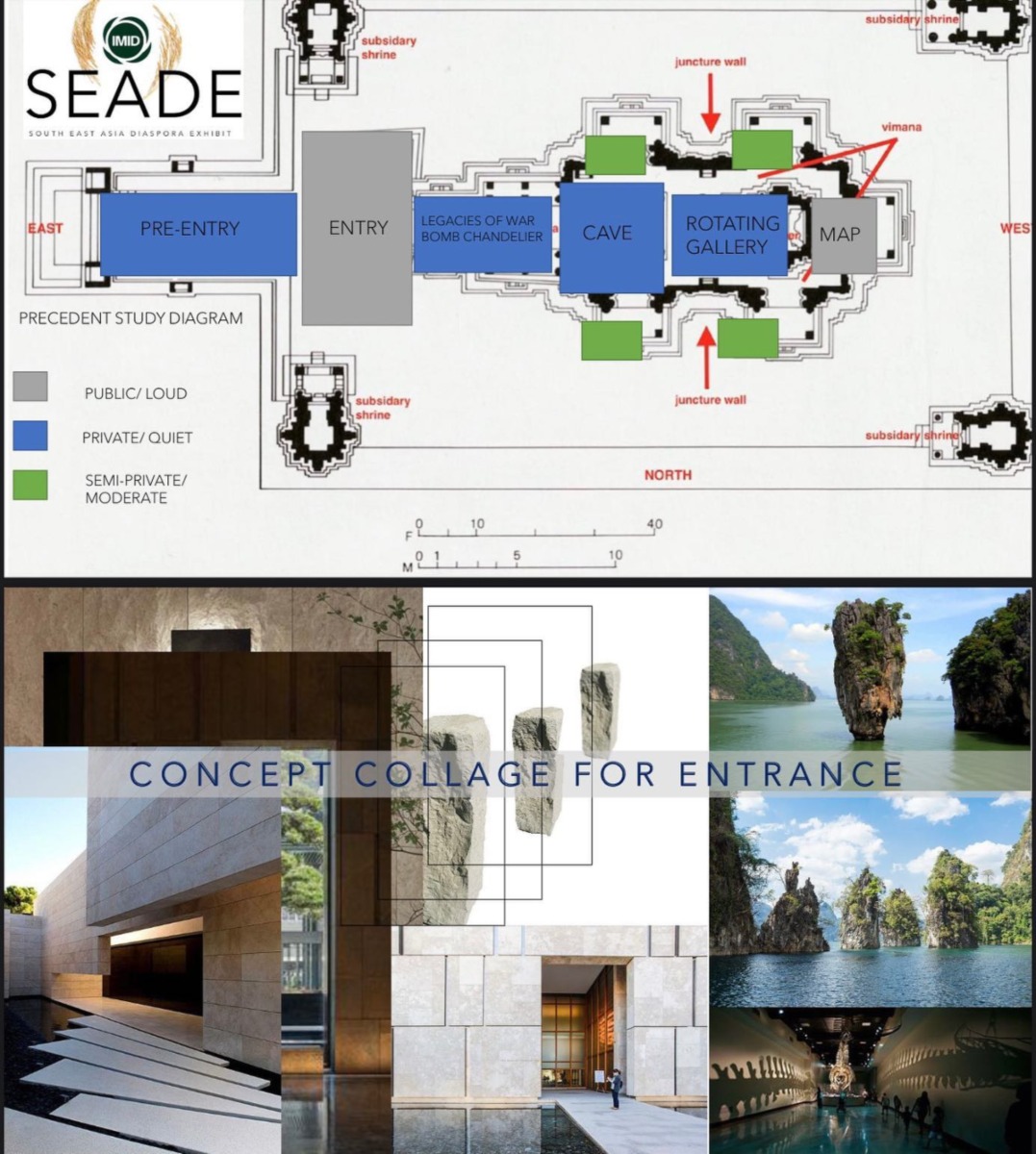 Spring 2021 graduate Sonya Fernandes grew up surrounded by art and design. Although majoring in interior architecture and design, Sonya wanted to explore all fields of design, including graphic design, exhibit design and furniture design. It was her interest in the latter, as well as a little nudging from Tech Shop Director David Schmidt, which encouraged her to submit an entry to the University House competition.
Sponsored by CAA and the Technical Design Studio, the competition encouraged students to design a distinctive console table for the president's residence, known as the University House. Completed in 2019, the house serves as the residence of President Scott Green and his wife, Gabriella. It is a private home and public gathering space for the university community and was designed by CAA alumnus Robert Zimmer '81.
Sonya's design became reality and is now on display in the entry of the University House on the Moscow campus. Her design fits seamlessly into the home. Those involved in the project were all really impressed by the level of thought Sonya incorporated into her design. I know it will be enjoyed immensely for years to come.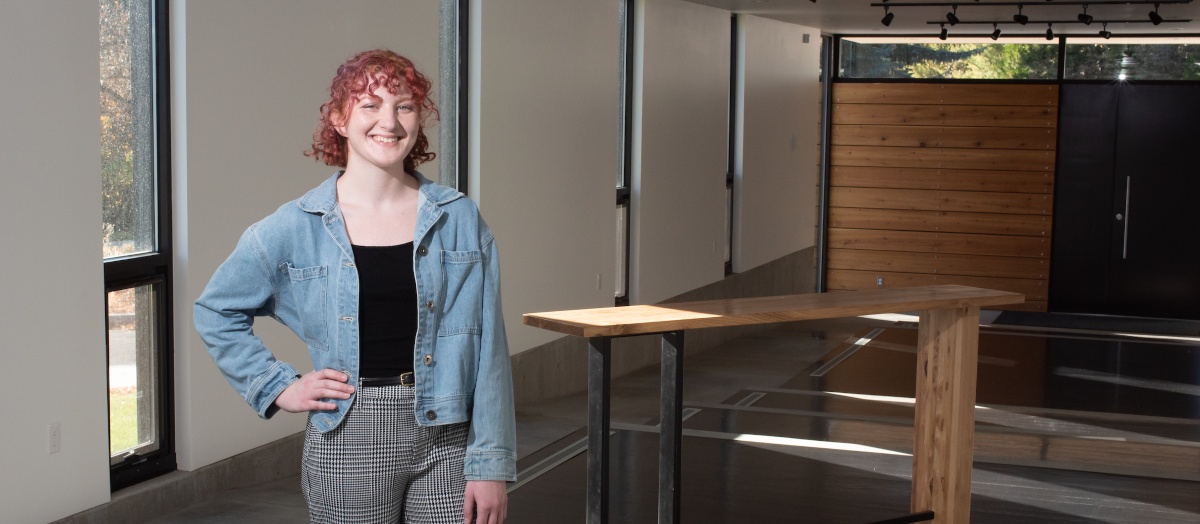 We also have students who are making tremendous impacts outside of the classroom.
Mariah Soriano, a recent architecture graduate, enjoyed and excelled in her academics while at U of I. However, one activity she's particularly proud of is her involvement in the university's Asian American Pacific Islander Association (AAPIA).
When she was 3 months old, Mariah and her mother moved to Juneau, Alaska, from the Philippines. Growing up in Juneau, Mariah was surrounded by a "big and proud" Filipino community, something she initially felt was missing for her at the University of Idaho.
In 2018, she received an invitation to join U of I's AAPIA, which was re-emerging after years of inactivity.
She said she's proud of the growth the club has witnessed, particularly now as AAPI hate and violence has witnessed an increase during the pandemic. We're so proud of students like Mariah who are not only excelling in the classroom, but making real, lasting change across the community. Read more about Mariah.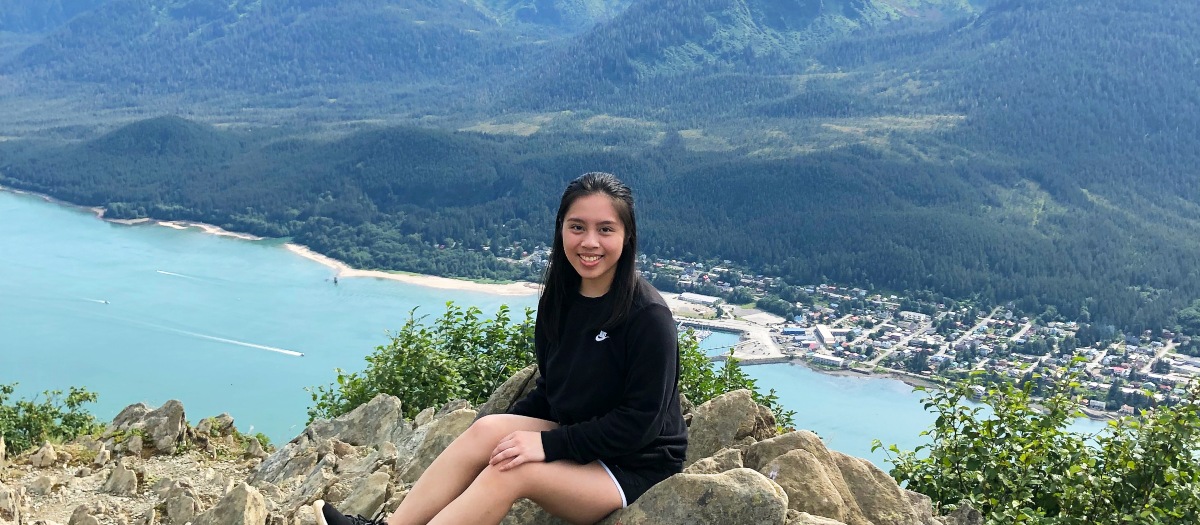 I also want to bring your attention to the project Assistant Professor Scott Lawrence and his Design Build students are currently working on.
As I drive by One World Café in Moscow at the end of the day, I see Scott and our hard-working students building their innovative exterior seating design. The students are experiencing working for a real client and their customers while the business is open and celebrating the end of COVID-19 restrictions. Learn about their work and meaning behind it in an article written by the Moscow-Pullman Daily News.
This graduation season was a busy one. We had eight ceremonies statewide, and during our college graduation the university awarded a posthumous Honorary Doctorate to Colonel Billy Shaw, a Ph.D. student affiliated with the Center for Resilient Communities (CRC) and a decorated veteran, as well as a posthumous diploma to Art + Design student Alek Halem, who passed away in January. Twenty-two members of Alek's family joined us for graduation and a remembrance in the Reflections Gallery. Thank you to the art faculty and the CRC team for hosting the families.
In closing, I want to leave you with an excerpt from the commencement address I was honored to deliver at the CAA, College of Agricultural and Life Sciences and CEHD graduation ceremony:
As you graduate and leave the University of Idaho, please know all those conversations with your professors in their offices, in the hallways, after class and on Zoom meant something not only to you, but to them.
Know that the staff in the Bruce M. Pitman Center and the Commons who made you follow the rules and fill out all those forms, are celebrating with you today. Know that the facility and living and dining hall crews, who fed you, kept the heat on, the internet running, mowed the lawns and shoveled the snow, and who at times cleaned up after you, are celebrating with you today.
Know you made a difference here; know you had an impact on us while learning the skills and knowledge that will not only help you build your career but will make a difference in the lives of so many.
Know we are your mentors and supporters, we care about you, we are proud of you, we share your family's pride in you, we want you to be successful, and even after you graduate, we are still here to help you.
But most of all, know you are the University of Idaho's Class of 2021 and you got this.

Shauna Corry, Ph.D.
Dean
College of Art and Architecture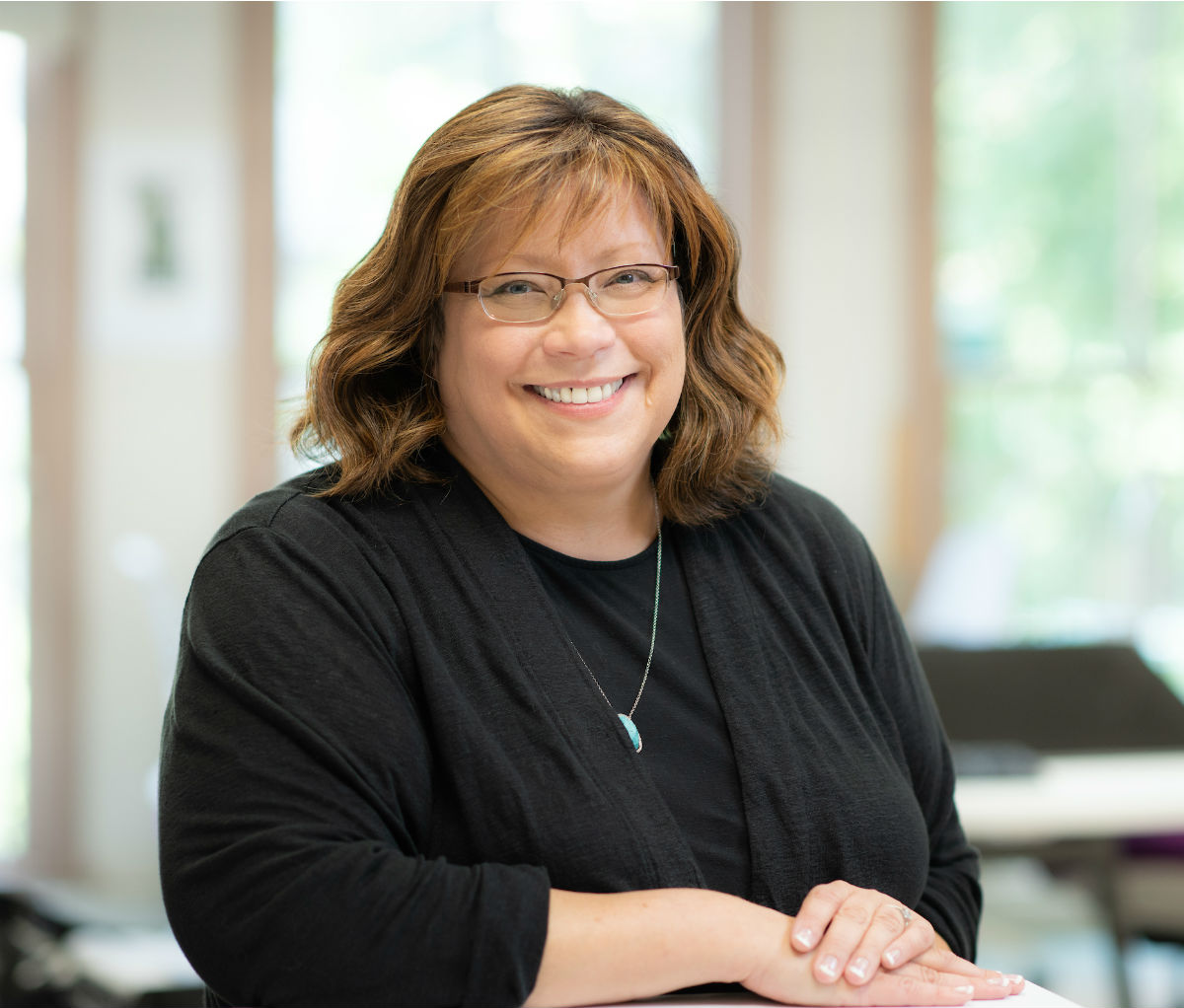 ---
Other Student Spotlights
Congratulations to our Idaho Forest Products Commission Architectural Design Competition winners:
1st Place – Marissa Hilliard
2nd Place – Minqinq Zhang
3rd Place – Juhee Moon
Juhee and Minqinq will each receive $250, and Marissa will receive $500.
Learn more and help us celebrate these talented students.
Congratulations to Reggie Mace, an MArch student studying at the Boise campus who was awarded a place within the Summer Residency at T Space, a program established by internationally-acclaimed architect Steven Holl. Each year, five residents are selected on a competitive basis for the Steven Myron Holl Foundation/'T' Space Summer Architectural Residency in Rhinebeck, New York. The 25-day intensive studio challenges participants to think and design critically. Residents enjoy theoretical and experimental freedom as they design a site-specific project unique to their program.
Lyndsay Watkins wondered if we could "reset" the relationship between humans and the planet by encouraging urban food crop production. With the project, named Biotopia, Lyndsay wanted to help build a sustainable and successful future for Idaho and the Earth.
Olivia Harman completed her MLA at our Boise campus and built her fire-wise master's of landscape architecture thesis at the new Bernardine Park located near Quinn's Pond. Olivia approached the City of Boise with her project and was offered the opportunity to design a fire-wise landscape demonstration garden. The garden will have educational signage provided by Idaho Firewise to teach the community how to protect their homes and properties from fire through affordable landscaping choices.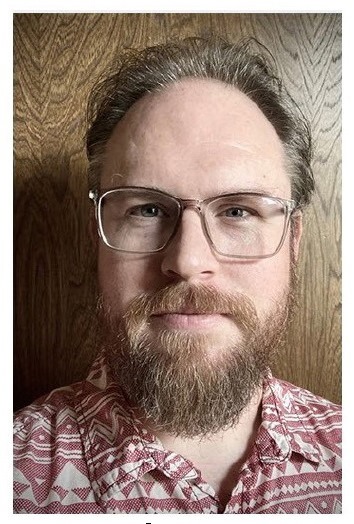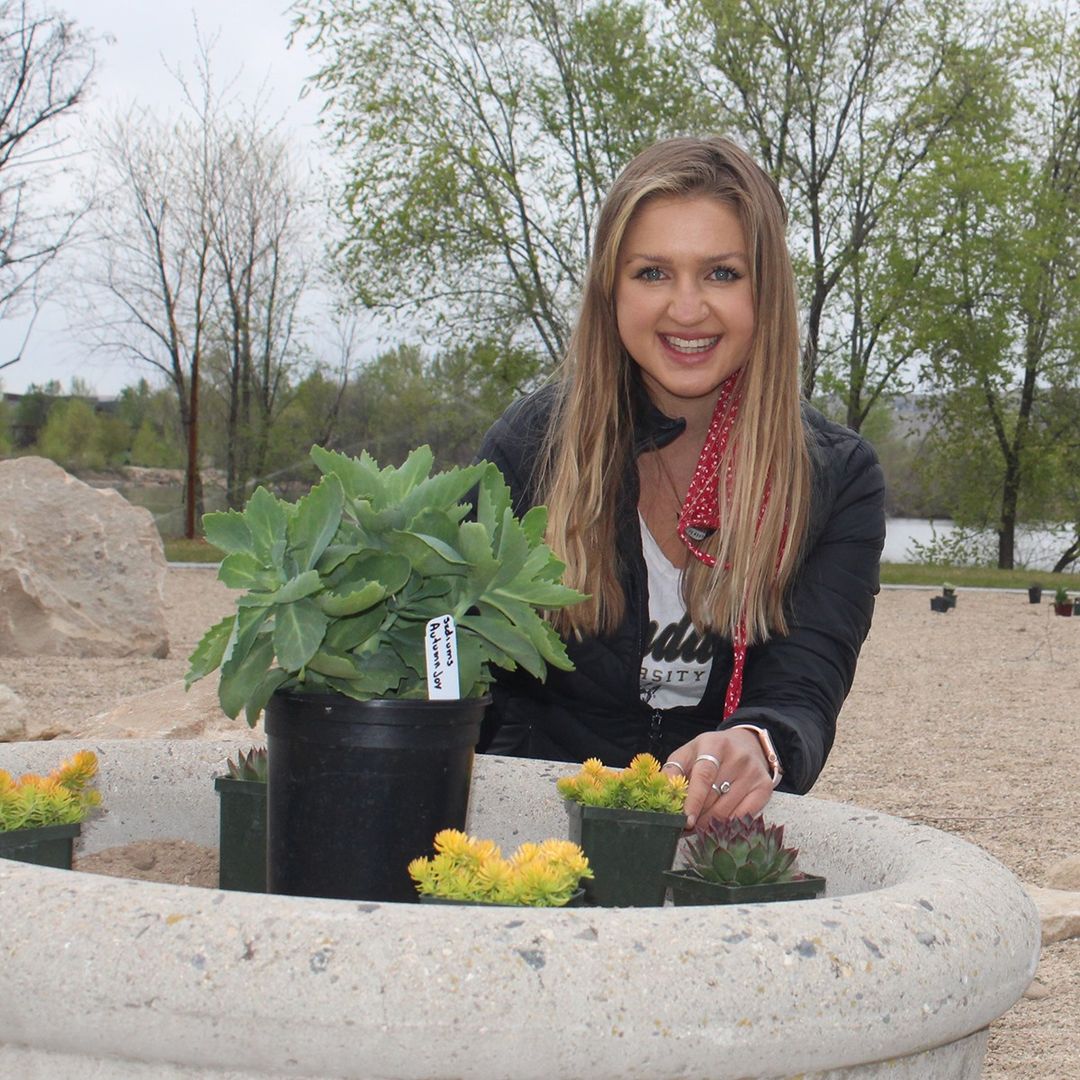 ---
Highlights From End of Semester Reviews and Competitions
Lyndsay Watkins, MArch '21, was awarded the Lombard Conrad Architects (LCA) Best Graduate Design Project, winning a prize of $1,000. Ellie Malcomson, BIAD '21, was awarded the LCA Portfolio Competition Award and Fellowship, winning a prize of $1,000.
Alexis Townsend '05, LCA president and principal and a member of the CAA Advisory Council, along with her team, developed the awards. Alexis served as a jurist for both architecture and interior architecture design and reviews, and with seven other architects and designers supported the interior architecture and design capstone reviews over a three-day period. Thank you to LCA for their strong support of our students and faculty.
Additionally, we had numerous alumni and friends of the college join us in person and virtually from across the nation. Your time is greatly appreciated, and your mentorship of our students is critical to their success. Thank you!
---
Faculty Highlights
Paul G. Windley Faculty Excellence and Development Award
Johanna Gosse, assistant professor in Art + Design, received the 2021 Paul G. Windley Faculty Excellence and Development Award. This $1,000 award recognizes three consecutive years of excellence in faculty scholarship and provides support for continuing scholarly activities in written research and dissemination.
2021 CAA Excellence of Service Awards
Gregory Turner-Rahman has resigned from his position as Art + Design program head to focus on his art and research plans. We appreciate all Greg has done for the program and college. Greg stepped up to support and help develop college efforts with all recruitment activities and has mentored several new faculty members. During his tenure, he and his team prepared for and hosted a successful NASAD Accreditation visit, developed dual enrollment classes and increased online options. We are looking forward to seeing his future artistic endeavors. Thank you, Greg!
Phillip Mead spearheaded the college's recruitment efforts for 10 years. He developed our Ambassador Program, expanded Summer Design Days and Design Days, and led the college in developing a strong recruitment plan that has continued to grow with the addition of our recruitment coordinator position. We value and greatly appreciate Phil's efforts to move the college and our programs forward. Thank you, Phil!
COVID-19 Service Award
Amanda Myron, Luke Bartels, Reilly Cisco '20, David Schmidt and Val Christensen were awarded COVID-19 service awards for excellence in preparing the college for in-person and online classes beginning Fall 2020. Their work in helping keep everyone safe and supporting student learning is greatly appreciated.
Other Faculty Highlights
Stacy Isenbarger, associate professor of Art + Design, was awarded the 2021 Master Educator Award by FATE. The award celebrates a FATE member with more than 10 years of collegiate teaching experience who exhibits lasting commitment, significant contributions to Foundations education and contribution to FATE as a professional association.
---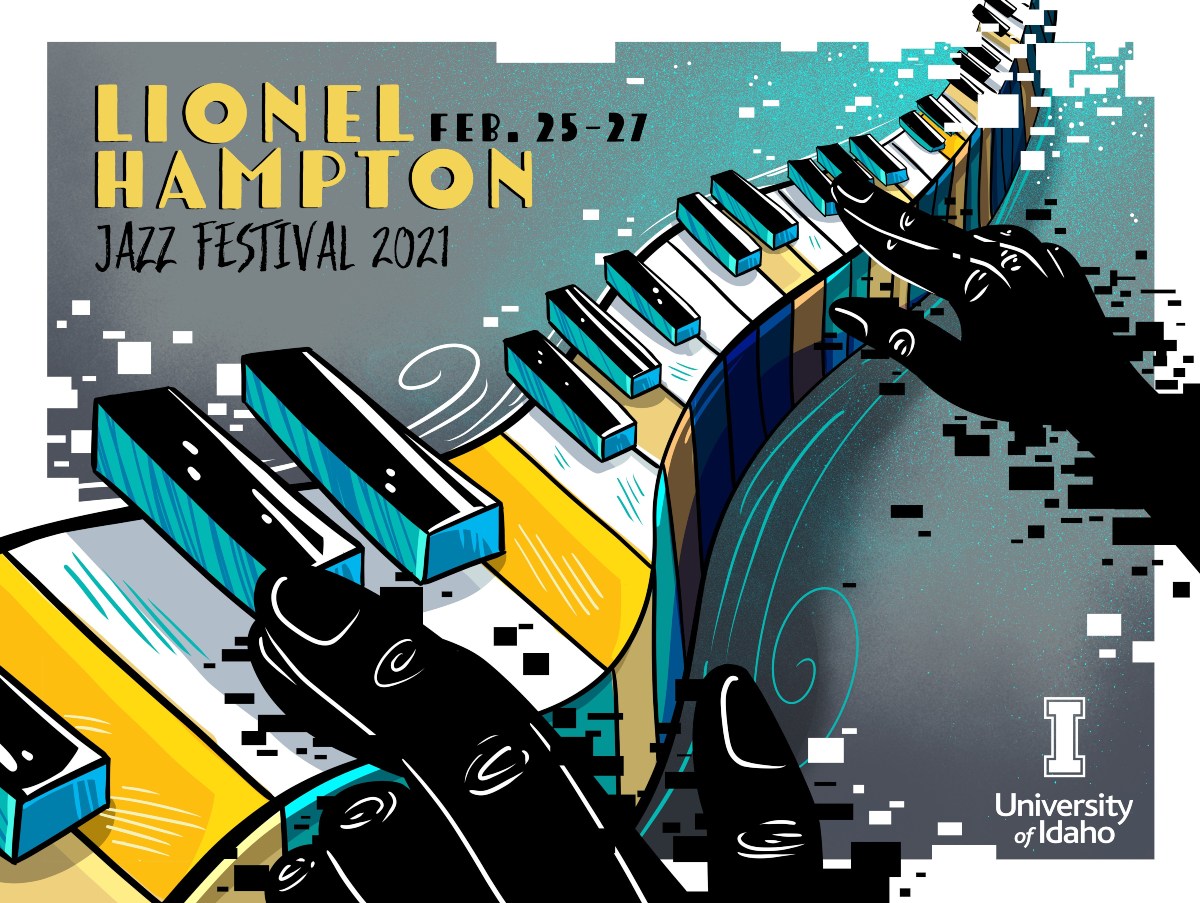 Check it Out
CAA alumna Riley Helal designed the 2021 Lionel Hampton Jazz Festival commemorative artwork. Read the story to learn more about this jazzy masterpiece.
---
Support the Prichard
The Prichard Art Gallery is a living learning lab supporting students, faculty and the community. The programs and exhibits have been infusing artistic excellence into our lives, creating conversations, expanding visions and helping us all imagine more for almost 30 years. Recent budget reductions have seriously affected the Prichard. To continue our teaching and learning mission, along with supporting the arts locally and driving cultural reflection in our community, we need your help; we've set a goal of $40,000 by the end of June.
If you are a supporter of the arts or have enjoyed visiting the gallery in the past, consider donating to the fund to keep the gallery open.
Donations to the Prichard Gallery Gift Fund will support exhibitions and daily operations.