Alumni Reception
Alumni Reception and Research Presentation
Piecing Together a Prehistoric Puzzle:
A Story of One of the Last Hybrid Mammoths in Western North America
Presented by: Renee L. Love, Clinical Assistant Professor, Department of Earth and Spatial Sciences
Thursday, March 30, 2023, 6:30 p.m.
Idaho Water Center – Legacy Pointe
322 E Front Street
Boise, Idaho
Complimentary Appetizers and No-Host Beverages
Please sign up for this event by March 18.
Abstract:
Mammoths were present on the North American continent during the end of the last ice age. We examined the skeletal remains of a mammoth excavated from an ancient hot springs deposit in southeastern Idaho to provide insight into its depositional age, species, health, and specifics about the mammoth such as gender and age. Genetic testing revealed that it is the first Jeffersonian Mammoth reported in Idaho. The Jeffersonian Mammoth is thought to be a hybrid of Columbian and Woolly Mammoths. It lived 13,500 years ago based on new calibrated age techniques. Our findings suggest that these remains belonged to a male mammoth that was a young adult around 28 years old. This mammoth was one of the last mammoths on mainland North America before the species disappeared from the fossil record. It helps to uncover the story of the last megabeast extinction and what those animals were doing to adapt to the global warming period following the last ice age.
Dr. Renee Love is a Clinical Assistant Professor in the Earth and Spatial Sciences Department at the University of Idaho. She is a vertebrate paleontologist, paleobotanist, petroleum geologist, and stratigrapher. Prior to joining the department, she worked for ExxonMobil Exploration Co. and the Idaho Geological Survey. Now her work at the university focuses on teaching pedagogy for effective online learning. She is a licensed Professional Geologist.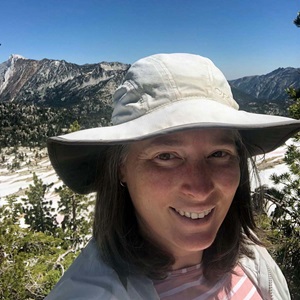 McClure 303A
208-885-4079
Research: Petroleum Geology, Geologic Mapping, Paleobotany and Paleoclimate Studies, Applied Stratigraphy
View Renee's Profile