Expanding Research for Nuclear Energy
College of Engineering is increasing opportunities for nuclear education and technology development
The need for skilled new engineers at the Idaho National Laboratory — combined with an ever-growing demand for clean energy — has led the U of I College of Engineering to increase its investment in nuclear engineering research.
"The real need is for the country's primary energy source to be environmentally friendly," says Vivek Utgikar, the college's associate dean for research and economic development. "Nuclear is obviously one of the big contributing players that can satisfy whatever constraints that are placed on new energy sources."
The college's Nuclear Engineering Program has components at U of I in Moscow and is a cornerstone of U of I Idaho Falls, where it is housed in the collaborative Center for Advanced Energy Studies.
Investing in Research
The majority of U of I nuclear engineering research is conducted in partnership with INL and funded by the U.S. Department of Energy.
"There's a broad spectrum of research activities that go from feed sources to treatment of waste," Utgikar says.
Among the slate of projects, researchers study the details of high-temperature reactions, create control systems for nuclear power plants and design hybrid systems that use heat from nuclear power generation to make transportation fuels.
Other projects focus on safety issues such as designing secure nuclear facilities and treating spent nuclear fuel to prevent contamination. Utgikar and his students investigate methods for capturing radioactive gas emissions and immobilizing them so they can't cause damage.
In 2015, the college hired new Nuclear Engineering Program director Richard Christensen, formerly of The Ohio State University, an expert in heat transfer who holds 13 patents in heat exchanger design.
Utgikar and Christensen emphasize that U of I is striving to develop broader and deeper research partnerships among U of I researchers, with INL and beyond.
"Engineering is not a silo where you go sit in a corner and do it by yourself," Christensen says. "Part of the objective is to go to your customer and say, 'What do you need?'"
For example, the recent announcement by the Department of Energy to support possible siting of a small modular nuclear reactor within in the boundaries of the INL site has sparked renewed interested in many disciplines support nuclear power development at CAES, says Tom Wood, U of I's associate director of CAES, which is a 55,000-square-foot research facility in Idaho Falls that brings together researchers from U of I, INL, Idaho State University, Boise State University and the University of Wyoming.
"Utilities continue to search for solutions to long-term, baseload energy needs. Small modular reactors hold real promise for development of safe, reliable, low carbon alternative for safely addressing long term energy needs in the West and the rest of the world," says Mike Hagood, CAES deputy director.
Investing in Faculty
In October 2015, the Nuclear Regulatory Commission awarded U of I $434,000 for faculty development.
Designed to strengthen the program as a whole, it specifically invests in four faculty members: Fatih Aydogan, who studies safety systems; Krishnan Raja and Raghunath Kanakala, who study the environmental degradation of nuclear materials; and Robert Borrelli, who studies methods to safeguard the nuclear fuel cycle.
Utgikar said the three-year grant will help these younger, tenure-track faculty members develop their expertise, expand their research and improve their lab capabilities. It also will allow the researchers to develop new courses, and in turn attract new graduate students.
The grant "puts us in good company and good competition," Christensen says. "We're going to take the results of that and help the faculty here grow."
Investing in Students
The Nuclear Engineering Program currently enrolls 60 part-time and full-time graduate students annually, and the college is aiming for it to grow.
In addition to drawing in more students at the master's and Ph.D. level, Christensen is looking to expand opportunities for undergraduates to gain a foundation in nuclear engineering — particularly to support INL.
"If an undergrad has a working knowledge of nuclear engineering, they are much, much more valuable to the site," Christensen says.
And while nuclear engineers in particular are vital, students studying other realms of engineering and other disciplines are in demand.
"At CAES and the University of Idaho, we are very excited about the growing opportunities we see in nuclear energy, not only for nuclear engineers but for a host of students in many science and engineering disciplines," Wood says. "Mechanical, chemical, civil, electrical and materials engineers will be needed along with scientists in geology, geophysics, environmental science and economics to install a new reactor at the INL site."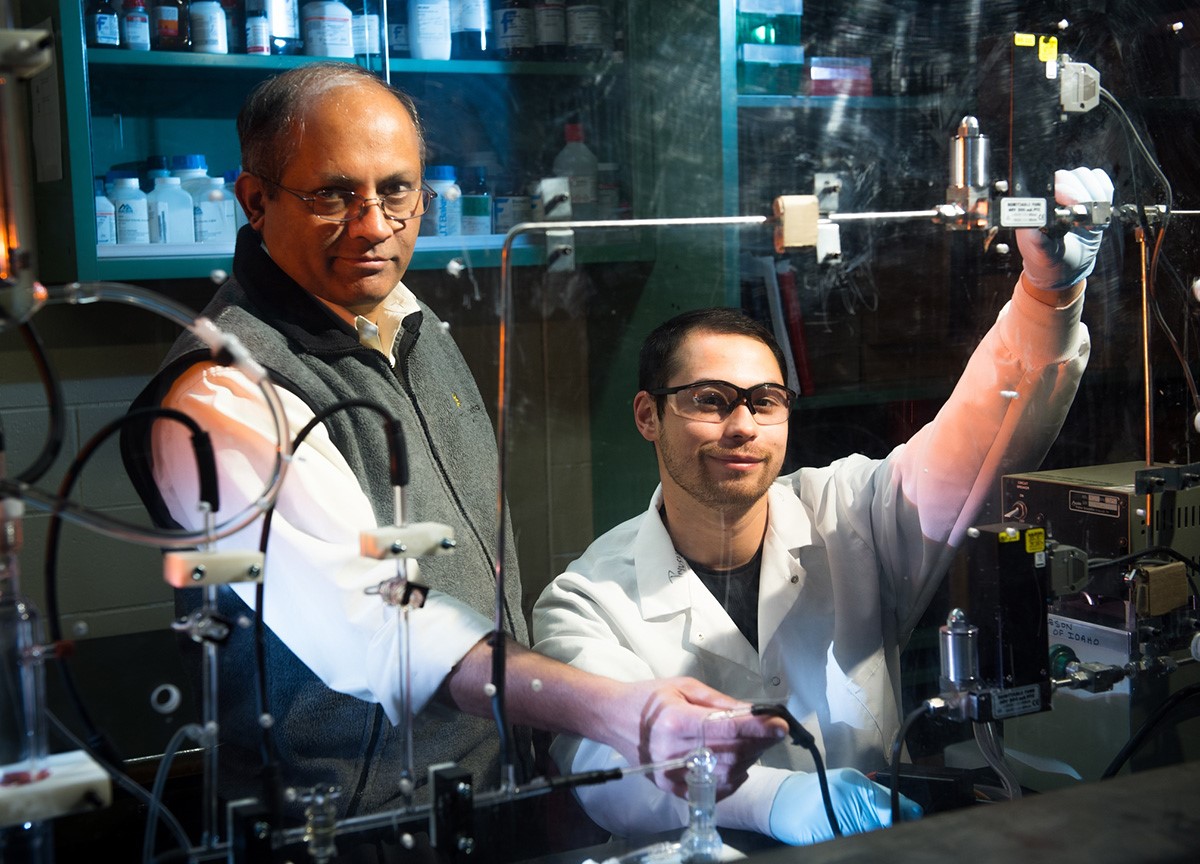 Download the full 2016 Research Report in PDF format.
Download the full 2015 Research Report in PDF format.