Drone Images Help Student and Researcher Soar
Dan Lauritzen is at home on the range, in U of I's Drone Lab
Cattle moseying down a trail. Sagebrush dotting the horizon. Robots whirring overhead.
This isn't a scene from a sci-fi movie. This is where University of Idaho junior Dan Lauritzen conducts his research.
Lauritzen, a double major in Rangeland Conservation and Fire Ecology and Management in the College of Natural Resources, has wanted to pursue a career in range ever since he won the Idaho State Rangeland Assessment as a high school junior in Hagerman.
He transferred to U of I in 2018 and quickly linked up with Jason Karl, principal investigator at the university's Drone Lab. Under Karl's tutelage, Lauritzen uses drone technology to explore the impact of cattle grazing on willows at Rinker Rock Creek Ranch — a newly acquired U of I property near Hailey. Lauritzen uses software to analyze hundreds of drone images and "stitches" them together to generate 3D computer models of the vegetation and terrain.
"For me, the coolest part is that nobody has done this before," Lauritzen said.
Creating replicas of a landscape that can inform land management is what qualifies Karl and Lauritzen as pioneers.
Doing research to keep that place intact not only for myself but for future generations' enjoyment is something that I've strived for in my college career. Dan Lauritzen
"There's a gap between taking a photo with a drone and combining hundreds of images together to create a three-dimensional model," Karl said. "Flying a drone is the easy part. Making a 3D representation of the ground that contains high-quality data is hard."
Lauritzen uses the 3D models to measure willow canopy volume pre- and post-grazing. Then, he compares his findings to measurements taken by field researchers. He's found the drone models yield accurate results in less than half the time — including image processing — than field measurements. Lauritzen presented his work at the Society for Range Management's national meeting in February 2019 and is a co-author on a forthcoming publication with Karl.
Beyond Anyone's Imagination
Lauritzen is excited by the prospects drones offer to the scientific community.
"The opportunities for using drones are beyond anyone's imagination," Lauritzen said. "For example, instead of sending people up a steep slope with a bunch of equipment to monitor soils or vegetation, we could fly a drone. Risk, cost and time can all be reduced."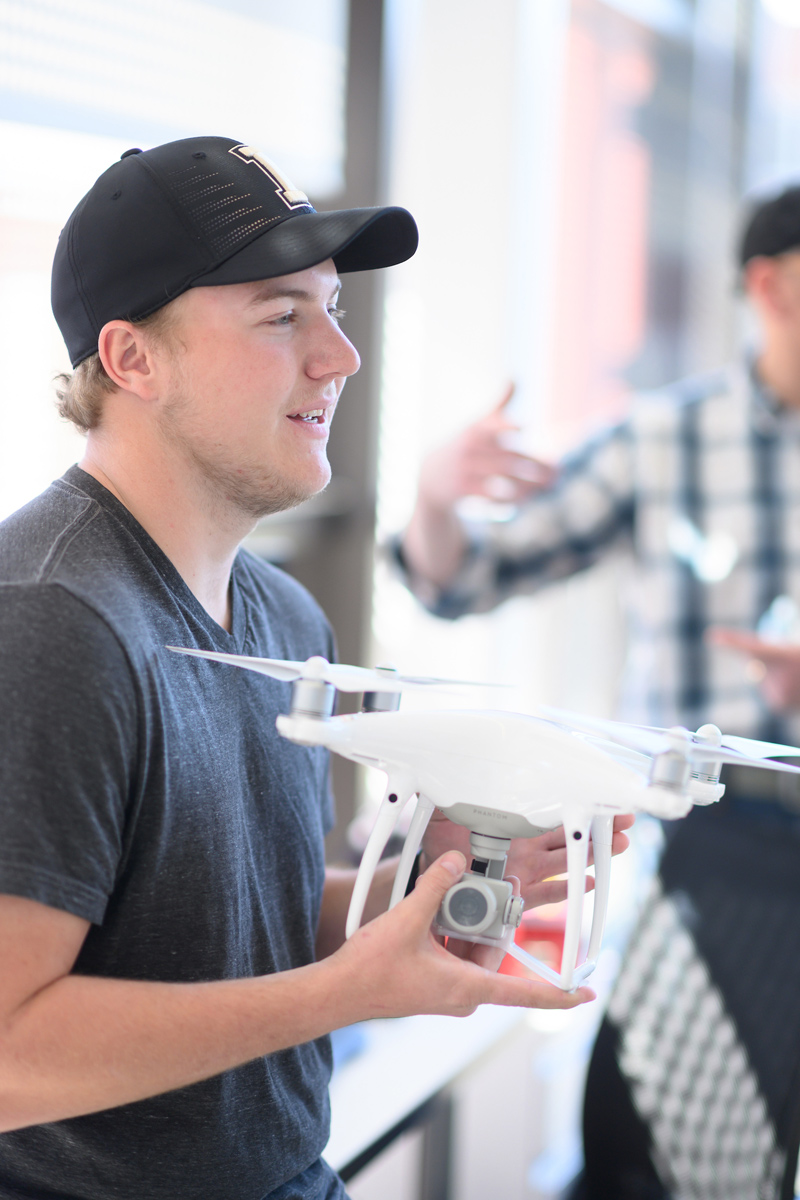 Applications for drone research extend far beyond forage; from targeted pesticide application to mapping wildfire fuel breaks to replacing helicopters used to survey spawning salmon, out-of-the-box solutions for natural resource management are seemingly endless.
Lauritzen's enthusiasm for drone research is strengthened by his dedication to rangeland science.
"I grew up in southern Idaho and was outside all the time," he said. "Doing research to keep that place intact not only for myself but for future generations' enjoyment is something that I've strived for in my college career."