Juan Guzmán
Truth, Justice and Democracy: Post Dictatorship
Juan Guzmán
Former Judge and Justice
About Judge Juan Guzmán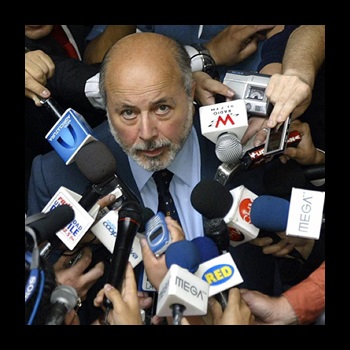 The Honorable Juan Guzmán was born in El Salvador in 1939. He is a Chilean citizen, former judge and justice, and current lawyer who studied law at the Pontifical Catholic University of Chile, Santiago. Similar to his parents, Guzmán was initially supportive of Gen. Augusto Pinochet and opposed President Salvador Allende's political agenda. But while serving as a judge, Guzmán grew more critical as he came to understand how the government maintained its power. Initially, he stayed quiet and carried on his duties as a judge eventually serving on the Court of Appeals.
He was a member of the Chilean judiciary for 36 years and acted as judge in Panguipulli, Valdivia, Santa Cruz and Santiago. Guzmán was a justice at Talca's Court Appeal for five years and justice at Santiago's Court of Appeal for 16 years. As part of his functions in Santiago, he prosecuted many state agents for human rights crimes, including Pinochet.
Guzmán's work in the field of human rights has been recognized with several awards, nationally and internationally, and he has received Honorary Degrees from the Catholic University of Louvain at Belgium, Oberlin College, Ohio, the Monterey Institute of International Studies and from Haverford College at Pennsylvania. Guzmán has been a professor of procedural law, professional ethics at the Pontifical Catholic University. He retired form the judiciary in 2005. Guzmán is the dean of the School of Law of Arcis University in Santiago, where he teaches professional ethics and human rights. He delivers speeches nationwide to raise awareness of the need for a democratic Constitution by means of a Constituent Assembly, because the 1980 Constitution enacted under the dictatorship of Gen. Pinochet is still enforced.
Judge Guzmán was the first to prosecute former Chilean dictator Augusto Pinochet on human rights violations committed during his presidency. Judge Guzmán received the Letelier-Moffitt Human Rights award in 2005 for his work. This award is given out by the Washington D.C. based Institute for Policy Studies to commemorate Orlando Letelier and Ronni Miller who were killed in 1976 by agents of the Chilean secret service. A documentary entitled "The Judge and the General" released in 2008 tells the story of Judge Guzmán's attempts to bring Pinochet to justice.
---
About the Sherman J. Bellwood Lectures
The Sherman J. Bellwood Lectures bring prominent and highly regarded local, regional and national leaders to the state of Idaho and the University of Idaho campus. Students have the opportunity to discuss, examine and debate a wide-range of subjects related to the justice system.
Throughout his distinguished career, Judge Sherman J. Bellwood was committed to the legal profession and to legal education. In one of his last and most generous contributions to legal education, Judge Bellwood endowed the Sherman J. Bellwood Lectures at the College of Law. According to the terms of his will, Judge Bellwood's purpose in establishing this endowment was "to enable the College of Law to invite and present persons learned in the law to lecture on legal subjects from time to time." This endowment is the largest endowed lectureship at the University of Idaho.