May 2021 First Monday
Dear Alumni and Friends,
When this adventure started three years ago, I did not understand what it meant to be the dean of a law school. Of course, I likely share that trait with all other new law school deans, who also have to learn how to make normal their own randomness, chaos, crises, and successes. Now after three years of constant budgetary challenges, mass retirements, the immediate 33% increase in our student body, and a global pandemic, I realize that I still do not understand what it means to be a law school dean.
But what I do understand is how special this community is. The highlights of my service have been getting to know and spend time with all of you, hearing about and celebrating your successes, and becoming myself a more integral and appreciative part of the wonderful family that is the University of Idaho and the College of Law. It remains a special calling to be a lawyer in this community, where collegiality and kindness still matter, and where it is our goal to be good people as well as good lawyers. Thank you for letting me be a part of that tradition, and I hope that I have helped continue it.
I look forward to continuing to serve this community, albeit with my old title. And I look forward to helping achieve the vision of our new dean, Johanna Kalb, who has already become a good friend. I am both proud and humbled to be a part of this community, and I am excited for the successes our future will bring.
So thank you again, and please join me one more time in celebrating the successes of the University of Idaho College of Law.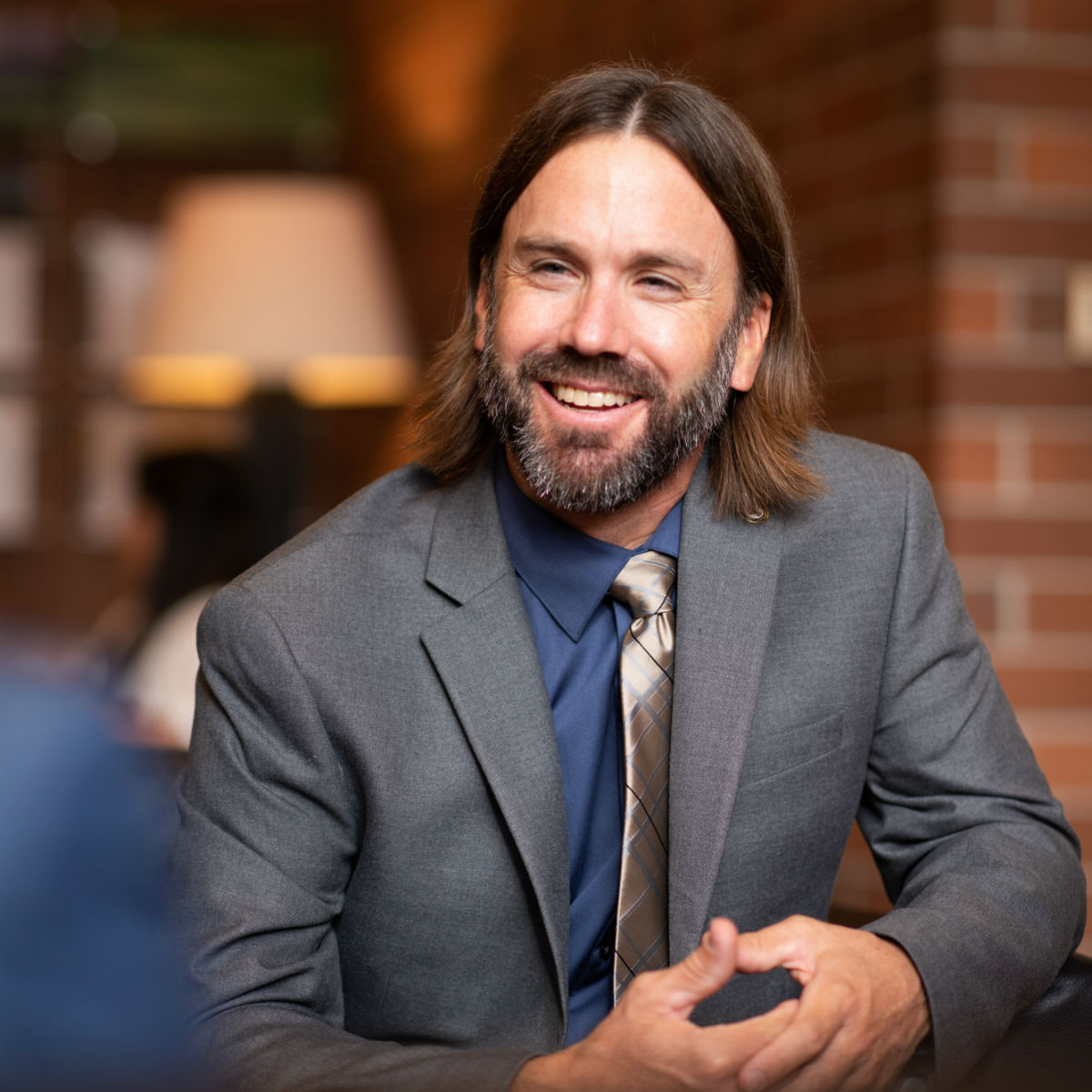 Honoring the treaties one student at a time
The region surrounding the University of Idaho is the ancestral land of both the Coeur d'Alene and Nez Perce peoples, and its campus in Moscow sits on unceded lands guaranteed to the Nez Perce people in the 1855 Treaty. As a land grant university, the University of Idaho also benefits from endowment lands that were the ancestral homes of many of the West's Native peoples. Our land-grant origins create a unique obligation to serve and educate all communities in the region, including perhaps most significantly the Native people on whose ancestral lands our University was founded.
We take that responsibility seriously and believe that as a law school situated on tribal homelands, we should continue to be a home for tribal people. To honor that obligation, the University of Idaho College of Law is proud to establish the Tribal Homelands Scholarship to all enrolled members of federally recognized Indian tribes. The Tribal Homelands Scholarship provides $10,000 per year to each enrolled tribal member. Through the Tribal Homelands Scholarship, our membership in the Western Regional Graduate Program, and our Native American Law Program, we seek to make the University of Idaho the best, most affordable law school for members of American Indian tribes.
If you know someone who may be eligible for this scholarship and is interested in attending the University of Idaho College of Law, please encourage them to contact us at lawadmit@uidaho.edu or contact our Admissions Team at 208-885-2300.
If you are interested in supporting this effort, please contact Michele Bartlett at bartlett@uidaho.edu or 208-364-4044
Tribal Homelands Scholarship
Honoring the treaties one student at a time.
Vandal Giving Day a Success!
Thank you for your generosity and for making our Vandal Giving Day 2021 a success. We raised $46,352 from 70 gifts and we met all five matches and challenges! Another successful day of giving means so many more opportunities for our students. If you would still like to give, you can participate via this form or contact Michele Bartlett.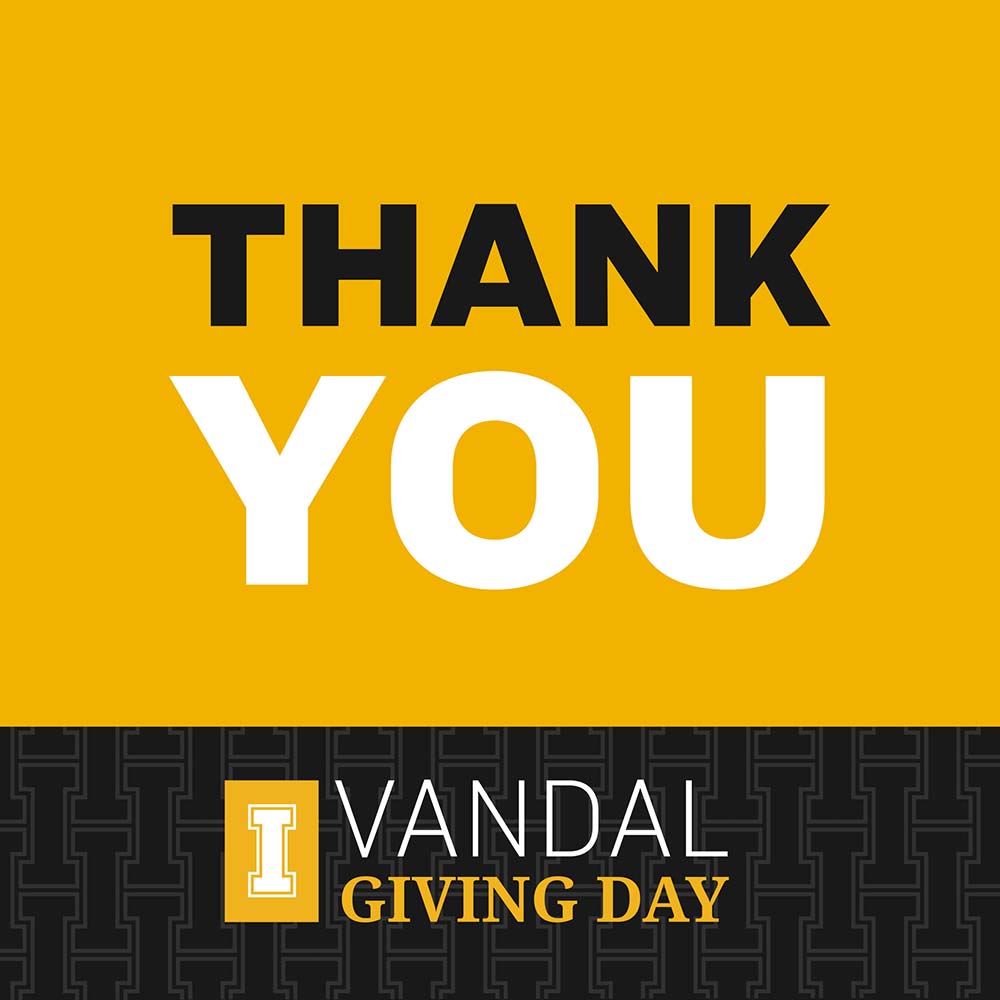 College of Law Advisory Council Selects New Members
The College of Law Advisory Council held its spring meeting via Zoom on April 23rd. The council met incoming Dean Kalb and spent time providing her with valuable feedback and advice about the College from the alumni and practicing bar perspective. The council elected new members and said thank you to several members whose terms on the council have ended.
Please join me in thanking the following LAC members for their service and welcoming our new members.
Members leaving the LAC: Jana Gomez, '09, Ritchie Eppink, '06, Megan Hopfer, '11, Nick Marshall, '95, and Jeffrey Messerich, '88.
New members to the LAC: Brian Buckham, '05 and Julie Kane, '89
New Hires in Moscow and Boise
Neoshia Roemer will be joining the college next academic year to teach Family Law and a variety of specialized Native American Law courses at our Moscow location. She is coming from Michigan State University College of Law where she currently serves as a staff attorney in the Indigenous Law and Policy Center, facilitates the student success program and mentors Native students by providing skills for success and support. Prior to her current role at Michigan State Neoshia was an adjunct faculty member at Saginaw Chippewa Tribal College where she taught Tribal Legal Studies, American and Indian Children and Child Welfare, and Violence Against Women in Indian Country. She earned her J.D. from the University of New Mexico School of Law.
Tim Murphy has agreed to join the College as a faculty member and will teach Contracts and a variety of specialized Intellectual Property courses in Boise. For the past year, he has been a Clinical Assistant Professor of Law at the University of Michigan teaching in their Entrepreneurship Clinic. Prior to that he directed the Entrepreneurship Law Clinic here at the University of Idaho. Before entering academia, Tim was the Senior Patent and Trademark Counsel at Micron Technology, Inc. He received his J.D. and M.S. in Mechanical Engineering from the University of Michigan. He brings a wealth of knowledge and experience to the position.
Brenda Bauges will serve as the Associate Dean for Students Affairs and Inclusion for the College of Law in Boise. She graduated summa cum laude from both College of Idaho and the University of Idaho College of Law. Professor Bauges began her career as a law clerk for the Honorable Karen Lansing of the Idaho Court of Appeals. She then joined Holland and Hart, LLP as a general litigation associate before spending just under six years in public service as a Deputy Attorney General and a Boise City Assistant Attorney. Professor Bauges spent a short time at a small law firm specializing in employment law before joining Concordia University School of Law as an assistant professor and Director of Externships and Pro Bono Programs, where she worked for two years. We are excited to have her serve in this new role at the College.
Elana Salzman is the new Career Development Manager for the College of Law in Boise. Ms. Salzman comes to us with experience in criminal defense, family law, and immigration law. Additionally, Ms. Salzman has worked as a staff attorney for the Indiana Supreme Court's Division of State Court Administration, overseeing various statewide court projects and commissions. Prior to coming to the College of Law, she was a staff attorney at a nonprofit practicing immigration law, where she handled both affirmative applications and removal defense cases. Ms. Salzman received her J.D. from NYU Law and her B.A. from Swarthmore College.