June 2021 First Monday
Dear Alumni and Friends,
Graduation season is always joyous and bittersweet.
We join with families and friends to celebrate the accomplishments of students we have come to care for deeply as we watched them grow over their three years with us. And, we begin to say goodbye to them as their attention turns to preparation for the bar and for practice.
This year's graduation was particularly poignant as it brought together a community that has continued its work while being separated for more than a year. It was also the final ceremony led by Dean Jerrold Long, who has worked tirelessly for the college over the last three years and made every effort to ensure my transition is as seamless as possible. I am fully aware that I have big shoes to fill, and I'm grateful for Jerry's continued support and friendship, even as I wish him well on the many fishing days he has planned for the summer.
I have received a warm welcome from the college's incredible leadership team and its dedicated faculty and staff. And, I've been overwhelmed by the outpouring of support from you, our alumni and supporters.
I hope the summer will offer many opportunities for us to meet in person – but in the meantime, please do not hesitate to reach out. I know I'll benefit from your perspective and counsel as I begin my journey.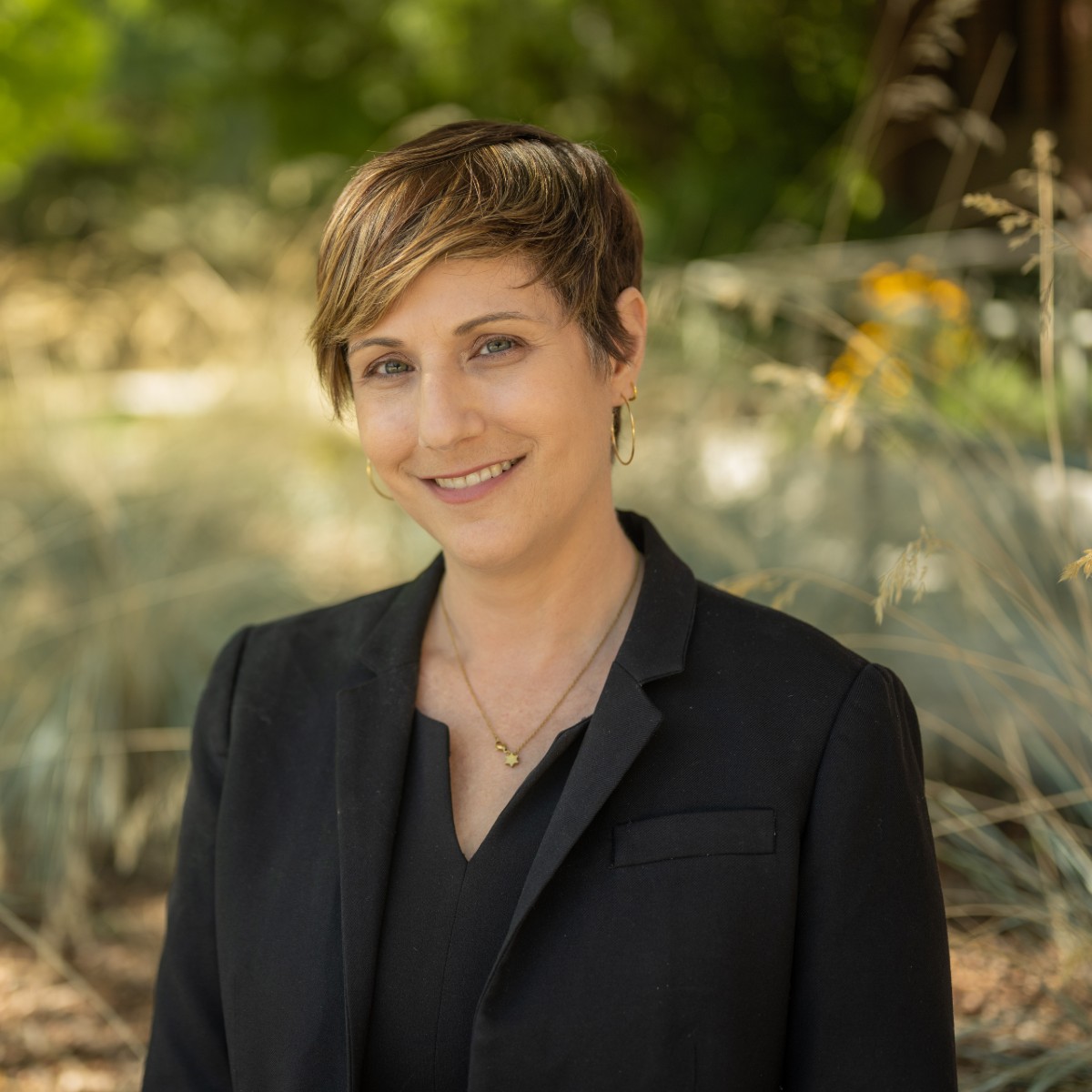 2021 College of Law Commencement and Awards
This May, we celebrated spring commencement in Moscow and Boise. A total of 130 students participated in the ceremonies. The following year-end awards were presented:
Award of Legal Achievement — Jamie Schwantes

This award is presented to the graduating student with the highest cumulative grade point average and honors the student's outstanding dedication and success in the pursuit of academic excellence.

Spirit of the Class Award — Christopher Thompson (Boise) & Makenzie Mahoney (Moscow)

The recipient of this award embodies the values of the class, both in and out of the classroom, and has a commitment to the law school that is apparent throughout their activities. The recipient is not only one who might liven up a class with a thought-provoking question but is also a person who always has a smile, an encouraging word, or a helping hand for their fellow students.

Spirit of the Clinic Award — Anthony Lee

This award is determined by clinic faculty. The recipient best represents the spirit of the clinic and demonstrates their passion for the work of the clinic.

Peter E. Heiser Award for Excellence in Teaching — Professor Richard H. Seamon

This award is determined by a vote of the graduating class and recognizes a faculty member who has demonstrated outstanding dedication to students at the College of Law.

Outstanding Student Service Award — Joey Carter (Moscow) & Anthony Lee (Boise)

The recipients of this award are leaders who have devoted much of their time and energy to improving the law school community and enhancing the student experience. Not only should the recipients be strong advocates for student ideas and concerns but should also show a commitment to the law school within the building and outside its walls.

Diversity & Human Rights Award — Jeanette Moody, Danielle Strollo, and Professor Samuel P. Newton

This award is determined by the members of the diversity committee. The recipients of this award are members of the College of Law community who have shown leadership and compassion in assisting underrepresented and underserved communities.

Pro Bono Above and Beyond Award – Anthony Lee

This award may be given annually to the 3L student who most strongly supports and who best exemplifies, over three years, the law school's commitment to pro bono service. Criteria used in making the award include number of hours worked, quality of work, and involvement in, leadership in, and support of the Pro Bono Program throughout his or her law school career.
John Ford Elsaesser Receives the Sheldon A. Vincenti Award for Exemplary Service
John Ford Elsaesser is a proud Vandal, receiving a Juris Doctor from the University of Idaho College of Law in 1977. He joined the college only a year after Dean Vincenti and learned from and knew him well. "Ford" found success quickly, and rapidly developed a reputation as one of the nation's leading bankruptcy attorneys. His professional successes are such that the College of Law has already awarded him our Faculty Award of Legal Merit, an award created to honor our must successful alums, and the University inducted him into the Alumni Hall of Fame in 2016.

For over two decades, Ford has provided selfless service to the college. Before "retiring" this year, he taught our Bankruptcy course for 20 years, regularly making the trek south from Sandpoint to teach our students in person. He has supported our students and the bankruptcy moot court team with both his time and treasure, serving as their coach for many years, and personally providing the financial support needed for them to attend the national competition. He coached them to a national championship in 2001, and to the best brief award in 2016.

Ford has also provided countless hours of pro bono service to assist our legal aid clinics, including donating his time as the bankruptcy trustee during a complex and drawn-out class action lawsuit filed on behalf of the residents of the now closed Syringa community, just outside of Moscow. He has also provided countless hours of service to the college formally on our advisory council, and informally as a good friend and mentor to several faculty members and deans. Ford is truly deserving of this acknowledgement.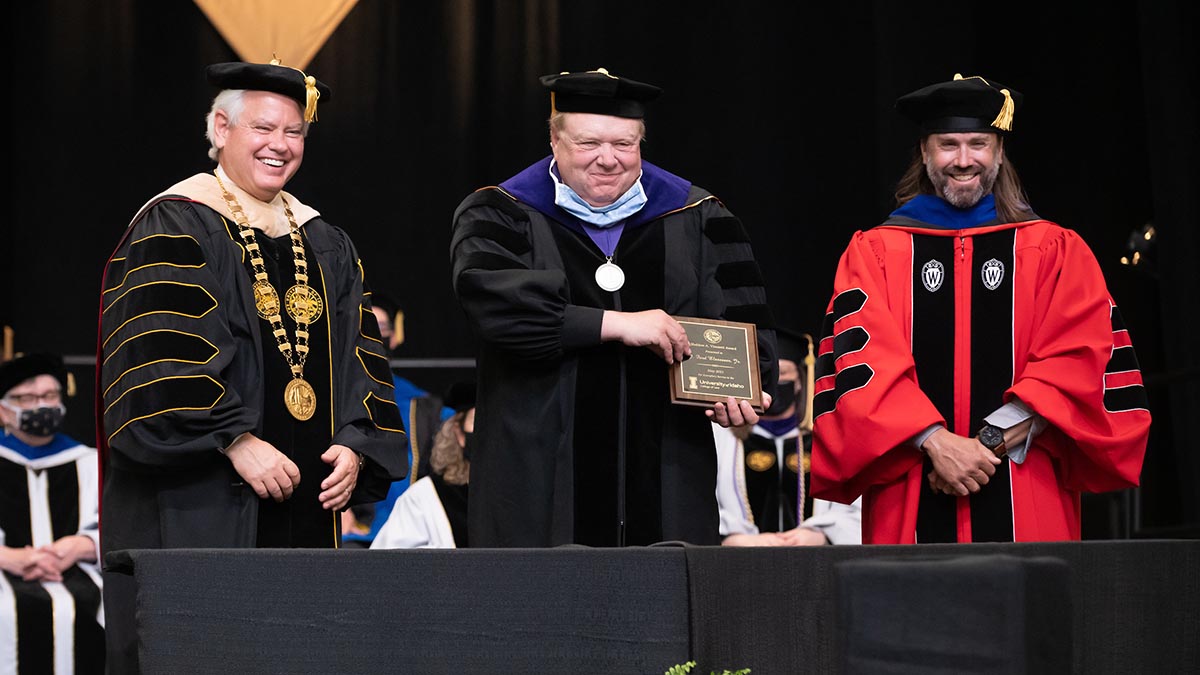 Hon. Bart M. Davis Honored with Faculty Award of Legal Merit
The Faculty Award of Legal Merit recognizes the outstanding contribution of a University of Idaho College of Law graduate whose career exemplifies the best in the legal profession. This annual award is determined by a vote of the law faculty and is based on demonstrated standards of integrity, competence, service and leadership through work as a legal practitioner, service to the legal profession, service to the community, or service to business, state, or national interests.

This year's recipient of the University of Idaho College of Law Faculty Award of Legal Merit is the Honorable Bart M. Davis, an individual who has through competence, integrity, and leadership helped lay the foundation of the Idaho legal community. Bart is a former United States Attorney for the District of Idaho, former Idaho State Senate majority leader, and graduate of the University of Idaho College of Law, class of 1980. Bart served on the College of Law Advisory Council 2007-2013.

While he has undoubtedly been an incredibly successful lawyer, what stands out is Bart's civility and kindness, to all who cross his path. His support was instrumental to our successful expansion in Boise and our presence in the Idaho Law and Justice Learning Center. The successes we continue to enjoy in our capital city are due to his efforts as much as any other individual. We should all be grateful for this enduring legacy.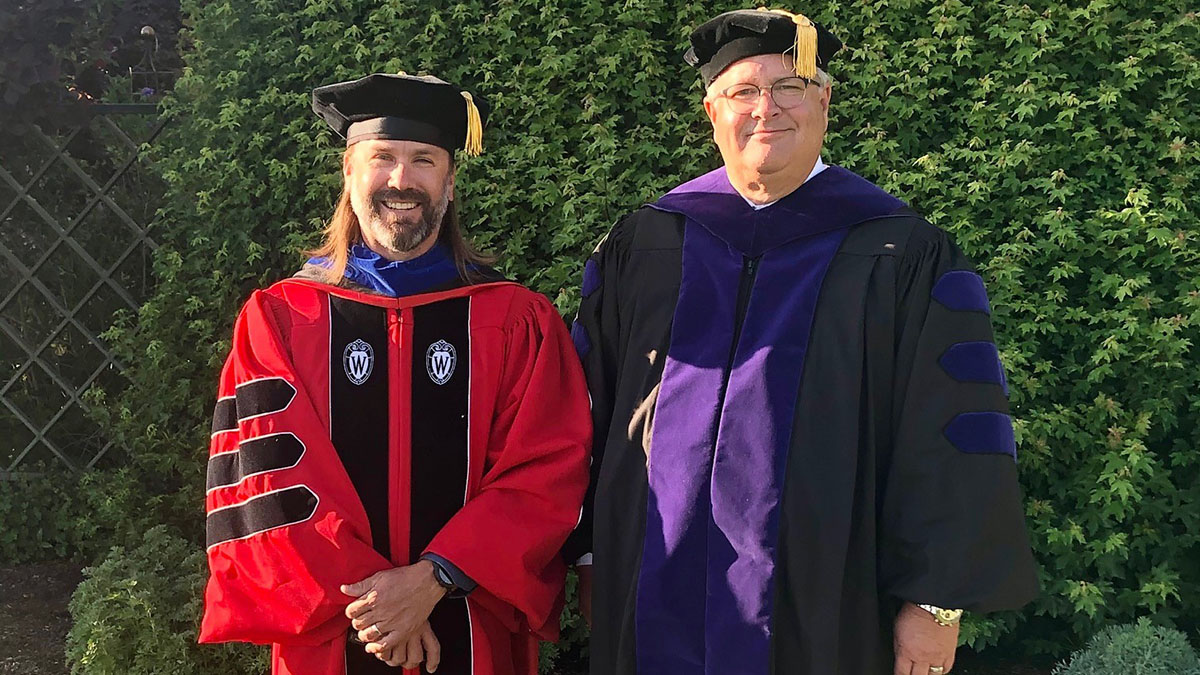 Justice Trout Establishes Scholarship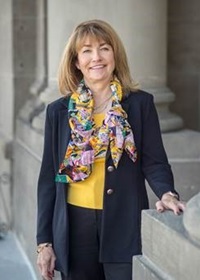 Former Chief Justice of the Idaho Supreme Court and current Vice-Chair of the University of Idaho Foundation, Linda Copple Trout, '73,'77, recently established the Linda Copple Trout College of Law Scholarship Endowment. The scholarship pays tribute to and honors her parents Dr. B.I. Copple and Mrs. Jean York Copple. The scholarship will provide scholarship support to deserving law students, with a preference for students who are among current under-represented populations at the college. In establishing this endowment, Justice Trout expressed her commitment to aid the college in its diversity and inclusion efforts and is hopeful these funds will help the college recruit and retain students. If you would like to learn more about giving to the College of Law, contact Michele Bartlett at 208-364-4044 or bartlett@uidaho.edu.
Upcoming Events