January 2020 First Monday
Dear Alumni and Friends,

Happy Holidays! I hope you have enjoyed this special time of year with your family and friends. As we conclude one year and look forward to the next, I think of all we have accomplished and all of the changes ahead. In December, four law students received their Juris Doctor degrees at the winter commencement ceremony, moving from law students to College of Law alumni. As I watched the students cross the stage, I thought of all of the effort—by many different people—that it took to get them there. And I thought of all of the opportunities that await them. Like the New Year, commencement offers a wonderful opportunity to think of achievements earned and to imagine adventures to come. All of our students—whether undergraduate, graduate, or law students—are well prepared for their careers, further education, or exciting future adventures. On behalf of the College of Law, I offer my congratulations and wish you continued success in your lives ahead.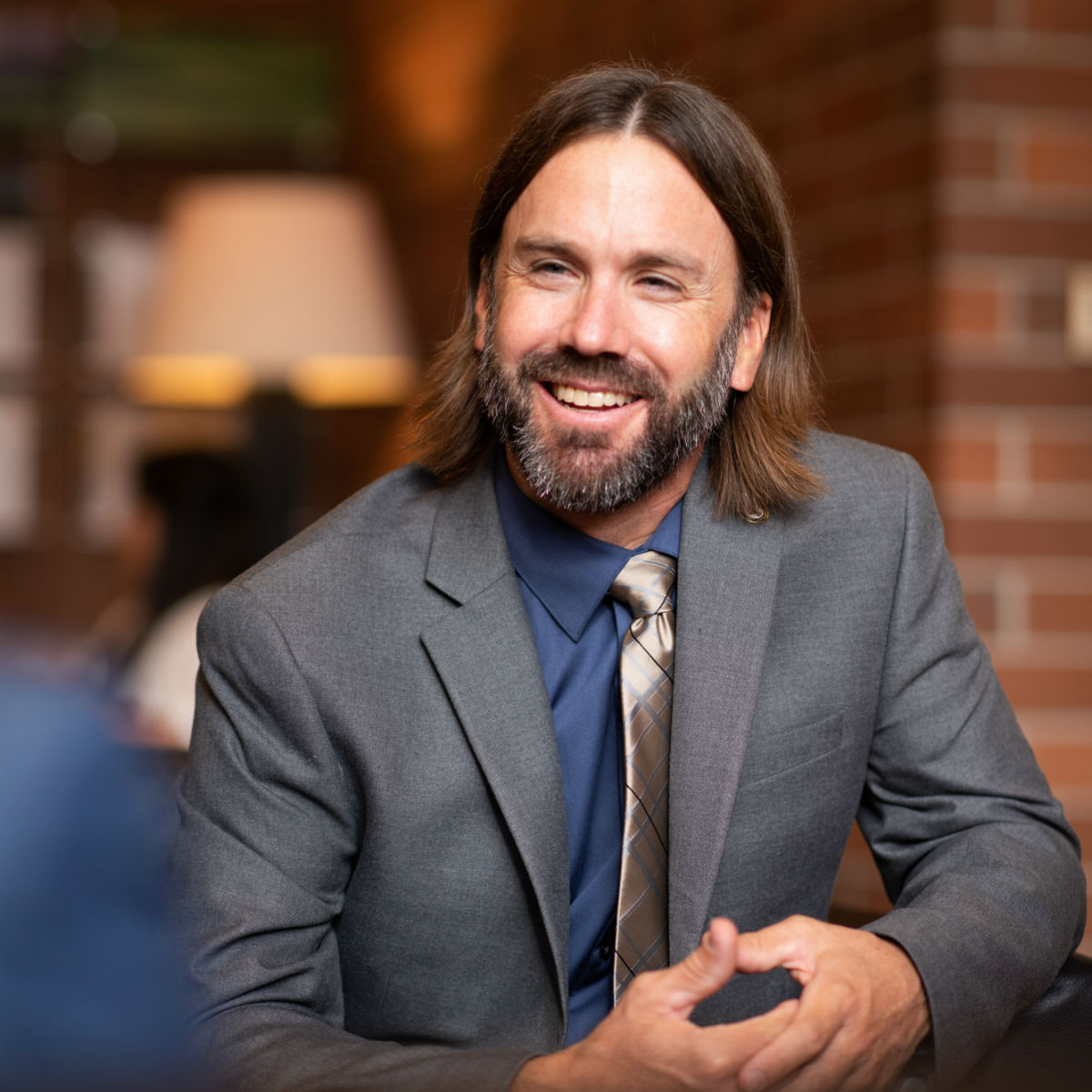 Alumni Awards for Excellence
On Dec. 5, the University presented the 40th annual Alumni Awards for Excellence to student recipients and their mentors. The College of Law was well represented by the following law students and mentors:
Michael Bowers and mentor Professor Kristina Running
Valeri Kiesig and mentor Professor Aliza Cover
Timothy Koglin and mentor Professor and Associate Dean David Pimentel
Kierra Mai and mentor Professor Samuel Newton
Tanner Mort and mentor Professor Benjamin Beard
Audrey Thorne and mentor Professor Aliza Cover
Also recognized was College of Law Professor Barbara Cosens, who served as mentor to Water Resources Ph.D. student Rebecca Witinok-Huber. Thank you to our faculty mentors who have provided meaningful guidance to our students who have so ably represented the U of I.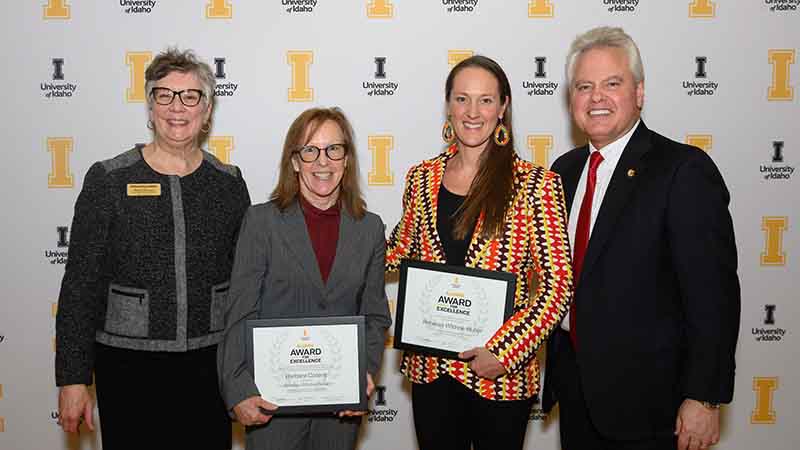 Professor Benjamin Beard to Retire
Professor Benjamin Beard is preparing to retire in spring 2020, after 33 years with the College of Law. Professor Beard is a fixture here at the COL, in the Moscow community, the local school board, and with his church.

Ben has taught Property, Property Security, Sales, Contracts, Suretyship and Guarantee, Negotiable Instruments, and International Business Transactions. He was an incredible help to me as a new law professor, trying to figure out how to teach Property. He has participated on several University of Idaho committees, American Bar Association Committees, and in International Affairs in Eastern Europe, Slovenia, and Ukraine. Ben's scholarship is thorough, including contributions to the Uniform Commercial Code, Domestic and International Business Transactions, Surety, Sales, and Electronic Commerce. Ben has been nominated for, and received, several teaching, advising, and faculty excellence awards throughout his tenure here at the University of Idaho College of Law.

As I considered what is most remarkable about Ben Beard, I began thinking through the list of students, faculty, staff, and practicing attorneys that have benefitted from his teaching and mentorship. The list is long. There is no way to replace Professor Beard; we will only try to fill the void his retirement will create. Please join me in congratulating Professor Ben Beard and thanking him for his service to the law school, the community, to legal scholarship, and to the attorneys he has influenced.

As a Professor at the University of Idaho for over three decades we realize Ben has touched many lives. If you are a former student and you have a favorite memory or a message you would like to share, please send them to Michele Bartlett at bartlett@uidaho.edu. They will be compiled and shared with Ben at his retirement gathering in the spring.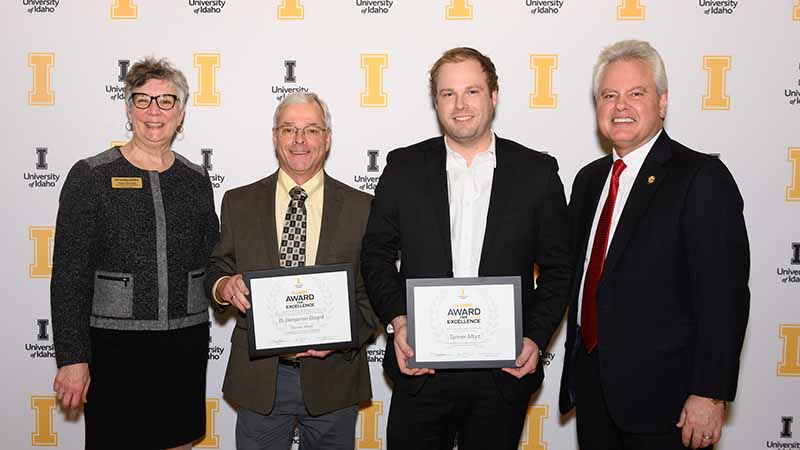 Welcome New Faculty
Kristi Denney is the College of Law's new Externship and Pro Bono Director. Kristi has been serving as Adjunct faculty, teaching Applied Legal Reasoning, Public Lands and Resources, Externships, and Semester in Practice. Her law practice spanned three states over ten years and she has worked for the U.S. EPA, Sierra Club, and Texas Public Utility Commission. Kristi earned a Juris Doctor degree from the University of Colorado Law School and a master's degree in environmental studies from the University of Montana.

In addition, next fall the College of Law will welcome two new tenure track faculty.

Geoff Heeren will be the College of Law's new Immigration Clinic Director. For nine years, Geoff directed the Immigration Clinic and was a Professor at Valparaiso School of Law. More recently, Geoff was a Visiting Clinical Professor and Director of Immigration Clinical Practice at the University of Iowa, as well as a Visiting Associate Professor and Director of the Immigration Justice Clinic at the University of Wisconsin School of Law. He has practiced immigration law for Legal Aid in Chicago, the Sargent Shriver National Center on Poverty Law, and the Office of the Illinois Appellate Defender. Geoff earned a Juris Doctor degree from New York University and an LL.M from Georgetown Law.

Jessica McKinlay will be the College of Law's new Professor of Law, teaching Commercial Law. Jessica has been Of Counsel for Dorsey & Whitney in Palo Alto, California, representing clients on issues such as creditor, bankruptcy, and corporate formation. Previously, Jessica practiced law with Durham, Jones, & Pinegar, clerked for Utah Supreme Court Chief Justice Christine M. Durham, and served as an associate with Berman & Savage in Salt Lake City. Jessica earned a Juris Doctor degree and MBA from University of Utah.

Have a wonderful January,
Jerrold A. Long
Dean
College of Law
Upcoming Events
Idaho Critical Legal Studies Symposium
March 6, 2020
TBD – Boise

Idaho Law Review Symposium – Election Law
April 3, 2020
Lincoln Auditorium, Idaho State Capital

American Bar Association 100th Anniversary of the 19th Amendment – traveling exhibit
April 3-17
College of Law Library - Boise

Law Advisory Council Meeting
April 24, 2020
TBD – Boise