October 2019 First Monday
Dear Alumni & Friends,

It is somehow already October, and today my First Monday letter falls on the original first Monday. As you read this, the justices might already be hearing arguments about whether a state can abolish the insanity defense, whether "all expenses of the proceedings" includes attorney's fees, or whether the 6th Amendment's requirement for a unanimous jury verdict applies to the states. Later this term, one of our own alums—himself a "Dreamer"—will take a case before the Court in support of the Deferred Action for Childhood Arrivals program that provided him the opportunity to succeed at the College of Law. While our focus this time of year is generally on our new and returning students, it is nice to stop for a moment to remember the great work all of our alums are doing. The University's slogan was once "from here you can go anywhere," and that remains as true today as it has ever been. As I noted last year in my October letter, the best part of a dean's life continues to be meeting with our alumni and listening to their stories, marveling at all of the great people who have passed through our halls. I am consistently humbled, but never surprised, by the great work all of you have done. Thank you for your wonderful example, and for continuing to be part of our community and family.
The 2019 UI/ATNI Changing Currents Water Summit
On September 5 and 6 the College of Law hosted the 2019 Changing Currents Water Summit. The Water Summit was developed in partnership with the Affiliated Tribes of Northwest Indians, ("ATNI"), an organization that represents 57 Northwest tribal governments from Oregon, Washington, Idaho, Northern California, Southeast Alaska, and Western Montana. The purpose of the Summit was to bring tribes together to strengthen tribal water security and to develop priorities and goals to protect water resources and communities. In this process we brought together tribal leaders, community members, non-profit organizations, scientists, policy analysts, and state and federal agency representatives. This year, we were honored to host four tribal Chairmen:
Gary Aitken (Kootenai Tribe of Idaho);
Ladd Edmo (Shoshone-Bannock Tribes);
Ernest Stensgar (Coeur d'Alene Tribe); and
Shannon Wheeler (Nez Perce Tribe).
The Water Summit also brought together speakers from throughout the Northwest, but particularly Idaho. Topics of discussion were wide-ranging and included many contemporary water issues facing the Northwest, including a discussion on the lessons learned from the Snake River Basin Adjudication; an update on current water rights adjudications in Idaho; discussion regarding opportunities for intergovernmental collaboration; and updates on the Columbia River System biological opinion litigation and the Columbia River Treaty negotiations. The Summit also included updates on pressing water issues from representatives of the Shoshone-Bannock Tribes; the Nez Perce Tribe; the Coeur d'Alene Tribe; and the Kootenai Tribe of Idaho.
The College's relationship with native peoples in the Pacific Northwest is a critical part of our land-grant mission and our obligation to serve all communities in our great state. We are honored to have been able to host the Water Summit.
Thank you to everyone that made this event such a success!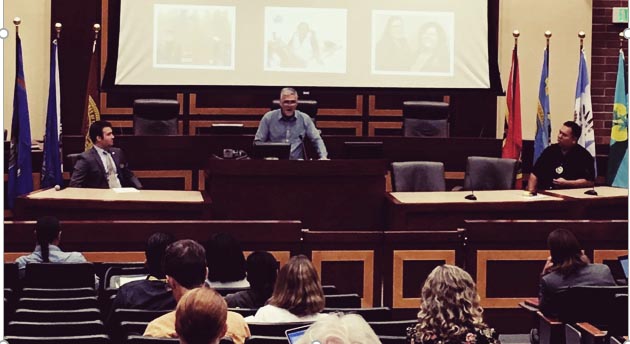 Apel Scholarship Established
We are excited to announce a new scholarship endowment in honor of Edwin "Win" V. Apel, Jr. '77. Upon graduation Win served the Honorable Raymond McNichols as a law clerk in the U.S. District Court for the District of Idaho and then joined Hawley Troxell Ennis & Hawley law firm from 1978 to 1990. From 1990 to 2008, he was an attorney for Morrison-Knudsen & Washington Group International in Boise. He was the General Counsel for Weeks Marine in Cranford, N.J. from 2008 until 2011.

Win's wife, Lorrie, established the scholarship in recognition of her husband's life and successful legal career and in acknowledgment of the need to help students struggling with the rising cost of legal education. An event celebrating Win, along with the first recipient of the scholarship, Brandon Helgeson, '21, was held in September in Boise. I enjoyed a wonderful evening getting to know Lorrie, learning about Win, and meeting many of his friends, colleagues, and former classmates. These moments are the best part of being dean of the College of Law. Thank you Lorrie, and all who attended, for a truly enjoyable experience.

If you are interested in contributing to this scholarship endowment or for more information about ways to support the College of Law, contact Michele Bartlett at 208-364-4044 or bartlett@uidaho.edu.
2019 Sherman J. Bellwood Lecture
Please mark your calendars and plan to attend the 2019 Bellwood Memorial Lecture. This year's program, which will take place Tuesday, October 22 in Boise and Wednesday, October 23, in Moscow, will feature Ken Salazar as speaker. Mr. Salazar, former Secretary of the Interior and former US Senator and Attorney General for Colorado, will discuss "Climate Change & the Future of Energy."

There will be a number of additional events surrounding the lecture this year. In Boise, a panel discussion featuring Mr. Salazar and Idaho Attorney General Lawrence Wasden will begin at 1:30 p.m. at the Idaho Law Learning and Justice Center. The panel will discuss Natural Resources Federalism. That evening, a public reception and lecture will begin at 5:00 p.m. and will be held at JUMP in downtown Boise.

In Moscow, the College will host a panel discussion on Federalism and Native Lands with Chief James Allen of the Coeur d'Alene Tribe and McCoy Oatman representing the Nez Perce Tribe. The Bellwood Lecture will begin at 3:30 p.m. Pacific time in the Pitman Center International Ballroom on the University of Idaho Moscow campus. The events in Boise and Moscow are open to the public.

If you are unable to attend the event in person, the full lecture on Wednesday will be available via live web streaming. CLE credit will be available for all events. For information please contact Neil Luther at nluther@uidaho.edu.
Have a wonderful fall,
Jerrold A. Long
Dean
College of Law