January 2019 - First Monday
Dear Alumni & Friends,

This past year has been filled with accomplishments for the College of Law—faculty and students alike. As we approach a new year, and new semester, there's value in taking a minute to look back. I hope you'll join me in revisiting our 2018 list of student and faculty appointments, awards, publications, and outreach efforts.

In December, four of our students received their Juris Doctor at winter commencement, crossing the threshold of College of Law students to College of Law alumni. Of course, we look forward to the many more who will graduate this spring, moving on to that next stage of their lives as our state's and region's next generation of leaders and visionaries. Moving into the spring semester, we are continually grateful for your support, and the partnerships that enable us, as Idaho's College of Law, to deliver an unparalleled legal education to all corners of our great state.
Alumni Holiday Reception
Thank you to everyone who joined us at the Cottonwood Grille in Boise for our annual alumni holiday reception. For those of you who were unable to join us, we missed you and hope to see you soon. Next year we will likely have to find a larger venue, as attendance this year far exceeded our expectations. It was a great event, and I very much enjoyed connecting, and reconnecting, with our College of Law family.
Alumni Awards For Excellence
Each year, the University of Idaho Alumni Association recognizes approximately forty undergraduate and fifteen graduate and law students who have achieved outstanding academic success and career and professional preparation, or have proven to be campus and community leaders. To be eligible, law students must be in their third year, in the top 10 percent of their class, and nominated by a faculty mentor. We've never had more than five students selected for the Alumni Award for Excellence—this year we had seven. Congratulations to the 2018 Alumni Award for Excellence recipients, and also to the faculty or staff mentor each recipient chose to recognize at the award ceremony.
Students
Mary Briggs
Naomi Doraisamy
Nick Gourley
Matt Meacham
Paul Merrill
Christopher Murray
Katie Vandenberg
Mentors
Richard Seamon
Kate Evans
Wendy Couture
Kristina Running
Richard Seamon
Barbara Cosens
Kristina Running
Partnership Offers Practical Experience
The College of Law is proud of its diverse curriculum—a curriculum that would not be possible without the help of many of our alums, lawyers, and judges who serve each semester as temporary (or "adjunct") faculty. Because of the importance of our adjunct faculty and the courses they teach to the College and our students, the First Monday letter will highlight some of these courses and the people who teach them.

As many of you know, our partnership with the FACES of Hope Victim Center (FACES) in Boise allows us not only to provide free legal services to victims of domestic abuse but also invaluable practical experience for our students. Students in this clinic must navigate complex relationships, the trauma associated with interpersonal violence, and the struggle of rebuilding a life when everything seems to have fallen apart. We have long offered a course in Domestic Violence & the Law in Moscow, but have yet to be able to offer it in person in Boise. While legal practice, and legal education, increasingly can be managed using distance technology, this area of law and legal education requires face-to-face, personal interaction.

To help our students prepare for their experiences at FACES, we are honored to have Judge Melissa Moody teach Domestic Violence & the Law in Boise during spring semester. The students will benefit from her wisdom and expertise, and will have a richer and more effective experience at FACES as a result. Without these partnerships—both with FACES and Judge Moody—we wouldn't be able to provide either this crucial public service to the Treasure Valley or the practical experiences our students desire.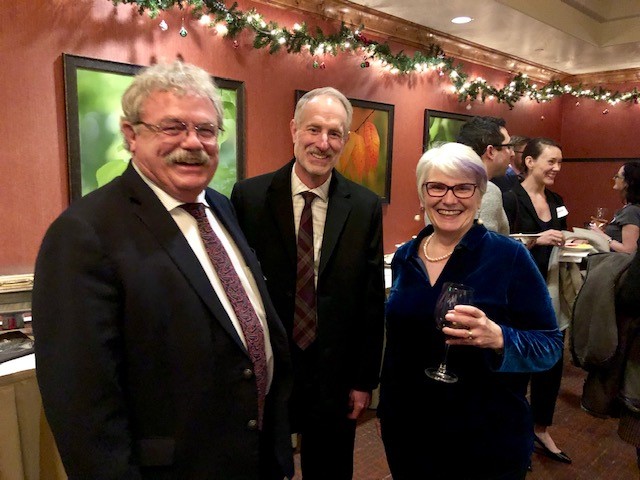 Darrington Lecture Speaker
Sponsored in partnership by the Idaho Supreme Court, the Idaho State Bar, the Idaho Law Foundation, and the U of I College of Law, the annual Denton Darrington Lectures engage our students and our community in conversations about improving the administration of justice. This year, we are thrilled to announce Chief Justice Charles T. Canady as the Darrington Lecture speaker.
Justice Canady has served on the Florida Supreme Court since 2008. In March 2018, he was elected by his colleagues to a second term as Chief Justice, having served previously from July 2010 through June 2012. Prior to serving on the Court, Justice Canady served three terms in the Florida House of Representatives, followed by four terms in the United States House of Representatives.

More details about Chief Justice Canady's lecture will be available soon, so please keep an eye out for them in the very near future.
Happy New Year!

Jerrold A. Long
Dean
College of Law
Darrington Lecture
5:00 p.m. MT
February 27, 2019
Lincoln Auditorium, Boise

Idaho Critical Legal Studies Symposium
March 29, 2019
TBD – Boise

Idaho Law Review Symposium
April 5, 2019
TBD - Boise

Law Advisory Council Meeting
April 26, 2019
Idaho Law Justice & Learning Center
Boise