Getting to Space By Way of Hawaii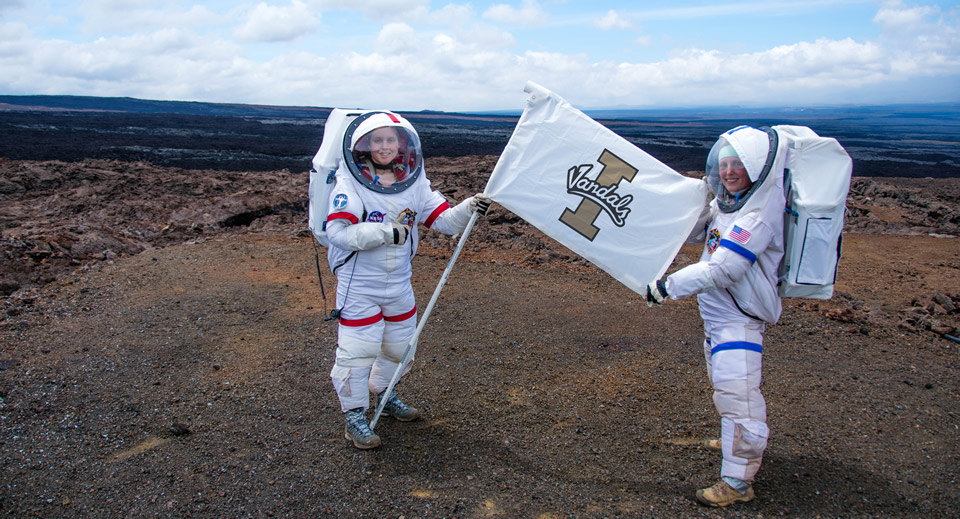 U of I Mechanical Engineering Graduate Student Selected for 8 Month Mars Simulation
Sophie Milam is about to find out what life is like on Mars.
Milam, a mechanical engineering master's student at the University of Idaho, has been selected to participate in Hawaii Space Exploration Analog and Simulation, or HI-SEAS, a project funded by the NASA Human Research Program that simulates a long-duration Mars mission here on Earth.
Milam, along with five other crew members (three male, two female) and two reserves, were selected from hundreds of international applicants to participate in HI-SEAS Mission 3. Mission 3, the longest to date, begins Oct. 15 and will last for a total of 273 days, ending with a debrief on June 15, 2015, which coincidentally is Milam's birthday.
"I have always wanted to be an astronaut," Milam says. "When I was 2, my mom took me to see the Space Shuttle as it piggy-backed on top of a modified Boeing 747. Ever since, my life's goals have been focused on space."
HI-SEAS crews live in a two-story, 36-foot-diameter geodesic habitat on an abandoned lava quarry on the northern slope of the Hawaiian island of Mauna Loa. Crews are largely confined to the "dome" but have the freedom to conduct activities outside the living habitat as long as they wear mock pressure-suits to simulate life in an unpressurized space environment.
Over the eight-month period, "mission support" researchers will continuously monitor the crew using surveillance cameras, body movement trackers and other methods to study the group's cohesion over time, gathering data on a wide range of cognitive, social and emotional factors that may affect team performance.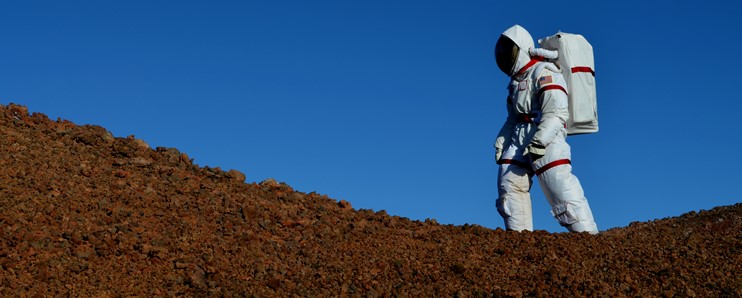 "The HI-SEAS site presents a remarkably high-fidelity environment for this type of long-duration space study," says University of Hawaii, Mānoa's Kim Binsted, the principal investigator for the study. "Looking out the single porthole window, all you can see are lava fields and Maunakea (a dormant volcano) in the distance. Once the door is closed, and the faux airlock sealed, the silence and physical separation contribute to the 'long way from home' experience of our crew members."
Milam's hopes of real space travel dimmed when she learned she had Celiac disease, an autoimmune disorder, but her desire and passion to be involved and help the space program did not wane in the least.
"If it means being a guinea pig in a seclusion mission to help advance space exploration, I'm willing to do whatever I can. It's also an opportunity for me to prove to myself that I can hack being in a can for eight months despite Celiac," Milam says.
Milam jumped at the opportunity to apply to the HI-SEAS program. After a yearlong, multi-round application and interview process and a series of personality and psychological tests, Milam received notice she was selected to participate. Her life since has been a non-stop series of checklists.
Atop her checklist is finishing her master's degree. Luckily for her, the two courses she needs to complete her degree are offered online through the University of Idaho's Engineering Outreach program, allowing her the flexibility to finish her degree while preparing for her mission. If all goes well, Milam is scheduled to graduate "in the dome" this December with an M.Engr in mechanical engineering.
Milam feels very fortunate to have gained training and funding the past two years through the College of Engineering's Idaho Space Grant Consortium. The consortium has sponsored Milam's research and her summer internship with the NASA Ames Research Center in California, where she has worked the past two summers with the NASA Tensegrity team and Intelligent Robotics Group.
As Milam explains, tensegrity is the idea of designing structures, or in this case "soft" robots, where the working parts are either in pure compression or pure tension. The integrity of the structure depends on a jointless tension network, hence the term tensegrity. Tensegrity structures are very valuable in space exploration because they are highly resilient to impact and inhospitable terrain.
While on her HI-SEAS mission, Milam will continue to conduct further research developing tensegrity robots.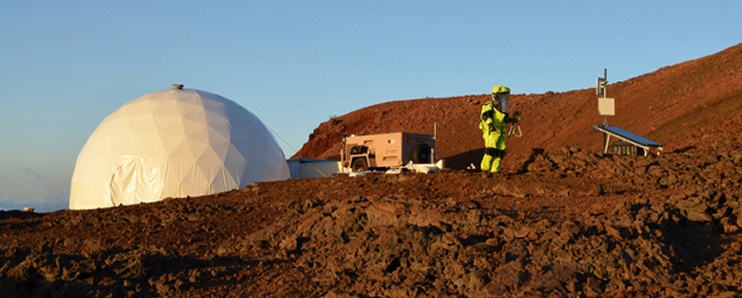 Milam will also work on joint research and geological surveys led by the Mission 3 commander, Martha Lenio, the first female to lead a HI-SEAS mission. Lenio is a mechanical engineer from Canada who earned her doctorate in photovoltaic engineering and is starting her own renewable energy consulting firm.
Milam says she knows the HI-SEAS experience won't be easy, and she anticipates the isolation and homesickness.
"It's going to be hard not being able to pick up the phone to call my family or spend time with my boyfriend," Milam says.
And while she will be able to communicate via email (with a simulated 20-minute Martian delay), the comforts of home will be mostly absent at HI-SEAS. Milam will be able to pack two large suitcases with NASA-approved items, but her beloved pets — Slim Pricklins, her "awesome" hedgehog, and her 4-year old Australian shepherd, Charlie LaRue – will have to stay here on Earth.
Still, Milam says she's, "over the moon" with excitement to start the adventure. "Or 'over Mars' is probably more applicable."
For additional information about the HI-SEAS research project and to check-in on the activities of Vandal terrestrial astronaut Sophie Milam see: http://hi-seas.org/.
Milam was recently chosen by Forbes Magazine as one of the publication's Top 30 Under 30 in Science.
Article by Rob Patton, College of Engineering.