Paving Their Way
International Students Make Local, Global Impact with Safer, More Sustainable Roadways
The health of the United States' transportation infrastructure— as well as in developing nations across the globe — is vital to economic growth and viability.
In recognition of that problem, the National Academy of Engineering has made restoring and improving urban infrastructure a top priority and one of its 14 Grand Challenges for Engineering in the 21st Century.
The University of Idaho's College of Engineering is taking the wheel on that change.
A seven member team of graduate students, led by civil and environmental engineering Assistant Professor Emad Kassem, are researching ways to improve the materials and roads that millions of Idahoans and visitors travel on every year. The cohort of international students also hopes to individually apply what they learn here to their home countries — Nepal, Bangladesh and Jordan — widening U of I's impact across the globe.
With funding support from the Idaho Transportation Department (ITD), along with assistance from additional external sources, Kassem and his students are perfecting their research in Idaho before taking it to the global stage.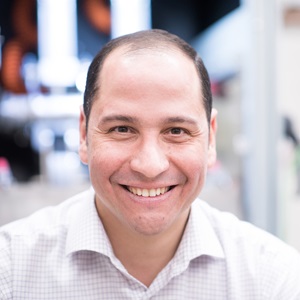 Buchanan 128
208-885-1025
Extending Service Life of Pavement Helps Protect Idahoans
In Idaho, the number of traffic crashes rose from 186 to 210 in 2015, occurring most frequently on rural roads. While many of these crashes were caused by impaired and distracted driving, ITD is doing its part to make the state's roadways are as safe as possible.
Rutting, cracking and moisture damage all lead to the deterioration of roadways. So ITD commissioned Kassem and his team to improve the service life of Idaho's roads by improving asphalt mixture designs.
Doctoral candidate Hamza Alkuime, from Mafriq, Jordan, and master's student Fahmid Tousif, from Dhaka, Bangladesh, are assisting Kassem with the project. They experiment with varying amounts and types of asphalt binder, along with different types, gradations and amounts of aggregate, like sand and rock that gets mixed into the binder. Then they conduct performance tests on their samples — soaking them in water baths, for instance, to assess their susceptibility to moisture damage, and using a wheeled device that simulates traffic to assess when rutting occurs. These tests help them assess the optimum asphalt mixture and design method for pavement in various locations across the state.
Master's student Mohammad Khan, who split his childhood between Dhaka, Bangladesh, and Riyadh, Saudi Arabia, is studying the aging effects of pavements by experimenting with asphalt mixture additives. And master's student Robin Chowdhury, from Cox's Bazar, Bangladesh, is testing the ability of the unbound material in asphalt and concrete — or the aggregate that makes up the subbase layer — to recover from deformation that occurs from weight-bearing loads. Chowdhury is evaluating how the gradation and properties of aggregate influence this recovery and is developing a mathematical model that will allow ITD to estimate such resiliency.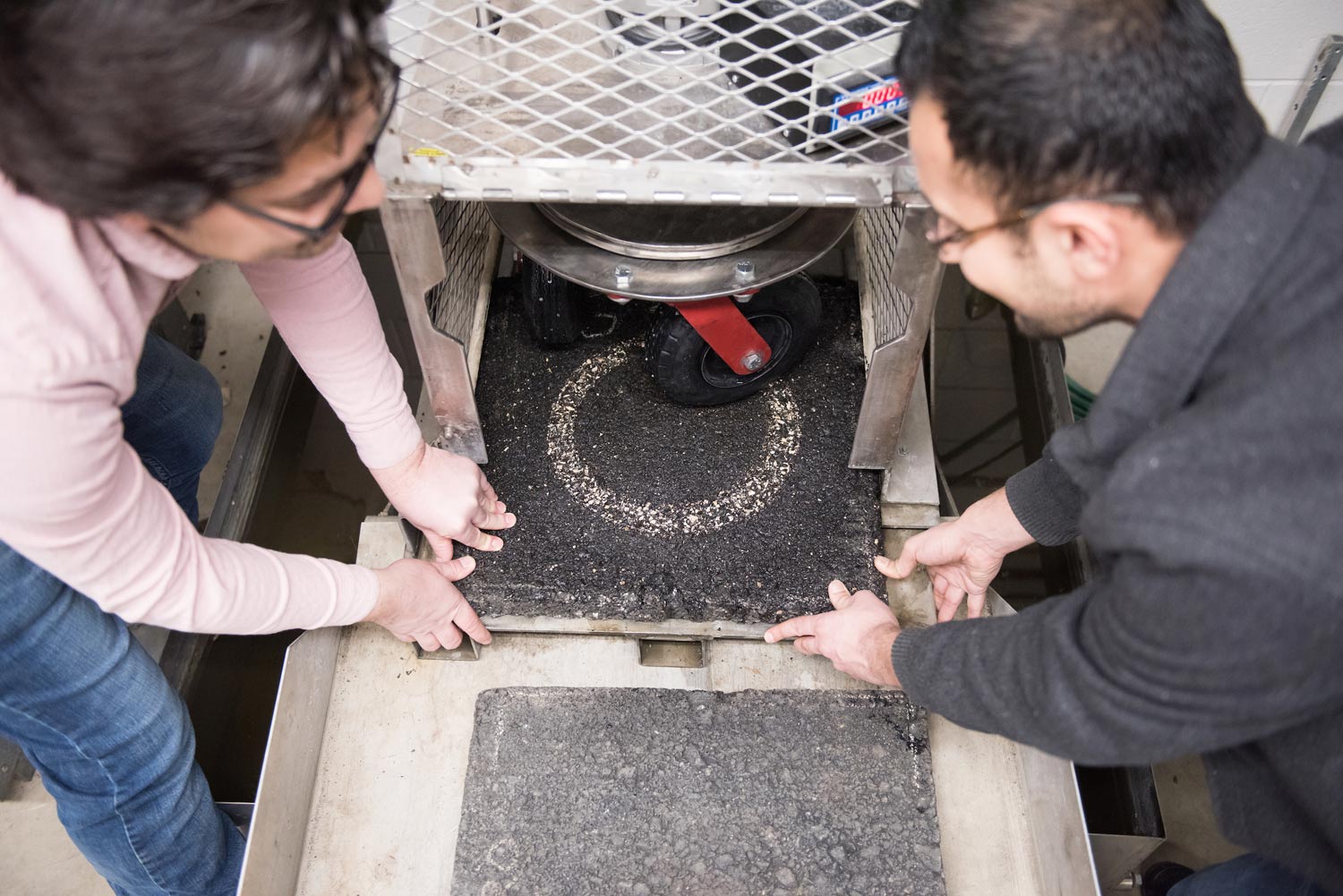 Improving Road Safety in Wet Conditions
Many parts of Idaho experience harsh winters, and springtime brings its own wet conditions. The effects of all this moisture on motorists is significant, and members of Kassem's research team are focusing specifically on how it influences roadway skid resistance and tire-pavement interaction.
"Crashes take many lives every year due to lack of friction and fatal conditions," said Mohammad Al-Assi, a doctoral student from Irbid, Jordan. "Some of the roads we've tested have a really low skid number, and if we can do something to improve the quality of these roads, especially in winter, that would make me very happy."
Current practice involves measuring skid resistance of roadways at 40 miles per hour. Many highways in the state have higher speed limits, and higher speeds translate to lower friction for vehicles. Al-Assi and Simpson Lamichhane, a master's student from Jhapa, Nepal, are collecting friction measurements of asphalt and concrete road samples to determine if they have adequate resistance to skid.
"Higher pavement texture means more friction and safer roads," Al-Assi said. "But if we get too rough, it will be harder to plow it from snow. And the snow plow will get stuck or damaged when it's blowing snow off the surface."
Finding a pavement mixture that presents a happy medium is Al-Assi's primary goal. Once his research is complete, he'll develop a mathematical equation based, in part, on friction measurements taken in the lab using engineered pavement samples, and measurements he took in the field from roadways in six of Idaho's districts. This will allow ITD to estimate the skid number of roads, driven at different speeds.
Lamichhane is also evaluating how studded tires impact the service life and friction of pavement. He uses an instrument with three wheels, which he'll embed with steel studs, that rotates on an asphalt sample. Lamichhane will use varying asphalt samples that he designs in-house — experimenting with different types, gradations and percentages of aggregate, along with different percentages of asphalt binder.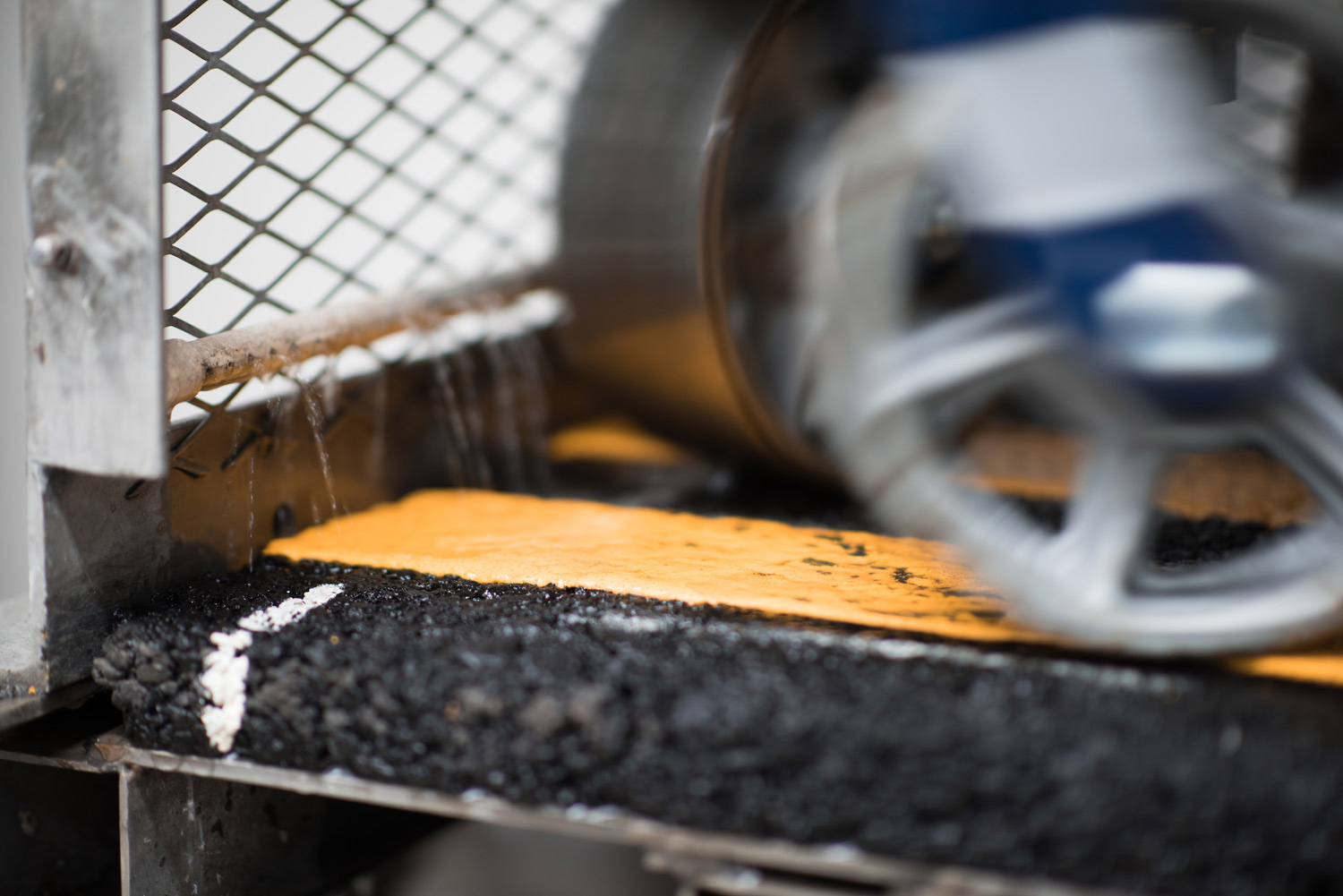 The Hazardous Effects of Noisy Roads
In towns and cities where residential areas pop up near major transportation corridors, or vice versa, noise pollution from heavily traveled highways can significantly reduce quality of life.
Some cities have built acoustically absorbent walls to mitigate the problem, but such fixes are expensive and have aesthetic impacts. To Kassem, engineering a low-noise paving material is an obvious alternative.
Masters student Wahid Hassan from Dhaka, Bangladesh, is assisting Kassem with the task. Having grown up in one of the world's most densely populated cities, Hassan feels his research will have direct applicability in his home country.
"If you live nearby a highway, you can't sleep properly," he said. "Or if there's a hospital near a highway, the patient is uncomfortable."
Hassan uses a testing tube equipped with microphones and a loud speaker, which generates noise, and then loads the tube with an asphalt or concrete sample core. The tube's technology measures the acoustic properties of the materials in it, and Hassan can then assess what type of mixture absorbs noise best. Kassem also has a vehicle equipped with microphones to test noise absorption of pavement in the field.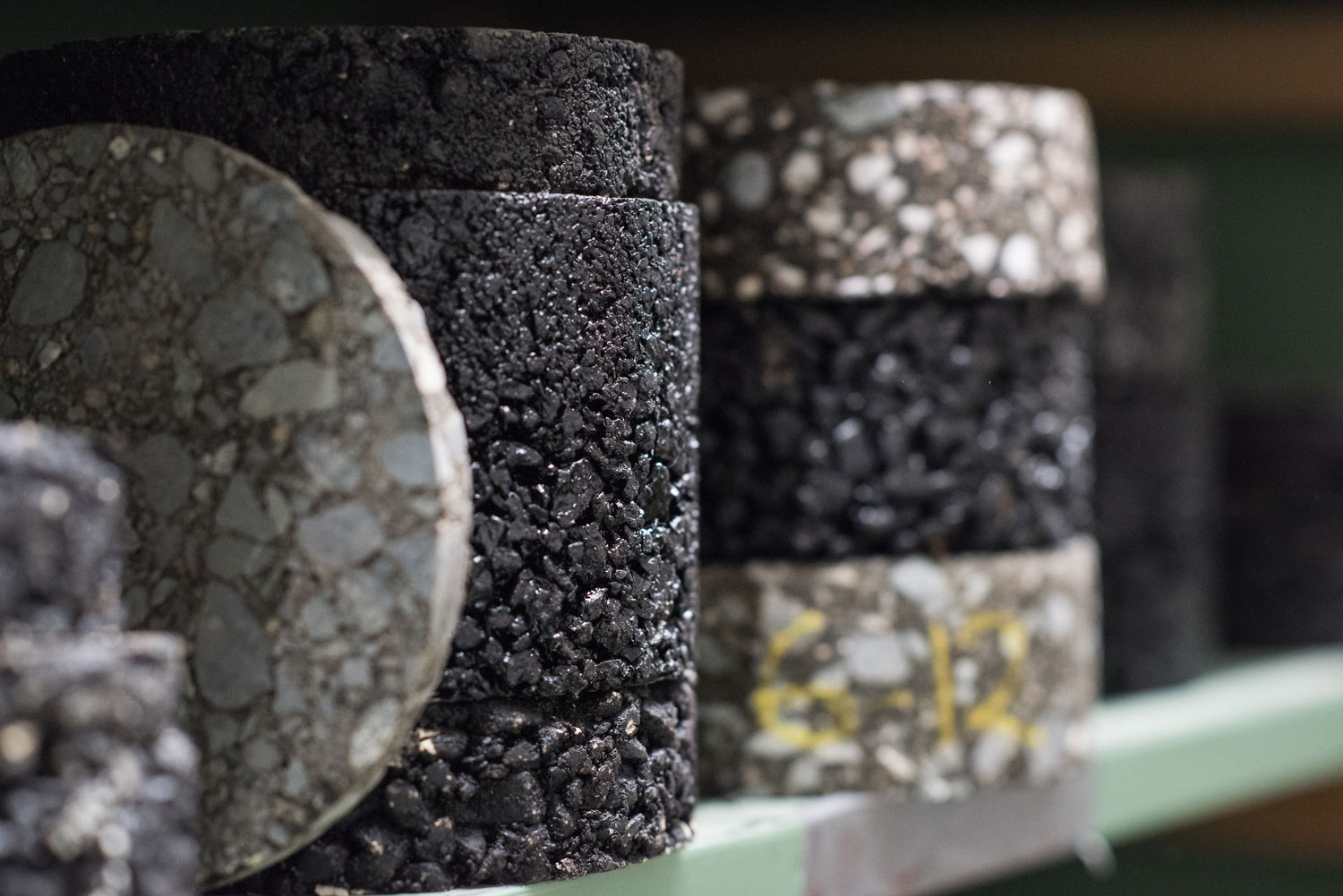 Applying Research Makes a Difference
While it's too early to report findings on Kassem's projects, the preliminary results are promising — and students feel confident they'll have valuable results for ITD before their tenure at U of I ends.
Then they'll be able to improve the roadway infrastructure where they live, along with people's quality of life.
"Doing research, they really get a chance to apply what they've learned and how they can contribute to continual improvements to our field," said Kassem, who won the 2016 Outstanding Engineering Achievement Merit Award from the Engineers Council for his research and passion for educating future engineers. "I hope my students will take their knowledge and build on it to better the next generation."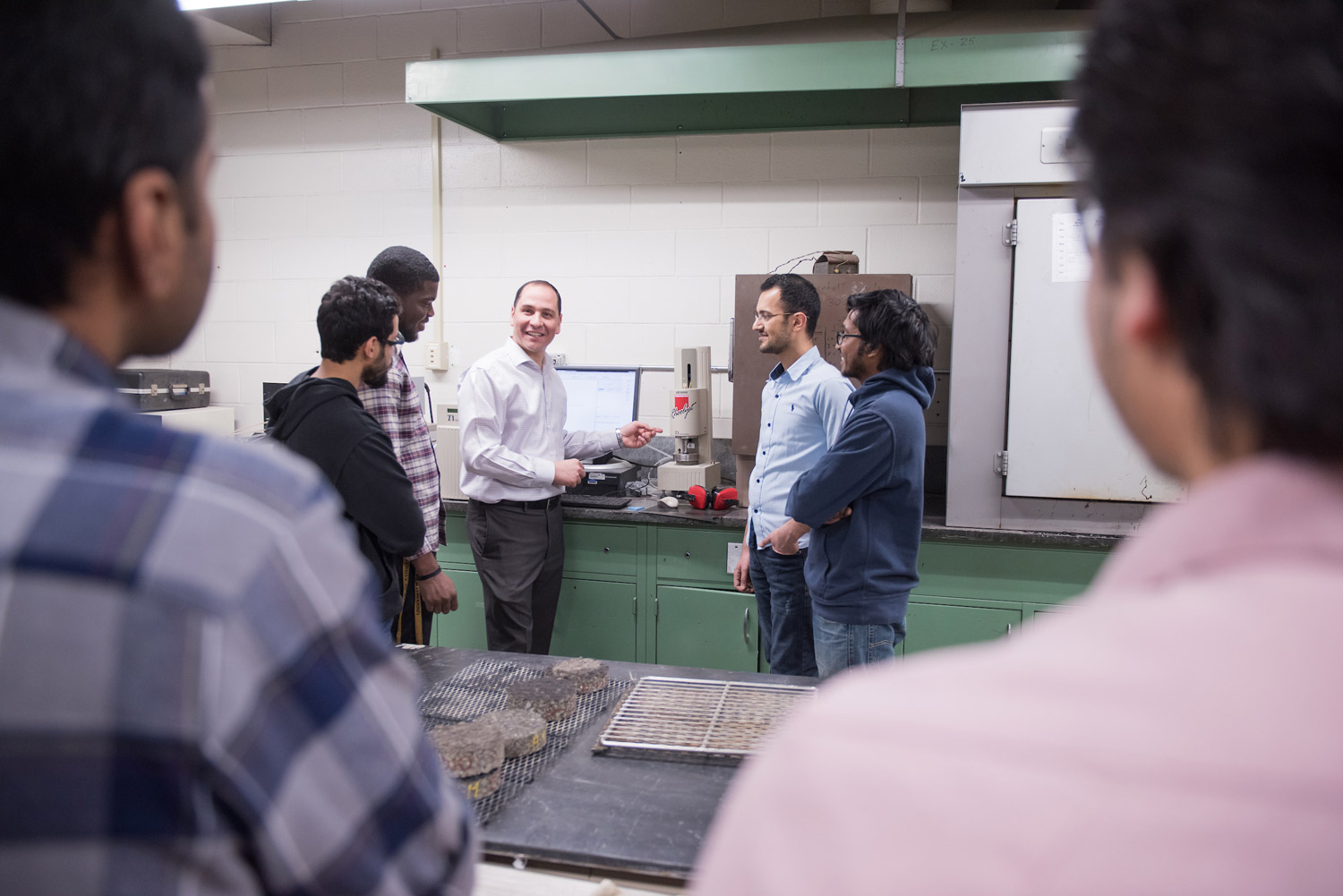 Article by Kate Keenan, College of Art and Architecture
Published in Spring 2018