Nuclear Fanfare
Engineering grad student lauded for leadership in class, student club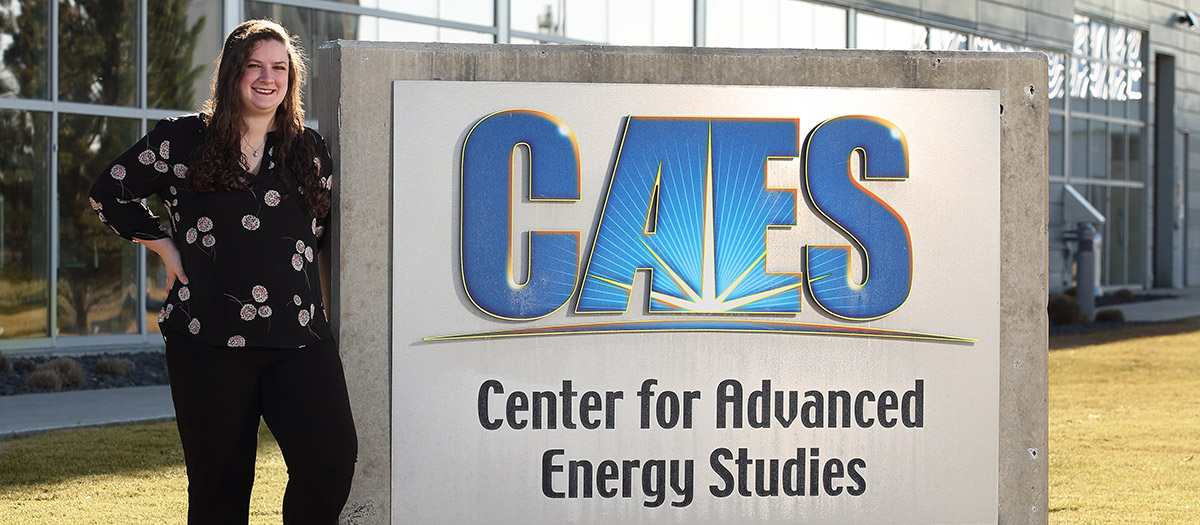 Robin Roper didn't have to look far and long to find her love for chemical engineering.
Her father, Keith Anderson, was a physicist.
"My parents raised me to be science-focused person," she said. "We would always do fun home science experiments together, and I worked with my dad to see what he did.
"The way my family talked and learned about science made me feel that pursuing science would be a good way to make an impact."
Roper earned her associate degree in general science before she graduated from high school at the Utah County Academy of Sciences in Orem, Utah.
"I always knew I was going into a field that doesn't have a lot of women, I've always seen that as a challenge and opportunity to make a difference, rather than a deterrent. I'm always excited at opportunities to show that my skills and experience matter more than my gender." Robin Roper, M.S. Nuclear Engineering student
"I always wanted to work in chemistry, and engineering sounded like a more fun way of going about it," Roper said. "I started college when I was 17, so I didn't want to commit myself to something that wouldn't be adaptable to my changing career goals as I got older."
Roper is finishing her master's degree in nuclear engineering in Idaho Falls at the Center for Advanced Energy Studies (CAES), a research and education consortium between the University of Idaho, Boise State University, Idaho National Laboratory (INL), Idaho State University and University of Wyoming.
While pursuing her bachelor's degree in chemical engineering from Brigham Young University-Provo, Roper said she wasn't sure how she'd apply it until she joined a research team that focused on molten salts for nuclear applications.
"I loved it and decided to pursue that as my field," she said.
Making a difference
Nuclear engineering is traditionally a male-dominated field, but Roper said she didn't think twice about the career choice.
"I always knew I was going into a field that doesn't have a lot of women," she said. "I've always seen that as a challenge and opportunity to make a difference, rather than a deterrent. I'm always excited at opportunities to show that my skills and experience matter more than my gender."
Roper mentored other students and helped them navigate a challenging career path this past year as president of the nonprofit American Nuclear Society's Student Section, a student club at U of I.
"I've presented my research at conferences and helped the other students present as well," she said.
Roper said she's especially proud of organizing a mental health seminar for fellow graduate students during her service to society. The group hadn't held such an event before.
"I've had my own struggles with anxiety," she said "Grad school can be stressful. There's a stigma that, to become a better person, you have to handle stress. We want grad students to understand that it's OK to seek resources. I believe it is an important topic to have open discussion about."
The club volunteers at science education events, including INL's Family Nuclear Science Night in which families and their children learn about science.
"Kids made cups of slime that we colored a bright blue to resemble Cherenkov radiation," Roper said.
The club is always available when U of I needs students to assist at community events, said Alice Allen, the university's academic program coordinator.
Roper's leadership has helped vault U of I to be a major player in the national ranks of ANS that features larger universities, said Richard Christensen, U of I's nuclear engineering director.
"U of I had a significant leadership presence at the last national ANS meeting because of her ability to organize and encourage her fellow students," he said.
Molten salt research
Roper's research for her thesis focuses on the nuclear applications of molten salts, specifically how to mitigate the corrosive nature of salt. Molten salt reactors (MSRs) are a promising technology to reduce the nuclear waste stream.
"I am trying to learn more about the basic chemical behavior of salts because that is important to building molten salt systems," she said.
MSRs use liquid molten salt as the fuel instead of typical solid fuel as can be found in most commercial reactors. Fuel for the reactors is dissolved into molten salt.
"It's an exciting concept for all power-generating industries since it's a safe, advanced reactor that can generate power," Roper said. "It's also great for the medical industry because MSRs can also be used to produce medical isotopes."
There is not much data on nuclear-suitable materials for the long lifetimes needed for such a reactor, Roper said.
Roper's research is supported by a Nuclear Regulatory Commission fellowship through U of I that covers two years toward her master's degree.
Roper and a classmate have spent more than a year designing a hydrofluorification purification system.
The system, which would make pure salt samples, was slated to be built at CAES this year until the coronavirus pandemic closed buildings on campuses across the country.
"We aren't going to build the system at this time; we're just going to do melting point testing now," she said. "My goal is to find the melting point of salt and the effect of different compositions on the melting point."
The system and Roper's data will be key for molten salt reactor development, Christensen said.
"She is leading the way for a new area of research at U of I, and we are proud of her for that," he said.
Roper will continue her research as she begins a doctoratal program at U of I Idaho Falls this fall.
Roper is the team leader in Christensen's Capstone Design class. The class emphasizes the design process and the creation of an engineered, tested and validated outcome or prototype.
"She keeps the students working and on task," Christensen said. "This is one class that has not missed a deadline or deliverable. Without her guiding hand, that would not be the case."
Roper said the close proximity to INL, part of the U.S. Department of Energy's complex of national laboratories in Idaho Falls, drew her to U of I.
"U of I has a lot of connections to INL, which is where I'm shooting for a research career," she said. "They have an amazing scope of research at the facility."
Christensen is confident that Roper will succeed in the emerging nuclear field.
"She has developed a relationship with INL that will help her," he said.
Article by Brian Walker, University Communications and Marketing
Published June 2020