Securing Her Spot at the Top
U of I alumna, computer science professor's dedication leads to spot on U of I's internationally competitive cybersecurity team
When Jia Song was about to graduate from high school in China in 2005, her family's computer contracted a virus. So when she heard that Sichuan University was offering a new degree in information security, it caught her attention.
"It sounded interesting and important," says Song, who had been fascinated with computers since childhood. "Our desktop was infected, and I was thinking it was important to keep my information secure."
This August, Song — now a research assistant professor in the University of Idaho Computer Science Department — and U of I computer science professor Jim Alves-Foss will compete against some of the best programmers in the world to prove their skills at rooting out and repairing computer system vulnerabilities to cyberattacks.
Song and Alves-Foss make up Team CSDS, sponsored by the U of I College of Engineering's Center for Secure and Dependable Systems (CSDS) at the Cyber Grand Challenge, sponsored by the Pentagon's Defense Advanced Research Projects Agency, or DARPA. They are the smallest team in the contest.
Song first came to U of I in fall 2009 to earn her master's and doctoral degrees in computer science. Several U.S. universities had accepted her, but U of I offered her a teaching assistantship and stood out for its quality.
"The department here offers a very good security program, and they have a very good reputation in information assurance education," she says.
Song spent her time in graduate school delving in-depth into how computer systems work, enhancing her programming skills and learning to approach problems creatively. After she graduated in 2014, Alves-Foss, who had been her advisor, invited her to begin working on the Cyber Grand Challenge. She was drawn to the project by the chance to challenge herself and think innovatively.
"When I solve a complex problem, I feel excited," she says.
Alves-Foss says he appreciates Song's dependability and work ethic and is honored to work with her on their project.
"She has been invaluable when discussing project difficulties or new research ideas, and I find that when I bounce ideas off of her we can readily develop new innovative solutions that previously eluded me," Alves-Foss says. "Without her help, our team would not have made it to the finals in the CGC."
The Cyber Grand Challenge invites computer scientists and programming whizzes from around the world to design cybersecurity programs that can identify and repair weaknesses without human help.
Song and Alves-Foss competed in a qualifying event in June 2015. They placed second, landing one of just seven spots in the final competition alongside teams from places like Carnegie Mellon University, the Raytheon Company, and the University of California, Berkeley.
"Because there are so many teams that are from top universities or spin-off companies from those famous universities, we were pretty excited we got second," Song says.
The Cybersecurity Symposium
April 9-11, 2018
The U of I Center for Secure and Dependable Systems is sponsoring "The Cybersecurity Symposium" in Coeur d'Alene. The symposium is a chance for the leading academic minds in cybersecurity — including multiple U of I faculty members — to meet with each other as well as software and systems developers from industry and government to discuss the latest in cybersecurity technology, ideas and research.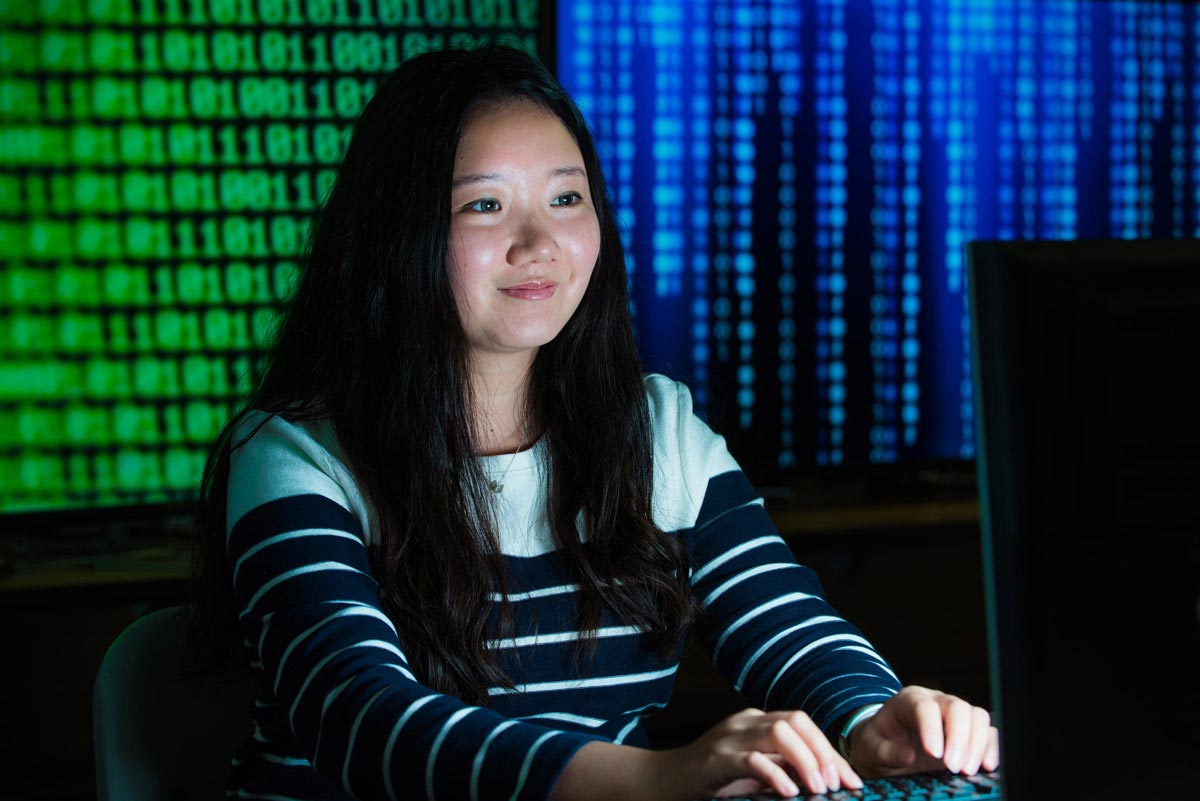 They also earned $750,000 to improve their software suite, which has been Song's full-time occupation since joining the CSDS faculty. Her part of the project focuses on designing tools to identify system vulnerabilities, while Alves-Foss develops tools to automatically patch them. They both have been striving to make their programs faster and more thorough.
With the August competition on the horizon, Song is excited to show what their programs can do.
Song says the Cyber Grand Challenge event in Las Vegas won't look like other information security competitions, such as Capture the Flag events, where contestants spend the day engaged with computers, actively trying to find vulnerabilities and attack their competitors.
"I'll just hit start," she says. "What we need to do during the competition is start running our tools, and it will automatically patch the code and look for vulnerabilities."
Regardless of whether the CSDS team walks away with the $2 million grand prize, Song is eager to continue working on their software, making it increasingly flexible so it can run on any operating system and be used by any software developer to check whether the programs they're designing are secure.
Song is also excited to move on to future projects and continue using her skills to protect computer systems and the people who rely on them.
"We all care about our information, our privacy. Computers and networks are used very commonly in our lives," she says. "Everyone needs to make sure their stuff is secure — their information and their identity."
Article by Tara Roberts, University Communications and Marketing.