2015 Award Winners
Steve Penoncello, Professor, Mechanical Engineering
Penoncello received his bachelor's and master's degrees in mechanical engineering from the University of North Dakota in 1978 and 1980, respectively. He received a doctorate in mechanical engineering from the University of Idaho in 1986. He has been involved in academia since the receipt of his master's in 1980. His academic experience has been with the University of North Dakota (1980 – 1983, 1986 – 1990) and the University of Idaho (1990 – present). He has served as the mechanical engineering department chair (1995 – 1999) and associate dean for research and graduate studies in the College of Engineering (1999 – 2006).
Penoncello teaches courses in the thermal science area of Mechanical Engineering. These courses include Thermodynamics (undergraduate and graduate levels), Applied Thermodynamics, Refrigeration, Air Conditioning Engineering, Heat Transfer, Fluid Mechanics, Solar Engineering, Internal Combustion Engines, Energy Technology, Design Optimization, and Thermal Energy Systems Design. In January 2015, his textbook, Thermal Energy Systems: Design and Analysis was published with the CRC Press. His research in the University of Idaho Center for Applied Thermodynamic Studies (CATS) includes the development of reference quality equations of state for pure fluids, and thermodynamic property prediction methods.
After 25 years of service to the University of Idaho and a total of 35 years in academia, Penoncello will be retiring at the end of the spring 2015 semester.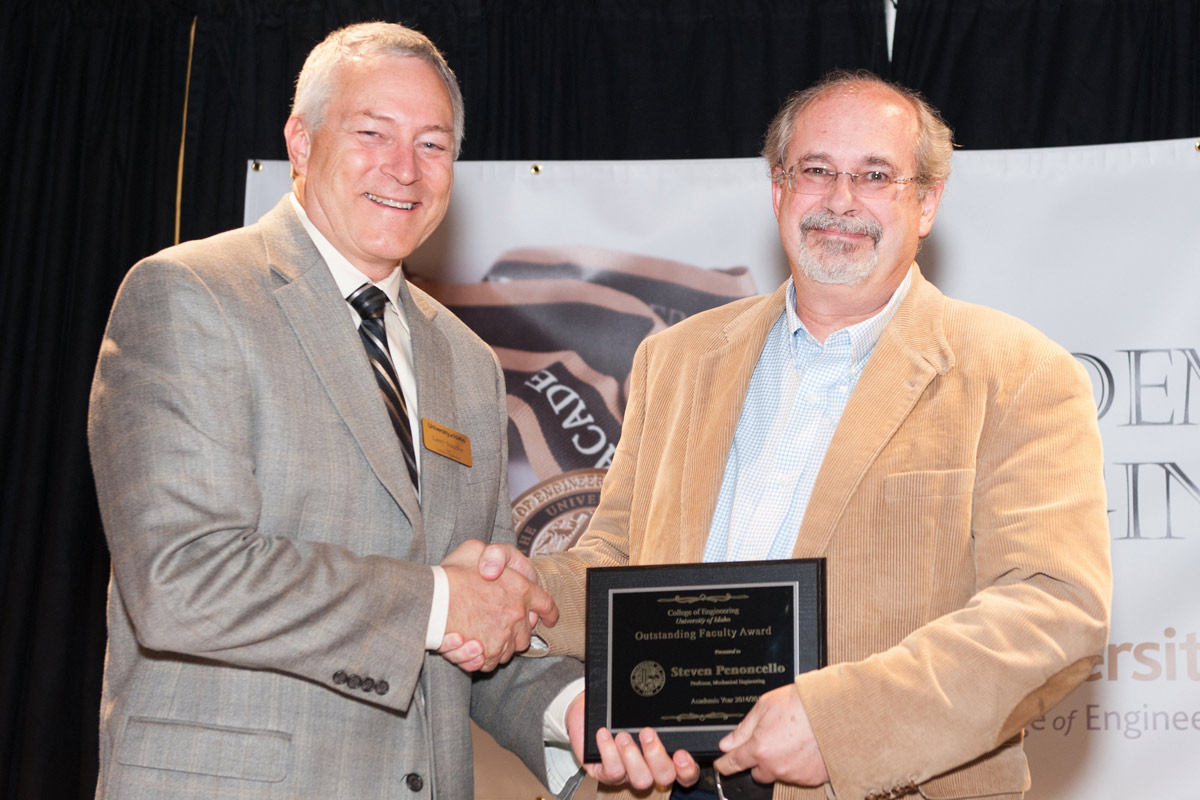 OUTSTANDING YOUNG FACULTY AWARD
Tao Xing, Assistant Professor, Mechanical Engineering
Tao Xing received his doctorate degree in Mechanical Engineering from Purdue University in 2002. He joined the Department of Mechanical Engineering in 2011. His research focuses on computational fluid dynamics with applications to offshore wind turbine designs, ship hydrodynamics, boundary layer flows, and desalting. He developed the factor of safety method for solution verification that was evaluated by others to be one of the most accurate uncertainty estimates for monotonically converged numerical solutions. In 2014, he was invited to give a keynote lecture on verification and validation in the 13th National Congress on Hydrodynamics & 26th Conference on Hydrodynamics in China. He is the author or co-author of 25 peer-reviewed journal papers, 29 proceeding papers, and 2 book chapters. His research work has been cited 528 times. His Google Scholar h-index and i10-index are 15 and 20, respectively. He secured funding from NSF, Murdock foundation, and industry. He graduated one M.S. student and is currently advising one doctorate and one maser's students. He serves as a member of the Technical Program Committee and a Session Chair of The International Society of Offshore and Polar Engineers (ISOPE) annual conferences in 2015 and 2016. He won the "Alumni Award for Excellent Mentor" from the University of Idaho in 2013 and 2014. He is a licensed professional engineer in the State of Idaho.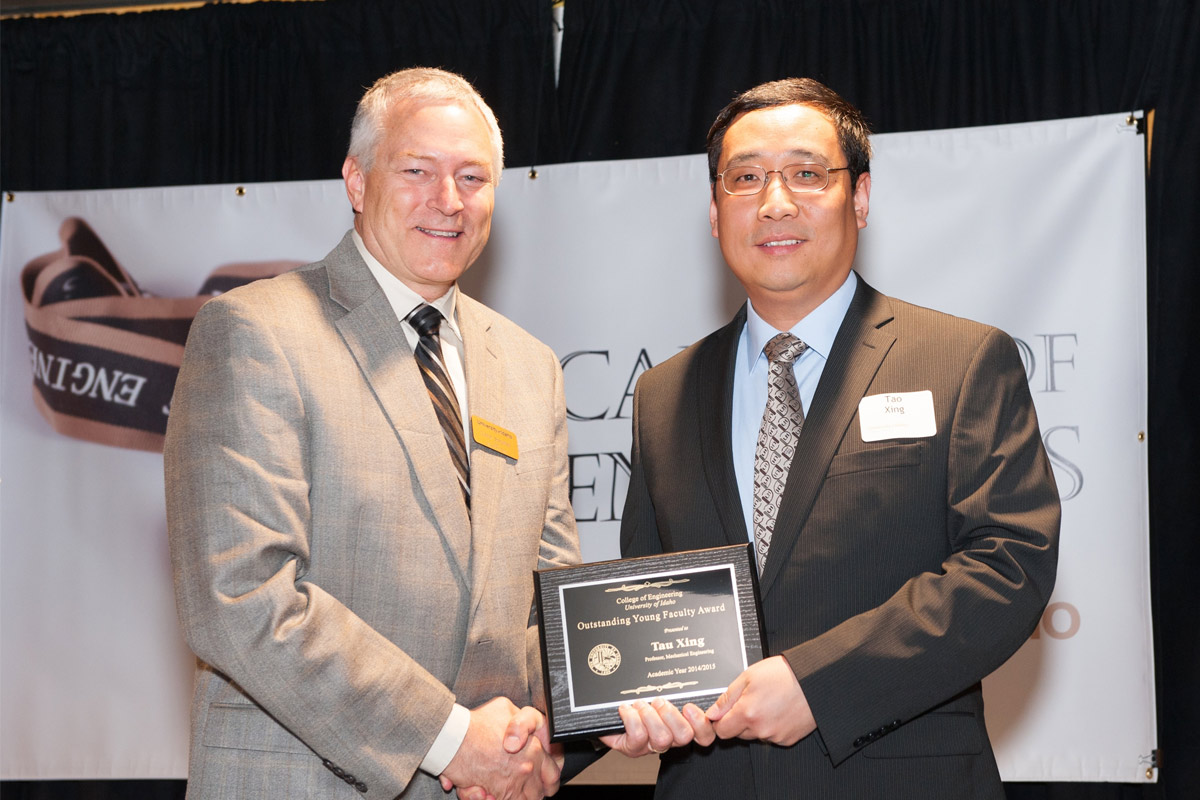 Ray Anderson, IT Resource Manager, Dean's Office
Ray Anderson began working at the University of Idaho as a student in 1994 in Computer Services. He stayed in Computer Services until 2000 holding jobs as a Secondary Consultant II and then as Systems Analyst. After that went to the Microelectronics Research and Communications Institute (MRCI) as their IT Resource Manager. In 2011 after doing all things IT related for the MRCI, Anderson went to work for the College of Engineering, with a specialty in High Performance Computing for Research. He graduated with a bachelor's in Computer Science from the U of I in 2009. Anderson currently provides research computing for not only the College of Engineering but also to other areas of campus through Big STEM, two of the most powerful single computers in the region.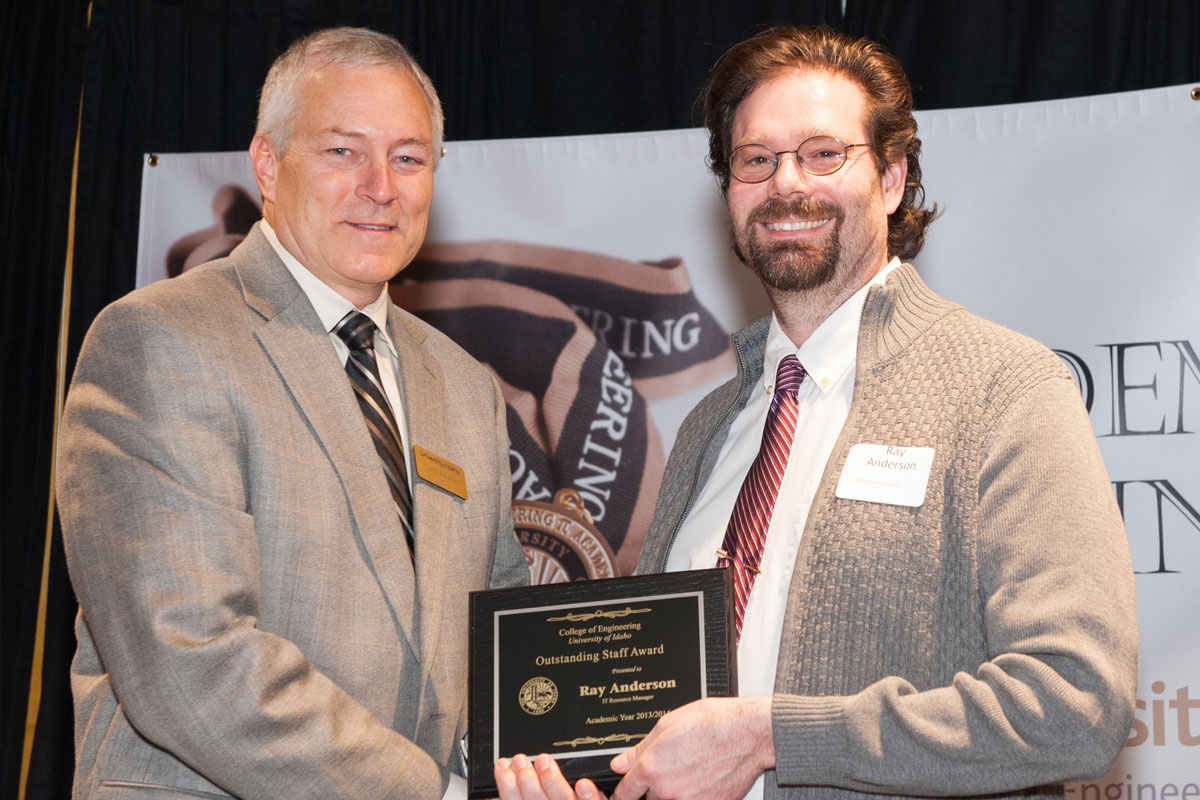 Beth Cree, Compliance Consultant, Dean's Office
Beth Cree moved to Moscow, Idaho in 1984 (as a single-mom with two children—one in third grade and one in fourth) to attend school full time at the University of Idaho. In 1989, she earned a Bachelor's Degree in Accounting and chose to stay in Moscow. She was first employed as staff with the University of Idaho in 1996 as a Senior Secretary in the Department of Geography. Beth joined the College of Engineering in the summer of 2012 after fourteen years of employment with the University of Idaho's Microelectronics and Research Communications Institute. Beth provides pre-award support to all engineering faculty for research proposal submissions with an emphasis in budget development. Beth has four grown children and eight grandchildren and will soon have a great-grandson (due in June 2015). Much of her time spent outside of work is with family and friends. She enjoys reading, bird watching, walking/hiking, and hosting summer guests through the University of Idaho's State 4-H International Programs.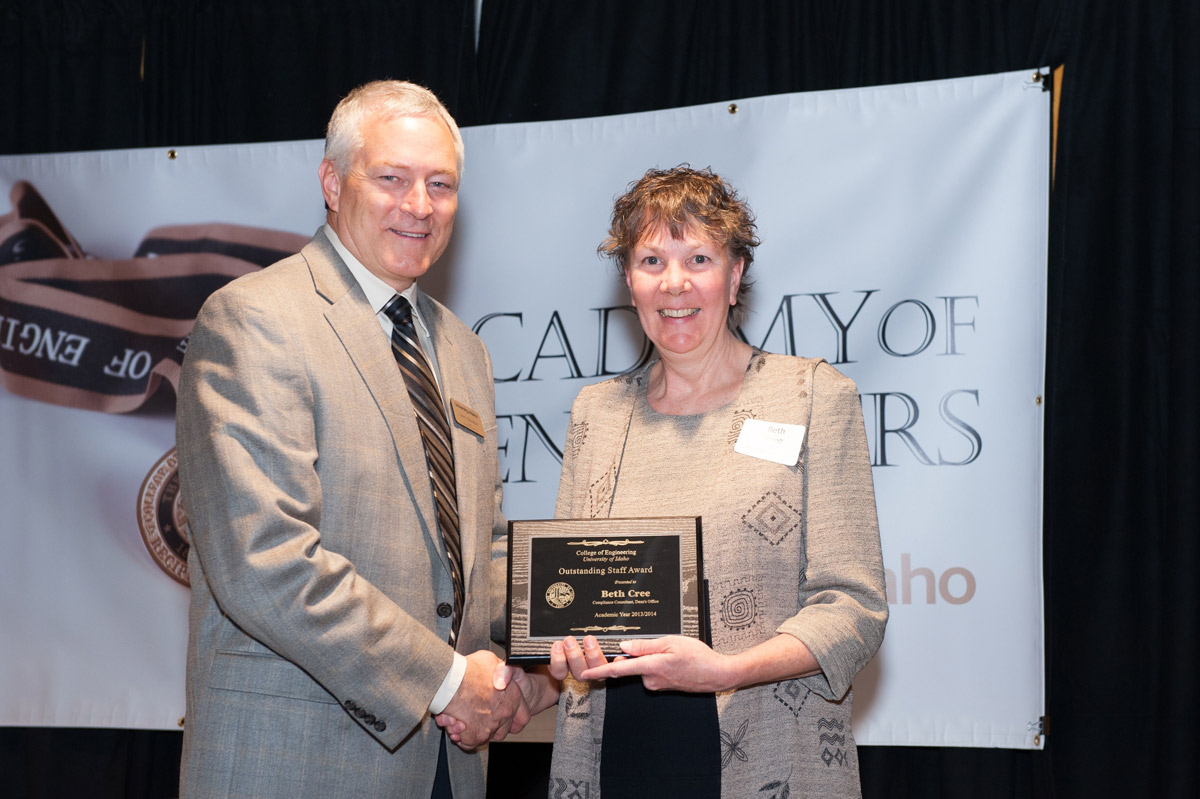 Terri Gaffney, Associate Director, Engineering Outreach
Terri Gaffney is the Associate Director of Engineering Outreach (EO). She has worked at the University of Idaho for 24 years, the last 17 years at EO. She is also the Continuing Professional Development Division Program Chair for the 2016 Conference for Industry and Education, affiliated with the American Society of Engineering Education. She enjoys her interactions with students, faculty and staff and resolving administrative issues to improve the educational experience for students at a distance. She has a bachelor's in accounting, and an M.F.A. in Creative Writing from the University of Idaho.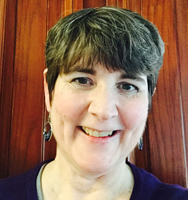 OUTSTANDING GRADUATE STUDENT
Glenn Roth, Mechanical Engineering
Glenn Roth completed his master's degree in mechanical engineering from Utah State University in 2003. His thesis topic was the development of an open-cycle thermoacoustic refrigerator for use in air conditioning applications. After graduation, he spent four and a half years at Knolls Atomic Power Laboratory in Niskayuna, New York, performing safety analyses for submarine nuclear reactors. He returned to Idaho Falls in 2008 to take a position at the Idaho National Laboratory performing thermal analyses on experiments in the Advanced Test Reactor. In the fall of 2008, Roth began the doctorate program at the University of Idaho, working with Fatih Aydogan. Glenn's dissertation topic is the development and implementation of additional coolant field models for the RELAP5 analysis code. This work will improve the analysis of nuclear reactor systems by providing a way for the computer code to model the droplets and bubbles as separate parts of the coolant flow. Roth is currently working for Information Systems Laboratories in Idaho Falls, and enjoys spending time with his family, hiking, biking, and swimming.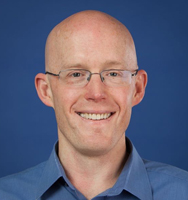 OUTSTANDING GRADUATE STUDENT PUBLICATION
Kalyan Chitrada, Chemical and Materials Engineering
Kalyan Chitrada is a doctorate student in chemical and materials engineering at the University of Idaho. He received his bachelor's in metallurgy and materials sciences from Jawaharlal Nehru Technological University, India in 2007 and master's from the University of Idaho in 2010 in chemical and materials engineering. Chitrada performs research on surfaces and interfaces of materials systems for energy conversion and storage applications. His research interests include thin film fabrication, corrosion studies, radiation effects in materials, electron microscopy, and characterization of advanced materials. Kalyan was nominated for outstanding graduate student publication not because of a single publication, but rather, six recent publications. All of Kalyan's publications are peer-reviewed and three have been published in well-respected electrochemistry journals. In the words of one of his nominators, "Kalyan's work on nanoporous bismuth oxide is the first publication to report formation of ordered nanoporous oxide structure on the 'non-valve metals'. This work will have a significant impact on solar energy, energy storage, and environmental remediation."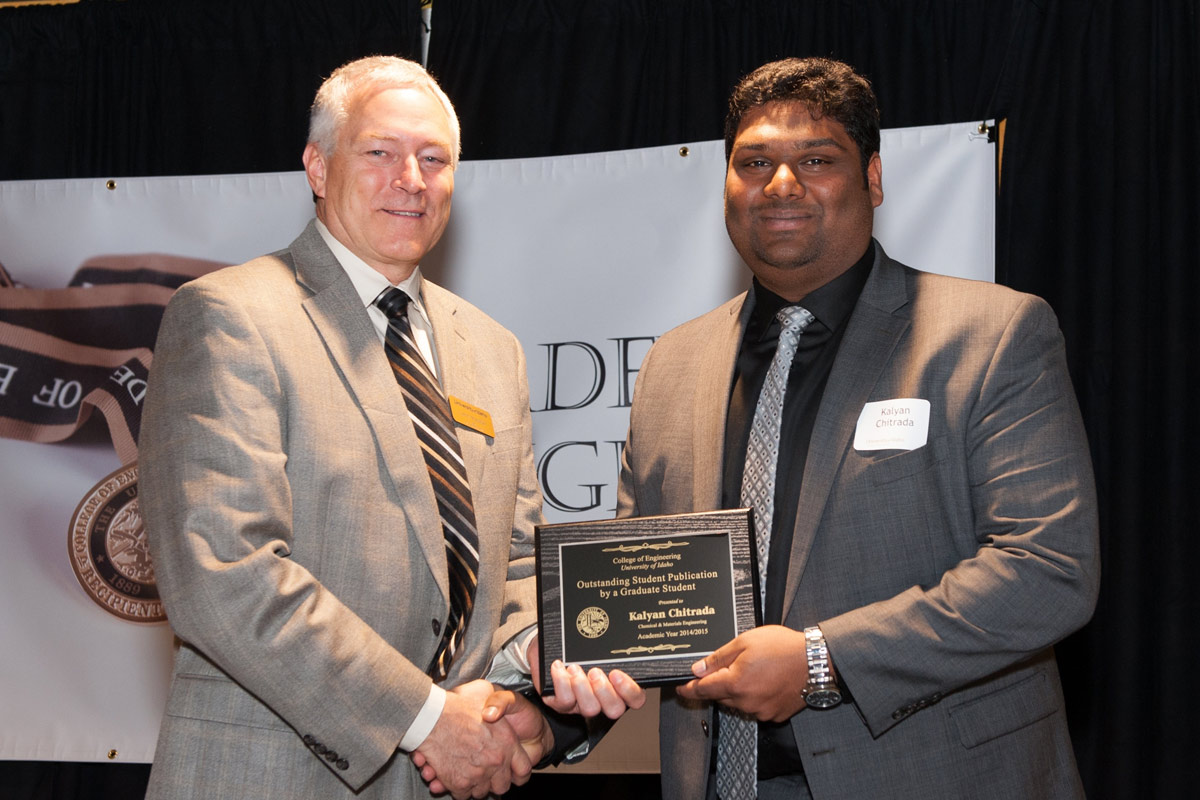 Brandon Arawkawa, Electrical Engineering
Originally from Aiea, Hawaii Brandon is a University of Idaho National Merit Scholar. Brandon has made quick work of his studies completing his degree in a little over three years. He has thoroughly enjoyed working with the students, faculty, and staff in the Electrical and Computer Engineering department. Some of his favorite experiences at U of I have been leading small groups with Chi Alpha Christian Fellowship, and tutoring in the residence halls with Engineering Scholars. After graduation, he plans to pursue a master's degree in electrical engineering, emphasizing in RF circuits and MEMS devices, at the University of Illinois Urbana-Champaign.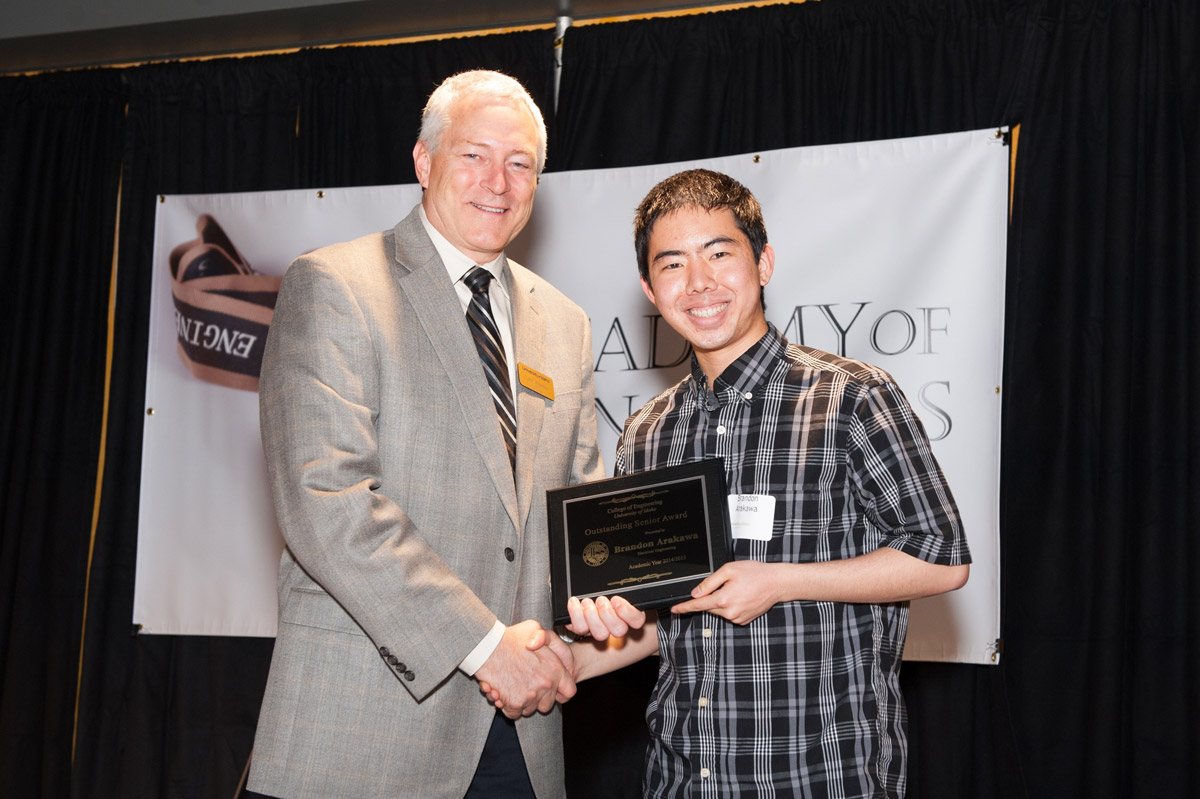 Braden Comstock, Biological and Agricultural Engineering
Braden was raised in Boise, Idaho in a Vandal family and has spent the past five years in Moscow. Braden has a passion for science and solving problems and has always intended to combine the two to help and work with people. He has discovered that bio-systems engineering is a great way to develop the fundamentals of solving problems when it comes to living organisms, especially in humans. He will begin dental school in the fall and plans to use the knowledge gained from his engineering degree, like long-term solution-planning, the use of technology, an understanding of biomechanics, stress and strain analysis, etc., to help people have better oral health.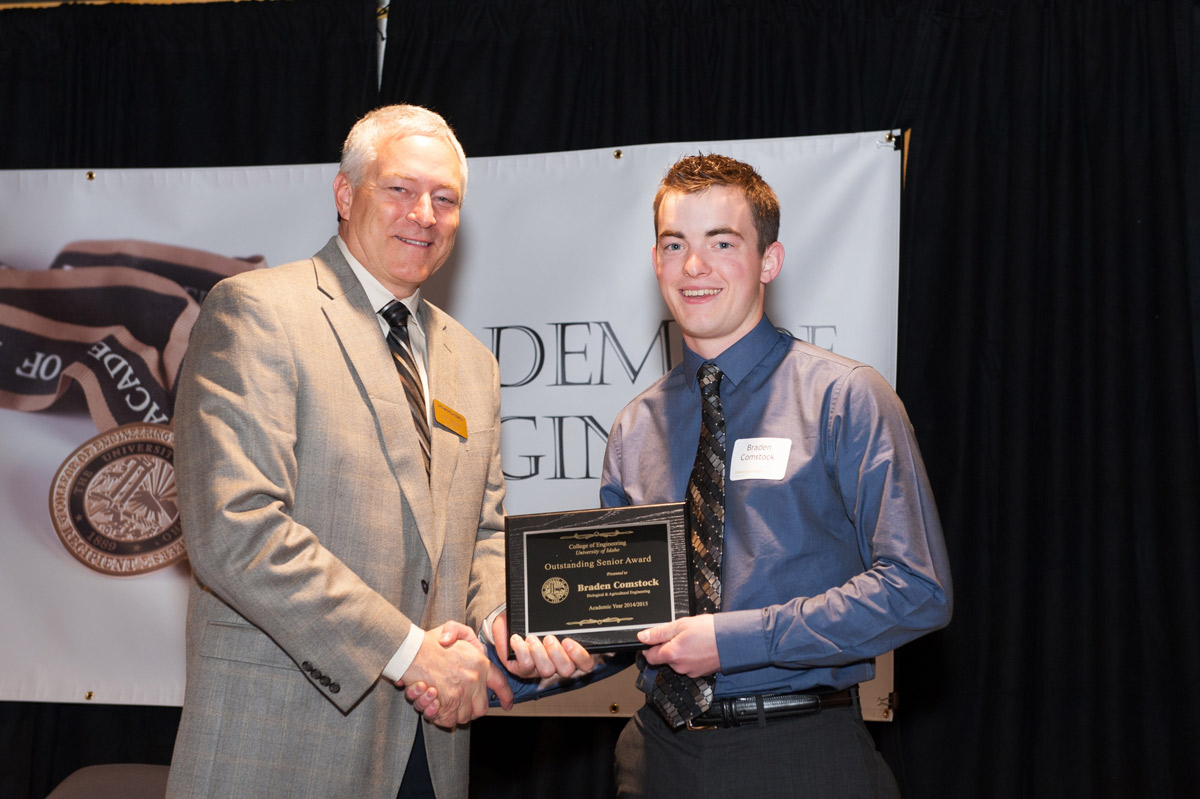 Shea Newton, Computer Science
Shea Newton is a computer science student mentored by Clinton Jeffery as a research assistant and developer of the Unicon programming language. His interests lie in system programming, evolutionary computation and programming language development. He currently works for Harbrick, a Moscow company that develops tools for advanced autonomous vehicles. After graduation he plans to continue his work in industry.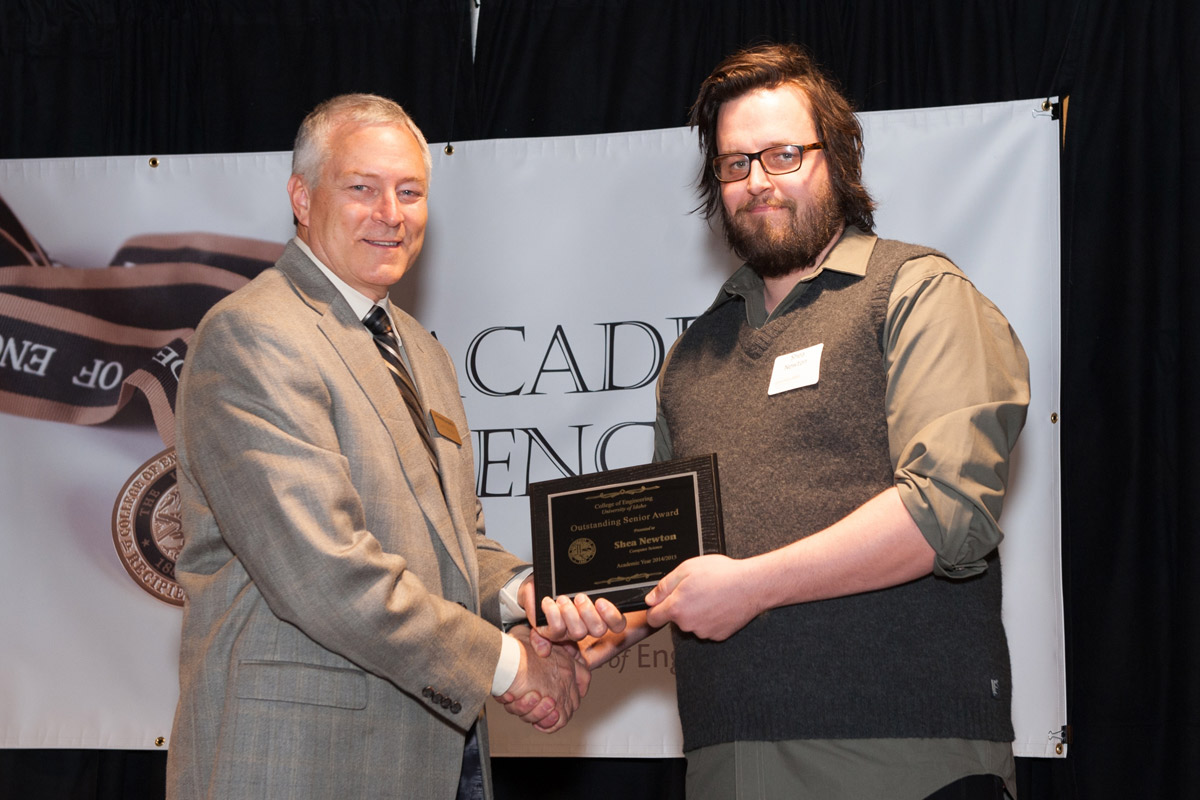 Taylor Romenesko, Civil & Environmental Engineering
Taylor Romenesko is a native of Nome, Alaska. He is a born problem solver which is an integral component of civil engineering. He chose civil engineering because civil engineering touches so many aspects of the modern world. Civil engineers create structures for shelter, deliver safe and reliable drinking water, and design traffic systems to ease transportation. Romenesko is vice president of the University of Idaho, American Society of Civil Engineers (ASCE) Student Chapter. After graduation Romenesko plans to return to Alaska to help use his degree to develop Alaska's infrastructure.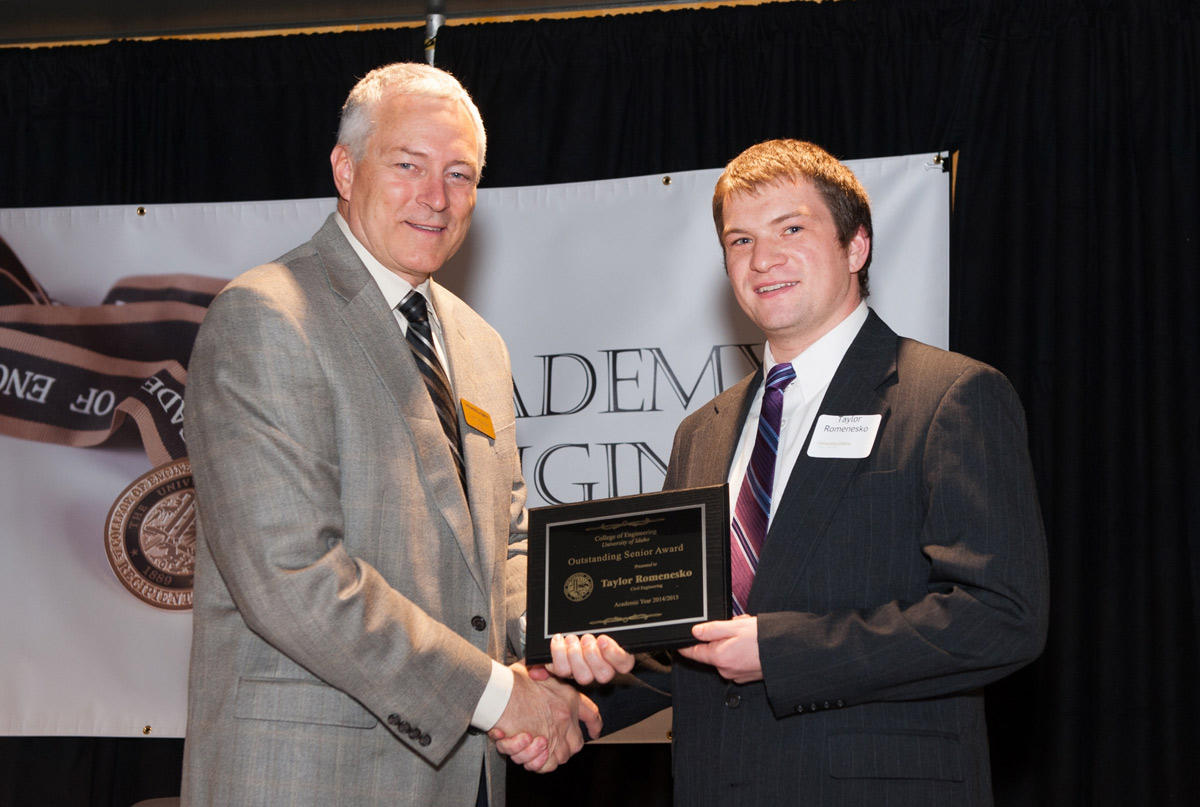 James Tigue, Mechanical Engineering
James Tigue was born and raised in Idaho Falls, Idaho, he will graduate this May with a bachelor of science in mechanical engineering. While at U of I Tigue's interest in robotic systems has great been piqued. Tigue's is working with the Robotic Lunar Exploration Program within NASA on his senior capstone design project to design and build a payload to go inside a tensegrity structure and use internal actuation of this payload as a form of locomotion. Tigue also is a mentor for a sophomore DeVlieg Innovation Design Project working to develop a robot end-effector to support robotic rehabilitation research. Tigue plans to attend graduate school to study dynamics, robotics, and control systems. He hopes to have an exciting career in research and design.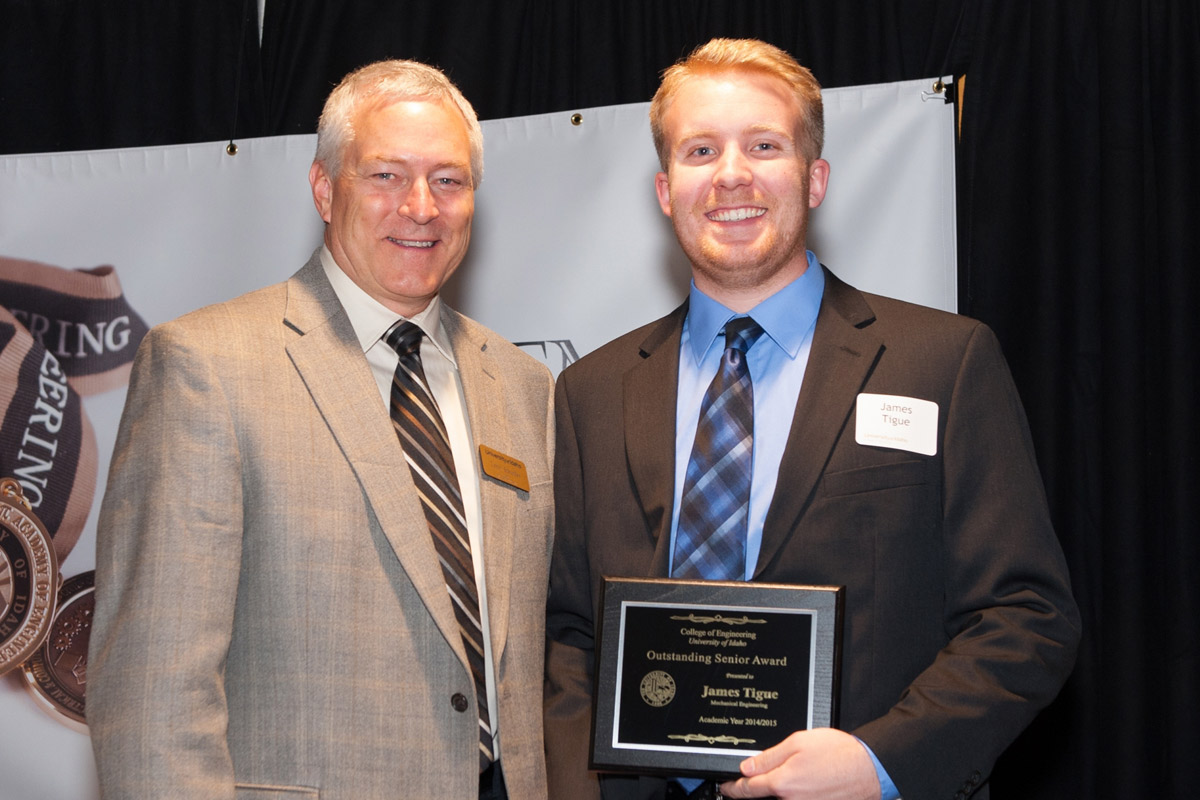 Amanda White, Mechanical Engineering
Amanda White is a second generation Vandal engineer and will graduate this May with a bachelor of science in mechanical engineering. During her time at the University of Idaho she has volunteered for the FIRST Robotics competition, Society of Women Engineers (SWE) events, and coached Moscow High School's Color Guard. White has been a Color Guard captain for the Sound of Idaho Vandal Marching Band, taught multiple 3D drafting courses, and designed and built a mechanics lab for first year students with a grant from the DeVlieg Foundation. She has interned with the U.S. Navy during her summers and plans to work full-time for the Navy upon graduation.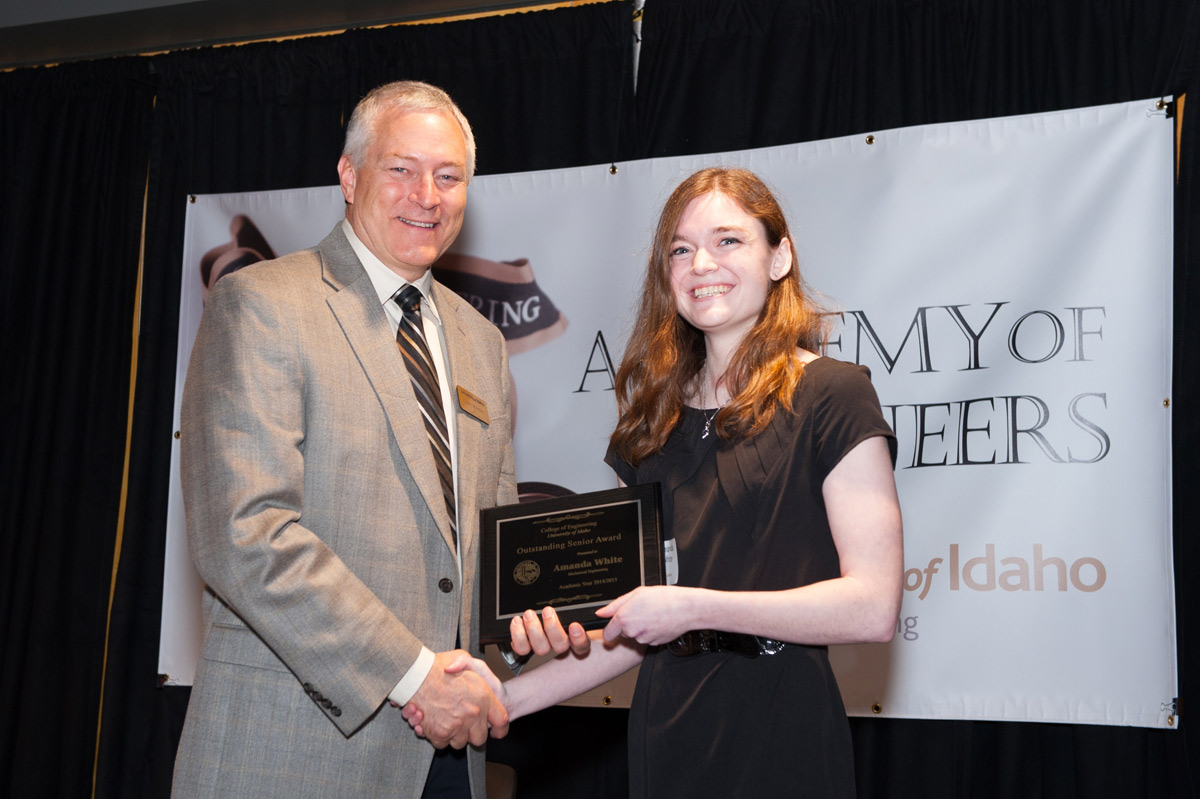 Amy Wohlschlegel, Computer Engineering
Amy Wohlschlegel grew up in Boise, Idaho and graduated from Borah high school where she was involved in choir and orchestra, but she always enjoyed math and sciences which lead her to U of I engineering. Wohlschlegel's senior capstone design project has her working with the Robotic Lunar Exploration Program within NASA to design and build a payload to go inside a tensegrity structure and use internal actuation of this payload as a form of locomotion. After graduation she plans to move to Longmont, Colorado to begin working as a firmware engineer in the Solid State Drive (SSD) Department at Micron Technology. Outside of school Wohlschlegel enjoys hunting, fishing and camping, playing rugby, and singing on road trips with friends.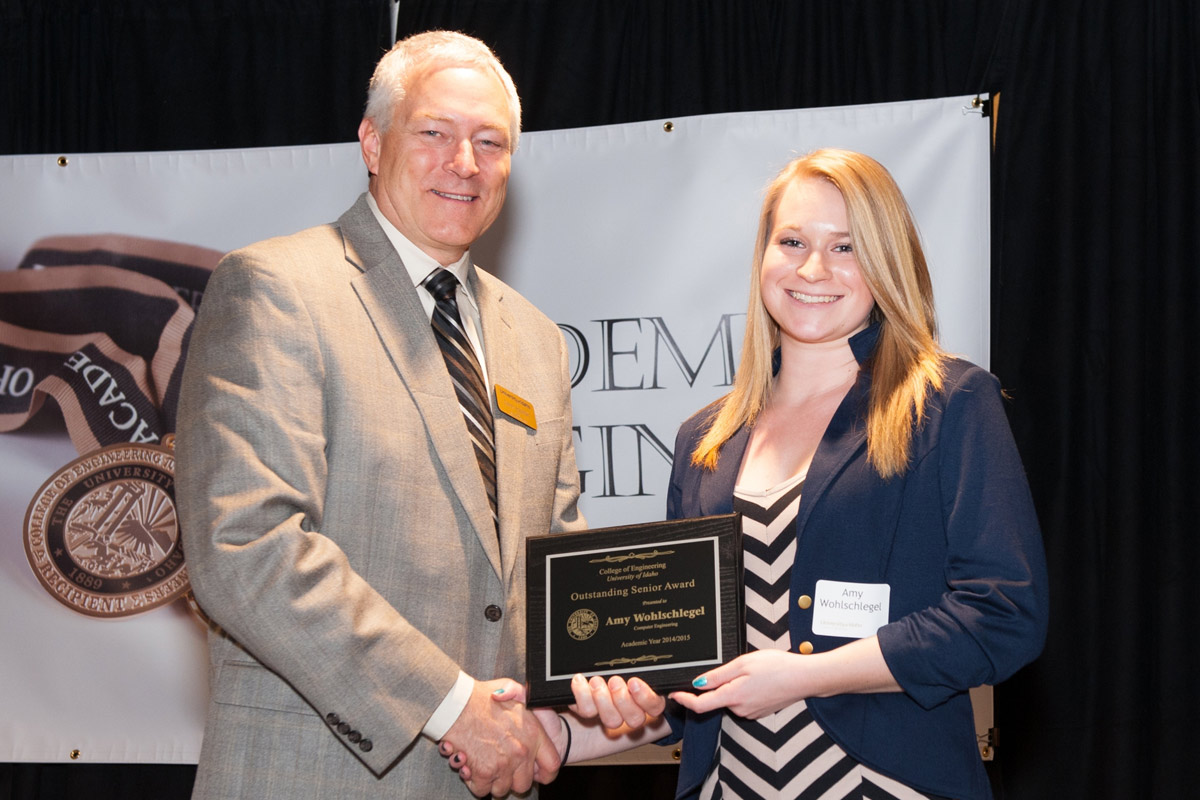 Breanna Wong, Chemical and Materials Engineering
Breanna Wong was born and raised in Boise, Idaho. She chose to pursue a degree in chemical engineering because she wanted a degree that would provide holistic background in engineering. While at U of I Engineering, Wong has been surrounded by students and faculty that have cared about chemical engineering and wanted to work collaboratively to teach and learn from one another. Wong has spent the past two summers interning with Hewlett-Packard where she received the opportunity to apply her skills in a real-world setting. Wong recently participated in the annual New Mexico State University IEE/WERC International Environmental Design Contest, and for the second year in a row Breanna's team won first place. After graduation Wong plans to attend graduate school to pursue a master's degree in chemical engineering.