Pilates Sessions and Teacher Training Program
Private Pilates Session
The Integrated Pilates Movement Lab (IPML) offers educational experiences and personal training sessions with certified instructors and instructors in training, utilizing the full line of BASI Systems' state of the art Pilates equipment. Pilates is a training modality which focuses on functional strength training, balancing mobility and stability, body awareness, posture, breath, flow, and precision. Exercises are performed on mats and spring-loaded resistance equipment originally developed by Joseph Pilates.
All sessions are 1-hour in length
*Scheduling is dependent on availability of instructors
Privates Session
Single private session: $50
Private sessions 10-pack: $450
Semi-private Sessions (Duet)
Single semi-private session: $70 ($35 per person)
Semi-privates 10-pack: $600 ($300 per person)
Trio Reformer & Mat Class Sessions
Single trio class: $75 ($25/person)
Trio classes 10-pack: $450 ($150/person)
To inquire about training sessions and instructor availability, please email pilates@uidaho.edu.
NOTE: Both the Pilates Sign Up form and the Pilates waiver must be filled out to properly register for the private session.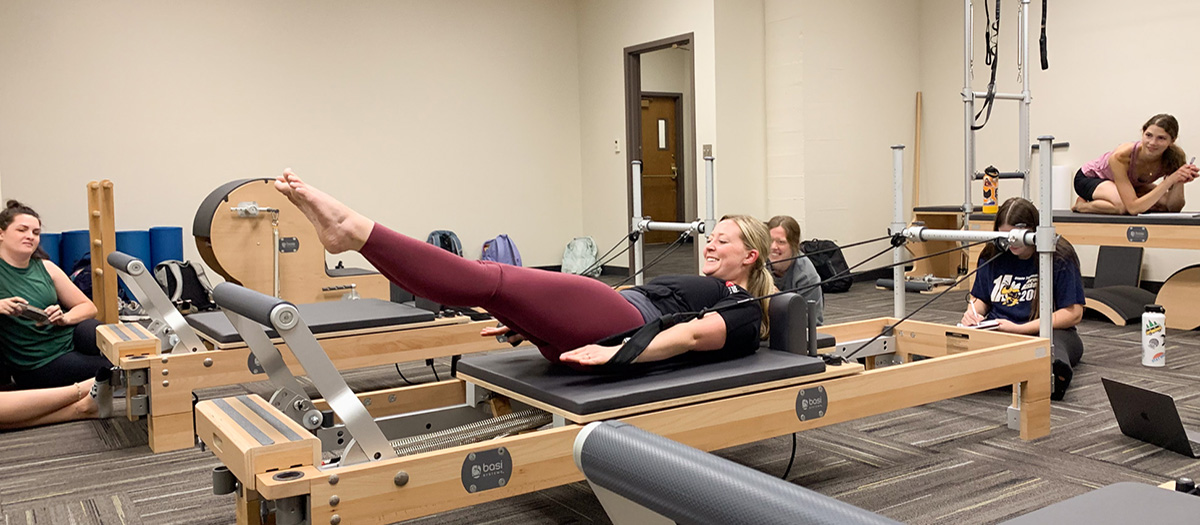 ---
Teacher Training Program
The University of Idaho Department of Movement Sciences hosts the internationally recognized BASI Pilates® Teacher Training Programs. Trainings can benefit current students, alumni, staff/faculty, and community members both professionally and personally. Learn more about the Pilates method, your own body, and the art and science of teaching this form. Participants who complete a BASI Pilates training go on to teach Pilates at fitness centers, integrate this work in physical therapy practices, develop private studio businesses, and benefit from the international network of instructors and studio owners the BASI reputation provides.
To get more information, go to www.basipilates.com or email pilates@uidaho.edu
Comprehensive Teacher Training Program (CTTP)
BASI's Comprehensive Pilates program is your gateway to becoming a pro. From anatomy and biomechanics to teaching and management skills, our holistic approach covers everything you need to succeed.
The CTTP is a 12-module program, made up of 72-hours of lectures, discussion, exercise analysis, and practice. Students gain comprehensive knowledge of Pilates on all the Pilates apparatus, including Mat, Reformer, Cadillac, Wunda Chair, Ped-a-pul, Ladder Barrel, Step Barrel, BASI's proprietary F2 System® and various other Auxiliary apparatus.
To receive a BASI Pilates Comprehensive Certificate, students complete all 12-modules along with 500 hours (200 self-practice hours, 100 observation hours, 200 practice teaching hours), pass the mid-term and final written exams, submit a research paper, and pass a final in-person teaching assessment and practical examination.
Exclusive offers for University of Idaho students include an early bird discount rate, access to the Integrated Pilates Movement Lab, practicum/internship credit options, on-campus final testing at no additional cost, networking, and job placement opportunities.
Summer 2023 Program:
Register with BASI by July 1 for early bird price. Space is limited.
July 28-30, Aug. 4-6, and Aug. 12-18, 2023
Mat Program
BASI regards Pilates Mat work as the "crown jewel" of Pilates. The Mat training offers a great introduction to the principles and basics of Pilates. It can be studied independently or as part of the CTTP. Training includes 24-hours of lecture, movement analysis, and practice within 6-modules. Students also complete 85 practice hours (15 observation, 30 teaching, 40 self-practice) and must pass a written exam to qualify for the final teaching and practical exam. Final testing may be available locally (TBD). Additional testing fees may apply.
July 28-30 and Aug 4-6, 2023