About Our Programs
The University of Idaho College of Education's Doctor of Athletic Training (D.A.T.) is a post-professional terminal academic degree. The D.A.T. program is designed for working health care professionals who are interested in improving their clinical practice capabilities as an athletic training educator and ability to conduct applied clinical research.
The flexible, innovative program boasts a mix of hybrid and on-campus instruction over a 24-month curriculum and culminating project unique to each student. Students gain specialty training, research training and advanced clinical skills relevant to today's interdisciplinary job market. The six-semester curricular phase is delivered during four weeks of on-campus instruction each summer, followed by synchronous off-campus instruction and clinical residences in the fall and spring.
The Summer Experience
Unique to the U of I D.A.T. program, the two four-week summer experiences are delivered by program faculty members and external experts in specific areas of focus. Evidence-based practice content is infused with current manual therapy techniques, novel interventions and training in applied research. The summer experience best prepares clinicians to become adept at collecting, analyzing and utilizing patient outcomes to create practice based evidence while assessing and improving their patient care.
Fall and Spring Curriculum and Residency
During the fall and spring semesters, students participate in clinical residencies, create applied research and receive didactic course work that is delivered via a combined framework of synchronous and asynchronous distance learning.
The intent of the mentored clinical residencies is the examination and advancement of each student's clinical practice competence. Students identify a clinical practice setting or specialty area, often their site of employment, as their D.A.T. residency (similar to the medical residencies model). Students also select an attending clinician (i.e., clinical mentor) for the residency site. Residencies will vary for each student according to individual interests.
As part of the program, all students will conduct original research in chosen areas of focus. Patient care data will be collected during each student's residency, which will serve as a foundation for much of the student's research during the program. Ongoing multi-site research gives students a platform to complete a collaborative applied research project focused on improving professional practice as a component of their Culminating Clinical Project (CCP). Students integrate clinical experience and research to become scholarly practitioners who shape the future of healthcare.
Redefining Excellence in Patient Care
The University of Idaho D.A.T. program is set apart by advanced clinical practice, the ability to produce outcomes in clinical practice that exceed published expectations and the ability to generate foundational knowledge through research in advanced practice.
2020-21 Admission Cycle
Opens: July 1, 2020
Rolling admission until April 15, 2021
The Athletic Training master's (M.S.A.T.) program is designed to prepare graduates, not only for the Board of Certification (BOC) exam, but also to provide excellent patient care and be generational leaders in the profession. It is critical you set yourself apart at the professional level by attending a unique and innovative program such as the one at University of Idaho.
Program Overview
Our six-semester program is designed to prepare students to be clinicians with advanced skill in manual therapies and rehabilitative care typically reserved for post-professional training. The two-year sequence includes two on-campus summer intensives on UI's Moscow campus. The fall and spring semesters are delivered in a hybrid format, where students will take online courses and courses that require the student's physical attendance. This model offers a lower cost of living, more individualized and specialized clinical experiences and a program cost below the national average.
The hybrid delivery of coursework empowers students to pursue clinical rotations that prepare you to accomplish your distinct career goals. Students maximize clinical experiences by choosing from UI affiliate sites throughout the U.S. or by working with faculty members to create new sites that align with career objectives. You may choose to work alongside a leading expert in a clinical focus area, stay close to home and family or explore a new geographical location.
---
Mission
To redefine excellence in patient care by preparing students with the skill set necessary to embark on the path towards advanced clinical practice. Our students will purposefully integrate clinical practice, research, and education to provide excellent patient care and solve relevant problems in clinical practice.
Vision
To be the premier athletic training program for preparing athletic training students who provide excellent patient care, have advanced manual therapy skills, and transform clinical practice in athletic training. Our graduates will utilize progressive skills in manual therapy and rehabilitation, advanced clinical reasoning, and applied research skills to solve complex health care problems and lead the profession of athletic training. In doing so, our students, who successfully graduate from the U of I AT Program, will not only meet or exceed the minimum standards set forth by the BOC in regards to exam eligibility, but will be uniquely prepared as leaders in musculoskeletal rehabilitation. The program will provide students with comprehensive and continuous training in the skills and theory needed for successful clinical practice, develop athletic trainers who demonstrate intellectual curiosity and skill in applying an evidence-based approach to patient care, and who generate practice-based evidence using patient outcomes data. Acquiring the knowledge and skills provided in this Program will enhance the graduate's ability to become competitive professionals in the sports medicine market, valuable members of any sports medicine team, and clinicians who have begun to develop advanced athletic training practice.
---
2020-21 Admission Cycle
Opens: July 1, 2020
Priority Deadline: Nov. 15, 2020. Phone interviews will take place through mid-December.
Secondary Deadline: Jan. 25, 2021. Phone interviews will take place through mid-February.
Tertiary Deadline: March 15, 2021. Phone interviews will take place in late March.
All other applicants will be considered for the final round of phone interviews, pending space in the program, scheduled for the last week of April 2021. International applications must have all materials submitted no later than March 15, 2021.
The Power of Your Degree
In the ever-changing health care landscape, the UI program is leading the way to promote evidence-based advanced practice in athletic training. It is our mission to give our graduates the tools necessary to continue their journey toward advanced practice throughout their careers. Minimally, our graduates are able to:
Demonstrate the ability to treat patients from multiple clinical paradigms using several traditional and novel manual therapy techniques.
Collect and utilize patient outcome measures to create practice-based evidence to evaluate and improve clinical practice.
Seamlessly incorporate literature evidence and practice-based evidence into patient care.
Succeed in a variety of diverse clinical settings.
Distinctive Facts
Tuition is a flat fee that is the same for in- and out-of-state students and includes all books.
We offer several advanced manual therapy courses included in the cost of your tuition in addition to the curriculum, unlike any other program in the nation. The courses are taught by experts in the manual therapy paradigm and many are exclusively taught in our program.
We recently unveiled a 1,500-square-foot Integrated Sport Medicine and Rehabilitative Therapy (ISMaRT) Clinic that serves as a classroom in the summer and our fully functioning teaching clinic for the M.S.A.T. program in the fall and spring semesters.
Download some of the scholarly products developed by UI athletic training students.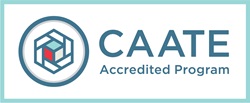 The University of Idaho, College of Education Health and Human Sciences: Master of Science in Athletic Training (M.S.A.T.) is accredited through CAATE on a ten-year cycle. The current cycle began in 2018 with the next review taking place in 2028.
The Commission on Accreditation of Athletic Training Education (CAATE) which is a 501(c)(3) non-profit organization recognized as an accrediting agency by the Council of Higher Education (CHEA). The CAATE's mission is to: define, measure, and continually improve AT Education. For more information regarding the CAATE or the current U of I M.S.A.T. accreditation standing please see the CAATE website.