Pre-Pharmacy
Pharmacy as a Career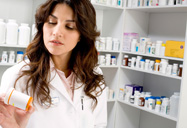 Many pharmacy schools will consider students for admission without having completed a bachelor's degree; however, completion of a degree can increase an applicant's competitiveness.
Admitted students complete a four-year Pharm.D. (Doctorate of Pharmacy) program. For more information, see Explore Health Careers.org: Pharmacist.
Meet with the Pre-Health Advisor each semester and request to be added to the pre-pharmacy email distribution list. The Pre-Health Advisor serves as a supplementary advisor to the students' primary (major) advisor, and assists students by offering guidance in selecting appropriate courses, connecting with resources both on and off campus, ensuring that they are on track with their career goals, and addressing questions and concerns.


Choose a major that you enjoy and that provides a good "back-up plan" and career path in case you change your mind about pharmacy. Common majors include chemistry, biochemistry and biology.
Carefully check admission requirements at pharmacy schools of most interest and take the required coursework. In general, most pharmacy schools require at a minimum:
A year of general chemistry (Chem 111 and 112) with labs
A year of organic chemistry (Chem 277 and 372) with labs
A year of biology (Bio 115 and 116) with labs
Common additional prerequisites or strongly recommended courses include anatomy, physiology, microbiology, biochemistry, physics, statistics, etc.
Maintain a competitive GPA - see table 8 on the PSAR for a list of average GPAs of admitted students
Get shadowing and clinical experience and maintain a formal log (Professional Development Activities Log). Find out firsthand what the profession is like, decide if it is right for you, explore different areas of the field and in different settings, and be sure to meet clinical experience requirements of your preferred schools.
Develop strong relationships with faculty mentors, pharmacy professionals, and others who will be writing letters of reference
Get involved in extracurricular, leadership, and volunteer activities
U of I Pre-Health Professions Resources
---