Space Cowboys: Using Satellite Imagery to Inform Grazing Decisions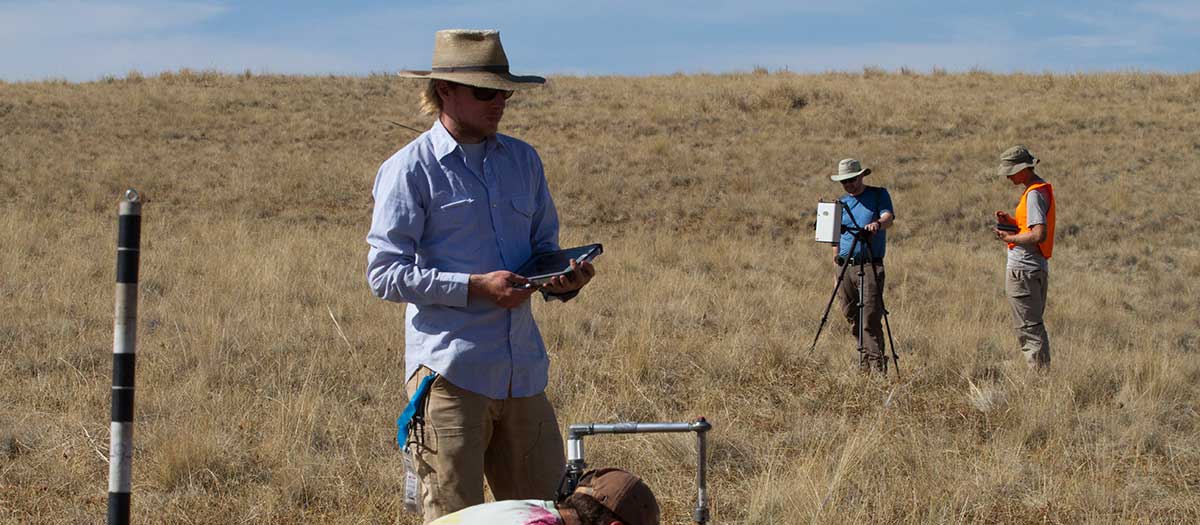 The Challenge:
Western ranchers and land managers face daily decisions about sustainable livestock grazing over vast landscapes. But gathering information about the current condition of rangeland vegetation is time and labor intensive. In pastures or allotments that can extend over thousands of acres, assessing available forage and utilization levels often requires saddling up and riding for miles. Even then, the result is just a snapshot of conditions that can vary significantly across the terrain. Managers need real-time information about vegetation cover and biomass to make the best grazing decisions to optimize livestock production and sustain healthy rangelands.

Could space-age technology offer a more efficient means of assessing range conditions? Every hour of every day since the early 1970s, satellites have been orbiting the Earth, collecting data about our planet. One such series of satellites which provide freely-available imagery going back decades is the Landsat missions. These earth-observing satellites, managed by the U.S. Geological Survey and NASA, record the solar energy that is reflected off of the Earth surface. Because different surfaces or objects reflect energy differentially, this information can be used by scientists to measure and monitor Earth processes over both land and ocean. For forest and rangeland managers, satellite data has proved useful in estimating key vegetation monitoring measures in ecosystems across the globe.
Our Response:
U of I Rangeland Center researchers, in partnership with the Oregon and Idaho chapters of The Nature Conservancy (TNC), are initiating a research study to determine whether Landsat satellite imagery can provide real-time estimates of vegetation cover and biomass to inform grazing decisions in sagebrush steppe. This project expands upon a six-year study by Vincent Jansen, PhD candidate in the U of I Rangeland, Forest and Fire Sciences Department within the College of Natural Resources. Jansen, The Nature Conservancy, and other collaborators developed models using Landsat satellite data to estimate vegetation cover and biomass in the northwest bunchgrass habitat type at TNC's Zumwalt Prairie Preserve in northeast Oregon. That project found significant relationships between Landsat data and some 300 field plots collected across multiple years and seasons (summer and fall). From these models, vegetation cover and biomass can then be mapped and analyzed across the landscape at meaningful pasture or management scales whenever a Landsat satellite passes overhead. This new project at Rinker Rock Creek Ranch in southern Idaho will determine whether satellite imagery is also effective at quantifying vegetation cover and standing crop in sagebrush steppe.

Because satellites pass over most areas on Earth approximately every two weeks, remote imagery can provide timely information about changing range conditions. In addition, researchers will integrate remote sensing data with climate variables to track how grassland productivity changes in relation to precipitation and temperature. Landsat provides non-biased, consistent data over time that can be useful within the year and from year to year in helping ranchers and land managers adapt to changing forage conditions.

Researchers will meet with ranchers and other collaborators in 2017 to determine desirable vegetation and climate metrics. They will establish 45 field plots at Rinker Rock Creek Ranch near Hailey, Idaho, and gather field data and satellite imagery in the fall of 2017 and early summer of 2018. They expect to complete the research project and produce a web-based interactive product by early 2019. Ranchers and land managers will be able to use the tool to create maps and graphs to monitor forage availability for each grazing season and to track the effects of grazing throughout the season.
Output and Outcomes:
Develop a web-based decision support tool that will provide ranchers and land managers near real-time estimates of vegetation cover and biomass to inform grazing decisions in sagebrush steppe.
Collaborate with landowners and managers on how to use the tool to identify best management practices for both improved range conditions and better economic returns for ranchers.
Improve grazing practices and conservation outcomes through adaptive management by providing data to land managers with relevant indicators at frequent intervals.
Rangeland Center Members Involved:
Crystal Kolden — Forest, Rangeland and Fire Sciences
Karen Launchbaugh — Forest, Rangeland and Fire Sciences
Vincent Jansen — Ph.D. Candidate, Forest, Rangeland and Fire Sciences
Sponsors and Partners
The Nature Conservancy — Idaho
The Nature Conservancy — Oregon
USDA Natural Resources Conservation Service (NRCS)
Bureau of Land Management (BLM)
USDA Northwest Climate Hub
Wood River Land Trust