Snacking on Salix: Livestock Browsing in Rangeland Riparian Areas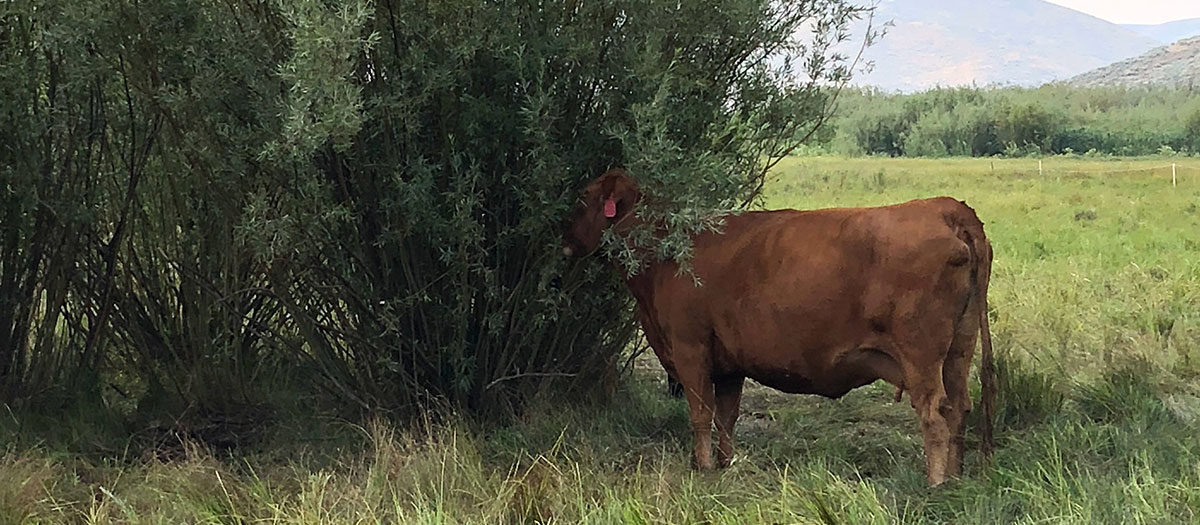 Snacking on Salix: Livestock Browsing in Rangeland Riparian Areas
The Challenges: Willows (Salix spp.) are a common riparian plant that stabilize streambanks with their roots, keep water temperatures cool with their canopies, and provide food for animals; both large (deer, elk and moose) and small (beaver, rabbits and grouse).
However, without proper management, overgrown willows have the potential to block the natural flow of the stream. In addition, an overpopulated willow stand will consume too much water, leaving less for other plants and wildlife downstream.
Interactions between livestock and willows on rangelands are not well understood. On one hand, cattle that browse willows may help stimulate their growth – think of the benefits that pruning a tree provides. On the other, over-grazing or trampling of willows by livestock can decrease willow canopy volume. A "mosaic" willow stand – one with a variety of plant species that range in maturity - is the desirable ecological state for riparian areas.
Our researchers are investigating how cattle interactions can promote or inhibit willow stands at Rinker Rock Creek Ranch. As part of their work, they are experimenting with new technologies to accurately measure willow biomass and canopy volume.
Our Response:
Willow canopy volume can be measured manually, but it takes hours of meticulous data collection in challenging and potentially dangerous field conditions. As an alternative, Dr. Jason Karl, principal investigator at the university's Drone Lab, introduced drone technology to measure willow canopy volume and to help Dr. Melinda Ellison, Nancy M. Cummings Research, Extension and Education Center, study the associations between livestock grazing and riparian woody vegetation.
Karl and one of his undergraduate students, Dan Lauritzen, use software to analyze hundreds of drone images and "stitch" them together to generate 3D computer models of the vegetation and terrain. Taken at different times of the year, these models can be compared against each other to measure willow canopy volume pre- and post-grazing.
In 2018, Karl and Lauritzen compared drone measurements of willows pre- and post-graze against measurements taken by Dr. Joel Yelich, the Senior Researcher in Ellison's field research team. They found the drone models yielded accurate results in less than half the time – including image processing – than field measurements. However, Ellison's field team can account for whether or not the willow was actually nibbled, or if the willow was broken as a cow moved through a willow stand. Ellison's field team set up game cameras to record movement and identify patterns and preferences of livestock.
Beyond browsing patterns, Ellison's field team is also studying how season of use (spring or fall) and stocking rate (how many cattle are allowed in an area) affects willow recruitment. Ellison also has a complimentary, year-long project located on a private ranch in Leadore, ID. Access to Rinker Rock Creek Ranch is limited in the winter, so partnering with a landowner in Lemhi County allows Ellison to see what types of animals are using willows for forage year-round.
Output and Outcomes:
Assess the associations between livestock browsing and riparian woody vegetation.
Provide science-based best management practices for livestock in riparian areas.
Public outreach and education to be offered through U of I Extension publications and public presentations.
Poster presentation at Western Section American Society of Animal Science (WSASAS), June 2019.
Forthcoming journal article(s) with findings from willow canopy volume estimates using drone data.
Rangeland Center Members Involved:
Jason Karl – Forest, Rangeland, and Fire Sciences
Melinda Ellison – Animal and Veterinary Science, Nancy M. Cummings Research, Extension, and Education Center
Partners and Sponsors:
Animal and Veterinary Sciences Dept., Nancy M. Cummings Research, Extension, and Education Center
University of Idaho Drone Lab
Rinker Rock Creek Ranch, Hailey, ID
Beyeler Ranches, Leadore, ID