Planting the Seeds of Fire Restoration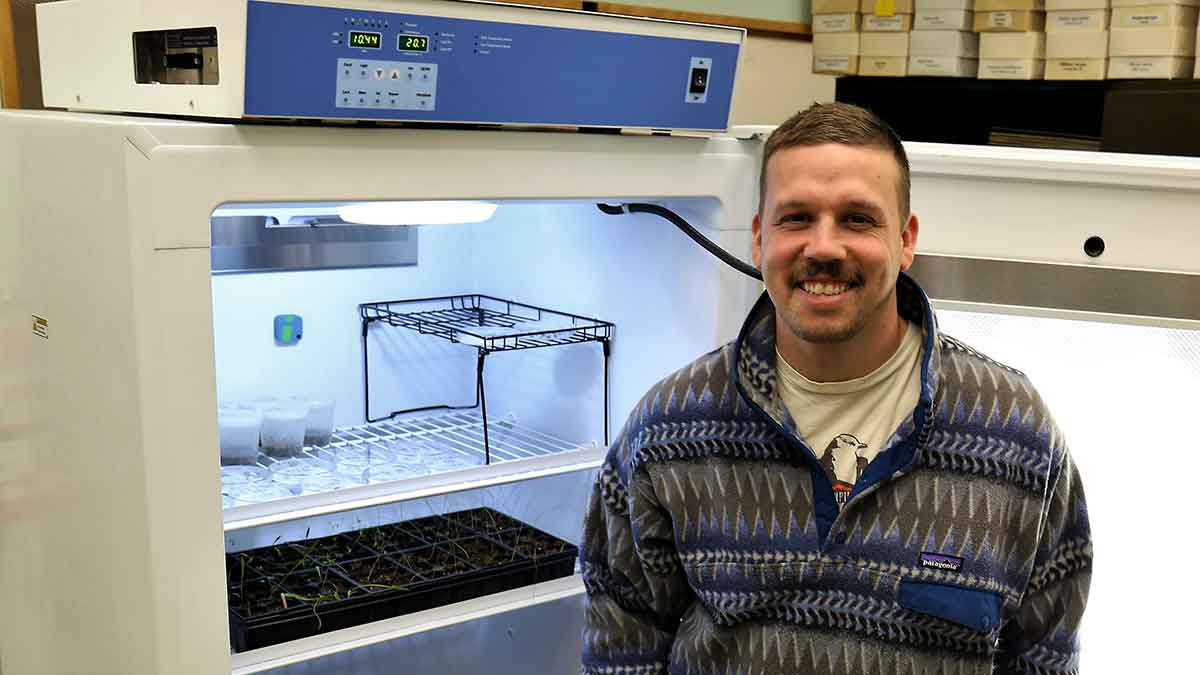 The Challenge:
Every year, wildfires consume tens of thousands of acres of rangeland in Idaho and other western states. Although fire is a natural disturbance in rangeland ecosystems, fires now are larger and more frequent than the historic norm. Over the last decade, wildfires have burned more than 1.6 million acres annually on Bureau of Land Management lands nationally. Just two wildland fire events—the Murphy Complex in 2007 and the Soda Fire in 2015—blackened more than 900 thousand acres of rangeland in southern Idaho.
Wildfire and invasive annual grasses present two of the greatest threats to Idaho's rangelands, and the two go hand in hand. Non-native grasses such as cheatgrass and medusahead mature earlier in the season than native plants, becoming dry tinder by early summer. As these grasses spread across our rangelands, they provide continuous fine fuels that ignite easily and carry wildland fire. Because these invasive grasses germinate quickly, they also outcompete native plants for water and nutrients, limiting native plant recovery that would have historically occurred. With increased cover and density of invasive annual grasses, we lose native vegetation essential for healthy rangelands, and the altered fire regime continues unabated.
A healthy plant community with a diversity of native species provides the best defense against the spread of invasive plants. But restoring native vegetation in the wake of fire is expensive and not always successful in our hot, dry climate. How can we more effectively revegetate burned rangelands?
Our Response:
One option that shows promise is to "prime" seeds of select native species to mimic the kind of head start that invasive annual grasses enjoy. Primed seeds are allowed to imbibe water (but not germinate) in the laboratory, and then are dried to arrest their development until ready to plant. Priming reduces the amount of time necessary to germinate in the field so native species can better compete with invasive annual grasses for water and nutrients.
Research at the University of Idaho is focused on determining optimal priming conditions for various native bunchgrasses and forbs, as well as sagebrush. The goal is to decrease the amount of time it takes a seed to germinate to 2-3 days in the field, giving native species the opportunity to utilize resources ahead of non-native annual species. On average, these native plants require 10-21 days to germinate under favorable environmental conditions, while cheatgrass can germinate in just 6 days. Given consistent germination within a short timeframe, land managers can plant primed seeds on the range during ideal temperature and moisture conditions, greatly enhancing the probability that seedlings will outcompete non-native annual grasses. The trick is, every species has its unique germination rate and dormancy barriers. Consequently, the priming method must be determined for each species individually.
Jake Price, a graduate student in the College of Natural Resources, is working with two native perennials for his research study, both of which contribute to productive sage-grouse habitat and healthy rangeland ecosystems. For example, basalt milkvetch (Astragalus filipes) provides forage for adult sage-grouse, while the flowers attract insects that are essential in the diet of chicks. Indian ricegrass (Achnatherum hymenoides) is a native bunchgrass that provides hiding cover for grouse and high forage value for wildlife and livestock. Jake's research focuses on determining seed characteristics of both species and identifying potential seed enhancement technologies, such as seed priming, that will increase their probability of establishing on rangelands after wildfire.
Outputs & Outcomes:
Understand seed characteristics of selected species that may limit germination success in revegetation efforts (e.g., dormancy barriers, seed size, etc.).
Refine seed enhancement technologies for selected species that will allow for quick and consistent germination and establishment in the field.
Create islands of fertility by planting enhanced seeds within burned areas to provide seed sources for post-fire recovery.
Share the methodology with state and federal agencies, who could then prime and plant seeds on a large scale for more effective revegetation.
Maintain the diversity of desirable plant species on rangelands.
Rangeland Center Members Involved:
Jake Price – Graduate Student in Forest, Rangeland and Fire Science
Tim Prather – Department of Plant Sciences
Dan Johnson – Department of Forest, Rangeland and Fire Sciences
Partners & Supporters:
Matt Madsen – Brigham Young University
USDA National Institute for Food and Agriculture
USDA Agriculture Research Station – Burns, OR
The Nature Conservancy, Oregon