Engaging Grazing Permittees in BLM Photo Monitoring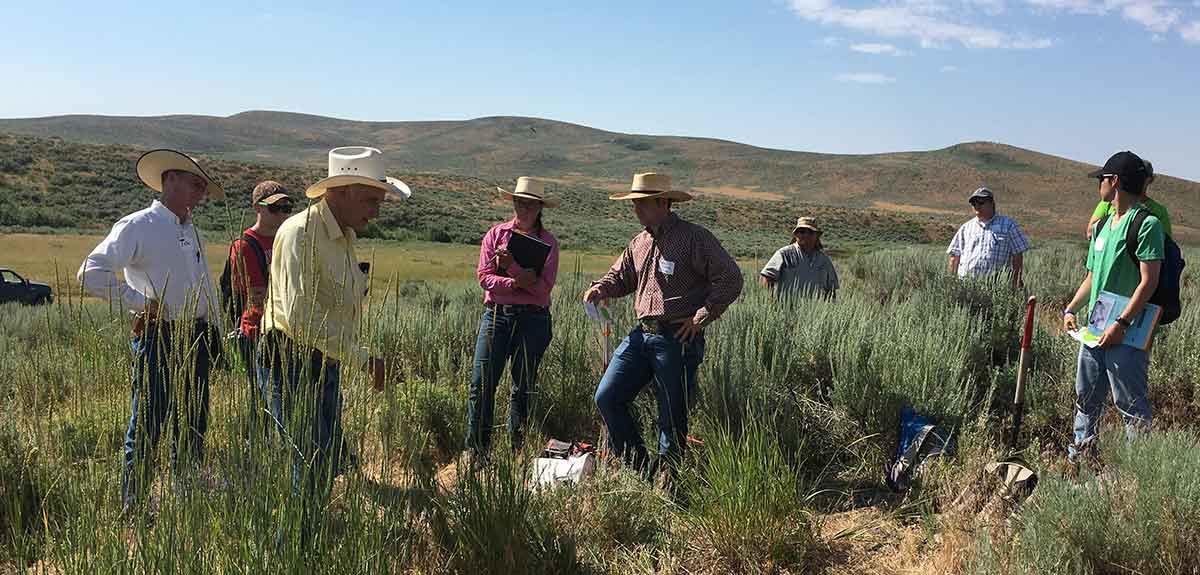 The Challenge:
The Bureau of Land Management administers livestock grazing permits on more than 2100 allotments encompassing more than 11 million acres of public land in Idaho. In 2016, BLM grazing generated a $416 million positive impact to Idaho's economy. Sustaining this use of renewable resources on Idaho's BLM lands requires regular monitoring to adapt to changing conditions and maintain rangeland health. Maintaining or improving rangeland health is essential not only to Idaho's livestock industry, but to multiple uses of these public lands, including recreation, wildlife habitat, scenic values and watershed function. Yet limited staff and budget can prevent BLM from monitoring thousands of remote sites as often as needed to document changes and respond to trends in range conditions.
The Idaho State Department of Agriculture has a mandate and a desire to provide technical support and coordination to livestock producers and federal agencies that manage Idaho rangeland. But ISDA also has a limited capacity to monitor BLM grazing allotments.
Meanwhile, grazing permittees spend more time on their allotments than anyone, moving livestock, fixing fence, delivering supplements, and checking the condition of animals, forage and water. These livestock operators possess an intimate knowledge of the land gained through decades of close observation. They also understand that it's important to be stewards of the land and to be accountable for their use of a public resource. However, ranchers may not know how to formally monitor range conditions to capture relevant data on a consistent basis. How can ISDA, BLM, and permittees collaborate to increase the frequency and consistency of monitoring to improve their mutual understanding of grazing allotment conditions and trends in order to make adaptive management decisions?
Our Response:
In 2014, the Idaho State Department of Agriculture and the Bureau of Land Management signed a Memorandum of Understanding (MOU) that provides a framework for cooperative monitoring by ranchers and public land managers to improve the health of Idaho rangelands. Ranchers who are interested in doing photo monitoring on their allotments can attend workshops and receive one-on-one training in monitoring protocols. In addition to keeping records for their own files, permittees who choose to participate under the MOU submit their monitoring data and photos to BLM for inclusion in their grazing allotment files. Their information supplements data collected by BLM staff, and permittees are assured that their photos will be used during the permit renewal process.
University of Idaho Extension conducts workshops across the state to teach grazing permittees and other interested individuals how to perform photo monitoring according to accepted protocols. The Idaho Rangeland Resource Commission helps fund and publicize the monitoring workshops. If ranchers want one-on-one assistance locating photo points and initiating their monitoring effort under the MOU, ISDA range specialists are available to provide technical support in the field, as well as assistance in creating digital files of the photos and data ranchers collect.
Photo monitoring involves more than taking snapshots of the landscape at the same place and the same time each year. Following agreed-upon protocols, participants record observations about the vigor and diversity of native plants, presence and spread of noxious weeds, evidence of wildlife use and soil erosion, and any disturbance, such as recent wildfire. Photos document the basic trend and, together with permittees' historic knowledge, help provide context to the other qualitative and quantitative data included in the Rangeland Health Assessment. Taken together, these attributes provide range managers an indication of whether the allotment is meeting or making progress toward BLM Standards for Rangeland Health. ISDA and BLM rangeland resource professionals interpret and evaluate the information to assess the long-term trend of range conditions in order to make well informed and effective management decisions.
This proactive partnership among state and federal agencies and grazing permittees increases the amount of reliable information available to help maintain healthy rangelands and sustainable livestock grazing practices.
Outputs & Outcomes:
Increase the level of participation, coordination and cooperation between the agencies and permittees in collecting Rangeland Health Assessment data and photos.
Increase the amount and timeliness of monitoring data for use in making adaptive management decisions in response to changing conditions on the land.
Increase the number of allotments and acres being monitored with photos.
Since 2014, we have held 24 workshops and trained more than 300 attendees in photo monitoring, including permittees, state and federal agency staff, and members of the public.
More than 30 livestock producers across Idaho are participating in photo monitoring under the MOU.
Rangeland Center Members Involved:
Partners & Supporters:
Bureau of Land Management (BLM)
Idaho State Department of Agriculture (ISDA)𠊏or information about learning photo monitoring, contact Brooke Jacobson, Range Program Manager, at 208-332-8561.
Ranchers/Grazing Permittees