Kathryn Pawelko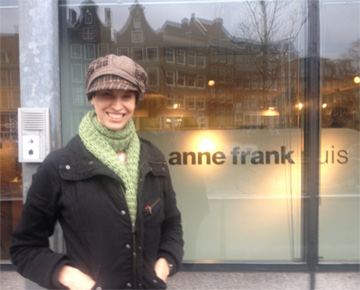 I am feeling very hopeful for this new semester as my classes — Spanish Gender Studies, Survey of Spanish Literature, History of Spain: 20th Century, Government and Politics of Spain and Political Economics of the European Union — are interesting and are helping me understand the current political, economic and social conditions of Spain. So far my professors here at the University of Alicante are very kind and helpful, and I am very pleased to write that Leontina Hormel from the Sociology Department at the University of Idaho is teaching in Alicante and supporting Vandal students studying abroad!
This semester comes at the end of a very busy semester in San Sebastian; followed by a three-week break between semesters, which I used to travel throughout Europe. Initially, I chose to travel to Europe in order to gain experience and perspective in both my education and career. Now, I can honestly say I have never had, nor ever expected, the opportunities and lessons like those I experienced while living in Pais Vasco.
I learned to be more independent, as I was physically separated from my family, boyfriend and band friends; in addition, I learned to trust my family, friends and professors at the University of Idaho to support me emotionally through periods of homesickness or insecurity. I learned to question everything that I have ever believed and have become stronger through this questioning. For the first time, I realized that there is more to life than school and academics and that it is up to me to find balance in my life outside of the university.
While at San Sebastian, I found this balance through working as a teaching assistant at Zuhaitzi Elementary School and at Nazaret Community College. In these two schools, I taught a total of three classes, one for eleven-year-olds, and the other two for adults between the ages of 18-30 in business and finance.
I learned that I have the potential to be a very good teacher as I experimented through trial and error various methods of teaching. I learned how to develop a rapport with my students while still maintaining a relationship of respect. I have a newfound appreciation for my professors at the University of Idaho — especially Professors Kittel and Irina Kappler-Crookston who always answer emails — as I worked to always answer my students in a timely manner.
I also found a balance as a volunteer in the Center of Music and Dance Studies of the Basque Country in San Sebastian, where I worked creating a comparison between systems of music education in the United States and País Vasco. In the Center, I learned about Basque music, language and practices, helping me to better understand the unique culture of the Basque Country.
This experience also helped me relate to my students, the majority of which spoke Basque as a first language and Spanish as a second. It was very interesting seeing the difference in expectations of workplaces and independence. I enjoyed working to create the comparison and feel that I have contributed positively to the community as I help international groups' communication. This internship also helped me to learn more about the education system in the United States and the state of music education; the information I found while researching influenced me to become more involved as a citizen for education rights.
After the semester, I elected to travel for three weeks in Northern and Western Europe (namely Belgium, the Netherlands, England and France) as a more affordable option than returning to the United States. I met one of my friends from the University of Idaho, Hilarie Henderson, who is currently teaching English in Fez, Morocco, and we traveled to Brussels, Belgium where we explored the city for two days in the pre-Christmas rush. Brussels was an absolutely beautiful city, though slightly more industrial than I usually enjoy.
However, the Belgium waffles more than made up for it! Traveling Europe at this point turned into a culinary tour as I moved from stand to stand in the street sampling the amazing gourmet food. I also enjoyed learning and speaking French and Dutch phrases in daily transactions; with this, I realized that studying in Spain has improved my skills in communication overall, as well as the Spanish language. By learning to communicate in Spain, I was able to travel in countries where I only knew a few key words (hello, goodbye, please, excuse me and numbers one through ten) with minimal stress and confusion — though I still managed to mix up train schedules! This skill took practice to attain.
Following our quick trip to Belgium, Hilarie and I traveled to Amsterdam. In Amsterdam, Hilarie and I explored the bridges crossing the canals and visited the Anne Frank House and the Christmas Market in the middle of town. We enjoyed a Chinese food dinner for Christmas (the only restaurant open) as well as treating ourselves to see the new Hobbit movie (in which the orcs apparently spoke Dutch — we didn't think about subtitles!)
I can honestly say that Amsterdam, with its slightly leaning buildings and numerous canals, is one of the prettiest cities I have ever encountered. I really enjoyed seeing the historical and cultural aspects of a city renowned for its less sightly aspects – the rich culture was an amazing thing to experience and I hope to return to visit the Van Gogh Museum and see the beautiful canals in the summer. Every street has a new sight or historical building, and the people there are very friendly. I am amazed in my travels how much effort strangers will put forth to help another person, whether it is asking for directions or sharing knowledge about the best places to eat.
After Amsterdam, Hilarie and I flew to London to meet my best friend, Amber Leavitt (also a new UI alumna). Together we spent a week exploring the city and its major attractions. In Europe it is a huge advantage to be a student, as the majority of museums and art exhibitions are free. We took advantage of this and visited the Museum of London, the National Portrait Gallery and a variety of other museums. As an ex-ballerina, I enjoyed seeing the National Ballet perform "The Nutcracker" one afternoon with my friends before viewing the New Year's firework show. The fireworks were utterly unbelievable — I couldn't imagine the number of people I saw on the banks of the river and the numerous bridges crossing the Thames — I enjoyed hearing Auld Lang Syne sung by almost the entire population and seeing the vivacity and modernity of the old city.
A consummate Doctor Who and Sherlock fan, I was excited to visit the many places shown in the television programs and wander the film museum next to the London Eye looking for sets of props. Similarly, I am a huge fan of musicals and I treated myself (my birthday occurred on my second day in London) to tickets to the "Book of Mormon" and "Phantom of the Opera," two amazing musicals. Being in London was an experience unlike any that I have had before. Unlike Spain where I entered the country knowing only the basics about the cities and the scenery, I have seen a mountain of films and shows about this great city. Walking and talking to Londoners almost seemed like a dream!
After London, I spent the final week of my break in Paris, France, where I stayed in a small hostel in Montmarde, the artist section of the city. Paris, like London, is a city that I have always wanted to visit and have read a small mountain about, so I was well prepared for the sights I wanted to see! However, I was not prepared for the people — fearing the worst I expected the French to be very rude and condescending for my basic knowledge of the language. But instead, I found a very open and friendly people who were always willing to help me find my way.
While in Paris, like London, I took advantage of the free student passes and discounts available in many of the museums, and visited the Musee d'Orsay, the Museum of Kayak that specialized in native artifacts and studies, the Catacombs beneath Paris (one of the scariest things I have ever done!), as well as the traditional sights such as the Arc d'Triumph and the Eiffel Tower. I was also very lucky because the Louvre had a free day during my visit and I was able to tour the museum without paying an entrance fee. Of all the places I visited in Paris, the Musee d'Orsay was one of my favorites, in that I was able to see my favorite Degas painting (the ballerinas) as well as many other contemporary French artists. I also elected to take a day off from culture and travel and went to Disneyland Paris, providing me a second look at childhood (if only for a day!), and a quick return to American culture. I loved Paris and I hope to return there soon to continue my wanderings.
Finally, arriving in Alicante was unlike anything I expected. I realized that Alicante was a desert, but I never could have expected the vastness of the city or the vivacity of the population. San Sebastian is one of the most beautiful places in Spain. The coastline is green and the surfing is absolutely amazing — it is the perfect place for relaxing, hiking and discovering Basque culture. However, Alicante is a league of its own — neither better nor worse.
I am enjoying seeing the palm trees and the beautiful weather (while I loved San Sebastian, I suffered not seeing the sun! Returning to a desert has been wonderful for my health). I am looking forward to the numerous new adventures that I will have in this new region. I have already begun these adventures with a visit to the local castle from the ninth century, that stands outside the barrio section of the city. After a 45-minute climb you are immediately able to see the city and mountains surrounding it, as well as beautiful views of the sea. I will admit that I missed San Sebastian at this point and Mount Igueldo with its statue of Jesus and ancient church.
The students in my program are wonderful individuals and from a much wider background than the students in San Sebastian. I am also pleased to say that I am living with a group of Erasmus (very similar to USAC) students who are from France, Germany, Switzerland and Ireland collectively, as well as my two Spanish landlords. Spanish is the only language that we have in common and I am very excited to be practicing the language every day!
I have grown and learned so much in my semester in San Sebastian and my travels during the break between semesters. I am sure I will continue learning, both the Spanish language and culture as well as in personal knowledge, during this semester before graduation.