Courtney Gerken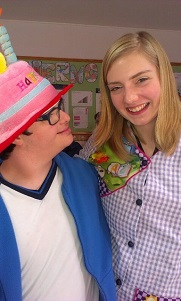 My name is Courtney Gerken, and I am a sophomore majoring in Spanish at the University of Idaho. I am currently studying abroad in Alicante, Spain at the University of Alicante. I have been here since September and have experienced so much of the Spanish culture of viva la vida, such as the different eating schedule, the siesta, and the delicious food. I also have improved my language skills immensely, but I would give credit to my experiences outside the classroom... at least one in particular.
When I first came to Spain, I was a little overwhelmed by everything, the culture shock, the time change and the new language, but once I got my bearings, I was ready to do something with my free time here. During the first semester, I took the class "Teaching Spanish as a Second Language" that came with an optional internship.
The reason that I took the class was because I could take the internship, too, so I was really excited to get started; but I had something else in mind when it came to the internship. During a conversation with my advisor at the university I asked him about the teaching internship. As much as I would have loved to teach English to kids, I wanted to do something that reached closer to my heart. So, I asked him if it was possible to be placed in a special education classroom.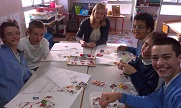 After a week, my advisor told me that he found a class for me. I was beyond excited, not only was I going to be able to work with people with disabilities again, but also in Spain, using my Spanish skills! I would be able start within the next couple weeks.
I was a little overwhelmed at first, and had a hard time understanding the kids, and the teachers, but as each day went by, I fell in love with the school more and more. I work alongside three teachers and a total of sixteen kids in two classrooms. The smaller class is for 3-9 year olds and there are only six kids, but I say "only" sparingly because the kids each have strong personalities and needs to attend to. There are two teachers in the smaller classroom, Maria and Esperanza, who are both much in need for the kids, and the upper classroom holds 10 kids from ages 9-18 with one teacher, Elisa.
The teachers at the school are some of the best people I have met within the world of working with people with disabilities, I really look up to them because they inspire me. And of course, the kids are so sweet and wonderful. Every time I go, my heart grows, from all the adoration and love I feel from the classroom and the interactions between the kids, teachers, and I. Being able to go to the school is my favorite thing to do over here.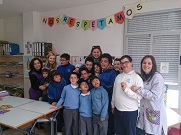 At first I went two afternoons a week, and eventually I added on another day in the morning. At the beginning of this semester, I began going every day that I didn't have class, which was two days in the morning, two days in the afternoon, and all day on Friday, for a total of 12 hours. We all do so many fun activities; even math is fun with the smiles I receive from those amazing kids and the teachers.
Some days, we even have karaoke or dance breaks, which not only is really fun, but it is important to relax and have a laugh with the kids when emotions get high. School is supposed to be fun and joyful above all of the hard work, and with the dance breaks and karaoke, there isn't a better way. One day, since my mom had grown up in Hawaii, we had a Hula contest. It was so much fun and the kids really enjoyed it.
Everything about working with people with disabilities is amazing to me. It inspires me so much and I cannot believe that I have done all of these things and created friendships so strong over here in another language. I have learned so much, and not just the language, but skills I can use when I pursue occupational therapy with people with disabilities when I grow up. Nothing is better than living your dreams and learning things on the way, and I hope that everyone can have such an amazing experience like me someday, too, while keeping in mind that amazing experiences do not have to be in another country to speak to your heart.