Bahia Parrish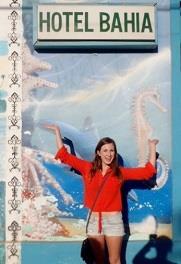 I am taking Advanced Grammar-Track 4, Latin American Cinema, Latin American Literature and Women and Society. My favorite course while abroad is Latin American Women and Society. While I've only been here a month, this course is by far my favorite. We have read a few poems and essays, and discussed in-depth the perspectives on women in Chile. Chile is one of the most progressive countries in Latin America, yet there are still some traditional aspects regarding women that are very difficult to change. It is interesting to learn about the roles women play in this society and how the Chilean society as a whole is affected by it. Women's rights here are existent but there are issues such as machismo and the treatment of women in the workforce that try to stay hidden and aren't talked about much.
I really wanted to go to South America because I have already traveled to Spain and Costa Rica. I chose Santiago because of the program being offered and that it is a city completely different than what I am accustomed to. With about 6 million people, this city offers an immense amount of culture, beauty and entertainment that you can't find just anywhere. I have never lived in a city with more than 35,000 people so choosing Santiago was definitely stepping out of my comfort zone. There is always something to do, people to meet and sights to see. Chile is such a beautiful country regarding its geography which I really wanted to experience. An hour and a half to the west and you're at the beach. A few hours in another direction and you're in the Andes Mountains. I didn't know much about Chile and wanted to experience something completely different, so I went for it!
Since I have only been in Chile one month, I haven't traveled extensively. So far, I have been to a small surfer beach town about an hour south of Santiago called Pichilemu, a small town called Pomaire, which is famous for their durable pottery, and Isla Negra which is home to one of Pablo Neruda's houses. Our group also had the opportunity to visit a school during a day camp type of program to play games and make crafts with children who don't have it as easy as others. I am planning a trip to Punta Arenas in Patagonia and am hoping to visit Cusco, Peru, to see Machu Picchu while I'm here.
College is the perfect time to travel, learn about yourself and what surrounds you outside of your home in the United States. The world has so much to offer and living abroad will only give you a glimpse of how beautiful it is and how lucky we are to have such an experience. It may sound overwhelming and difficult to leave your friends and family for a semester or two, but as young people, students need to take advantage of this opportunity because they will never have the chance to do something like studying abroad ever again. You will experience a new culture, eat amazing food, hear amazing music, possibly learn a new language, meet people from all over the world and have the time of your life! I would recommend studying abroad to anyone and everyone!