Icing Her Class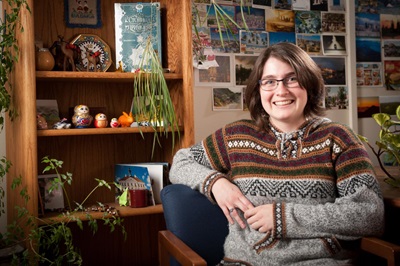 It's never been a straight line for Jacksonville, Florida, native Susan "Liz" Kane, especially when it came to her choice of university and major, but her experience at the University of Idaho opened doors and opportunities in international studies and the arctic studies field beyond her imagination.
"A lot of little decisions led me to the University of Idaho and my studies," says Kane.
"I'm glad it did because I've been able to do so much and received great encouragement and support for my interests. They really made it work for me."
From a chance meeting with a prospective UI student during a high school study abroad experience in the Czech Republic, Kane learned about the university and the international studies program. While she'd been thinking about fashion design, her experience in the Czech Republic made a huge impact on her.
"It really opened my eyes to see the world from a new perspective," says Kane. "Once I saw the international studies program, I was excited and knew that was what I wanted to do."
As an international studies major, Kane took advantage of the UI's partnership with Washington State University to study Russian, but it was during her yearlong study abroad experience at the University of Lapland in Finland where she started to look at arctic studies and began making excellent connections in a relatively small field.
"Once I was in the program, I fell in love with the region and the opportunity to study all the other components that go along with international studies," says Kane, who enjoyed taking Russian and reindeer herding courses.
When it came time to choose her study abroad opportunity, Kane knew she wanted to use her Russian, but none of the partnerships fit her need in the International Programs Office. Working with the office, they allowed Kane to research other programs to find a better match and helped arrange it. A unique benefit for Kane was that she was the sole American on exchange at the University of Lapland.
Spurred by her time above the arctic circle, Kane spent the summer interning with the Bureau of Oceans and Environmental and Scientific Affairs in the State Department in Washington DC. It was there she realized how few people are studying arctic studies, and it made her more determined to fill that need.
"I felt there was a great need there, and I really enjoyed what I had been studying," says Kane. "The international studies department was great, they said whatever I needed, they'd help me out. I don't think I could have done this without their support."
When she came back to the UI, she created a minor in arctic studies, with the help of her adviser, by pulling classes from anthropology, political science, environmental science and international studies courses.
Following up her year abroad and her internship, Kane studied at the University of Alaska Fairbanks for a semester through the National Student Exchange Program, where she took more Russian and Alaska Native studies courses.
And while she has been studying language, culture and policy in relation to arctic studies, she has been bolstering her workload with environmental science courses to better understand the policymaking and scientists' work.
"I feel really lucky to be able to have the scientific and policy backgrounds in arctic studies," says Kane. "It's a really small field right now, but there isn't a lot of lap over between policymakers and scientists."
In her four years of study, Kane was also involved in two Model UN units and volunteered for two years with the conversation partners through the International Programs Office, helping students with their English.
Kane continues to work towards her goal of one day becoming a foreign service officer and has accepted an offer from the University of Alaska Fairbanks for a teaching assistantship for a master's degree in Northern Studies. Whatever her next step is, the foundation Kane built at the UI is frozen solid.
Article by Amanda Cairo