Finding a Mission: International Studies Degree Gives CLASS Grad Skills to Protect Hometown
International Studies Degree Gives CLASS Grad Skills to Protect Hometown
When she first enrolled at the University of Idaho as a general studies major in 2004, Katherine Carscallen didn't have much of a plan. She had grown up fishing in a small Alaskan town on Bristol Bay, so her interests naturally drifted toward environmental issues.
After two years, an advisor recommended she check out UI's International Studies Program, part of the Martin Institute in the College of Letters, Arts and Social Sciences.
The program — combined with a new development that she believes poses a serious threat to the livelihood of her hometown — gave Carscallen a mission.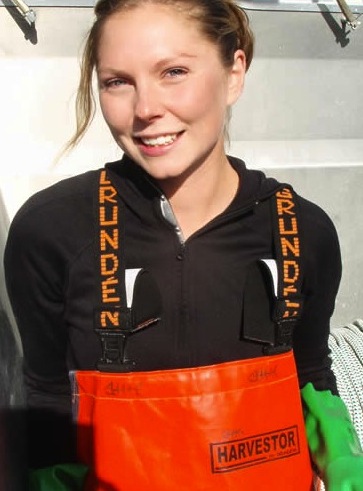 Threats at Home
In 2005, a mining company acquired the rights to a large copper, gold and mineral deposit in southwest Alaska. Located just over 100 miles from Bristol Bay, the proposed Pebble Mine site is wedged in between two state parks and a federal park near Iliamna Lake, one of the largest freshwater lakes in the United States. Rivers in the area feed into Bristol Bay, which provides 50 percent of the world's wild sockeye salmon. The area, which is mostly wetlands and tundra, includes 94 miles of salmon streams.
"This is the last great salmon run on Earth," Carscallen says. "It's untouched. The habitat is fully intact."
After graduating in 2008 with a degree in international studies, with an environmental focus, Carscallen returned to Dillingham, Alaska, to join the fight to block Pebble Mine, which opponents say would likely destroy Bristol Bay's natural resources.
It's a high-stakes fight: Supporters note that the copper deposit alone is worth an estimated $500 billion.
While working in Juneau, Alaska, on a 2008 ballot initiative to block the mine, Carscallen connected with Trout Unlimited, an organization opposed to developing Pebble. Since then, Carscallen has been a part of the effort to organize the commercial fishing industry in Bristol Bay. She's helped create an advocacy organization — the Commercial Fisherman of Bristol Bay — and works with other groups to oppose the mine and support the local fishery.
In 2014, groups opposed to the mine asked the Environmental Protection Agency for a 404(c) action under the Clean Water Act, a move that would effectively block Pebble forever. The Pebble Partnership that wants to develop the mine is in litigation against the action.
Unexpected Preparation
Carscallen, who was also a part of the College Assistance Migrant Program, didn't come to UI to become an environmental advocate, but her experience in the International Studies Program unexpectedly prepared her to do just that.
One of the requirements of the program is that students spend time abroad. Carscallen spent her time in Mexico studying local environmental and fishing issues.
"I gravitated to similar issues in other countries," she said. "It really gave me perspective. This isn't an isolated thing; these companies have a pattern of this type of work."
The Martin Institute laid a foundation for understanding governmental processes that have been vital to Carscallen's work in Bristol Bay.
"In the International Studies Program, I learned how governments work. Back home, I learned how to actually participate in government," she said. "I learned that through participation you can make change — you can make a more fair world."
Carscallen assumed that after graduating, she would go abroad again and work for a group like the Peace Corps on environmental protection issues.
"This threat at home was an immediate need," she says. "There's no point in me going somewhere else and trying to solve someone else's issue, when we have this happening right at home."
Article by Savannah Tranchell, University Communications and Marketing