Jessie Giguiere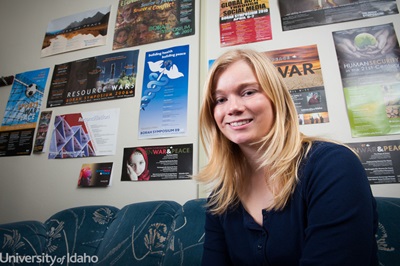 Everybody Loves Elephants
Some creatures are just easy to love. Long-nosed, big-eared African elephants tend to be one such favored species, said Jessie Giguiere, whose Martin Scholars project focuses on how the recent revival of ivory trade impacts the wrinkly gray giants.
"Ivory trafficking has become a particular problem in recent years," she said. "Which is unfortunate because it was a problem that was relatively solved a decade ago and suddenly there's been this huge resurgence."
Giguiere, who will graduate in May 2015 with degrees in international studies and environmental science, found that her interests in international relations and the natural world collided in the issue of wildlife trafficking.
The Martin Scholars program gave her an opportunity to explore the history and relevance of global ivory trade. After a semester of research, Giguiere said she was knee-deep in data and looking to narrow her focus. "Elephants are a species that everyone's interested in," she said. "Everyone loves elephants … so there's just a lot of data out there to consider."
She said tracking African elephant populations to specific regions was a particular challenge because they can live in a variety of habitats. Hippos and Asian elephants are secondary sources of ivory, but most of the industry relies on African elephant tusks.
Giguiere set out to discover the underlying reasons ivory trafficking returned in the last decade, and she found the answer in economics.
"A huge reason as to why ivory is back as a major problem for the elephants and elephant species is because of China's emergence as a middle class country," she said. The country's expanded income in recent decades allows more of its citizens to purchase ivory items, which have strong cultural connections in China, Giguiere said. "It's really far east Asia that's fueling this demand in ivory," she said.
Ivory trade has a long and complicated history, and Giguiere said she was glad for the opportunity to conduct in-depth research with the guidance of a practiced historian. She, and many of her peers, opted to produce a research paper rather than a policy-driven project so she could include more background information.
"I had a lot of misconceptions about the ivory trade just because I never took the time to really look at it," she said. "Now I see that there's this whole massive history — this whole world of policies that have been guiding this trade and there are so many factors going into why this is a problem."
More than any particular issue, Giguiere said the primary benefit of the Martin Scholars program is the time and space it allows for more thorough study.
"Through Martin Scholars I've really been able to heighten my awareness and my knowledge of (ivory trafficking)," she said. "You get to learn really in depth about an issue that you probably in all reality wouldn't take the time to do otherwise."
Article by Victoria Hart.