Darci Dobson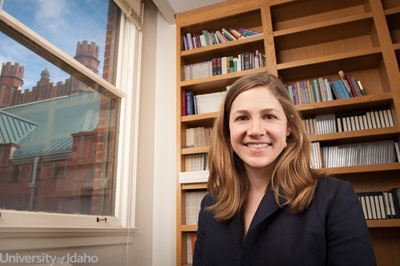 The Importance of Being Trusted
Darci Dobson has lived, learned and explored a variety of environments, from her home in the high mountains of Colorado, to the frozen landscape of the University of Alaska. By 2009, she was adventuring across the U.S., and two years later she left the States to teach in India. She finally landed in Idaho in 2012 to finish her undergraduate degree.
The Martin Institute's United Nations course caught Dobson's attention in 2012 when she first transferred to the University of Idaho, but it was only available to students majoring in international studies.
She enrolled in the department and hasn't left. Dobson said she appreciates the hands-off approach professors in the department take.
"They are always there if we need them, but they just really trust their students," she said. "Personally, that's really important to me."
Independent, interdisciplinary learning came front and center when Dobson joined the Martin Scholars program in Fall 2013. The year-long class guides undergraduates through research based on a central theme and advised by a faculty member from a different department. This year, students explored issues of diplomacy with the help of history professor Pingchao Zhu.
"It's an opportunity for students to get the experience, but also to expose faculty to what we're doing," Dobson said.
The interdisciplinary studies major is no stranger to crossing department lines, and said she hopes to one day combine her interests in graphic design and international development. She's on the lookout for a graduate program that would allow her to explore the potential for art to communicate global issues to the public. Right now, though, she said it's hard to find where her studies overlap, and the Martin Scholars program has given her a chance to exercise her academic freedom.
"It's hard as an undergrad to just be swept along and told what to do in each class, and I just thrive on this freedom to learn out of a desire to learn," Dobson said.
Her research project also explores the value of independence and self-reliance, but on a larger scale. She began investigating President Obama's diplomacy with Africa because she had heard critiques of his inaction.
"Since he's of African heritage, there were big expectations of what he would do when he was in office, and then big disappointment of him not doing very much," Dobson said. "So I wanted to just look into that myself and not trust the media."
She said her project has since evolved in a direction that is more optimistic about Obama's approach.
"His rhetoric is always trusting Africans to take their future in their own hands and not, as a developed Western nation, do so much for them that it's actually hurting them," she said. "(It) is a really complex picture, but it just makes sense in human nature that when you trust people, they flourish."
Dobson has seen the same sort of technique function on a much more personal level – in her studies as a Martin Scholar. She said freedom to conduct research independently in combination with faculty and peer support creates "a really great environment for learning."
Dobson will graduate with her bachelor's degree in May 2015, and said her experience as a Martin Scholar prepared her for the demands of a job and further education.
"Learning how to research independently is a gateway into graduating and (doing) that in the future," Dobson said. "…I just love the freedom to learn about what I'm interested in."
Article by Victoria Hart.