Clare Haley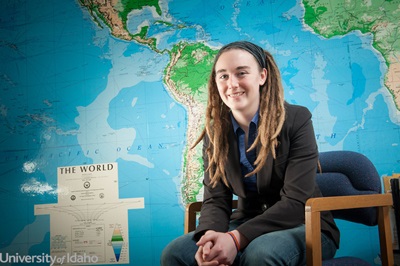 Ecuador in the Balance
Sometimes all it takes to garner support is an innovative idea, but even the best ideas need buyers. Clare Haley explored the roadblocks in international diplomacy that kept one unique initiative from success.
Haley, a senior majoring in international studies, spent the year learning more about Ecuador's Yasuni-ITT Initiative and reasons it might have failed.
ITT stands for Ishpingo-Tambococha-Tiputini, an area within Ecuador's Yasuni National Park that stands on rich oil fields. The region is one of the most bio-diverse in the world and home to voluntarily isolated indigenous peoples. But as the nation develops, Ecuador will need to use its natural resources to pay for development projects.
"One way to get out of poverty is by logging or using petroleum, so it's a really tough balance," Haley said. "I'm interested in that and how development can happen without environmental degradation."
Ecuador used the initiative to reach out to the international community, asking other countries to compensate Ecuador for half of the oil under the ITT region. In exchange, Ecuador would abstain from engaging in oil drilling operations in the area.
"They were kind of asking for some environmental co-responsibility, is how they termed it" Haley said. "I think it's a pretty unique idea and really innovative." Ecuadorian diplomats spent six years visiting summits, the UN, and individual countries to rally support for the initiative, Haley said. But last year they canceled the initiative for lack of funds.
"So they're going to start drilling in this national park," Haley said. "Which normally everyone would get very upset about, but now they kind of have to be upset with themselves as well because Ecuador tried to share the responsibility and there wasn't enough buy-in for it to work."
Haley's Martin Scholars research project investigates what went wrong and how other countries in Ecuador's situation might be successful in the future. "Originally, my idea was that it failed because of poor diplomacy," she said. "Ecuador did make some errors in their diplomacy — a few big things — but overall it's more just the way the international system is set up."
She said today's international system makes it very hard for poor countries to convince more developed nations they should pay for something they already get for free — something like the Amazon Rainforest.
Haley, originally from Idaho Falls, knows the Ecuadorian Amazon from personal experience, having visited the region during spring and summer 2013. She worked for a small organization that promoted fair trade tea, then worked on organic farms before returning to the University of Idaho.
Even her extensive travels never took her as far into the wilderness as her Martin Scholars project has.
"I've been to the Amazon part of Ecuador, but Yasuní National Park is really deep in the jungle," she said. "It's extremely hard to get to, and no one lives there except for some extremely isolated indigenous tribes that live in voluntary isolation. You have to get a lot of special permits to get there."
She said Ecuadorians value the natural world in a way other cultures don't. Nature, she said, has constitutional rights. "I saw that a lot that people really did care about nature, but then it was also a really tough balance," she said.
Many wealthier nations got that way by developing natural resources, but Haley said they expect tropical countries to remain pristine. While the Yasuni-ITT initiative failed to protect Ecuador's corner of the Amazon, it may have opened the door to a new style of international ecological diplomacy. Haley suspects other countries might try similar initiatives in coming years.
"I don't know if it's necessarily going to be successful any time soon," she said. "But … at least it got the conversation started about who bears the responsibility for the environment."
Article by Victoria Hart.