Ana Reed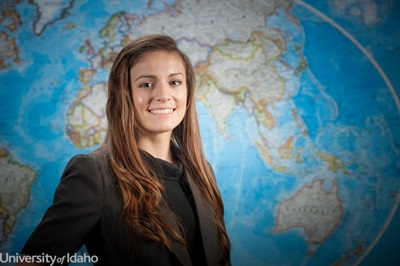 Diplomacy Goes Digital
Regional security dynamics is more than a mouthful of international affairs terminology — for senior Ana Reed, it's a career path and a major part of her research as a Martin Scholar. Reed said the term refers to the ways countries work together to find common ground and stability on security issues.
Her year of research focused on China and India as case studies in the changing power dynamics in Asia during the digital age.
"I'm looking at whether digital diplomacy could be a factor in shifting the regional balance of power in Asia," she said. "We all can safely say that china a main power there and also a world super power, but India is … slated as the next competitor."
Reed, of Priest River, Idaho, said each country's engagement with social media and its diplomatic potential could be a contributing factor in that shift. Her four years of study at the University of Idaho have focused on U.S.-China relations through an international studies major and a minor in Asian studies.
"I started with this major because I really like learning about other cultures and traveling," Reed said. "I wanted to be able to help others … and find a way to bridge gaps between cultures."
Her emphasis on international affairs in China and Southeast Asia led Reed to choose her research topic. She said her paper investigates the differing tactics of governments in China and India to reach foreign and domestic audiences through social media.
"India has really made a push in the last years to use social media to target foreign publics," Reed said. "I see some evidence of china possibly experimenting with this. They are definitely acknowledging that this trend is occurring."
She explained that Indian foreign affairs workers use Facebook, Twitter, YouTube, and other similar sites to promote the country's culture and gather input on national policies. On the other hand, she said China, being a communist country closed off to some Internet sites, has been slower to embrace digital diplomacy.
"It's looking at whether or not this global trend toward using social media in public diplomacy is going to be a reason for China to want to join the rest of the trends," she said. "Whether social media and this movement might be a catalyst for China to begin to open up its policies on censoring the Web."
Reed said she was surprised to find her hypothesis confirmed, and that the global movement toward digital diplomacy is real — especially in her region of interest. "I'm seeing that throughout South and Southeast Asia they are using social media and especially Twitter," she said.
Since China blocks its citizens' access to Facebook, YouTube, and other sites, Reed said government-controlled social media and blogging sites are immensely popular. She said microblogs in particular have expanded in recent years.
"They're crazy about it there," she said. "But it's all state-controlled… they have to the ability to control any dissident comments."
She said the growing number of social media users means more and more are finding their way around The Great Firewall, China's cyber-structure that censors certain websites. "It might be an opportunity for China to acknowledge the trend that social media is directing their country in and get on board with the global movement before their population does without them," Reed said.
She has plans for moving on, too. After graduating in May, she plans on moving to Washington, D.C., to study international affairs at a graduate level. Reed said she's interested in conducting policy analysis between China and the U.S., and further examining that old friend regional security dynamics for the federal government or a think-tank.
"The more that I've learned, the more I realize how complex international affairs and international studies is," she said. "It's really relevant as the world is increasingly globalized and we have increasing interdependence with other countries."
Article by Victoria Hart.